Wes Boyd's
Spearfish Lake Tales
Contemporary Mainstream Books and Serials Online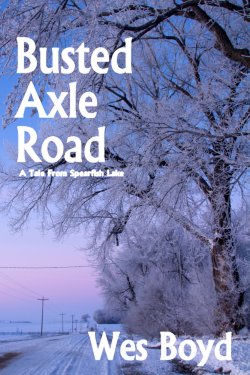 Busted Axle Road
a novel by
Wes Boyd
Copyright ©1993, ©2001, ©2007, ©2013




Chapter 3
Pacobel left the snake sitting in the jar of formaldehyde after class while he went to coach the softball practice. The season opener was only a couple of days off, and his mind was on that.
The practice went pretty well. This was going to be a good team, even if it wouldn't set the world on fire. There were several solid hitters, and the pitching was adequate, if not spectacular. The one real problem was that there just was not a lot of speed on the team, so fielding and running were both on the mediocre side. When you got someone who could play a power game, like Brandy Evachevski, you could go far. Brandy was All-Conference in her third year at Michigan Tech this year, even while carrying a full load of science and education courses, and there just weren't a lot of kids like her.
Brandy hadn't ever been a candidate for Pacobel's post-graduate activities list for a number of reasons, not the least of which was the fact that her father was an ex-Green Beret. Besides, he'd heard that she was getting pretty thick with her boyfriend, some guy from downstate, Willow Lake, or something like that.
But, the snake had gotten him to thinking about another girl who was on the post-graduate list. Pam Appleton had been no great shakes as a ball player, but had proved to be more than adequate at one-on-one activities. What was better, she was working on her master's in herpetology down at Athens University. If the snake really did prove to be an oddity, then it might get her attention, and there could be the possibility of a renewal of previous action.
While the girls ran their wind sprints to warm up, Pacobel found himself thinking about the snake, really thinking about it, for the first time since Linda Clark had left it with him. Actually, he had to pretty much accept Danny Evachevski's conclusion: it probably was a northern water snake at the extreme range of its pattern. In other words, interesting, but not an oddity.
But what if it were a Gibson's?
The obvious answer was that a species of snake that had been thought extinct was discovered alive and slithering at Spearfish Lake would be big news to the scientific world, and perhaps beyond. If the right person were to get credit for the discovery, it could be quite a feather in their cap.
And, there was no reason, Pacobel realized, why he shouldn't be that person. There had to be some sort of advantage to be gained out of that, somehow.
Interesting possibilities opened before him.
All of a sudden, the real world intruded. He had a practice to coach first. He called the girls in from the track and set them to doing fielding drills, but his mind was elsewhere.
Pam, down at Athens, was probably the next step to take, but he realized he would have to walk in there with a pretty good argument that the snake was a Gibson's water snake. Maybe a paper describing it, and something about the habitat. He could have something done by the weekend, but there was some reason why he couldn't go to Athens this weekend.
Oh, yes. The girls were playing in the Coldwater Tournament this weekend. That would eat up all day Saturday; by the time he got them back to Spearfish Lake, there wouldn't be any time for Athens. The next weekend was clear, though; maybe he could call and make a date – no, an appointment, this was business – with Pam.
As soon as practice was over, Pacobel went back to the classroom to look at the snake. It was time for a real look, a lot closer look than Danny and Josh had taken, checking every reference.
Hours later, after going through every book on herpetology that could be found in the science lab, Pacobel was no further along than Danny and Josh . He could come up with any number of arguments for the little nine-inch snake being a Gibson's water snake; it certainly fit the description. But, it also fit the description of the appearance of a run-of-the-mill northern water snake, too.
Mentally, he began to block out his paper. He didn't dare come out and call it a Gibson's, there, but he could write the paper so that it called attention to the possibility that it was.
He'd have to convince Pam, and probably someone in the biology department at Athens, too. Besides, it would be nice to see Pam again, in more ways than one.
* * *
"Bye, kiddo," Mike said to Kirsten early Thursday morning. "See you at the office."
"Before you go, would you check the bathroom for me again? I have to go."
It was a miracle that Kirsten was using the bathroom at home at all, Mike thought. On their way back from Northwoods Realty the evening before, Kirsten had them stop at the office so she could use the bathroom there, rather than at home. "No problem," Mike said, and hustled up the stairs.
He was back in a moment. "No snakes," he reported. "I put the stopper in the bathtub drain, too."
"Thanks," Kirsten told him. "See you later, honey."
Their mornings had been a ritual for many years, now. Both he and Kirsten got up about the same time and shared making breakfast for themselves and for the kids. Mike could get in and out of the bathroom while breakfast was in the works, but Kirsten faced half an hour or more of getting her face on and getting dressed. Rather than waiting around, Mike drove his VW Rabbit over to the Spearfish Lake Café, out on the highway, for a cup of coffee and a chance to catch up on the latest round of gossip.
Actually, sitting around the big breakfast table at the Spearfish Lake Café was partly business for Mike; it was a good time for him to test the tenor of the community, and it let him hear what people were really thinking about. He got more reactions to each issue of the paper and each major story there than he could ever have at the office.
There were actually two breakfast tables in town where such opinion could be heard, and they were quite different. The other was at Rick's Café, just down the street from the paper. However, Webb had been a regular at Rick's for maybe twenty years, and he and Mike had agreed to split up the territory. They would then compare notes afterward.
Actually, Mike didn't mind getting the second choice. Every now and then, he and Webb switched for a few days, and Mike had the opinion that all the guys at Rick's talked about was hunting, golf, and football. Mike didn't have any interest in hunting, was a lousy golfer, and got way more than enough football in the fall to last him for the year. Talking football in April made him want to barf anyway.
The crowd at the Spearfish Lake Café averaged a little younger, and the conversation was rather more eclectic. It ran to rock and roll, sex, football, pickup trucks, television, basketball, sex, snowmobiles, kids, fishing, guns, country music, sex, politics, cars, baseball, women, computers, and sex, but could take off anywhere and wind up almost anywhere else.
"What are we talking about this morning?" Mike asked as he found an empty chair at the middle of the table.
"Would you believe dogsled racing?" Mark Gravengood replied.
Mike looked over at Mark. He'd known Gravengood for years, if not real well. He was a repairman for the phone company, but he was also one of the guys in the Vietnam Veterans who Mike potentially owed a hell of a favor to, if the chance ever came. "Oh, somebody else saw that PBS special on Susan Butcher last night, huh?" he commented.
"Yeah," Ryan Clark said from down the table. "Ah, Alaska, where men are men and women win the Iditarod."
The last few years, the Iditarod Sled Dog Race in Alaska had become a regular morning topic in the Spearfish Lake Café – but only for the month of March. A dogsled race running more than a thousand miles through the wildest part of the Alaskan back country, taking ten days or more to complete, it had captured the imagination of these people who lived in a rather more settled north woods. It was the kind of adventure that each of them sort of dreamed of and all figured they'd never take on.
At the Spearfish Lake Café, it had seemed like sort of a fluke when Libby Riddles had won the race in '85, but the last two years, Susan Butcher had taken it going away, leaving all the men far behind. That was a little scary.
"Yeah, I got my butt in a sling with my daughter over that one," Mike said. "She's now convinced she wants a dog team. Susan Butcher is her new heroine."
"If she has to idolize someone, it could be worse," Clark conceded. "Consider yourself lucky that she doesn't have a thing about Madonna."
"Well, yeah, I guess you're right," Mike admitted. "Actually, fooling around with a dog team does seem sort of like fun. Not that I'd want to do something as crazy as run the Iditarod, but it'd be kind of a fun way to get out in the winter."
"Yeah, I've thought about it once or twice," Gravengood said thoughtfully, "back when Jackie and I were on our honeymoon, we met a guy who's run the Iditarod several times since. It seemed like it could be a lot of fun – just messing with it, not the race – but I don't have any idea of how you'd ever get started at something like that."
Mike shook his head. "I don't know of anybody around here running a dog team. I've never even heard of anybody around here doing it."
"Used to be some dog teams around here," George Lindquist said. Lindquist was probably the oldest man at the table, a retired school teacher who now ran the county historical museum. "Back before there were snowmobiles, there were maybe three or four guys who used to run dog teams on trap lines. That's getting to be a while back, now, but there might still be one or two of them around."
"You know," Clark said thoughtfully, "It's too bad there isn't someone in this neck of the woods who runs dog teams. A dogsled race would make a nice addition to the Tip-Up Festival. We were talking about it at the Chamber the other day. We need something competitive to spruce it up."
"Yeah," Gravengood agreed. "Maybe out to Warsaw and back on the North Country trail. The Trail Association would be happy to see something like that, just to draw some attention to it."
"George, do you think you could look up and see who some of those guys are?" Mike asked. "It might make an interesting story sometime." It wasn't a story that Mike would have to write; Lindquist wrote a weekly column about Spearfish Lake history for the Record-Herald.
"Might drive some dog musher out of the woodwork, too," Clark agreed. "Or, at least someone who thinks they want to be a dog musher."
* * *
Just about everybody in town conceded that Binky Augsberg was a big deal in real estate around Spearfish Lake. She was a Vietnamese refugee who had taken a crowded, leaky fishing boat to freedom back in '78 and through an improbable series of events wound up in Albany River, eventually marrying Steve Augsberg, an executive at the paper plant.
Even though Nguyen Binh Ky had only been seventeen when she stepped aboard that leaking fishing boat in 1978, she was thoroughly prepared to leave Vietnam behind her forever. In only a brief time, she had become thoroughly Americanized; she spoke English with only a trace of an accent – not Vietnamese, but California Valley Girl mixed with Finnish, of all things. Television and the Finnish family she had lived with had added those nuances.
It was clear to everyone who knew Binky that she never would have made it in a communist Vietnam; she was a much too thoroughgoing capitalist. She had gone to work for Northwoods Realty as a receptionist right after her marriage to Steve, and within a year was their top salesperson. She had a touch for real estate that was almost uncanny. Prospects and listings somehow came out of the woodwork for her, and she was an utter magician at putting one and the other together. Success breeds success in real estate, and she had success to build on.
Getting listings hadn't been a problem after she'd managed to sell the old Wayne and Donna Clark house for $450,000, about $400,000 more than Wayne's son, Brent, and Donna's son, Frank Matson, ever thought anybody in their right mind would be willing to pay for the old lumber baron's mansion. Very quickly, Binky's income had become more than what her husband, now the production manager, made out at Clark Plywood, but most of it went back into real estate investments, so she and Steve lived modestly.
Without anything verbal tipping her off, she had realized within a few minutes on that Wednesday evening that getting Kirsten and Mike out of their old house and into a bigger one needed to be a deal done quickly, before it fell apart. Without knowing why, she'd realized that Kirsten could back out of the deal, so she didn't waste any time getting some parameters to work from: at least four bedrooms, a little bit of land, fairly close to town, not a fixer-upper, at least a two-car garage and a septic tank. The reason for her client's insistence on the last escaped her, but Kirsten really seemed anxious about that point.
"I think I've got just the place for you," she told them. "Four-bedroom ranch, built about 1960, well insulated, oil heat, full basement, three-car garage. It's on forty acres, mostly young pine and poplars, and on a gravel road, which isn't necessarily a drawback if you have young children. It'd be, oh, three or four miles out from downtown."
"Sounds pretty good," Mike admitted. "How much?"
"The owner wants seventy-four nine, but that kind of gags me, you know?" Binky replied. "Offer sixty-five cash, and you'd be in there so quick all you'd see is a blur."
"You know where we live," Kirsten said. "What's our house worth?"
"I don't know the house," Binky replied, "But from the neighborhood, you could probably get forty-two or forty-five if you waited and the right person came along. I'd have to look at it, but I probably could get thirty-five right away." Thirty-five thousand would be a fair price for a quick sale. It was the sort of thing that she could afford to pick up, swing a six-month note with the bank, rent it out and wait for the right person to come along, which probably wouldn't take long. If someone were anxious to move, there was money to be made.
"When can we see it?" Mike asked. The numbers weren't out of line, assuming the house was in good shape; in fact, they were a little better than they'd hoped for.
At two o'clock Thursday afternoon, Mike and Kirsten were riding in Binky's van out to the edge of town. They turned onto the state road, went out north of town, and then west up County Road 427.
The house turned out to be on the side of a gentle hill, far enough up the hill to have a nice view over the lake, and well up from a swamp to the east along the state road. It had a large yard, with plenty of lawn, which Mike knew would tend to keep the mosquitoes less oppressive in the summer.
The house was empty; no one was living there. Binky showed them through the house, which was in good shape, and mostly carpeted. The three-car garage happened to be in the sidehill basement, which left little unused basement, but there was a small pole barn out in back that could be used for a garage, too. There was a large kitchen, which overlooked that nice view, a big fireplace, and two full bathrooms with another half-bath. "Do you think they'd mind if I used the bathroom?" Kirsten asked.
"No problem," Binky said.
Kirsten was gone a long time, while Mike and Binky waited in the living room. "All right, Binky," he said, "what's wrong with this place?"
"Nothing, really, you know," she said.
Mike smiled. "Binky, you know I write a column every week, and much of the time it's to poke fun at what happens to me. If unnamed female Vietnamese real estate agents aren't going to be a feature of every other column for the next ten years, what's wrong with this place? Is it haunted? Was somebody murdered here? This is a hell of a place for the price!"
"Really, there isn't much wrong with it," Binky conceded. "Needs a new furnace sooner or later, probably in the five- to ten-year range. The well isn't a good producer, and it's kind of deep, you know, but you can put up with it until you decide you have to fix it. You've probably got ten years left on the shingles. The washer is OK, but the dryer is junk. The dishwasher sounds like it's junk, but it's OK. That's just normal for the brand, you know. Gil Evachevski will tell you that. The right-side garage door opener doesn't work. There's a lot of lawn to mow, but there's a guy up the road, Mark Gravengood, who's got a tractor and mower, and he doesn't charge too much. And, this isn't always the last road the county gets around to plowing and grading, but one of the last ones. Beyond that, I don't know."
"Why is it on the market?"
Binky shrugged. "Bad decision. Couple from down in Camden bought it as a retirement home. They got snowed in for five days back in February. In the middle of it, they ran out of fuel oil, and the truck couldn't get in. Florida looked pretty good to them after that."
Mike frowned. "Guess that means I've got to get a snowmobile, but what the hell? Everybody else in Spearfish Lake has one. You say we can get this for sixty-five cash?"
"That would take it," Binky nodded.
"There's no way we can come up with that much cash, not unless we move our place, first," Mike said. "You said you could get thirty-five on a quick sale? I think Frank Matson would be ready to go the difference."
"You want to stick it to me coming and going, don't you?" Binky protested.
"What do you mean?"
"The only way you can get thirty-five for your place quickly is if I buy it as a speculation. Then you want me to take bottom dollar for this place, too? No way, Jose. I've got to see at least thirty-five difference."
"You mean, you own this place? Thirty-two," Mike said flatly.
Binky thought for a moment. Given time, she probably could stick it to another couple from Camden for seventy-five, but she'd still see ten grand from this rollover, not counting the commission she'd pay herself. She could feel pretty sure of another ten by rolling Mike and Kirsten's house over inside of sixty days, and it might take months to get seventy-five for this place. If she could time the closing right, she might not have to float any cash at all. Worse, this place was sitting empty, which cost money, and putting renters in here might drag the value down more than the income she made. And, on a quick turnover, she might have a hell of a time getting the renters out. She came to a decision quickly: "All right, thirty four and a half."
Mike smiled. "There is a number halfway in between that we could come to an agreement on, if Kirsten is willing. You game?"
As Binky nodded, Kirsten came out of the bathroom, the most relieved Mike had seen her since the morning before. She was almost herself again. "I like that bathroom," she said.
---
<< Back to Last Chapter
Forward to Next Chapter >>
---

This work is licensed under a Creative Commons Attribution-Noncommercial-No Derivative Works 3.0 United States License.