Wes Boyd's
Spearfish Lake Tales
Contemporary Mainstream Books and Serials Online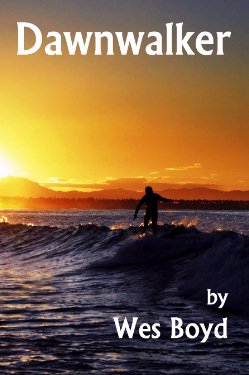 Dawnwalker

Book 1 of the Dawnwalker Cycle


a novel by
Wes Boyd
©2002, ©2008





Chapter 50:
May, 1997
The brakes on the big Blue Ridge Line bus squealed as it pulled to a stop in front of the Country Cookin' Inn near Daleville, Virginia. It wasn't usually a bus stop, but Nicole had found out months ago that it went right by here, and the driver could usually be persuaded to make a special stop; ten bucks and a nice smile had made it so. She got out of her seat and made her way to the front of the bus, and followed the driver down the steps.
It hadn't been a long ride, just long enough to get boring, but it was interesting to look out the window on the way down Interstate 81. The afternoon was getting on, and it had been a long day, starting in Harper's Ferry, where she'd left her car, then taken a commuter train into DC, a taxi ride to the bus station in a part of town that couldn't be called the best, and had waited for hours for the bus to leave.
But, it had all worked perfectly; as the driver opened the luggage locker, Crystal came walking around the corner of the bus, carrying her pack. "Hi, Nicole!" she smiled. "Made it all right?"
"Yeah," she replied, feeling some butterflies. If everything went right, the 275 miles over the next three weeks would be the longest backpacking trip she'd ever done, longer than anything she'd ever contemplated. When she and Crystal had first been kicking the idea around at Buddha and Giselle's after Christmas, it had seemed sort of theoretical, but as the days ticked down, it had gotten much more real, much more intimidating. She'd taken her pack back to Weatherford after spring break, and had been out walking virtually every day it was halfway decent, sometimes up to fifteen miles, just to get ready, but it wasn't the same kind of walking and she knew it. Crystal -- well, Diamond, now -- had already been out for almost two months and over 700 miles. Would she be able to keep up? Would she drag her down? She couldn't help but be nervous. The wondering was over. She'd soon find out. "How you been, Diamond?" she added.
"Oh, pretty good," Diamond replied with a grin. "Took it easy yesterday, then sort of sauntered down here today. You hungry?"
"No," Nicole said, reflecting that she really was too nervous to eat. She'd feel better once she started, she knew. "I'm OK."
The driver rooted around in the luggage locker and pulled out her pack and the package duct-taped to it. "That all you had, miss?" he grinned, white teeth shining against a black skin.
"That's all," Nicole smiled. "Hey, thanks for the special stop."
Diamond and Nicole stepped back from the bus, and Nicole awkwardly carried her pack by the shoulder straps over to the porch of the restaurant. She looked around -- it looked like any major highway interchange -- Best Western, Howard Johnson, Pizza Hut, Western Sizzlin', some gas stations. It might have been anywhere, but beyond the interchange clutter rose hills, covered with fresh leaves, just broken out -- it was still weeks away in Spearfish Lake, and it seemed to Nicole that she'd moved from early spring to early summer in an awful hurry. "You been waiting long?" Nicole asked as she found a place to sit on the steps, and pulled out a pocket knife to cut the duct tape that held the package on her pack.
"No, not long," Diamond grinned. "I sorta slept in at Lambert's Meadow, then slid down here and stuffed my gut. Good food, and the price isn't even bad. I've only had an hour or two to kill. How's Randy?"
"Pretty good," Nicole reported. "He's awful busy. First week on the job, you know, and I guess he had to hit the ground running. He came over Friday evening and tried to help me finish packing."
"Not much help, huh?"
"No, not really," Nicole replied, pulling the package free, and handing it to Diamond, who had her pack open by now. "I've done a lot more backpacking than he has, and I know what I'm doing."
"Men are like that, aren't they?" Diamond laughed as she pulled out her own knife to begin cutting the package open. "You pretty well set to go?"
"Even got a full water bottle," Nicole said. "Randy had me send the package for Tyro the day you called from Catawba."
Diamond thought for a second, then said, "OK, eleven days, that ought to be about right." Nicole knew that the logistics for the next three weeks were going to be complicated. Up till this point, she knew Diamond had only had food packages sent to her occasionally, and had relied on stopping at grocery stores. Sometimes she carried two weeks' worth of food, an awesome load until it got eaten down. Since Nicole didn't feel she could possibly be in the shape Diamond was in -- not now, not ever -- they decided down in Florida to rely on lighter food, not the sort of thing you'd find in a convenience store, so it meant having to have the food shipped to them. Their first mail drop would be at the tiny community of Tyro, a hundred miles up the trail; the next was at the hardly larger town of Linden, a hundred and thirty miles farther on. However, between the two lay Shenandoah National Park, and there were enough restaurants and stores in the park to mean that the load that they carried out of Daleville would actually be heavier than the one at Tyro, even with the longer distance. There was another food package for Diamond, plus some summer gear sitting in Nicole's car up in Harper's Ferry. Nicole would take her heavier spring-weight gear back to Spearfish Lake with her.
"Looks like it's all there," Diamond commented. "Gah! Freeze-dry! Belch! Fart! I see Randy got the good stuff, though."
"Actually, I got most of it, back in Camden," Nicole smiled. "Like I said, I've done more backpacking than Randy."
"How you doing for pack weight?" Diamond asked casually as she started to move food from the package to her pack.
"Thirty-five pounds, like it sits. That's actually lighter than I had on Isle Royale, 'cause I didn't count water that time, and I've got more food. I brought a bivy bag and a tarp, instead of a tent, and that saved a couple pounds."
"Every ounce counts," Diamond grinned. "Jeez, you see people carrying tons of stuff, sixty, seventy, even eighty pounds, and you wonder how they can hump all of it. We ought to do OK, though. You nervous?"
"No," Nicole said. "Well, yeah." She really didn't know Diamond that well, only that ten days or so down in Florida, although she'd become a good friend down there. But still, it was just the two of them, and it was going to be different.
"It'll be OK," Diamond said. "We'll probably go a little slower than I've been going, and the trail is supposed to be a little easier than farther south. If we have to slow down, so be it. I can fall a couple days behind and not miss anything. Hey, I never asked. You got a trail name?"
"I thought those were only for thru-hikers," Nicole said meekly.
"Well, long distance hikers," Crystal smiled. "Close to a month counts in my book."
"We use camp names at Mosquito Valley," Nicole smiled. "The kids call me 'Marlin.'"
"You mean, like Spearfish Lake Marlin?"
"Yeah," Nicole giggled. "I had to come up with something on the spur of the moment the first summer I worked there, and it was the only thing I could think of." She rolled her pack over, to show the familiar jumping swordfish logo.
"Seems to me I've seen that somewhere before, like on Randy's varsity jacket," Diamond grinned.
"I've got one, too. I was on more teams than he was. He only wrestled, but I did track, basketball and cross country. I got twelve letters, and he only got four."
"You want anything before we go, a Coke or something, maybe use the can?"
"No, I'd just as soon get going."
"Then, let's do it," Diamond said, getting to her feet and picking up her pack.
In a minute or two, Marlin and Diamond were walking out of the parking lot and onto the Appalachian Trail.
~~~~~
It was a long, tough climb out up the Blue Ridge out of Daleville, but Marlin was pleased to find that she could keep up with Diamond pretty well without overstressing herself. The weather was nice, still cool, a bright, cloud-pocked day. The trail was a little rougher than Marlin had expected, but not bad -- better than she'd experienced on Isle Royale, although the hills were steeper and harder going. Since they'd gotten a late start out of Daleville, they only went as far as the first shelter, at Fullhardt Knob.
There are many hiker shelters running the length of the AT, usually roofed, three-sided porch affairs, but sometimes more elaborate. They're available on a first-come, first-served basis, and usually the ground rule is that they're used communally by whoever shows up until the place is full, and the trail tradition is that they're never full on a rainy night. Usually, Marlin and Diamond would find anywhere from two to a dozen people in a shelter for the night. Sometimes so many that they just spread their tarps out outside to keep the dew off, and slept in their bivy bags, small, waterproof sacks that they could stuff their sleeping bags into, with a mosquito netting cover for the head that could be closed up in case of rain.
They walked on north for a week, up the hills and down the valleys, past awesome views that they stopped and awed at. While not the best scenery that the trail could offer, this stretch was at least better than average, and was an excellent introduction to the trail. Marlin was pleased to find that she could hike along with Diamond at her pace; sometimes, they'd hike along together, carrying on a conversation, getting to know each other better. Sometimes they were silent, just taking in the beauty and the peace of the woods as it passed, ever the same and ever changing. Sometimes they hiked along with other hikers, people out for a day stroll, or people who were tattered and dirty and smelling a little, who like Diamond were aiming to do the full length of the AT.
Diamond told Marlin that the rumor going up and down the trail was over a thousand people had started to thru-hike from its beginning in Springer Mountain, Georgia, to its end far north at Mt. Katahdin in Maine, over 2100 miles away. By now many had dropped out, and more probably would soon; only about 200 were expected to actually complete the hike successfully, and over the first week, they passed several thru-hikers who were moving along slowly, having difficulty.
Seven days after leaving Daleville -- and a day ahead of schedule -- the trail descended from the Blue Ridge to cross the Tye River and State Route 56. They turned off the trail and walked a mile and a half down to the tiny hamlet of Tyro, where the post office was located in the general store. While they'd come by to pick up the food package that Nicole had sent from Spearfish Lake, and they did, their attention was drawn more to the cold pop and the ice cream freezer. The food seemed so rich and sweet and real after a week on the trail, and after a week of freeze-dried food. Marlin was hungry, and Diamond assured her that she had no idea how much she might be able to eat if they were to do something radical, like hit an all-you-can-eat pizza joint. Hikers burn a lot of calories, and need a lot to keep them full.
The packs had been hanging pretty limply when they turned into the Tyro General Store, but they seemed heavy when they walked across the wobbly bridge over the Tye River and back up the Blue Ridge, even though they were lighter than when they left Daleville.
Much of the Appalachian Trail is actually owned by the National Park Service, but is maintained by a group of private clubs under the umbrella of the Appalachian Trail Council. Sometimes the land is owned by private individuals, but most of it is placed in a greenway that's been a long time developing, sometimes a mile or more wide. But twice it goes through major national parks, and Shenandoah National Park had been one of the reasons that Nicole had been interested in the trip in the first place. The park is long and narrow, and the trail is actually pretty close to Skyline Drive most of the way, but they were only rarely aware of the presence of the tourist traffic nearby; they might have been in deep wilderness, most of the time. Though the trail had been pretty good before, here the views were spectacular, the trail a little easier going. Here spring was in full bloom, with large-flowered trillium paving the forest floor, and pink azalea covering the mountainsides in a riot of color.
At noon on the fifth day out of Tyro they hiked into Loft Mountain, where there was a restaurant. While not all you can eat, it was good food, and Marlin found herself inhaling it, enjoying the unaccustomed luxury of things like chairs and tables and plates. By now, she was beginning to feel like a hardened hiker, and left Loft Mountain full and satisfied. Toward evening that day, they reached Big Meadows, another visitor area where there was a restaurant, and again they ate their fill -- they'd planned to make use of the restaurants heavily on this stretch, to avoid carrying so much weight and bulk. They hiked on into the evening for a while before they made a quiet little bivouac alongside the trail, then got up in the morning, had a cup of coffee, and hiked another few miles on to Skyland, for a late breakfast and early lunch, then pushed on another few miles to Panorama for dinner. Then, at noon the next day, they had a heavy lunch at Elkwallow. It beat freeze-drieds, any way you cut it.
They spent two more days in Shenandoah, taking it easy now as they'd pulled ahead of schedule again, then descended past the National Zoo compound with its rare and exotic animals, and the sign that said, "No Trespassing -- Violators may be eaten," although the little African donkeys along the fence didn't look like they'd eat much but grass. They turned off the trail and walked into the little town of Linden, where their mail drop awaited them. This load was light; Marlin had now been seventeen days on the trail, and they'd only planned four more days to get to Harper's Ferry.
By now she'd thoroughly gotten into the routine of the trail, the early morning arising, the coffee made over camp stoves, the granola-bar and Pop-Tart breakfasts, the early morning aches and pains getting worked out by the first easy mile on the trail, which often had a fair chunk of climbing. And the rest breaks, usually at a place with a nice view, the snacks, the hunt to find good water, and the easy afternoons as it got warm. Then there were the early stops, the long, slow evenings, often spent talking with other hikers, who were especially thick in the National Park, the sunsets, and the going to bed as it got dark, only to be followed by another day. They stayed one night at a big shelter complex, where there was a view of Washington in the distance. All too soon, they found themselves standing on Louden Heights, where the trail weaved in and out of old trenches dug back in the Civil War, looking across the Shenandoah River at the town of Harper's Ferry, the sleepy little village, once a pivot point and a fuse for the Civil War, and now partly a restored area that was a National Park in itself.
In the middle of the day on the twenty-first day out of Daleville, they walked across the grounds of the National Park Service Interpretive Center, and a couple blocks farther on to the Appalachian Trail Conference headquarters, where Diamond signed in as a thru-hiker, while Marlin sadly looked on. Afterward, they sat on the steps outside, and she told Diamond, "Jeez, this has been fun. I wish I could be going on with you."
"Call up the Girl Scout Camp and tell them you're not coming after all," Diamond suggested, half-seriously. "We can work out the food drops and stuff. You keep going the way you've been going, and we can make Katahdin by the time you have to be back to school."
"I better not," Marlin said sadly, realizing that she was going to have to learn to start answering to "Nicole" pretty quickly, now, at least till she got to camp, and she wasn't sure she liked the idea. "It's tempting, but they're going to make me head counselor this year. It's quite a bit more money. And besides, it still wouldn't be a true thru-hike, since I didn't start from Springer."
"Yeah, I suppose," Diamond said sadly. "I sure wish you'd listened to me down in Florida when I told you to blow off last semester and do the whole thing with me."
"Yeah, if I'd known then what I know now, I'd have done it, extra year in school or no," she said. "Crap, I don't want to have to go back to school in the fall again."
"You thinking about getting the car and heading on back today?" Diamond asked.
"Don't need to," Marlin shook her head. "You want a day off? We can go get something decent to eat, find a motel or something."
"Jeez, I wouldn't know what to do sleeping in a motel," Diamond said. "The last time I slept in a room that wasn't a hiker shelter was back before Christmas, back at Cornell. Hard to believe it's been that long."
"Tell you what," Marlin said. "Let's do it. Let's see if we can find someone to shuttle the car up the trail someplace, and I'll hike along with you tomorrow."
~~~~~
It didn't take much looking; the ATC volunteer who had loaned her back yard to park Nicole's car offered to do it, if they could get there in time to be done for her to go to work. Early the next morning, they dropped the car off up the trail a few miles, and she drove them back to ATC headquarters. They walked back down to the trail, which led them down through the scenic part of the little town, across a restored rail bridge that carried the trail over the Potomac, and along the C&O canal, a few miles out to the parking lot where they'd left the car.
It was still plenty early, and Marlin decided to go a few more miles with her friend, since the view from the top of the climb, at a place called Weverton Cliffs, was supposed to be a particularly good one. It was a long and fairly steep climb, but without a pack and with three weeks on the trail behind her, it was nothing much to Marlin. They made good time and were soon on top. Diamond took off her pack, leaned it against a tree, and sat down on a sloping rock to enjoy the view. It was a beautiful clear day; Washington was in view in the distance, and far below them, they could see a train heading in to the city. Below them, an eagle worked the rising air along the cliffs. If it had to end, it was as good a place as any.
"Hey, Diamond," Nicole said -- she was having to accept that reality, now -- "Thanks for asking me to come. This has been a really great trip, and I'd be proud to hike with you again, some time."
"Hey, you too," Diamond told her. "Don't know if I'll see you again in the fall, or what, since it sorta depends on when I finish up. But, sometime."
"You have any idea what you want to do when you get off the trail?"
"I'm not sure," Diamond frowned. "I haven't thought too far beyond Katahdin. I guess I'm going to have to go back to Spearfish Lake and get my car, then find work somewhere for the winter. I've been blowing through my savings on this trip faster than I planned."
"Any ideas?"
"Not really. I've got some things I want to do in the next few years, but I'm going to have to deal with the money issue, too. You know, I got to thinking last night about what I said yesterday about not sleeping inside in months. You know the saying, 'The only difference between a thru-hiker and a homeless person is Gore-Tex?'"
"I've heard the phrase," Nicole giggled.
"Well, it struck me, I really am a homeless person, Gore-Tex or no," she said, looking down at her worn hiking boots. "My only real home now is my car parked in Spearfish Lake. Oh, Randy's offered to take me in if I ever need it, but I don't really want to take him up on it since I don't want to pay the price that goes along with it."
"You mean marrying him, right?" Nicole asked.
"Right," Diamond told her. "You know, that's something I've wanted to talk to you about for three weeks, now."
"Yeah, me too. There just has never been the right time to do it, but I guess this is the last chance. Do you want to marry him, Crystal?" she said, avoiding the trail name.
"You know, if I could answer that, I would," she replied. "Part of me says it's the simple answer, maybe even the best one. But, damn it, there's a lot of other things I'd planned to do the next few years. I want to go to Alaska for a summer, I want to sea kayak in the Inside Passage, run the Colorado, surf in Hawaii, lots of things. All of those take time, and there's no way Randy would be able to be with me for most of them, so that's not very fair to him. I'd make a hell of a poor wife if I did that."
"Yeah, it'd be hard on him," Nicole agreed.
"I'm not sure I'd make a very good wife, anyway," Crystal went on. If I did the right thing, tried to stay with him, and be a real wife to him, I'd be bitter over all the things I wanted to do but couldn't do because I was married to him. Did I ever tell you about my mother and her big adventure?"
"I don't think so."
"That's been a big lesson to me all my life," Crystal said. "See, back before my mother got married, she decided somehow that she wanted to have one big adventure in her life. She did the biggest thing that came to mind, which was a raft trip down through the Grand Canyon. She had a ball, and found out she'd like to be able to do more things like that. But then she married my dad, and he's always been an old grump stay-at-home. She had to work on him for years to get him to take us on a simple family driving vacation out west, and she never managed it again, so she's pissed away her life wishing she could do things he won't do."
"Randy's not like that," Nicole said. "You know he'll take a trip at the drop of a hat."
"Yeah," Crystal said. "He's been pretty good. But maybe Mom thought Dad was pretty good like that when she married him, I don't know. What I do know is Randy has been in college with a lot of free time ever since I've known him, but I also know he takes his work and the responsibilities he has to his family pretty seriously, too, or else he wouldn't have been carrying the hell of a load he carried the last two years."
"You're saying that you think he could turn into someone like your dad?"
"No," Crystal laughed, "Randy could never get that bad. He's a decent guy to begin with, for one thing. But, he's going to be carrying a shitload of work. He's sorta made an open offer to get married that I told him I wouldn't take him up on for a while, if ever. He's being noble, because of the problems I have with my family. He knows I don't have anything to fall back on. But, if I were to marry him, say, this fall, for the sake of discussion, one of those things would happen. So, the best answer I can give him is 'not now.' and that's not fair to him. What's worse, it's not fair to you."
"Me? Randy and I agreed a long time ago we weren't even going to think about it until he got out of college."
"So, I can tell you he's thinking about it," Crystal shook her head, "And I think you are. I knew that last year, back before this thing with my family blew up. When I graduated, back in December, I know he was thinking goodbye forever. Didn't you get some feeling about that, back in December?"
"Well, yeah," Nicole said. "Like I said, we had an agreement, but that trip to Florida was a little strange, if you know what I mean. It was fun, don't get me wrong, but the way it came about -- well, I think it was originally intended to start getting us more serious again. We were pretty hot in high school, but both of us realized that we couldn't go on like that through college. But even when I was with Bob, and thought I was going to marry him, well, I knew he wasn't going to measure up to Randy."
Crystal shook her head. "Look, just for the sake of discussion again, suppose I wasn't in the picture at all, and this summer, or maybe next spring after you graduate, he was to offer you a ring. What would you do?"
"I don't know about this summer," Nicole said slowly. "I've still got another year of school. But next spring, probably, unless something came up. But you are in the picture, so it's all theoretical."
"Maybe," Crystal told her. "What I'm thinking about is taking myself out of the picture, for your sake, and for his. Frankly, Nicole, maybe he doesn't realize it, but in the long run you'll make a hell of a lot better wife for him than I would. You don't have those wanderlust issues I have, and that I'll probably have for a while. I don't want to settle down, and I don't think I will soon. You'll let a chance to take a hike of a lifetime slide by for the sake of a job, so you just proved that. Me, I'd say screw the job, let's go hiking. Which I did. Look, I don't have to be a homeless person, I know that. There are things I can do. It's just that I don't want to pay the price right now. I'm not sure Randy understands that. He's being noble, which says a lot for him."
"Well, maybe I feel the same way a little, too," Nicole told her. "I'd hate to cut off your one chance to plug yourself back into a home and a family. Crystal, I know we haven't known each other very long, but I like you a lot. I want to be fair to you, too."
"We've got ourselves in a hell of a mess, haven't we?"
"Yeah," Nicole nodded. "Maybe that's why we haven't talked about it till now. Look, we've got a year before I get out of college. Who knows what'll happen in that time? A lot could happen to settle it without it getting between us."
"True, but I'm not sure what happens with me in a year."
"Randy and I do have one other agreement," Nicole said. "I'm sure he'll keep his word, and I'll hold him to it."
"What's that?"
"That he'll have things settled between him and you and Myleigh before he asks me."
"I can't speak for Myleigh," Crystal said. "Look, if everything else was equal, and this was a level playing field, and he had to choose between the three of us, right now I think he'd pick Myleigh. She's smart as hell, she's getting a little athletic, and, let's face it, she's cute and feminine and fascinating. She might say the odds favor me, but this ain't a level playing field, and in the long run, it ain't gonna happen. I really doubt he can ever put something together with her and still stay in Spearfish Lake."
"I don't know her very well, but I do know her well enough to think you're right," Nicole agreed. "And there's not going to be any getting him out of Spearfish Lake unless Clark Plywood folds. The way his dad runs it, I don't think that's going to happen, either."
"So we're pretty well agreed that Myleigh is out of the picture, and it's just between us, right?"
"I think so," Nicole said.
"All right," Crystal said. "Let's just kind of let things go for now, but I'll make you a promise. If he asks you, I'm out of the picture."
"Let's make that an agreement," Nicole said. "Same thing for me, except he's already sorta asked you."
"I mean, if he asks me seriously," Crystal smiled.
"We can make all the agreements we want," Nicole pointed out. "But it's going to have to be him who's sure the issue is cleared away. But, I'm in no rush. I'm not sure I want to get married right out of college."
"Why's that?" Crystal grinned.
"Hey, something you taught me," Nicole laughed. "I might want to bum around a bit, too. Maybe even thruhike this damn thing."
Crystal laughed at that. "That'd be mean to him, but he deserves it, turning into a work junkie on us. He might get so jealous he'll say the hell with both of us, say the hell with Spearfish Lake and take up with Myleigh after all."
"Not going to happen," Nicole said. "Like I said, there's not going to be any getting him out of Spearfish Lake. There's too much money involved."
"Money?" Crystal frowned. "I never knew about any money to speak of. I mean, his folks are solid, but I don't think of them as rich."
"Well, they are and they aren't," Nicole explained. "I'm not telling any secrets, everybody in Spearfish Lake knows. Randy's dad and his granddad own Clark Plywood pretty much between them, and his granddad owns the construction company. There's only Randy and his two sisters who'll wind up with it. I don't have any idea how much the two together are worth, but I've heard fifty million thrown around. That's just a wild-ass guess."
"Waitafuckingminute," Crystal stammered, eyes wide. "Fifty million bucks? That ranks as rich to me. Damn rich, in fact. I never knew that. What the hell is he working for, anyway? His mom teaches school, for God's sakes."
"Because it's all tied up in the plant and the construction company," Nicole explained. "If they sold out, it'd be worth that much, but apparently no one wants to sell out. Randy and I were talking about it a little the winter before last, and they've turned down some pretty good offers, mostly because they want to keep the plant local. There may be more to it than that, I don't know. That's family stuff, but you go clear back through Randy's great-grandfather, and everyone in town knows this; they've always pretty much put the profits back into the plant and the work force and don't keep much for themselves. I have no idea how much his dad actually takes out, but they live like they're comfortable, not rich."
"Randy told me once that his dad was keeping him on a short leash financially," Crystal said, furrowing her brow. "I guess maybe he thought it was for his own good. Randy never has thrown his money around, but he always had it when he needed to spend some."
"From all I ever heard, that does a pretty good job of summing up the whole family," Nicole said. "They're workers, and always have been. You've heard stories about the idle rich? That's not the Clarks. Besides, it'll be years before Randy comes into that kind of money, and he'll have to live on what he makes. If either of us marries him, we'd be expected to be working, too. I've always known that, since clear back when I was going with Randy in high school. But, the bottom line is that Randy isn't going to be leaving Spearfish Lake to live for a long time, maybe not ever."
Crystal shook her head. "I guess there are some advantages to being broke and homeless, after all," she said. "Fifty million bucks makes a hell of an anchor."
"Yes, it does," Nicole smiled, "Especially since he'll probably never get to spend much of it. By the time he gets his share of it, he'll be planning on how to pass it on to his kids."
"Jeez, and I always dreamed about marrying a millionaire," Crystal laughed. "Guess there's more to it than I thought. Sure gives me some second thoughts about marrying that millionaire, or at least, eventual millionaire."
"Like I said, I've always known what would happen," Nicole smiled. "But, it's something you should think about."
"Oh, I will," Crystal said. "But, my initial reaction is that it doesn't change anything, really. Look, we've got a year or two before either of us are going to have to make up our minds. Tell you what. Whatever happens to me, I'll give you that year, so we start on a level playing field. I can find something to do for a year, even if I have to live in a tent. Hell, Scooter, the gal I started this hike with, has been living in an old travel trailer down outside NOC for years now. I could go down to Ducktown or something and do that for years, too, if I had to."
"That would level the playing field up some," Nicole grinned.
"Randy doesn't have to know I told you that, either," Crystal said. "And, he's going to have to be the one to be sure things are cleared away with the rest of us before either of us marries him, right?"
"Absolutely," Nicole smiled. "But, like I said, once he settles on one of us, it's settled with me. Why don't we think about getting together in a year or so and see where we're going from there?"
"Can't ask for much better than that, Marlin," Crystal grinned. "I think we got a deal. I'll tell Myleigh about it when I see her. It probably won't be till this fall, sometime."
"Look, Diamond, I probably ought to be heading back," Nicole said, getting to her feet. "That's a bitch of a long drive, and I'm not going to make it back tonight. Then I got a couple days to see Randy and get set to head to Mosquito Valley, where I've got to play mountain momma to a bunch of kids all summer."
"At least you'll have some stories about three weeks on the AT to tell them. Hell, maybe you'll inspire some girl enough that she doesn't think she has to be some damn cutesie-poo cheerleader, a slave to a penis, like Myleigh used to say, and believe she can get out and do something on her own."
"Why the hell do you think I keep going back there?" Nicole smiled. "The money sucks, but maybe I can teach some kid that the world is hers, too, not just her boyfriend's."
"I think I learned that at camp, too," Crystal said. "Pass some of it on for me, too, will you, Marlin?"
---
<< Back to Last Chapter
Forward to Next Chapter >>
---

This work is licensed under a
Creative Commons Attribution-Noncommercial-No Derivative Works 3.0 United States License.
---