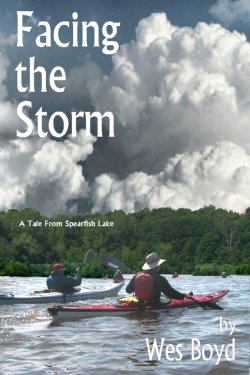 Facing the Storm

"A Spearfish Lake Story"


a novel by
Wes Boyd
©2001, ©2009, ©2012






Chapter 21
It had been over twenty years since Nguyen Binh Ky had climbed aboard a crowded, half-sinking fishing boat to escape Vietnam. She'd first learned English in Louisiana, but somehow spoke with a Boston accent, although there was some Valley Girl involved, probably as a result of television. Through an improbable series of circumstances, she'd wound up in Albany River, the next town down the state road from Spearfish Lake. There Steve Augsberg had sought her out, to try to improve on his smattering of Vietnamese, in case the chance ever came to go look for Henry Toivo, his classmate. He wound up marrying her, and she wound up selling real estate. It was just as well she'd escaped Vietnam; she was too thoroughgoing of a capitalist to have ever made it in a communist society
Binky wasn't one to let an opportunity get past her. As Mike had said, she worked harder at it than anyone else in town, and she'd already heard rumors about a new accountant down in Joe McGuinness' shop, and had been planning to check it out a little more thoroughly.
It didn't take the small, slender, middle-aged oriental woman much tipping from her husband about a hot prospect to be laying her business card on John's desk not an hour after John and Joe left the Spearfish Lake Café.
"Steve says you're looking for a house, and want to be able to move in fairly soon," she said, eyeballing the prospect.
"The first of June, and before if possible, although that's not a gotta," he told her.
"What are you looking for?"
John had been around the real estate block a little – some fairly recently, when he'd listed the house in Decatur – so he came to the point as quickly as she had.
"The bottom line is a newer house with three bedrooms, maybe more, a basement if possible, a two-car garage at least. No fixer-uppers. We'd like to be fairly close in, but not in an older neighborhood. A couple acres would be nice, or lakefront, or both, but neither are got to haves."
"How much are you talking?"
"I'd like to keep it under one, but could go to one and a quarter if I really have to. A lot of my money is going right here, so I can't be real extravagant."
"The only lakefront I can get you into for under one is way out on Point Drive," she said. "Everything else is high."
"I don't have cast-iron skin, if it's that place around the back side of the point that you're talking about."
"Steve said you were a local boy," she smiled. "Actually, it would make a nice summer place if you were willing to put up with the mosquitoes, but I don't think you'd want to live there year around."
"Like I said, lakefront isn't a got to have."
Over the years, Binky had come to realize that a lot of her success in making sales was involved with getting to know her customers. It wasn't that there was a lot of repeat business in real estate, but people did talk, and satisfied customers did make good word of mouth to bring in more customers. Steve tipping her off on this customer was just a fluke, after all.
"Let's back off for a minute," she said. "There's a lot out there that more or less fits your needs, especially if we leave out the lakefront, so there should be something we can do fairly quickly. But, just to speed the process up, it'd help if I knew a little more about you. About all I know is that you're Josh Archer's brother. You've been out of town for a few years, I take it."
It wasn't a great deal of work for Binky to find out quite a bit about this prospect. He had younger kids, so really, he wanted to be in town, and maybe fairly close to the school. His wife had an itch for horses, but they seemed like too much trouble to him. Lakefront would be nice, as he'd said, but it wasn't a necessity, and frankly lakefront was an expensive pain in the butt unless you were into the lifestyle, which he didn't seem to be. He didn't mind yard work but could find other things to do if given the chance.
As Binky drew him out, she got a little more understanding. "This one is going to be easy," she told him after she'd gotten more of a picture. "First, let's deal with the lakefront issue. There's only one place I've got that's in your price range, other than the place way out on this point, but you don't want it. This other one is up on Lakeshore Drive, but it's several miles out, and it was owner-built, so it's sort of a permanent fixer-upper. It's a nice location if you summered up here from Camden and wanted a tear-down so you could put a real nice house on it, but we're talking right at your limit before you do anything else." It was always nice to let the customer know that you were watching out for them, and that was easy.
"I figured that was going to be the case," he said. "I know lakefront has gotten kind of high. What else have you got?"
"Several prospects that'll pretty well fill the bill," she said. "One is out off the highway, another's in the Parma subdivision, and one right up Central. There are a couple others we ought to look at. They don't quite fit what you want, but they have some special points of their own. What we could do is go drive by them and give you a feel for what's out there. Most we'd have to set up appointments to get inside, and I suppose you'd want your wife with you for that."
"Yeah, I'd want her to see them, but that doesn't mean we can't take a look." He raised his voice a little. "Hey, Joe! Any reason I shouldn't go looking at houses?"
"We're clean for a couple hours," came the voice from the next office. "Have fun."
Binky smiled to herself. She knew which house he was going to buy already, and it wasn't one she'd mentioned. It wasn't real close to what he'd suggested, but it was pretty close to what he really wanted. All she'd have to do would be to let him convince her of it.
* * *
Candice still had a headache from the long drive from Decatur the night before. She hadn't been able to leave until the boys were out of school, and it was hard to do all the driving herself with them in the car. They'd made a couple of restaurant stops, just for the break, but it was still close to midnight, and the boys were asleep before they finally made it up to John's parents' house.
"So what do you think?" Binky asked.
Perhaps it was the headache that made Candice feel a little grumpy as she sat in the right front seat of Binky's minivan. Binky had shown them three houses in the last two hours. Of the three, she'd probably liked the house out on the state road the best. It had a large yard, and even a small barn, and would have been perfect for horses. But being on the state road, the traffic was fast, if not terribly heavy, and it wouldn't have been a good place for the boys to have to ride their bikes if they wanted to take them to school. The one on Central Avenue didn't have that much yard, but had a traffic problem almost as bad as state road, but at least there were sidewalks. The one in the Parma subdivision was very comparable to the house they had in Decatur, but while not a fixer-upper it clearly needed some work. Even Binky thought the price was high – more, even, than they expected to get out of the house in Decatur – but thought that the owner might be willing to come down.
"Any of them would be all right, but none of them exactly reaches out and grabs me, if you know what I mean," she replied, a little disappointed.
"Tell you what," Binky smiled. "I don't want you to waste your trip up here. I know it's a long drive, but let me show you a couple of other places that you might like."
"Might as well," John said from the back seat. Candice could tell from the tone of resignation in his voice that none of them had exactly grabbed him, either. And, she really didn't want to waste the trip – it was a long drive, and finding a house could take time. She was prepared to spend all day if she had to, rather than have to make another round trip the next weekend.
Binky drove down Central Avenue toward downtown, and right down to Lakeshore Drive. "You might like this place I'm taking you to," Binky smiled. To the right, the road eventually became Point Drive; but Binky turned left, into an older section of town. In a couple blocks, she turned left again, and made a turn into the paved driveway of the first house off of Lakeshore. It was a nice older house, in a well-maintained neighborhood, and only about three blocks from John's office.
"Hey, I know this place," John brightened. "This is where George Lindquist used to live."
"Ever been in it?" Binky asked.
"Only once, and then just in the front door," he admitted. "I had to drop off a late history paper. He was one of my favorite teachers, though. Is he still around?"
"He's getting up there," Binky said. "His wife fell and broke her hip and can't do stairs anymore, or this place wouldn't be on the market. It's empty, but I brought a key, just in case we needed it."
They got out of the van, and Binky led them around back. The back yard was on the small side, and a lot of it was taken up with a two-car garage that had obvious extra space. The key was to the back door, and Binky led them inside through the back door into a nice, modern kitchen that had to be twice the size of the one in their tract house in Decatur. "There's room for a kitchen table here," Binky said, "But George and Delores used the back porch as a breakfast nook. It's nice and sunny and cheery in the morning, but you might want to use it differently. Let's take a quick pass through the rest of the house."
The kitchen floor was linoleum, but the rest of the place had nicely finished hardwood floors, and a lot of well-kept woodwork. They followed Binky to the front of the house. "Wow," Candice commented. "This is a big house." It was a lot bigger even on the main floor than their house in Decatur. It was a lot more like the farmhouse she remembered from growing up, but even nicer.
"It's not that big," Binky said. "It just looks big because it's empty."
Candice could see that she was right, but it was still a big house. It was empty, barren, and rather chilly; the heat had been turned down to a minimum. There was a dining room, a big living room, and a small half bathroom near the kitchen. There was an enclosed front porch, and Binky led them out onto it. From the porch, they could look down the street to a nice view of the lake, now free of ice and gloriously blue on this late-April morning. "This is about as close to lakefront as you can get and not be lakefront," she said. "You've got the public beach not a hundred yards off. You couldn't keep boats there, but it's nice and handy. If you wanted a boat, you'd have to rent space down at the marina, or keep it on a trailer. But, there's room for a trailer in the back yard."
A broad, open flight of stairs led them upward from the living room. There were four bedrooms, one large, two a little smaller, and one tiny one with no windows, and a nice bathroom with a big tub. "The bathroom was added on, oh, a long time ago," Binky said. "Most of the space came out of the little bedroom. I guess George and Delores used it for a storeroom."
"What's the insulation like?" John asked.
"Well, it's had blown insulation," Binky said. "I don't know for sure about this place, but usually, blown insulation is pretty good, but really, only pretty good, not real good. But back in like this, you usually don't get a lot of wind, and that helps."
"Let's look at the basement," John suggested.
Binky led them back downstairs. The basement stairs were on the narrow side, but once they got down there, the found an empty room, with a few windows for light, and a number of lally columns, a stairwell led outside toward the back yard. John was a little surprised to see a concrete floor and block walls, and said so. "George said the foundation was going bad, oh, thirty years ago, and the house was settling," Binky explained without being asked. "He had it dug out and done right." John looked around the walls; they were still bare block, but there was no sign of watermarking, so apparently the basement didn't flood.
Back upstairs, Candice stood in the living room and imagined the possibilities, imagining furniture and curtains and decor. It would be expensive to do it right, and the furniture they currently had wasn't going to be very appropriate for the classic look of this old house. This was a nice house, really, beyond what she'd expected. It wasn't hard to imagine living here.
"Looks pretty good," John said. "But, Binky, I've got to ask. What's wrong with this picture?"
"Not really a lot," Binky said. "Most of what I know is what George told me, but you could call him up if you want. I do know this much – it's an older house, so there's always going to be some little piddle job, but George was a piddle-project kind of guy, so everything is pretty good. The roof is all right now, but you're going to be needing shingles in a few years. While being close to the beach is nice, you're going to get some times on summer weekends when the street is going to be parked up with cars, but that only lasts a few hours and only happens occasionally. Probably the biggest thing is that it gets a lot of snow, like everything in this part of town. The wind whips across the lake carrying snow, and dumps it in the treeline, which means here. You can clean it out with a snowblower, but it's probably better to get someone with a pickup and a blade to clean it out. It's really a very nice house, overall."
"How long has it been on the market?" Candice asked.
"It's a new listing," Binky said. "It hasn't come out in the multiple listing book yet, and it won't last long when it does."
"The big question, Binky," John said. "How much?"
"I wouldn't have brought you here if it wasn't in your price range," she said. "George wants to be out of it, so he's only asking eighty-nine five."
Candice looked at John with a big smile on her face, and saw a big one on his. She nodded a little, all the message that he needed.
"Look, if you'd like, I can go out back and have a cigarette while you talk it over," Binky offered.
"No need," John said. "We'll take it."
* * *
Phil was running on empty. He wasn't as tired as he had been in the last days of the Iditarod, but he was mentally just about wiped out. He'd figured it would only take a couple days to redo the magres analysis program, but, as always happened, it had taken longer than that.
It would have taken much longer if he hadn't been able to use several modules that he'd been able to download from here and there. One of the routines promised a noise reduction of at least a factor of ten, and as he'd worked his way through the project, some other features had suggested themselves. All that had taken time. He'd done most of the work on the old Pentium 300 he'd set up as a Linux box. It took a while to get Linux up and running on the spare hard drive of Brandy's new hot rod computer, and get the raw Rhodesian data downloaded from Denver transferred to it. A couple of peripherals on the new box weren't working in Linux, since they were so new that there were no Linux drivers available, but they wouldn't matter.
He'd approached the project with exhilaration. Part of what he'd done was the sort of thing that he'd done for years, but parts of it were fairly new to him, and there had been calls for consultation. A kid Mark had working for him was a lot more up to date on Linux than he was, and he'd been able to suggest some shortcuts, and even brought over a CD with some code on it that he could use. Mostly Phil had been the one doing the work, putting in sixteen, eighteen-hour days with grim determination, drawing on the experience of those sleepless nights on the Iditarod, keeping going while exhausted, his mind always on the goal. Writing software was like that, he knew; it wasn't the first time he'd sat in front of a computer screen cutting code for days on end until he couldn't stay awake any longer, and finally staggered off for a few hours sleep. He hadn't had a shower, or even changed clothes for a week, and he could smell himself, but it didn't matter.
Brandy had spent the week processing data on the old software, just so they'd have a cross-check of the results. She couldn't believe that new software would be that much better, but did agree that there probably could be some improvement.
But now, the new software was ready for an all-up test. "You ready?" he asked Brandy, who stood watching over his shoulder.
"Well, let's see," she replied.
"Here goes nothing." Phil reached out and with a hand shaking from exhaustion hit the ENTER key.
"I'll go get us some coffee," she offered.
"Wait." Phil said, reaching out to grab her wrist.
Brandy looked at the screen. There was a progress bar creeping across the screen. Well, not creeping; it was moving right along.
"It takes a while loading the data set into RAM," Phil said. "Too bad it's limited by hard drive access to the data, but that's the limitation. The software is faster than that."
"This is the loading phase, right?"
"Hell, no, it's processing it as soon as it gets its grubby little hands on it," he said.
Brandy's jaw dropped. It was only a few seconds since Phil had started the process, and the progress bar was a third of the way across the screen and was still moving right along. My God, was Phil right after all? She'd put in twelve, fourteen, even sixteen hours a day all week long monitoring the process on the old program and cranking out an analysis. "This is refined data to analyze, right?" she asked. "That'll speed things up considerably."
"Better than that," Phil said, watching the progress bar cross the screen. He still needed to work on the screen display a bit, he knew. This was kind of a breadboard screen that he'd slapped together, but all the pieces were there; it just needed help with the appearance.
In a few more seconds, the progress bar reached the end of the screen, and blinked out. A small, gray screen came up in the center of the screen, and in a white box there were three or four lines of log report. "Seventy-one seconds," he said. "Not bad, but it'd do better with a faster hard drive."
There were several tabs across the top of the box. Phil tapped the one that said "Display," and a small window opened. He selected "3-D," and gave the mouse button a casual click. A display scanned down the screen, a long rectangular box filled with a grid. The grid area was filled with a distorted rainbow of colors. There were several lines of cryptic numbers across the bottom of the screen, labeled to direction, distance, resolution, and the like. Toward the lower right hand corner of the screen, there was a small green blob. Phil raised the contrast of the display, isolating out all the other colors until the green stood out.
"OK, that's a fifty-meter grid box," he said. "This is the eastward view, and you notice you've got something out about 135 degrees from prime, at a depth of about 300 meters."
"It was clear from the analysis that there was something there," Brandy said, impressed beyond belief. A week's work done in seventy-one seconds. Phil had promised some improvement, but this was a whole new world. "We'd have to look at it in some other modes to tell how much. It struck me as being a little small to be worthwhile."
"Well, let's see," Phil smiled as he reached out to tap an arrow key. The display started to rotate, and the small green blob became more elongated. When the display was partly rotated, he hit an up arrow key, and the green spot became a little fatter and got more elongated. "Hmmmm, a nice little vein," he said offhandedly. "Be worth dropping a test bore into, maybe, even though it's pretty deep."
"There's a lot more there than my analysis showed," Brandy conceded, managing to find words. She'd never seen anything like this before! She knew the magres system better than anyone, and she'd never dreamed it could do this! "It's oriented end-on to prime, so it didn't show much," she continued, try to conceal her awe at what glowed on the computer screen.
"I guess it works, then" he said. "I need to spend some time sharpening up the presentation, and maybe add on another feature for analysis, but I'd say it's pretty well whipped. Is that better than the old version?"
"Phil, my God," she said, at a loss for words. "I never dreamed you could get this out of the magres."
"It's been there all along. You just needed a decent computer and decent software, not a 286 and a breadboarded kludge to run on it. I know this is just a small part of the whole package, but if you've been running this old stuff, I want to have a look at some of the software for other processes. They could be just as bad." He started to get out of the chair. He felt stiff and aching; the adrenaline that had carried him was gone. "Well, you can play with it some," he said. "I want to get some sleep."
"We need to take this out to Denver and show them," she said. "This is going to revolutionize the whole process. It could save millions a year, change the whole way we do things. This means that a site is going to be more about data collection, and that'll probably cut the site times in half. We could cut the search resolution back and still get better results than we've had in the past."
"At least," Phil said, yawning.
An odd, disquieting thought hit Brandy. "Phil, do you know what you've just done?" she said, with more than a little dismay.
"Nuhh-uh," he yawned again.
"I figured that the data analysis was going to give me something to do at home, but you've just put me out of my job."
---
<< Back to Last Chapter
Forward to Next Chapter >>
---

This work is licensed under a
Creative Commons Attribution-Noncommercial-No Derivative Works 3.0 United States License.
---