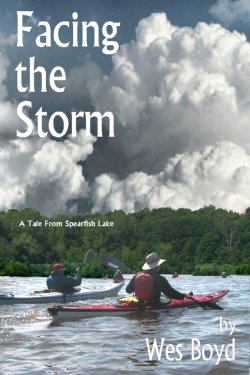 Facing the Storm

"A Spearfish Lake Story"


a novel by
Wes Boyd
©2001, ©2009, ©2012






Chapter 24
Contrary to Candice's belief, Tiffany did own a skirt. It was a denim skirt, and rather short and tight, but it was clear to her that she needed to be a little more dressy than her usual attire, since today she was going to be part of what passed for Jennifer's – well, today, Jenny's – entourage. She wasn't sure whether she should wear a red and white sleeveless turtleneck knit shirt with it, or whether to wear a Bubba Winslow T-shirt. "What do you think?" she asked Josh in their half of the suite in the motel in Anniston.
"I dunno," Josh said. "The turtleneck, I think. Bubba isn't exactly what they call a front-runner, after all."
"I suppose you're right," she said. She pulled on the shirt, adjusted it, and flounced her hair a little bit – she'd found some time Friday to have it done. "Well, what do you think?"
Josh looked her up and down. It wasn't often that Tiffany got dolled up and looked feminine, but when she did, she was a knockout. She filled out the shirt pretty good, and it was tight enough that it showed every curve. There were quite adequate curves there, even though in Josh's opinion his wife wasn't quite as stacked as her mother, but Tiffany rarely dressed so that it showed. She didn't have on a lot of makeup, but what she had on did make her face seem like it had more contrast. She looked pretty damn good to him. "Are you my wife, or just someone I picked up who looks sorta like her?" he teased.
"I'm not exactly dressed for the Iditarod, am I?" Tiffany teased right back.
"Nobody would believe it," Josh smiled back.
Even given the lengthening days, it was still early in the morning and the sun was barely up. Blake had warned them over dinner the night before that they'd have to leave for the track early, since the traffic would be maddening and they had to be sure to be there well before the start. They'd driven John's car to the airport in Camden – since he was borrowing their truck, he had offered it to them – and they had a good flight down from Camden and Chicago. Getting out of Atlanta had been something of a hassle, and they were a little later than they'd hoped to be getting into Anniston. As it worked out, that was fine; Blake and Jennifer had been a little late getting in, too.
They heard a knocking on the door to the other half of the suite, which was just two rooms with the connecting door. "You two about ready over there?" came Blake's voice.
"I guess," Josh said. "At least I'm ready, and I think this babe I picked up somewhere is, too."
"Let's go get some breakfast," Blake replied. "We'll meet you down in the lobby."
As it turned out, they went out the front door of their half of the suite just at the same time that Blake and Jennifer were coming out of theirs. "Tiffany, is that you?" Jennifer smiled.
"Do I look OK?" Tiffany asked. Jennifer looked fairly casual, although more dressy than she did, but then Jenny was going to be on camera, too.
"That'll be fine," Jennifer smiled. "The idea is to look a little casual, but not flashy. Don't you want a jacket with that? It's a little chilly out there."
"Can't be that bad," Tiffany said. "I'm still used to Spearfish Lake, after all."
"It's about sixty-five," Blake said as they traipsed down the hall. "But it's going to get hot today."
"Well, I wouldn't want to have to manage a jacket then, would I? I'll survive."
They headed down to the dining room. "We probably ought to eat a pretty good breakfast," Blake said as they sat down. "It'll be just track food, hot dogs and nachos and like that for lunch, and who knows what for supper."
"The traffic will probably be pretty bad coming back," Jennifer confirmed. "If it weren't for the fact that I have to put in an appearance as Bubba's sponsor, we'd probably take off right after I do the anthem. But, I don't mind sitting back above the pits once in a while."
"Look," Blake said, "Normally, in a crowd scene like this, we'd bring extra security. We won't have any trouble on the podium, and the fans around the pits are usually pretty good and interested in racing, even if they do get a little drunk at times. But, if something happens, you two are just going to have to back me up. If there starts to be some kind of scene, I'll handle it. You two just cluster around Jenny and get her away from it. Down into the pit is probably the best bet; the crew can provide bodies, if nothing else. We shouldn't have any trouble, but if something comes up, you ought to know the drill."
"We should be all right if something happens," Josh said.
"You should," Jennifer agreed. "You two don't tend to panic when things fall apart. That's why Blake and I agreed to skip the extra security today."
Josh glanced over at Jennifer, a touch of sadness in his eye. Blake may have been her best friend, her backup musician, but the bottom line was that he was still first and foremost her security guard, especially when they were away from Spearfish Lake. Fame might be nice, but there was still that need for constant security. Was it worth the price? Even if he won the Iditarod more than Swenson, he'd not need the kind of security that Jenny had to live with all the time, even as Jennifer. No wonder she was uncomfortable being Jenny Easton! He glanced over at Tiffany, and could just about tell that she was thinking much the same thing.
The waitress came over. Josh hurriedly glanced at the menu, and decided he'd do pretty much his regular morning train crew breakfast, and hoped that the Holiday Inn could do it as well as the Spearfish Lake Café. Tiffany ordered first, eggs, bacon, grits, toast and coffee, then turned to Jennifer. "Just a cup of tea, and some dry white toast," she said. Josh decided he'd try the grits, as well – this was Alabama, after all – but told the waitress to bring some American fries, too. He might as well load up, he thought.
Once the waitress had gone, Blake said to Jennifer, "Are you sure that's all you want? It's going to be a long day."
"My stomach is feeling a little rocky," Jennifer said. "I guess something I ate last night didn't set too well with me. I'll be all right. Anyway, I hope Bubba has a good day. I'm sorry we missed the qualifying yesterday, but he had a real good run."
"Guess they got something dialed in right for once," Blake commented, shrugging off Jennifer's comment about her stomach. "Of course, running restrictor plates, qualifying doesn't count for a lot."
* * *
Seeing a NASCAR race on TV was one thing, Josh and Tiffany soon learned, but seeing it for real was something totally different. It was harder to follow the real thing – on TV, there were cameras following the leaders, and a commentator to keep things straight. But here, there were just the crowds and the noise and the people, and it was incredible. Josh thought that the SDs were loud when they walked a load up out of the pits in Run-8, but their noise would have been lost in the crowd – and that didn't include the cars!
They thought they'd been used to crowds when they started the Iditarod, but Fourth Avenue was nothing compared to this. The population of the whole city of Anchorage together wouldn't have filled out the crowd in the stands and the infield; they'd have to haul people in from Fairbanks to equal it. When Jenny had finished her rendition of the Star Spangled Banner from the podium, with Blake and Josh and Tiffany standing unobtrusively in the background, they could hear the roar of the crowd overwhelming her voice that echoed from speakers as far as a mile away.
Getting Jenny across to the pits had been worked out ahead of time. As soon as she was done with the anthem, the track manager hustled the four of them down a flight of stairs and to a golf cart. They were in a tunnel under the track when the call of "Gentlemen, start your engines" was called, but they pulled into Bubba Winslow's pit near the end of Pit Row just as the cars came around for the first pace lap. The noise was incredible – there was no other word for it, the crowd roaring, the earth literally shaking from the race engines. In a way, Josh mused, it was a little bit of a shame that Fourth Avenue wasn't like that – the racket would have scared any self-respecting dog team clear to Nome at something like the speed Brandy had made it there in the Learjet.
The golf cart had dropped them right on the pit apron. One of the pit crew set a bucket out for Jenny and Tiffany to step on to get over the wall, and Blake and Josh held their ladies' hands to help them over it. They were escorted to seats near the back of the pit, but just below the first row of bleachers, where they'd have a good view of the race. Of course, having Jenny right by the fence drew a crowd of autograph seekers, and she turned to dealing with them – it really was the reason she was there, of course, to be seen and not to watch the race. Blake was right there, watching over her, and Josh tried to keep an eye on them while also watching the race.
And, it was a darn good race. Normally, there's a little variation in the output of the engines of the various race cars, which is why some people pull out a big lead and others, like usually Bubba Winslow, wound up two laps in the back. But, two of the NASCAR tracks had high bankings and were so fast that the speeds a normal Winston Cup car could manage were downright dangerous. So, a number of years before, NASCAR had put a limitation on the cars at Talladega and Daytona to slow the field down. This involved a plate with four precise holes placed between the carburetor and the engine itself, and it cut horsepower by about a third or more. This equalized the field, and made aerodynamics and running in the pack to cut aerodynamic drag even more important. The result was that in the first laps, all forty-three cars were running three wide, where two wide – if that – was more the normal course of events at other tracks. You literally could have covered the field with a blanket, like a normal day on a Los Angeles freeway, except at more than twice the speed, pushing on up to 180 mph. Ten laps into the race there was less than two seconds between first place and last place. Bubba was running right in there with the big guys, not giving up a thing.
The fans almost universally loved the restrictor plate racing because of the closeness and constant action. The drivers – Bubba included, according to some of the pre-race TV coverage they'd seen in the VIP suite while waiting for the anthem – all hated it. It made the cars run too close, dangerously close. Worse, it was no big thing to get shuffled out of the draft when running in the front, and a driver could fall back half the field or more before being able to get back in line to keep up with the front of the pack. Of course, with intrepid driving and the kind of lane-changing you'd see on a Los Angeles freeway, it was possible to work right back up through the pack to near the lead. Some of the top drivers usually hung back at the back of the race, to avoid the bumper-to-bumper stresses, and then only make their try for the top toward the end of the race.
But, Bubba Winslow wasn't one of the top drivers, and figured that his best bet was to hang tough and try to be near the front when the race ended by trying to stay there all day. He was running about tenth forty laps into the race when a couple cars toward the back of the field touched, and one spun, hit the wall, bounced off, then hit two other cars, then slid down into the infield. The yellow light came out, and as soon as the pit lane opened, the whole field came down into the pits in one mad scramble for fuel and tires. Even the attractions of having a Jenny Easton autograph were too much for the fans up in the bleachers as they watched the confusion. Bubba's crew managed to get him out in a good stop, and a fenderbender not far down the pit lanes slowed things up a bit, so he came out of the pits and went into the yellow lineup behind the pace car in fifth place. "Good stop," Josh could hear the team manager call to the pit crew.
It didn't take long after the pace car came in for the field to be running three wide again. Unfortunately, Bubba wasn't fifth for long; he got caught outside the draft, and was lucky to get back in line by the time he'd only lost twenty spots. But, he worked his way back up through the field. It was all but impossible to tell how he was doing; the track announcer didn't mention his name at all, but one lap he'd be twentieth, the next maybe twelfth, another maybe seventeenth, another maybe tenth. That was restrictor plate racing. He was running in fourteenth when debris was spotted on the track, and once again there was a yellow flag and a mad rush for the pits. While waiting for the green flag to fall, a camera crew came by and got a brief cameo of Jenny. "Bubba's really hanging in there today," Josh heard Jenny say on camera.
Bubba didn't get quite as good a pit stop this time; he was in twentieth when he came out of the pits, but he'd already proved that didn't matter much. He had a good car today, and was having the run of his life, just to be banging it out in midpack.
He was still banging it out in midpack toward the end of the race after two more pit stops, with about sixty miles to go, when another minor crash brought the field into the pits again. "Two, two, two" Josh heard the team manager yell. Bubba screamed into the pits, and the pit crew leaped over the wall, changing the outside tires only, while the gas man dumped two cans of gas into the car. He was on his way in seconds in a screech of burning rubber, leading the field out of the pits.
By now, Jenny's attention was turned away from the fans. "That's the first time he's ever led. Period," she said. "He's really kickin' butt today."
Bubba managed to stay in the front row for twenty laps or so of running three wide before getting shuffled back to the second rank. "Aw, shit," Josh heard Jenny say, a little surprised to hear her use such strong language. But the blue and white Chevy hung in there; he managed to get into the center row, which was running a bit faster, and managed to work back into the lead row on the outside.
"Come on, Bubba!" Jenny yelled, but then, the whole pit was screaming, the whole crowd of fans behind them, too, and Josh and Tiffany were screaming right along with them. It was incredible. They left their seats behind – they'd been empty for the last forty laps anyway – and crowded right down in the pit where they could watch the TV monitor, where they could see the whole track, not just the third of it or so visible from the pits. As the white flag flew, the whole field flashed by, now down to twenty-seven cars on the lead lap. The outside row with Bubba leading was trailing by maybe half of a car length. Maybe, just maybe . . .
All of a sudden, down in turn one, they could see cars spinning, hear tires screeching and smoke flying. Someone had apparently bumped someone a little too hard, and there was no telling what had happened. Quickly, all eyes turned to the TV monitor, which was still focused on the wreck, but they could see that somehow, the front two cars of the outside of the front row were still out there, all by themselves still racing while the field piled up behind them.
"My God, that's the 3 car behind him," Josh heard the team manager say. "Oh, shit, hold him off, Bubba!"
There probably could be no more unwelcome sight for Bubba Winslow or any other NASCAR driver to see in his rear view mirror just then than the black Chevy driven by Dale Earnhardt, Sr. – the Intimidator, his fans called him, because of his fierce determination and will to win. He'd earned that name, well enough.
But while Bubba Winslow may not have been the sharpest tack in NASCAR's bag, he wasn't the dullest, either, and he was a racer through and through. Scarcely daring to breathe, they watched the monitor as the two cars raced down the back stretch. Earnhardt tried to get low to get past Bubba, but he saw it coming and moved down to block. As soon as the driver of the black Chevy saw him move to block, he moved up the track, but Bubba moved right with him. Earnhardt faked a move down low, and they touched, but Bubba kept his foot in it and kept the car under control as the Intimidator moved high, and Bubba couldn't quite block in time. Up high, Earnhardt had gotten a fender past him, and all Bubba could do was to keep his foot in it and hope.
And, now, in the pits, even the breathing stopped. "Come on Bubba! You can do it!" Jenny yelled at the top of her lungs as the blue and white car with her name on it and the black car flashed past the start-finish line. From their angle it was hard to see, but on the TV monitor, it was clear that Bubba had half a car length as the margin of his first NASCAR victory.
There was sheer pandemonium in the pits. People jumped up and down and screamed. This crew had been through a lot of hard times, but to beat out Earnhardt in a drag to the finish, well, that paid for a lot of hard times. The team manager took Jenny in his arms and they pounded each other on the back; there were high fives and screaming and lots of pure delight. Out on the track, the cars slowed down, and Bubba brought the blue and white Chevy to a stop in front of the main grandstand, cut a turn and a half doughnut, and headed back around the track the wrong way in a victory lap.
"Come on," the team manager yelled. "We gotta get out there!" The pit crew dashed off down pit road toward Victory Lane, with Jenny and Blake and Josh and Tiffany with them. They were waiting when Bubba brought the Chevy up onto the checkered pavement, unbuckled himself from the car, and crawled out onto the roof. Someone handed him a bottle of champagne, and he uncorked it and sprayed the crowd with it. Soon, he was joined there by the team manager, and together they motioned for Jenny to join them. With a little help from Blake and Josh, she clambered up onto the top of the car, all of them raising their arms in victory and cheering.
A little later, when Bubba and the rest got off the roof of the car, a commentator stuck a microphone in his face. "The car run good all day," he told the microphone and the audience watching TV. "Didn't mess with the setup at all."
"How about that run to the finish with Dale?" the commentator asked.
"Boy, is my heart beating yet? Whoooooeeee!" Bubba exuberated. "Dale done everything he could, but I managed to hold him. Look, I gotta thank my main sponsor, Jenny Easton Productions and Miss Jenny Easton for hanging with me through all the tough times. Jenny, this one's for you!"
---
<< Back to Last Chapter
Forward to Next Chapter >>
---

This work is licensed under a
Creative Commons Attribution-Noncommercial-No Derivative Works 3.0 United States License.
---