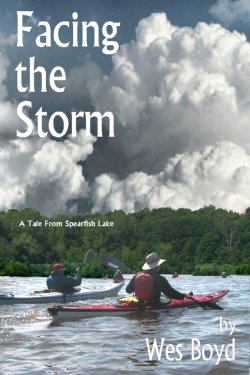 Facing the Storm

"A Spearfish Lake Story"


a novel by
Wes Boyd
©2001, ©2009, ©2012






Chapter 40
The Pike Bar had been built back in the '50s out of peeled logs, and innumerable coats of varnish and cigar and cigarette smoke had stained the logs to a deep brown hue. For whatever reason, its long-forgotten builder had built the room taller than average and gave it open roof trusses, which gave the big main room a little better acoustics than might have been expected. Over the years, the Pike's main customers had been pulp loggers and workers at the plywood plant, so it was pretty much a workingman's bar, but that had given it a bit of a rough reputation that it didn't really deserve.
The Pike was pretty much a typical North Country bar, with deer and bear and moose heads on the wall, with calendars and football schedules and beer ads tacked here and there. Some of the beer ads were classic and had been there for years, like a moving scene of a North Country lake that the Pike's owners had repeatedly turned down four-figure offers to purchase. They also had turned down six-figure offers for the classic old wooden back bar that had been rescued from a tear-down in Camden thirty years before. In more recent years, NASCAR posters had been included in the decor, the centerpiece a huge Dale Earnhardt poster.
The Earnhardt poster had been covered up, at least for the taping of Saturday Night with Jenny Easton, with a Bubba Winslow poster of the same size, one that Blake had gone to some trouble to have specially made. Blake was smart enough to have had a thousand of them run off, with the majority going to NASCAR souvenir stands and stores – that was going to recover the production cost and then some.
The regular customers of the Pike were a little miffed to have the bar closed on Saturday so the Earnhardt poster could be replaced, the place could be cleaned up, and lights and microphones and cameras and recording equipment set up, including one remote camera high in the rafters set to focus on the low stage that filled one end of the bar. In the distant past, the Pike had once played host to a band on Saturday nights, but those days were long gone. In more recent years the stage had been the location of a couple of pool tables that, for the taping, had to be hauled into a back room. Still, the Pike retained its atmosphere of a slightly grubby North Country bar, nothing special if you overlooked all the cameras and recording equipment.
The place was packed for a Sunday; every seat in the house was filled, and there was a considerable hubbub as they waited for the taping to get under way. Cameramen were already taking shots of the crowd that would be used in the opening scenes. The seating had been assigned, and true to her word, Jenny had seen that her friends had seats down front. At one of the tables nearest the stage sat Josh, Tiffany, John and Brandy; Phil, Candice, Judy and Lori were at the next one, having sort of an Arvada Center reunion. One table behind sat Jennifer and Brandy's parents, Gil and Carrie Evachevski, and their friends, Frank and Diane Matson, and at a table next to them sat Mark and Jackie Gravengood and Mike and Kirsten McMahon. Since they were down front, Jennifer had suggested that her friends be casual, but not to the point of blue jeans and T-shirts, but Saturday-night-on-the-town dressy. In fact, Judy was the only one at the table in blue jeans, but with her withered legs she never wore shorts or skirts. Brandy had on a short blue dress, the first time she'd worn one in memory; Tiffany had on the same denim skirt and red and white turtleneck sleeveless top she'd worn at Talladega. "It seems strange to see you in a skirt," Candice said over the noise of the crowd.
"Well, the same thing for you," Tiffany said back. "How long has it been, now?"
Candice glanced down at the short, tight black miniskirt she was wearing with a snug yellow sweater. "A couple months, anyway," she said. "It seems a little strange when I think about it."
"Do you have any idea what you cost me with that?" Brandy said loud enough that Candice could hear.
"What? I don't know what you're talking about." Candice said back.
"The next time we go kayak camping, we need to go for a week," Tiffany smiled, "So Brandy can get real used to doing the dishes, rather than letting Phil do them for her."
"What are you talking about?" Phil asked.
Tiffany laughed. "Brandy bet me the dishwashing on our next kayak trip that Candice would show up for her first day at work wearing a skirt, and she showed up in blue jeans and a Spearfish Lake Outfitters T-shirt."
"Well, it seemed like the thing to do," Candice smiled at her.
"Hey, I can be wrong once in a while," Brandy snorted, and turned to someone who had come by to congratulate her on the outcome of the basketball game at Warsaw the Thursday before. "Don't thank me, thank the girls," Brandy told him. "They're the ones who won it."
"Tomorrow's going to be a big day for you, isn't it?" Josh asked.
"Yeah, I'm starting to get a little nervous about it," Brandy said. "I don't think I'm going to have any trouble, but it's going to take me a while to get used to teaching. Thank God I don't have to write all the lesson plans."
"How did that happen?" Tiffany asked.
"Oh, Culpepper left behind his old lesson plans," Brandy said. "I'll rework them as I go along, but it's going to take a while. They'll do for now."
"Then you've got Pine River Monday after school," Josh noted. "That's going to make for a long day."
"It's going to be good to have some long days," Brandy said. "The girls should do all right there, but I'm just a little worried about how flustered their coach is going to be after facing six hours of new names and faces. But, it's going to be fun to be doing something new."
Over at the other table, the four from Arvada Center were talking. "It's too bad Ken couldn't make it up," Phil said.
"Someone has to stay behind and keep an eye on things," Lori told him. "We try to take turns, but the four of us can't be out of town at the same time, anymore."
"That's what happens when you take on a responsibility," Candice agreed.
"It's not that we don't trust the hired help," Judy explained. "But someone has to be there who can make a decision. It takes the fun out of it when we all want to go do something like this."
"I'm still amazed at how much things have changed," Phil said. "I'd never have dreamed of an operation like yours when we were in school."
"We never dreamed about it, either," Lori said. "It's more of an industry than it is a farm, anymore. But still, it's a job, and it's good to get away from it for a bit. Bob's been excited about this. It ought to be a real good show."
"I hope so," Candice said. "I've never been to anything like this."
" I haven't either," Phil said. "I've been involved in taping parts of Wonderful Winter World several times, but those are all exterior setups that we run through again and again. From what I understand, this is supposed to be more like a concert taping."
* * *
Wearing a pair of blue jeans and a Bubba Winslow T-shirt, Jenny walked up to the microphone on the stage in the Pike Bar, and in a quite businesslike voice, said to the audience, "Welcome all of you to Spearfish Lake and the taping of Saturday Night with Jenny Easton. I know it's Sunday afternoon, but that's the way it works in this business, sometimes."
She got a mild laugh out of that, and went on, "Let me explain what's going to happen here today. What it's supposed to be is something like a Saturday night show in a funky bar. We ran through the show once this morning without an audience, and we're going to run through it again, going pretty much straight ahead, although there will be a few brief breaks here and there. The sets will be a little longer than normal, to give us a little extra if we need it. If we manage to mess something up badly, we may go right back and retake that particular piece." She turned to the four men and one woman backing her up, "But we aren't going to mess up anything, are we, guys?"
That drew another laugh from the crowd, a little stronger this time. "Then," Jennifer continued, "We'll take a fairly long break and have a buffet, then do it all over again. Depending on how things go, we may redo selected segments after that, or do a full run through. Hopefully no one will get too bored about hearing the same set several times. Now, this is supposed to be a Saturday night crowd, and we'd like everybody to stay loose. To help that, we will be running a cash bar, and I'd like everybody to feel free to use it, but not overuse it. To help with that, drinks will only be available from the waitresses. Since we only have two of them, I hope that'll keep it under control, but anyone getting too rowdy will be ejected. Of course, we don't have anyone like that here tonight, do we?" She smiled and looked out over the crowd.
"Now, the reason that everybody has been assigned seats is for continuity, so that people in the crowd will be in roughly the same places in crowd shots, so we'd like you to stay pretty much where you are, unless, of course, you have to use the facilities. That's part of the reason for the short breaks between the sets. You want to stick around, though, since there's going to be plenty of familiar Jenny Easton music, but tonight, you're also going to hear Jenny Easton take a guitar into some places where she's never taken a guitar before. And," she smiled at Myleigh, "You're going to hear a Celtic harp go where one has never been before, either. Now, if everybody's set, let's get rolling."
There had been a major debate about the lineup, and they'd decided to open with Orange Blossom Special, with Jenny on guitar and singing, Blake on keyboard, Shovelhead on violin, Randy on bass guitar, Bob on rhythm guitar, with Myleigh on the Celtic harp. Orange Blossom Special was an old country standby, but could be depended on to get the crowd up and going, and in this case it would be mixed with titles and crowd shots. It was mostly an instrumental piece, and Jenny's singing wasn't the centerpiece, which was the point. It gave the cameras a chance to focus on Shovelhead and his fiddle solo.
As the song wound down to an end, and the closing was still going on, Jenny said into the microphone in a much more excited voice than before, "Hello, everyone, and welcome to Saturday Night with Jenny Easton, here in the old Pike Bar with lots of good friends around us. With me tonight is my favorite biker buddy, Shovelhead Metarie, on the violin and rhythm guitar," – the huge, bearded Shovelhead, dressed in leathers, biker headscarf and boots, and Harley-Davidson T-shirt gave a nod to the crowd, who gave a little cheer. "On the Celtic harp, our favorite English Lit professor, Doctor Myleigh Harris." Myleigh had the dark blue harp strapped to her waist, so she could play standing up, and she gave a smile and a quick run. "And on rhythm guitar, Farmer Bob Watson," Jenny continued. Bob in his coveralls and straw hat, gave a nod, as well, and again there was a cheer. "There's local boy Randy Clark on bass guitar, and my good buddy Blake Walworth on keyboard and lead guitar." There was a bigger cheer at the blue-jeaned Blake, who was more familiar to the Jenny Easton fans in the back of the room than the first two named. "And I'm somebody by the name of Jenny Easton who just wandered in here out of nowhere in particular. Guys, let's do it!"
They swung into the familiar strains of Texarkana Tess. It was a little off pace for the show, but it was very much Jenny's old style, and much though she was tired of it, they'd decided they needed to pay the price to include it, just to prove it was Jenny. It was real honky-tonkin' music, and it was actually pretty good to set the scene. At least, with this group, it sounded a little different, a little fresher.
"I thought she wasn't going to use this," Tiffany whispered to Josh.
"I don't know," he said. "Maybe somebody plugged in the jukebox."
Texarkana Tess was actually about the slowest cut of the evening; everything else was pretty high-energy, by comparison. It was followed by an original Jenny and Blake Piece, Stir It Up, and Jenny was pounding the guitar hard with the rest of the gang. Jenny was still thought of mostly as a singer by many, even with the amount of guitar she'd contributed to their album At Home with Jenny Easton, but part of the reason for doing this show in the first place was to showpiece her as an instrumental musician.
If there were any doubt, the next cut settled it – the classic old Pipeline, one of the more high-energy four-guitar pure instrumental pieces ever set to music. A lot of people who knew Jennifer and Blake personally had heard them play their two-guitar version of the piece, but with the six of them they rocked even harder than that. Anyone who thought the Celtic harp wasn't a rock instrument quickly learned better. After the triumphal final chords, the crowd was cheering, and Jenny blew on her fingers and waved them in the air to play at cooling them off.
As the cheers died down, the group swung into another Jenny and Blake original, Backwoods Girl. It was a relatively slow piece after the rocking of Pipeline, but only relatively slow – it was a whole lot more energetic than Smoke-Filled Room, for example. But it made a good entry to a brief break that would eventually be filled with a commercial.
Back from the break, they tied into some other music – partly new Jenny Easton stuff, like A Month of Sundays, Timberwolf, What Goes Around and Snowline, some Jenny Easton familiars, like North Shore, Saturday Night Paradise, Night Crossing and Blue Ridge and more covers – House of the Rising Sun, Foggy Mountain Breakdown, and another slow but famous piece, Horse with No Name, then Bobby McGee and Rocky Top. She wound it up with her most recent honky-tonk style hit, Dyin' Hard, which would roll with the credits. It was, as anyone would admit, quite a show.
After Dyin' Hard came to an end, Jenny took the guitar strap from around her neck, and said, "OK, that went pretty good. We'll start over again in half an hour, so visit the cans, tank up the drafts, and we'll get the show on the road again."
* * *
There was no good place for a dressing room or a green room at the Pike, so Blake had borrowed George Webb's big motor home and had it parked out back to serve the purpose. The five musicians huddled in there with Logan St. George, who was serving as camera director on this shoot. What had seemed pretty good to the audience seemed to have some rough spots to this rather picky crew, but on the whole it had gone better than expected, which is why Jenny and St. George hadn't called for any retakes during the set.
There had been an awkward flat spot in North Shore that probably should have been a candidate, but Jenny had decided on the fly to skip the retake this set. There would be at least one more chance to get it right, and since the song was basically intended as a backup anyway, if it went more or less right on the second take, it might be good enough.
"We've got a good crowd," St. George said. "As long as we give them a good show, I think they'll give us a good reaction. We may not want to wear them out with a third set, or a bunch of retakes, or both."
"You're probably right," Jenny agreed. "I wouldn't have minded them being a little more rowdy, though. It seemed a little too much like a concert, and not enough like a Saturday night at a bar."
"They'll loosen up a bit, after a couple beers," St. George said.
"When we go back out, we'll do some jammin' with Jenny," she said. Tape's cheap, so run it; we may want to use some of the reactions. Blake and I'll do some of the stuff we practice with, and I'll razz some folks, maybe that'll get everybody a bit looser before we start with the actual shooting again."
"Sounds good," St. George agreed.
"OK," Jenny said. "Let's go back out and do it right."
Back out on the stage, Jenny pulled up a bar stool in front of the mike, hopped up on it, and told the crowd, "If everyone doesn't have a cold one in front of them, you've still got a few minutes, so we're going to take this time to do a little jamming, and generally have a little fun before we do the next run through." The next few minutes were totally unrehearsed; Jennifer had Myleigh come over to the mike, carrying her harp, and the two of them did a soulful rendering of Dawnwalker, which had been the surprise hit of the At Home with Jenny Easton album. From there on, it was more like an evening jam session – but all of it was new, rocking music that they weren't quite ready to release yet, but showcasing the rather odd instrument, the Celtic harp as a rock and country instrument – and its small, brassy player as its master.
With the crowd warming up, Jenny put the stool away and said, "I promised a little jamming with Jenny, and I meant it." She and Blake picked up Smoke-Filled Room, which once had been more or less her signature piece. Bob, Randy, Myleigh and Shovelhead hadn't practiced it with her, but they were familiar with it and joined in, and soon the place was rocking. By the time they reached the end, they had the crowd singing along on the chorus, and it was time to start shooting the second take, so while the applause was still rolling, they broke into Orange Blossom Special again.
They went a little slower through the second take, with longer breaks. At least this time, North Shore came off without a fluff, and they got good applause from it.
"We're getting some excellent tape," St. George said later in the motor home. "We could probably wrap right now, but I'd like to change some camera angles and run through it again so we'd have a little wider mix."
"Is everybody up for one more run-through?" Jenny asked.
"Yeah, sure," Shovelhead said. "I've had longer, tougher sets just sitting around in your basement."
"Sure," Bob said. "This has been fun."
"Yes, this has been a most enjoyable afternoon," Myleigh smiled. "I fear that the classroom shall seem dull tomorrow."
"You realize, we may have to do this again sometime," Jenny smirked. "We'll go out and do some jamming again for the crowd. Blake, are you still up for that special we talked about?"
"Of course," he said. "I wouldn't miss it."
"You better not," she said with a smile. "Myleigh, Bob, Shovelhead, you know what to do. Logan, keep the cameras running through the jam session, but remember that Blake and I own the tape, OK?"
"Yeah, sure," the cameraman said, wondering what Jenny meant.
* * *
Back on the stage a few minutes later, Jenny stood in front of the microphone with her guitar in hand and said to the crowd. "OK, folks, we're going to do the full run through one more time, and if it goes all right, then it'll be a wrap. Just to get everybody in the mood, though, we're going to do a little more jamming with Jenny. But first, I've got a couple introductions I'd like to make," Jennifer said as Blake stepped up to her side, took her guitar and set it down with his own. "My sister and brother-in-law Brandy and Phil Wine are here, and I'd like them to come up here. Also, I'd like to introduce Lex Metarie, who happens to be Shovelhead's wife. Come up here, all of you."
Phil and Brandy looked at each other and exchanged a glance that said that neither of them knew what this was all about. They were in front of Lex coming to the stage, but Blake grabbed Phil by the arm and directed him to stand beside him, while Jenny took Brandy to her side. Lex, dressed in jeans and a leather vest that showed off her intricate tattoos, came around back, nodded at Shovelhead, and walked up to stand between Jenny and Blake. Jennifer spoke again. "This cool lady happens to be the mayor of Spearfish Lake. And, since she's the mayor, there's something she's agreed to do."
Without further word, Bob, Myleigh and Shovelhead began to play some familiar strains, and in quiet but heartfelt voices began to sing, He is now to be among you, at the calling of your hearts; rest assured these troubadours are acting on his part . . .
Josh leaned over to Tiffany. "Wow, can you say, 'publicity?'" he whispered.
"She's got the touch," Tiffany smiled.
"My God," Candice whispered to John. "I didn't know this was going to happen."
"Neither did I," he replied. "They said it wasn't going to be real formal, but, wow!"
Nor did much of the rest of the room, if the whispering was to be believed. As the music died out, Lex stepped back a step, bringing a microphone with her, and Jennifer and Blake turned around, their backs to the audience, with Brandy and Phil taking their lead.
"Ladies and gentlemen, friends and strangers," Lex began; not a sound could be heard from the assembled crowd. "Occasions such as these are often times of solemnity, when very often they should be occasions of joy. These two people have taken much joy in their work over the years, and they've taken much joy in each other. Romance and love often takes a long and rocky road with many strange twists and turnings as two people find their hearts. Let no one think that the joy of this occasion obscures the depth of feeling that these two share for each other. Their joy in each other has built through many years, and has developed into a bond of devotion that has stood the test of time and trial. So, we are here today not to witness a ceremonial recognition of what has existed in fact for a long time, but to celebrate the fact that the bond between them exists, and a celebration of the decision of these two to join their lives, a decision to cease walking through life side by side, and to walk through life as one. This bond has developed over many years, and by this celebration, they signify that they take this decision to become as one with honor, and a deep and enduring love."
"Jennifer, Jenny," Lex said, turning to her – the use of both names was not a fluff, as many thought, but fully intentional – "Do you take Blake to be your lawful wedded husband, to cleave unto him only, from this day forth, in sickness and in health, to love, honor and cherish, from this day forth, till death do you part?"
"I do," she said.
"Blake," Lex continued, "Do you take Jennifer to be your lawful wedded wife, to cleave unto her only, from this day forth, in sickness and in health, to love, honor and cherish, from this day forth, till death do you part?"
"I do."
"Phil, do you have a ring for Blake to present to Jennifer as a symbol of his oath?" Amazingly enough, Phil did – Blake had slipped it to him as soon as Phil had figured out what was going on – and now he passed it back, and it was placed on Jennifer's finger.
"I now pronounce you husband and wife," Lex announced. "You may kiss the bride."
Phil was impressed. While he'd only given Brandy a little peck when he'd married her only a few months before, Jennifer and Blake got into a deep clinch and it went on for a while. Finally, they came up for air.
"Ladies and gentlemen," Lex announced in a brighter voice, "I now present to you Mr. and Mrs. Blake Walworth."
The two of them turned to face the still rather stunned crowd, and waved at them; that was the key for the place to erupt in cheers.
"OK, folks," Blake said into the microphone, as Lex, Phil and Brandy headed for their seats, and he picked up Jenny's guitar again and handed it to her. "Let's everybody get their breath, and then get back to their seats. We've still got a take to shoot, but when we get done, we'll have a little reception in the back, with a fresh buffet and drinks on the house."
* * *
There was a thundering roar that came from the direction of Spearfish Lake, and went right over Josh and Tiffany's head as they got out of the Jeep late that evening. "Well, they're on their way," Tiffany smiled as she glanced up and saw aircraft running lights flash overhead. A few dogs howled in reply to the racket.
"Yeah, I hope they have a good time," Josh smiled. It wasn't common knowledge what that was all about, but Blake had whispered to him during the reception, which got rather wet, that there was a chartered Cessna Citation sitting at the Spearfish Lake Airport waiting for the festivities to end. They knew that Blake and Jennifer were going, well, someplace, on their honeymoon. Myleigh was on the jet, too – they'd promised to drop her off in Kansas City on their way wherever they were going. Josh wondered if the English Lit students at Marienthal College would hear about Dr. Harris' trip home.
"I wonder what they have planned for the evening," Tiffany smirked.
"I don't know," Josh smirked back, getting Tiffany's meaning, as he walked around the Jeep toward her. "Kind of a long day, for them, especially. Probably just sleeping."
"Heck of a note for your wedding night," she smiled, as he took her by the hand, and turning to walk toward the trailer. "But yeah, it's had to have been a tough day for them. But it ought to make a great show."
"I think so," he said. "But then, we both know what long days and not getting a lot of sleep is all about. Maybe we're going to get a little more time for each other in the future."
"It would be nice," Tiffany smiled. "I have to admit, I really wasn't looking forward to the autumn agony again. I'm glad we decided to give up the race."
"Yeah, me too," Josh said. "We've still got a lot of issues to work out with Phil, but we'll work them out. We need to do some talking before we sit down with him again."
"I know," Tiffany said. "But Josh, let's not talk about them tonight."
"You got something else in mind?" he said as they walked side by side in the dark up to the steps of the trailer.
"What do you think?" she said. "We really haven't had much chance to celebrate."
"I know," he said. "I couldn't help but think how good you looked in those clothes today."
"Thanks," she said. "I guess I don't get a chance to dress up that often,"
"It was nice," he said, as he opened the front door. "But, you know, I couldn't help but think how much better you look with them off."
"Is that a proposition, Mr. Archer?" she smirked as he closed the front door and took her in his arms in the darkness of the living room.
"You darn betcha," he said as he moved to kiss her.
---
<< Back to Last Chapter
Forward to Next Chapter >>
---

This work is licensed under a
Creative Commons Attribution-Noncommercial-No Derivative Works 3.0 United States License.
---