Wes Boyd's
Spearfish Lake Tales
Contemporary Mainstream Books and Serials Online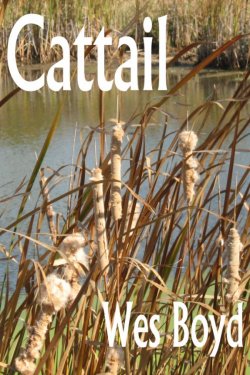 Cattail
Wes Boyd
©2010, ©2011




Chapter 17
They got on the road early the next morning like they planned, but perhaps they would have been better advised to stay home another day, or at least look at the weather reports. Not long after they got going they started to see snowflakes, and it got worse as they headed south. By the time they were past Indianapolis even the Interstate was what was called "snow covered and slippery," and Roger was thoroughly aware of it. They couldn't get much new information out of the radio in the Taurus -- they'd decided to take it instead of the Mustang to equalize mileage -- but it was clear that things were going to get worse instead of better.
By the time they reached the outskirts of Louisville north of the Ohio River they'd both had all they wanted of tricky driving when they didn't have to do it. They managed to find a motel that still had a vacancy because it was early in the afternoon. It was not the nicest motel they could have imagined, and there was no pool or hot tub to take the edge off of things. It did, however, have a very good wireless internet connection, so they spent some time checking their e-mail.
"Now here," Roger said as he deleted the spam and checked the few real messages left, "Is a volunteer opportunity worthy of interest, and it seems like they want us."
"What is it?"
"Campground host at Cedar Breaks National Monument," he said. "Way the hell and gone out in western Utah. 'Located at an elevation of 10,300 feet in southern Utah, has ideal summers, with cool spring and fall temperatures, and winters bringing lots of snow. The park preserves the amazing geology associated with the eroding Markagunt Plateau on which the park is located.' Sounds pretty interesting."
"Yeah, it does sound interesting," she said. "I don't have it clear in my mind where it is, and I'm not dressed to go out to the car and get the Rand McNally. What do they want us to do?"
"'A campground host,'" he said, reading off the computer screen, "'Greets visitors professionally and courteously and orients visitors to the campground and the services and facilities in the park. They primarily help campground visitors find and secure a campsite, register properly, and understand campground rules and regulations. Hosts are also responsible for custodial duties in the Campground and Visitor Center areas. The Campground Host also patrols the campground frequently to ensure compliance with campground rules and regulations, resolving minor disputes, and determining campsite availability.' It starts June first and goes through September fifteenth. They'll also give us each a stipend of $50 a week."
"Fifteen weeks, so fifteen hundred bucks," she said after a little quick mental math. "Not exactly big money but more than we've been making in Pass Christian. I like it, Roger. That would give us some time to screw around out west and see some of the other sights before we have to get there. When do we have to let them know?"
"By February fifteenth, that's next Wednesday," he said. "Cattail, it sounds like it has a lot of possibilities to me."
"Me, too," she said. "It sounds like a lazy sort of job where we can meet a lot of people, and that would be nice. Up at that elevation it's not going to get hot as hell, either. Plus, at a guess, it's probably not far to Las Vegas, so we've got a fun place to go to when we get a day off. That's about as nice a one as we've gotten an answer on."
"I think so, too," he agreed. "We could do a little more exploring around in the west, head for Wychbold when it starts getting chilly, and still make it back down to the Gulf Coast about the time the Amish get there. It sounds like it would make the summer fit together pretty well."
'I think so, too," she agreed. "It would be nice to have all this settlement stuff over and done with before we have to make up our minds, but it could be a hell of a lot worse."
"I agree, it's about what we're looking for," he said. "But tell you what. We've got a few days. What do you say we just sleep on this one for a couple of them and then see if something better shows up the first of the week?"
"Sounds like a plan," she agreed. "But why don't you pull up the park website so we can find out a little more about the place?
• • •
From what they could tell on the TV in the motel room the storm hadn't been a real bad one, and the roads seemed better when they got up the next morning. They weren't perfect, but Roger was able to keep the Taurus near the speed limit as they pushed on southward. Once they were out of Louisville and going through the hilly country south of town things actually got a little better. They began to realize that if they'd had better information and a little more gumption they could probably have pushed out of the storm the day before and stuck to their original schedule.
"Oh, well, no guts, no glory," Roger commented. "We just get to spend two nights on the road, since I don't think the Amish would appreciate us pulling in way late."
"Right," she agreed. "Gulfport from Louisville is getting to be a little bit much. I guess that means we stop at Birmingham or something."
"We could probably stretch it out some more," he suggested. "That'd mean we'd still be able to get some work in tomorrow."
"Half a day isn't going to matter that much and tomorrow is Sunday, anyway," she shrugged. "Shit, if we're going that far, maybe we ought to take a swing by Wamputa Beach and see if Bill knows anything about Mom . . . shit!"
"Shit, you're right!" he smiled, getting the epiphany at the same time.
"God, wouldn't that be just like her!" she shook her head. "Hell, I was probably right with what I said back up there in Wychbold, she's been laying on a nude beach with a boyfriend. Christ knows why I was thinking Playalinda. God, am I dumb!"
"The last time we saw him he was making sounds about how he'd been sorry to miss the Chicago ComicCon and thought it might be fun to go to the one at Cleveland," he agreed, the pieces falling into place. "How much do you want to bet?"
"Now that I think about it, it's more likely something like that happened than anything else I can think of," she agreed. "I'll give him a try on my cell phone."
"Odds are he won't answer," Roger shook his head. "He never seemed to be very good about turning it on."
In the next few miles Catalina made several attempts to call Bill down at Wamputa Beach, but, as Roger had predicted, there was no answer. She tried Bonnie's cell phone for the umpteenth time, but still got no reply from her, either. "Well, that's a pain in the ass," she said finally. "Roger, there's got to be a truck stop or something up in Elizabethtown. Why don't we stop off and send Bill an e-mail?"
"Might work," he said, "If Bill manages to check his e-mail once in a blue moon."
It didn't take long to make the stop to send the e-mail; Roger just got out of the car to get the laptop from the trunk, and Catalina sent the message sitting in the front seat while Roger topped off the tank. Soon they were back on the road. "Let's check e-mail the next time we stop for gas," she said.
They had no response to the e-mail when they stopped to check at a truck stop near Nashville, and still none when they stopped at another one on the outskirts of Birmingham. There had been no response to several cell phone calls, as well.
"All right, Cattail," Roger said as soon as he got back in the car from filling the gas tank once again. The weather was much warmer than it had been that morning, almost reasonable, in fact. "We've got a decision to make. Wamputa Beach or Pass Christian? Wamputa Beach means another day on the road."
"The Amish can get along without us for one more day," she said. "Maybe more than that. It might be warm enough to be out in the sun for a bit if we go to see Bill, even if Mom isn't there. But I'll bet she is."
"You know," he said, "The thought crosses my mind that your mom may have been expecting us to come there to leave off the camper when we headed back north this trip," he said. "Maybe she went down there with him with the idea of bumming a ride back with us."
"And we didn't go there," she shook her head. "Maybe she wanted to surprise us by finding her there. If that was what she was thinking we probably bit her in the ass. I mean, not that I should find that surprising seeing the fact that she spent every night with Bill the last time we were there with her."
"Let's push as far south as we can tonight," Roger agreed. "It's a hell of a long way to go out of the way to check out a wild hair idea, and even if she is there we won't be staying the night."
"Why not?" she asked quizzically, then understood. "Oh, no camper, no tents, no sleeping bags. Well, maybe if we can make it a quick stop we can make it to Pass Christian tomorrow anyway. It might be a bit late, but we could make a full day of it the next day."
"That's pretty much my thinking," he agreed. "I suppose that means we leave your mother with Bill, if she's there."
"She probably won't mind," she giggled. "Hell, the way they were acting the last time she might not want to go back with us when we go north again."
After a stint on roads southeast of Birmingham, they finally wound up that evening in a good motel in Marianna, Florida, after a day's drive that had been about as long as they expected but longer than they'd wanted. The motel had a pool and a hot tub, so they made sure to use it to clear away some of the aches of the day. The next morning, they had a quick breakfast, then headed on down back roads to Wamputa Beach.
The place was a little busier than they remembered from before -- there were some trailers and motor homes other than Bill's sitting around, although the place still wasn't very busy. It was warm even for the early morning hour, much warmer than Michigan, although Roger wasn't sure he would have wanted to spend very much time running around with no clothes on.
"Well," Roger said as he got out of the Taurus. "Let's go see."
They headed into the lounge, which they knew doubled as the office, and sure enough, there was Bonnie sitting behind the desk. "You're late," she said. "I expected you last week."
"We've been north and back already," Catalina smiled. "We decided to leave the camper in Pass Christian."
"Well, nuts," she smiled. "I guess that means I'll have to tell Bill I'm staying a while longer. I'm sure he won't mind. So how did the hearing go?"
"All right, we think," Catalina explained, giving the gist of the story, and that the judge had ordered the land sold at auction and the proceeds split.
"Well, that gives you the chance of getting out of it all right," she shook her head. "But if Delmer is involved, there's something underhanded brewing. You better watch your step. I wish I had been there; I might have been able to see what he's up to."
"And you might have mouthed off to him in the courtroom and got your butt put in jail, too," Catalina snorted. "As it was things were fairly peaceful. In a way I'm glad you were down here. Why didn't you tell us you were coming here? We've been worried sick!"
"I didn't plan on staying this long," she replied sheepishly. "And I figured you'd be coming here before you went north, so I decided to surprise you. Oh, well, no big loss. I'm sure it's still snow all over the place up north, while it's mostly been pretty nice down here."
Bonnie's story turned out to be much like they'd surmised: Bill had indeed driven to Cleveland and they met there. Well, hooked up there and apparently it had been quite a party. Bonnie wasn't very clear on whether it had been Bill's idea or hers to go back to Wamputa Beach with him, and it may have been developed by the both of them; he followed her home, spent the night there, and the next morning they started back for Florida. They'd been having a high old time ever since; especially high in some ways, since Bonnie announced she'd brought a supply of her front-door herb with her.
Bill had joined them as she went through the story, and they got the impression from him that he'd been having a good time, too. "So, what's the plan?" he asked.
"Well, we're not planning on heading back north much before about the end of March, if then," Catalina announced. "The Amish crew we've been working with will be leaving about that time, and it might be a good time for us to go, too, especially since the auction will most likely be around the middle of April. We don't know yet."
"So, you're saying another six weeks or so, then?" he asked.
"Yeah, something like that," Catalina replied. "Everything is still sort of loose and depends on if we decide to go to the auction at all. We're talking about taking a trip out west, maybe spending the summer doing volunteer work someplace, so that will enter into the thinking too."
"Well, I probably ought to get back north sometime," Bonnie said. "But I'm in no big hurry and in six weeks we ought to be through the worst of the snow. I think the two of you had better plan on being at the auction, just to see what it is that Delmer is up to. I wouldn't mind being there for that. Afterwards, well, we'll have to see what's happening."
"We'll try to keep you in touch with what we're planning," Catalina said. "That means you have to answer your phone or your e-mails once in a while, though."
"I'll try to be a little better at it, and I'll try to make Bonnie a little better, too," Bill said. "Although when she gets an idea in her head it's hard to change her mind."
"Lord, don't I know it," Catalina shook her head. "Well, hey, we can't stay all day; it's Sunday and we'd like to get back to Pass Christian before the Amish turn in for the night, which means we're going to have to get moving."
"It'd be nice if you could stay for a few days," Bill suggested.
"It'd be nice to stay," Catalina agreed, "But we're not prepared to stay in a campground this time."
They wound up talking for a few more minutes anyway, then Roger and Catalina got back in the Taurus and headed back out the driveway. "Six will get you two," Catalina said, "That Mom won't be all that crazy about heading back north with us in April. She and Bill are having too much fun shacking up together."
"Sure looks like it to me," Roger agreed, dodging one of the potholes. "Of course, we are, too."
"Yeah," she smiled. "Roger, in the past I've stayed with guys longer than I have with you, but every time before when I got about this far long, I was starting to think about what I was going to do next. It's not happening this time, and I'm sort of wondering why. Sometimes I think we might be in this for the long haul, and I'll be honest, that scares me a little."
"What?" he asked, since her reaction to that part of her history had made him wonder about the subject more than once. "Having to make a commitment?"
"Yeah, exactly," she said. "I've actively avoided it in the past, and most of the time I've been glad I did. I'm not even thinking about doing anything different now than staying with you for a while. That's really something new to me, and it can't help but scare me a little."
"I can't blame you," he said. "You've been used to doing new things all the time."
"Yeah, I like to see what's around the next bend," she agreed. "There's too much of the world to see to spend all the time mired in a place like Amherst. Christ knows how Mom has managed to stay there that long. I mean, it's not like she has to, other than it's a place she knows."
"I have to say that I don't think Amherst is going to see a lot more of her," Roger opined. "I mean, she can sit around home, or she can hang out with her boyfriend who owns a nudist camp and loves that anime stuff."
"Yeah, if I was in her shoes I know what I'd do, and it's not stay in Amherst," Catalina said. "But damn it, I've got a boyfriend who is getting real tired of Wychbold and doesn't want to hang around there all that much, and it's making me think. Roger, I know you've been used to doing the same thing day after day, and I also know you've gotten real tired of it. I'm looking forward to doing this campground-host thing just about as much as you are. I've never done something quite like that, and I think it will be fun to do once. Then, after that, we ought to be able to think of something else to do. Maybe that thing we talked about with the horse and buggy, maybe something else."
"That would take some getting ready for, but we could do it," he said. "Catalina, from my own experience and from hanging around you, I think I've been able to put the routine of the Ford plant and hanging around Wychbold behind me. I'm ready to do the next thing with you if you are. I know we haven't talked about it, but if it involves getting married, so be it."
"I've thought about being married," she admitted. "I've even thought about being married to you. We make a good pair, Roger. The thing of it is, I've always been so ready to move on and do the next thing that I'm not sure how well I'd take to it."
"I understand that. It's part of the reason I haven't brought the subject up before. I'm perfectly ready to wait for a while if you want to, even if it's several years. But I think if we stay together, eventually we should get married, if only because it's to your financial benefit."
"Why do you say that?" she frowned. "I mean, if we stay together we're mostly going to be living off your Ford pension and your investments, plus anything I can contribute from the land sale if I get anything much out of it. Why should being married be any different?"
"Very simple," he said. They'd talked about this before, but not quite in this way, and he realized he'd failed to bring up an important point that could change things a lot. "If for some reason I should happen to die before you do, you'd be drawing my pension and the income from my investments. Then later, when Social Security comes along, you could be drawing my benefits, too."
"Huh? Roger, are you sure?"
"Sure, I'm sure. Catalina, it means you'd have a fall back position if something should happen to me. However, it also means you have to more or less commit to putting up with me."
"Jesus, I never even thought about that," she said.
She was silent the rest of the way out to the highway. When they got there, Roger decided without discussion to head back the way they'd come in that morning, rather than follow the longer and slower route along the coast they'd taken in the past. Going up to I-10 and heading west on it would be quicker, even if it meant more of the dull driving on the Interstates, as if they hadn't had enough of that to hold them for a while. She made no real comment about it when he explained what he was planning on doing.
She was quiet nearly half the way up to the I-10 interchange. Finally, she said slowly, "Roger, I hate to say it, but I don't think I'm ready to get married, at least not yet. I want to stay with you, though. Would you mind if we spent another year or two together before I make up my mind?"
"Not in the slightest," he said. "I realize that's an issue you have to work out for yourself. I don't think I'm going to lose interest in a year or two. You've kept life a lot more interesting for me than I've managed in a good many years, and I'm perfectly willing to keep going that way. But, as I said, I think in the long run for your sake we ought to be married."
"Yeah," she said slowly. "You could be right on that."
"I'm sure I'm right, but it's a decision that you're going to have to make for yourself. I think what we'd better do is just leave it lie there and see what happens in the next few months while we figure out what the next thing is. I'll tell you what, unless something better shows up in the e-mail by tomorrow night, I think we should go ahead and tell those Park Service people we're willing to do that campground-host thing at Cedar Breaks."
"Yeah, I'm leaning that way, too," she agreed. "In some ways it seems a little slow and dull after the busy winter we've had, but there ought to be some good people to meet, and at the worst it's only three and a half months."
"My thinking exactly," he said. "And I like the idea of doing some aimless traveling around out west. I don't think I'd care to make a life out of doing that, but a few months is a different story. Unless something better comes along we're probably going to be back down here next winter, aren't we?"
"Well, yeah," she said. "Do you have something else in mind?"
"I've been thinking about the motor home," he said. "It really is a little on the small side to be living out of more or less permanently. It would be all right if I was by myself, but it's snug for the two of us and that time your mother was with us it was more than snug."
"Not that she was with us for long," she snickered.
"Well, yeah," he grinned. "But just talking, suppose we were out at Cedar Breaks next summer and Bill and Bonnie decide they want to take a break from the heat and humidity down here and come visit us? There's not really room for three in there, and four would be impossible. Look, we could stand a bigger shower and several other improvements. And, let's face it, that thing is coming up on thirty years old. I bought it cheap and quick because I needed to do something before I changed my mind."
"You're saying a new motor home to go out west with?"
"Well, a newer one, anyway," he said. "I can't see tying up that much money just to let it depreciate on us. Say, something that's more like ten or fifteen years old, rather than thirty, and a little larger."
"That's going to be expensive."
"It's not going to be cheap," he conceded. "But I can afford it, up to a point. At one point back around Christmas I asked Jason Daugherty about what I could get out of my house in Wychbold, thinking I could turn it into a new motor home and not have to touch my investment account. Right at the moment I'm thinking about not selling the house, since we still need to have a base somewhere, and if your mother winds up selling out and moving down here with Bill, like I suspect she's thinking, that lets her place out. We'll probably want to spend some time there each year. It would be possible to buy a smaller place, but let's face it, the place I have is paid for, and if I buy a smaller place it won't be grandfathered in on the taxes so it's going to cost just as much for that."
"That means we base out of Wychbold, and get a used but bigger motor home. I kind of like that idea."
"I do too," he agreed. "But what it means is that if we accept that job starting June 1, we'd probably better be thinking about heading back north around the end of March. That would mean we'd be there for the auction, and it would mean we'd have time to look around for a new motor home, make the trade, and set up the new one. Maybe we could even make a shakedown run or two somewhere before we head out west for real."
"I like it," she said. "I like the idea of a newer motor home, and one that we can make a little more comfortable. And what's more, I like the idea of living in it with you."

---
<< Back to Last Chapter
Forward to Next Chapter >>
---
To be continued . . .
---

This work is licensed under a
Creative Commons Attribution-Noncommercial-No Derivative Works 3.0 United States License.
---