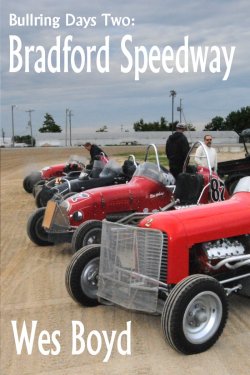 Bullring Days Two:
Bradford Speedway
a novel by
Wes Boyd
©2008, ©2012





Chapter 17
The barn was about like I remembered it, except that it needed a little paint and was looking just a touch wobbly. My guess was that it wasnít used for anything but Frankís junk race-car parts, and it looked to me from the way the grass had grown up that the main doors hadnít been opened in a while. In fact, when we got inside, it seemed like no one had been in there for a while, either; we went through the side door into a huge collection of spider webs. "Jeez," Frank said. "I canít tell you the last time I was out here, but it has to have been a while. A couple years, at least. Most of the time thereís no reason to come out here."
It was pretty dark inside the barn, and I couldnít really see much of anything in the faint light from a dim bulb in the next room, other than the fact that there were a bunch of car parts sitting around. "Any way we can get a little more light in here?" I asked.
"Yeah, sure," Frank said. The two of us turned to fiddling with the big wooden sliding doors, and it took us a while to get one of them open part way, but that let a lot more light into the place.
Yeah, there were a bunch of car parts sitting around. Some of them looked pretty familiar; there were some bent body panels that I remembered from a dozen years before, and other stacks of parts, some of which Iíd probably put into place myself. "Yeah, that takes me back," I said softly.
"You want something that takes you back," Frank smiled, "Come back this way."
I followed him through the mess, toward the back door of the barn. The light wasnít good, but I could see that there was a more or less whole car sitting there. I could see that it had been wrecked pretty bad, although it was still recognizable. For some reason there was a light in a side bay in the barn, and when Frank flipped it on the sight sent me reeling. There, on the bent-up tailpiece flopped down over an obviously empty engine bay I could read the number "2" Ė Arleneís old car!
"What the hell happened to this?" I asked.
"Well, it got wrecked," Frank shrugged. "We were getting down to the end of the fair season back in í54, and we were down in southern Illinois some place, I donít remember now where. Weíd more or less been forced to take what drivers we could get and like it, and there was this guy we picked up somewhere that said he could drive. Well, beggars canít be choosers, so Spud and I decided to take a risk. Well, he got tagged trying to pass someone, slid through a fence and rolled. He didnít get hurt too bad, but he sure as hell banged up the car. We just stuffed it into the truck and hauled it back, then dumped it out here. Like I told you, at the time we werenít at all sure we were going to be running the next year, so there was no point on working on it, Bush didnít want to take any of this old junk."
"Well, son of a gun," I said, shaking my head and looking it over. "Itís beat up pretty bad, isnít it?"
"Yeah, I remember Spud and I talking about whether it was more worth our time to try to fix it up or just build a new one. As it turned out, we didnít do either. Itís just sat here since November of 1954. Iím sure the frame is bent up pretty bad, and I donít know if it could be repaired or not. But this is as close to a complete MMSA car that exists anymore, for what itís worth. No engine, Iím afraid, we did yank that out."
"Good God," I said, just standing there and taking it in. "God, does that bring back the memories. I remember Arlene washing and waxing and polishing this thing till it shone. Itíd make her heart sick to see it like this."
"Yeah, itís pretty much junk," Frank said. "I know a guy that deals in scrap, maybe I just ought to have him come over and haul it all off."
I stood there looking at it, remembering seeing it on the track with Arlene driving. Battling with her for position on dirt tracks all over the Midwest, the V8-60s roaring, plumes of dust in the sky, the smell of hot oil and exhaust and rubber and dirt. It was a long time ago, and just about another lifetime.
Should I do it? It was tempting . . .
"Frank," I asked, "What would you have to have for all this junk?"
"What in hell would you want it for?" he frowned. "Like I said, thereís parts enough here to go a long way toward fixing the 2 car, maybe even get a good start on another car, but thereís absolutely nothing you could use it for. Besides, Spud would tell you that they donít do it that way anymore. Thatís a rail frame with a design right out of the thirties. Sprint cars and midgets today are all tubular space frame."
"Look, Frank," I smiled. "You remember I teach auto shop, right?"
"Yeah, so what does that have to do with anything?"
"I like to give my Auto Shop II kids a project to work on. Over the years, weíve rebuilt several cars, including my old í37 Ford."
"Yeah, I remember you saying that."
"So, one of the things that Iíve had to deal with this summer is to find a project for the kids to work on this winter. Granted, this thing is obsolete as hell, but thereís a little bit of a heritage or antique value, nostalgia if nothing else, especially for me, and there will be for Arlene, too. I wouldnít think about racing it, but itíd be neat to drive in the local Fourth of July parade or something like that."
"Yeah," Frank nodded his head thoughtfully. "It would be interesting to see one of these things restored. Tell you what. If you want to haul everything out of here, when you get everything restored you paint ĎFrank Blixter Ford, Livonia, Michiganí on it somewhere, you can have all this shit."
"Fair enough," I smiled. "You got a deal."
"I just want you to understand that I donít have any real notion of what all is here, or how good it is," Frank warned. "I donít know if there are any engines here at all, for example, and thereís lots of busted, junk parts. I think thereís another frame around here from the car that got wrecked the night we met Arlene, but if you remember, we abandoned it as being too bent up to fix."
"You say Peewee is still down in Indianapolis?" I asked. "He built the darn things in the first place, if anyone can fix those things he ought to be able to. Besides, I remember that there were a lot of stock Ford parts that went into these things just to make life a little easier if we had to go hunting for parts out on the road some place."
"Yeah, but that involved being able to find í30s-model Fords in the junk yards," Frank shook his head. "I hate to tell you, but you donít do that much anymore."
"It was hard to find those parts ten years ago when my shop kids and I rebuilt the í37," I told him. "It canít be any easier now. But that just makes for a challenge."
"Mel," Frank shook his head, "You are crazy as hell. But I wish you the best of luck with it. It would be nice to see one of these old cars running again, even if itís not racing."
"I think so, too," I smiled. "Look, Iím probably not going to be able to get a truck and some spare hands until the weekend, Saturday or Sunday. Will that be all right?"
"Take your time," he said. "This shit has all set here for ten years and more; it wonít hurt it to sit here another week or two if thatís what it takes. Have you seen what you want to see, or do you want to paw through this stuff some more?"
"Iíd love to paw through it," I told him. "But these clothes are too good for that, and I donít have any work clothes with me, so I guess Iíve seen what I want for now."
"Good enough," he said. "I guess I wouldnít mind pawing through it a little myself, just because it brings back some memories, but Iím not dressed for it, either. Letís get this place closed up and go get some lunch."
It was a little easier to close the barn up than it had been to open it. Frank and I brushed ourselves off Ė weíd picked up a few spider webs in spite of everything Ė and headed back out to the Mustang. "Well, at least this will get my uncle off my ass about that stuff," Frank said. "Hell, thatís probably worth it by itself. Tell you what. Letís head over to the import agency. Vivian and Jerry are probably going to be too tied up with those Japs to have lunch with us, but we ought to be able to just to say hello to them. But Iíll bet Pepper and Dewey wouldnít turn us down if we invited them out to lunch with us."
"Sure, itíd be good to see them again, too," I nodded. We got back into the Mustang, with me driving again. I pulled out onto the road in front of the place, which was more or less out in the country, although there had been suburbs built up along the way since Iíd last been there. The road was pretty empty, so just for the hell of it I stuck my foot into those three deuces under the hood of that thing, and had it pretty well flying by the time I hit fourth gear. When the speedometer hit three digits I backed off out of it and let it slow down to sixty-five, the speed limit back then.
"Thatís still kind of fun, isnít it?" Frank laughed as we got slowed down to the point where the wind noise allowed us to talk. "Youíre still a racer at heart, arenít you?"
"There are times," I said. "You have to remember that this is the hottest car Iíve driven since my racing days, and I wouldnít want to bet that the midgets were faster than this."
"Actually, thereís no way of telling without you rebuilding one, but I think theyíd get around a quarter mile dirt track quicker," he smiled. "The midget would just handle better. Paved track, I donít know. I think this thing would run with the midget through the corners, maybe a little behind it, but blow it away down the straights."
"Yeah, it does go in a straight line pretty good," I agreed. "Boy, cars have sure changed since those days, havenít they?"
"Sure have," he said. "You ever seen an MG-1100? Thereís some at the import agency, weíll have to stop and look at one. Thereís some real interesting thinking there. The car is front wheel drive, and the engine sits sideways under the hood. Me, I donít think itíll catch on, but youíve got to give them points for trying."
Again, Iím going to jump way ahead of the story here to point out that Frankís talent at prophecy was no better than mine. If youíve ever looked under the hood of a new street car today, the odds are pretty darn good that itís front wheel drive and the engine sits sideways under the hood. It seems almost natural today, but it really was a radical notion back then that took a while to catch on.
Frank and I had always been car people, and that hadnít changed. We shot the bull about new cars and old cars and how theyíd changed in the nearly twenty years since weíd first met back on Okinawa. Eventually, we reached the import agency, which proved to be on the exit off the freeway that Iíd taken earlier Ė Iíd driven right by it when Iíd first come into Livonia. This was another big dealership, although not quite as big as Frankís Ford dealership, and there were a lot of cars sitting around. We headed inside.
As expected, Vivian and Jerry were tied up with the negotiations with the Toyota people, but Frank leaned on Jerryís secretary a little to call them out of the meeting. "Tell them both thereís someone here theyíd like to meet." He didnít tell her who I was.
In a few minutes, Jerry came out of the conference room first. "My God!" Jerryís eyes grew wide. "Mel, where have you been hiding yourself?"
"Oh, Iíve been around," I smiled. "I see youíre still shilling the marks."
"Not quite the same old way, but itís the same thing in the end," he laughed. Like everybody else, he looked older, too. He was a little older than I was, so he about had to be in his forties, but he didnít look quite right in a suit and tie. "Jeez, you look good. How long has it been, anyway? Ten years? No, it must be longer."
"A little less than ten since I got left behind," I told him. "Arlene and I are living down in Bradford, over toward South Bend."
"Mel!" Vivian cried as she saw me. She was a sight for sore eyes, too. She had to be in her early forties too by then, since I knew she was also a little older than I. But she had aged well, and didnít look much more than mid-thirties. She was still a beautiful woman, and Iíd have to say a very handsome one at the same time. She looked like she had money, that was for sure, a very classy looking lady, not that she ever hadnít been. She was wearing a tasteful business suit with a moderate-length skirt, not like the miniskirts that were just starting to get popular then. "You donít have any idea how many times Iíve wondered what happened to you! So you wound up marrying Arlene? Frank said he figured the two of you would wind up getting together."
"From what Iíve heard today, it was obvious to everyone but me until we did," I smiled. "She couldnít come today, but I donít think sheís going to be happy that she missed this."
"Mel, Iíd really love to stand around and reminisce about the old days," she said. "But weíre tied up in this meeting and weíve got to get everything worked out. Weíre just going to have to work out a time to get together, and that means Arlene, too."
Frank broke in with the comment, "Now that Mel has turned up out of nowhere, weíve been throwing around the idea of having a MMSA reunion."
"Oh, that would be wonderful," she gushed. "Mel, like I said, Iíd really love to stand around and talk but we really need to get back to that meeting."
"I understand, business first, thatís the way it has to be," I smiled. "You always were that way, and I wouldnít expect you to change."
"You know me too well," she grinned.
"Yeah," Jerry added. "Weíre going to have to get together and shoot the bull, but we just canít do it now. Work out something with Frank."
"Thatís what I get for dropping in unannounced," I shrugged. "Weíll have the chance another time."
They headed back into the meeting, and I didnít blame them. Hopefully, we would get to talk another time later. Frank and I headed down the line of offices and knocked on the frame of Pepperís door. When Pepper looked up, Frank said, "Hey, guy, you like to go to lunch with us?"
"Iím kinda busy . . . holy shit, Mel! My God, youíre the last person I expected to walk in here. Good to see you again! Screw this paper shit; sure, Iíll go to lunch with you."
Again, we had to go through the "Where the hell have you been?" agenda and get caught up a little. Apparently Pepper was still stove up from his accident, because he used a cane to get around and did it a little slowly, so we just stood there and caught up a little while Frank headed out back to collect Dewey. It turned out that Pepper was married now, too, and had a couple little kids around Elaineís age, give or take.
Frank soon showed up with Dewey, and we went through the same thing again. The four of us went out and got in the Mustang; Frank got in back as it was a little easier on Pepper in the front. He directed me up the street to a nice mid-level restaurant, nothing real fancy, but not exactly the kind of greasy spoons the four of us had eaten so many meals in all those years before. "Pretty decent place," Frank commented. "Nothing real special, but Iím kind of partial to their French dip."
Thereís no real need to go over all we talked about in detail, but we spent a lot of time discussing the good old days and what had happened to all of us. I hadnít yet managed to tell Frank what Iíd been up to in very much detail, but now I spent a little time talking about it, especially my coming to after the crash, deciding to stay in Bradford and marrying Arlene, and getting the teaching job. I told a bit about how Iíd been involved with the Bradford Speedway and how it had fallen apart.
"A lot of small tracks like that are really struggling," Dewey commented. "Partly because they have some real bozos running them. Iím glad I got out of that short track stuff. You meet a much nicer class of girl at the road races."
"Donít tell me you went all tea bagger on us?" I smiled Ė that was what we called road racers back in the day, because they always seemed to be tea drinkers.
"Pretty much," he smiled. "Those Mini-Coopers we sell have a pretty good reputation for being a fun car to race, so Vivian and Jerry have sponsored me some. Iím not real, real serious about it, but I run a few tracks here and there. They sure are wild to drive, you dirt track them like we used to do it in the old days, except itís on pavement. You take a car that small and put more engine in it than we used to have in the MMSA midgets, itís going to get out of its own way. Itís just racing for trophies, but like I said, you meet a lot better class of woman around those places than we used to see in the old days."
"What heís not telling you," Pepper said, "Is that heís about as bad as Chick was back in the old days for picking up women, but he manages a lot better class of woman than Chick ever managed, except for Hattie."
"Iím actually starting to get a little old for it," Dewey shrugged. "But Iím not ready to quit yet. Maybe one of these days Iíll think about getting married, but Iím not real anxious to do it until I have to."
"Yeah, heís about the only one of the old gang around here thatís still single," Frank smiled. "Iíve been to a couple of those races, and I have to admit that heís right about the women."
"Yeah, no fooling," Pepper smiled. "We hauled up to Mont Tremblant, thatís up around Montreal, for a race weekend last fall, and my God, you never saw such babes in your life. Of course, it helps if you speak French, but that didnít slow him down any."
"So, how do you do in the car?" I wondered.
"Not too bad, actually," he said. "All that dirt tracking we did back in the good old days stuck with me a bit. Of course, the race car is tuned to about half an inch of its life, and that doesnít hurt when youíre racing against people that drive their cars to the tracks. Of course, in Minis, itís often a tossup whether they get to drive home or hitch a ride."
"Yeah, those races can get a little wild," Frank smiled. "It sort of reminds me of jalopy races when people used to drive their cars to the race and get the crap bent out of them. Of course, these are better cars to begin with."
"Maybe Iíll have to go check one of those races out some time," I said. "Like I said, I havenít had a lot to do with racing, but in the last year or two Iíve found that I can enjoy just sitting and watching."
"Actually, I think thatís true of most of us," Frank observed. "Just about everybody I can think of from the MMSA days thatís still around these parts is still involved with racing in one way or another, even if itís just sitting in the stands at some short track. I kind of enjoy watching races myself, and of course I sponsor some cars. I got over wishing I was out there a long time ago, but I still get a kick out of watching. I guess weíre all racers at heart. You just proved that you canít turn your back on it any more than the rest of us."
"Howís that?" Pepper asked.
Frank went on to explain that he and I had just worked out a deal for him to give me all the old MMSA spares that were out in his uncleís barn, so I could attempt to restore the 2 car.
"Jeez," Dewey sighed. "I didnít realize that you still even had all that old shit. Mel, youíre going to have your hands full, but if you can bring it off, Iíd sure like to see the result. You need an extra set of hands sometime in the winter, give me a call and Iíll come down and help you out."
"I didnít get a good a look at everything," I said. "But I figure itíll serve for inspiration, if nothing else. It wonít be the first car Iíve restored from a wreck with the help of my Auto Shop II kids."
We sat around talking about old times and new ones until long after both Pepper and Dewey should have been back to work. Iíd been friends, and roommates with both of them at one time and another, and we had a lot of shared memories. The years fell off like water, and for a little while there we were kids again, enjoying life on the road.
All of us agreed that it would be a good idea for us to get together with the rest of the old MMSA gang still in the area, maybe along in the fall, and Frank offered to host it. Finally, the four of us loaded up in the Mustang and I took Pepper and Dewey back to the import agency, then I drove Frank back to the Ford agency.
We pulled into the lot, and I got out of the Mustang and handed him the keys. "So, how do you like this little bug?" he asked.
"Neat car," I said. "Itís really a little powerful for just running back and forth to the school, and an engine in that high a level of tune probably would be a pain in the butt to keep that way, too."
"Yeah, youíre probably right," he shrugged. "Sure goes like scat, though."
"Oh, that it does," I agreed. "But do they come with a smaller engine?"
"Oh, yeah, thereís a 210-horse V8 that goes pretty good," he replied. "Probably a little better on gas, too. You think you might be interested in one?"
"Might be," I said. "The Olds Iím driving is starting to show its age. I wouldnít mind having a newer car, but I was thinking more like a Falcon, just something to run back and forth to school with."
"Hell," he snorted. "A Mustang isnít a hell of a lot more than a Falcon with a bigger engine and a sexy body. Now, you just tell me if the kids you have in your classes wouldnít just think it was cooler than snot if you showed up at school driving a Mustang ragtop."
"Oh, theyíd think it was cool, all right," I grinned. "Iíd get nabbed to drive a girl in the Homecoming parade every year, but every boy would want to get me out on Curtis Road to set up a little drag race with, too."
"Maybe thatís the beauty of the smaller engine," he smiled. "That gives you an excuse to not do it. Tell you what, just for the fun of it, let me run in and see what we have in one of these with the small V8."
Now, letís face it. Frank was always a salesman Ė he could never have managed the MMSA if he hadnít been Ė and now he was just more serious about it than ever. I could see I was getting a sales job, but Iíd already decided that if he would offer me a halfway decent deal I would be willing to trade the F-85, which I wasnít real happy with, anyway. The car was all right, and the engine was nice, but there was just something about me and it that didnít talk to each other real well.
But while I wouldnít admit it to Frank Ė at least not then Ė I could imagine myself in a Mustang convertible. Iíd never really owned a sexy car for the sake of owning a sexy car; while I was a car person, all right, cars were transportation. Well, except for my í37; that was an antique, now, even though I still liked to drive it once in a while. Maybe it was the fact that I was looking forty right between the eyes had a bit to do with it, but Iíd have to admit to a certain feeling of youth while driving that hot little machine Iíd driven out to the barn.
"Yeah, Iíd be curious to see if you could get one down into my price range," I admitted indifferently. Like I said, while Frank may have been a friend Ė and really, he was probably my oldest friend Ė he was still a car dealer, and I was in his territory.
We headed on inside; Frank grabbed the inventory book off of Perryís desk and leafed through it. "Hereís one you might like," he said. "Red with a white ragtop, 210 V8. The list on it is $2695, but itís a factory official car with about 3,000 miles on it. What year is the Olds youíre driving?"
"Itís a í61, with the aluminum V8, a four door," I told him.
"Boy, wouldnít that little block in a midget make one of those things go like hell?" he shook his head, and turned to Perry, who was standing by watching the master at work. "Perry, whatís the Blue Book on one of those?"
I wonít go into all the details of how we thrashed it out, but Frank gave me a good price on the F-85 without even looking at it. After we got a number worked out, Frank had Perry fill out the paperwork so heíd get the commission on it, and headed back to his office to work on some of the paperwork heíd abandoned earlier. Now, Iíd bought cars before and knew some of the tricks, so I let Perry write the deal up under the unspoken assumption that Iíd finance the car through them. He got everything all ready to go, and then I asked him, "So what is it that I actually owe you?"
"$1031.26," he said.
"OK, fine," I said, pulling out my checkbook and starting to write.
Perry just about turned green at the sight. "But . . . but I thought that you were going to finance it," he said.
"Hell no, not at that interest rate, when I just got the lease payment on my farm the other day," I said.
"But this deal is written on the assumption that we were going to finance it for you."
"I never said that," I told him. "You were standing here when Frank and I worked out the deal."
Perry started to look even greener. The deal with the financing was that the finance company would kick back part of the interest charge for the sake of doing the business. That allowed the dealership to write a lower price on the car and still make out on it. Normally, what would have happened then was that Perry would have to take the deal to the closer, who would reject it Ė but Perry knew that I was an old buddy of Frankís and would go right over his head. "Thatís not how we do it," he said.
"Right," I smiled, handing him the check. "Perry, how long have you worked for Frank?"
"Oh, about a year and a half," he shook his head.
"I worked for him a hell of a lot longer than that," I grinned. "Youíd better figure that I learned a thing or two from him."
Half an hour later I was heading back down I-94 toward Bradford in my nearly brand stinky new í64 Mustang convertible with the top down and the wind blowing through my hair. I flipped on the radio, to discover that someone had left it on Radio 80, CKLW out of Windsor, the local rock station. I turned the radio up loud, and listened to Beatles and Beach Boys and Bob Dylan. I felt like a kid again Ė a kid who had just rediscovered a lot of old friends.
---
<< Back to Last Chapter
Forward to Next Chapter >>
---
To be continued . . .
---

This work is licensed under a
Creative Commons Attribution-Noncommercial-No Derivative Works 3.0 United States License.
---