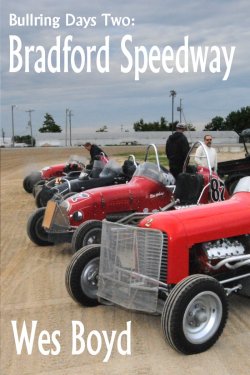 Bullring Days Two:
Bradford Speedway
a novel by
Wes Boyd
©2008, ©2012





Chapter 27
The rest of the season went pretty well, considering everything. The temporary track turned out to work just fine, and we had some good times there. Most little tracks close up in early to mid September, because the weather isn't quite as nice, but after talking it over with the racers we decided to press on and let weather make up our minds for us. We had one really nasty weekend along in late September that I figured would bring the season to the end, but it turned nice the following week and stayed nice, and with a lot of other tracks closed down we had over a hundred cars out the following weekend. Diane was just about run ragged in the concession stand, and pressed a couple other women into service to help out. I think there was a groove worn into the road into town for all the running back and forth that was needed to keep food in stock. It was far and away the best weekend of the year for not having anything special planned.
Well, one thing special did happen. On the rainout weekend I went back over the record of finishes and worked out a points system, which was something I hadn't bothered to do before. After the Economy Stock A-Main was held, the winner stopped his car in front of the bleachers like normal to get his picture taken and the normal little trophy awarded. This time, though, I had a nice, big trophy prepared and handed it to him, announcing that he was the first winner of the Don Boies Economy Stock Championship. I thought it was especially appropriate that the guy I handed the trophy to was Phil Sharp, who had been best buddies with Don back in high school, and who had suffered through some of the bad days with him back in the early sixties.
We managed to get another couple weekends in along in October before the weather got too iffy to carry on. Although the season hadn't gone anything like we'd planned and there had been a big upset in the middle of it, when Arlene and I added up all the figures on the kitchen table afterward we realized that it had come off much better than we'd had any right to hope. "You know," she said. "We might have something here."
By that time, the new track up the hill was taking shape. It was more than just some stakes roughly driven into the ground by eye; I'd had a surveyor come out to set out some grade stakes a little more accurately, and by now the grading work was pretty well done. It was taking longer than we had hoped, mostly because the excavator was also doing other work, mostly on the new General Hardware plant, which was slowly taking shape back up the road. The concrete footings for our new grandstand had been poured, and the new seating benches and footboards were on order. There was a lot to do yet and the weather was closing in on us, so it wasn't clear in my mind if we were going to be ready for the big opening day I had planned.
Winter closed in hard on us in November, and brought work out there to a halt. It was frustrating to look out the kitchen window and see everything half done, but I didn't have much choice but to be happy for what we had gotten done and I guess like it. I'd hoped to have the paving done before winter set in but the weather prevented that. As it turned out, it was a blessing in disguise – having the winter to settle the ground made the track surface a lot more stable than it would have been otherwise.
One morning Zack and I were sitting down at the Chicago Inn, having coffee and just talking about things that needed to be done. "You know," he said, "It's sort of a shame that we have to close the temporary track. I think we're going to lose something if we give up the casual Sunday racing. I mean, you're planning on running the paved track on Saturday nights, with admission charged on the front gate. But I don't think it would cut your car count down to have casual dirt racing on Sundays the way we've done it this year. I mean, it's not like it's going to cost much more, and you'll be pulling in a different crowd, anyway."
We sat there and talked it around for a while, and by the time we were done with that discussion the "temporary track" had become the "little track." I didn't think that Arlene would go for it, since the dust and dirt from the little track were obviously going to be an issue, but I was a little surprised when she approved. "As long as we're doing it, we might as well do it all the way," was about all she said. I pretty much agreed with her on that.
I won't go into all the headaches and promoting I had to do over the winter to build up business for the new track. Dirt track racers and pavement racers are not exactly the same thing, and some don't cross over, but at least this way we had something for everyone.
I set the opening date for the track as the third Saturday in May, which might have been a little late, but I wouldn't have wanted to make it any sooner. We were working on it right up till the last minute, too, mostly on the new concession stand, which had become a requirement when we decided to keep running Sundays at the little track. Frank was down several times over the course of the winter, helping to get things set up, and along in March or so we were sitting around the kitchen table going over one thing and another, when he made a suggestion. "You know," he said, "It strikes me that something really special could be done for the opening. How about if we get the MMSA guys down here, and you and Arlene could make the first official race on the new track in the 2 and 66 cars. It'd be like the last race of the MMSA."
"I don't know," I said. "Neither of us have raced for years, and those cars really aren't built to race anymore. Those are stock engines after all, and even now they're barely broken in."
"Yeah, but this would make it a little special," Frank protested. "I was always a little peeved at the way the MMSA went out on a sour note. This would be a good way to put a capper on it on a high note. Besides, if anyone deserves to run the first race on the new track, it's you two."
"Well, yeah," Arlene conceded. "You might have a point."
"Besides," Frank said. "It'd be a chance to tie the old with the new. You could make up posters like the old days – MMSA Midget racing at Bradford Speedway on Saturday night. It might even be a little like the old days."
"It'd be better if we had twelve cars," I agreed. "But I think you might be right. After all, the MMSA was most of what got all of us where we are today."
So, opening day rolled around. It could have been warmer, but it wasn't a bad evening for that time in May. I'd pulled out some stops, and we had several things going on besides the racing, so we had a real good crowd that just about filled the new grandstands. I managed to get the school band out to put on a show, we had some thrill stunts and other attractions like them. There would be fireworks after the show, and that ought to be pretty good, I thought. The new track looked pretty spiffy, with fresh paint all over the place. There were some places where the grass hadn't grown in yet, but those were details that had to work out in their own time. There were flags flying around the track. Vivian again sang the national anthem, this time with the band to back her up.
As Vivian sang, the 2 and 66 cars sat at the start-finish line, with Arlene and me standing beside them. We'd agreed that we weren't going to push the cars too hard, but do a lot of passing each other for the sake of making it look thrilling for the crowd. Frank made a big deal of it; after we got into the cars and got strapped in, he announced over the PA, "Lady and gentleman, start your engines." We each pushed starter buttons, and for the last time ever, MMSA midgets roared to life for a race. Of course we couldn't hear him over the roar of the V8-60s, but as we did some warm-up laps, Frank gave the crowd a thumbnail history of the MMSA and our parts in it, and told how these two cars happened to be the last survivors of what had once been a thrilling show that had toured the Midwest, bringing enjoyment to a lot of people.
We'd rarely run the MMSA cars on pavement in the old days – there hadn't been much pavement to run on in the places where we went – but over the past few days I'd spent some time tuning on them so they'd run pavement a little better. After a few laps, Pepper, who was the honorary flagman, gave us the green and white for one to go.
Arlene and I came through turn four side by side, standing on the throttles, all thoughts of taking it easy gone as the Simca engines filled the air with that wonderful sound of a working V8-60. I had a slight nose on her as we crossed the start-finish line to take the green, but she managed to duck under me and take the lead going through turns one and two. I couldn't let her get away with that, so I tried my old trick of getting up on the high line, and managed to beat her out of turn four, to lead the first lap. The only problem was that I went low into the corner on turn one, and she pulled my same trick back on me. Just like back in the old days, we weren't just putting on a show, we were racing. Although we'd officially given up driving all those years before, both of us still had racer blood in our veins, and we were in it to win, not just to look pretty.
Round and round we went, with the 2 leading sometimes, the 66 leading sometimes, until finally Pepper gave us the white flag for one lap to go. I set up a pretty good move on Arlene in turn one and had most of a car length on her on the back stretch, but she ducked under me in turn four, and we roared down to the finish line, the two V8-60s running for all they were worth. I could see she was gaining on me, and I urged the 66 car onward, but when the white line flashed under our wheels, by about the width of a wheel Arlene was the winner of the last race of the Midwest Midget Sportsman Association.
* * *
All that was forty years ago, now. Where did the time go? It seems like it was just yesterday!
The track has been pretty good to us over the years. We try to do something every year to improve it, and every year we hire some high school kids to come out and spread some paint around, keep the trash picked up and the grass mowed. The little track is still there, and once in a while we still have one of our old-time dirt-track Sundays, and surprisingly enough they're still popular. We don't run them every week, mostly because the track is still in demand for other things. It wasn't too long after we opened the big track that I was approached to have motorcycle races on the little one, and I was able to work out a deal. In time, we put a scrambles track in the infield. Not long after that ATV racing got to be popular, and of course I'd rent out the little track for that. We've run snowmobiles there in the winter, too, and even had snowmobile drag races in the summer, running on straw. It's rare that a weekend goes by in the warmer months that we don't have some event there.
The big track is busy, too, but not quite in the same way. We started racing on Saturday nights, went to Fridays for a while, and then moved it back to Saturdays. We usually managed to have a pretty good car count and a pretty good crowd, but I'll be the first to admit that we had the odd lean year now and then. But we've always managed to keep our head above water. It didn't exactly make Arlene and I rich, but we always managed to be comfortable.
It's amazing the things we've used the big track for. We've had lots of different racing there, of course, including ARCA races with the big stock cars for a while, and sports car races two or three times a year. But we've also had rock concerts there, we've had Boy Scout Camporees, and one year we even had a group that did guided trailer tours stop there to use the campground for an overnight. We've got a fairly nice campground, and it's a popular place to come and spend a weekend since there often are activities on both Saturday and Sunday – in fact, we've often had two different events going on at the same time.
The old days, the old faces are passing. Spud died about ten years ago, and a heart attack cut Frank down not long after that. There aren't many of the rest of us old MMSA hands remaining. Arlene is still around, still as feisty as ever, but she developed osteoporosis rather badly in the last ten years or so, and now needs a cane to get around. Up until she couldn't get in and out of the 2 car, we always started the season opener with the two of us doing ceremonial laps in the 2 and 66 cars, which now spend most of their time parked in the race car museum we built a few years ago. There are some other cars of interest there, including the Indy car that Spud raced in 1956. I found it in a junk heap out behind Spud's shop a few years after the new track opened and spent years rebuilding it. Finding an Offenhauser engine to put in it proved to be a problem, but we finally found one. It's been out on the new track a few times, never really run hard, but that big old Offy sure fills the air with the sound of the way things used to be.
They finally managed to vote in the Vo-Tec Center the year the track opened, for better or worse. I probably could have moved over there to teach auto shop, but didn't feel like driving to Hawthorne every day, so finished out my teaching career teaching history and government at Bradford. I got my thirty years in at the end of 1985, and decided I'd had enough, so retired. Ray and I built a new repair shop out on the corner of the speedway grounds. He stays fairly busy at car repairs, and I go over every now and then to piddle around with a race car restoration. Not long after that, I turned the management of the track over to him, so these days I just try to stay out of his way and help out where I can.
Vern was always the better student and not as committed to racing; unlike Ray, he went on through college, and ultimately got his doctorate. He's teaching Environmental Science down at the University of Kentucky these days, so we don't see him or his kids as much as we'd like to, and they're in the grown-up-and-getting-married stage now, too. While all of them have shown a little interest in the racing up here, there doesn't seem to be much racer blood in them.
Elaine, to my surprise, joined the Army when she got out of college. She and her husband have two kids in their teens, and also don't seem to have much racer in them. She's a colonel now, and has done several tours in the Persian Gulf. She's coming up on her thirty years, and she and her husband are talking about retiring to Florida.
Ray is the only one of my three kids remaining in the area. He's still a racer; he has a Late Model he goes out and runs with every now and then if he doesn't have anything better to do. He has two kids, Chuck and Will. They're both racers through and through. Both of them won the Don Boies Memorial Trophy at one point or another in their racing careers, and went on to other things. Chuck is currently working in management at Indianapolis Motor Speedway, and I expect that he'll eventually wind up running the Bradford Speedway if he has a mind to. Will was a pretty good racer, but his girlfriend turned out to be even better. She's now running NASCAR late models and might make it to the big show one of these days. She started out driving, and racing, here at Bradford, and I taught her the basics of both, like I've taught a good many other kids over the years.
She also is the one who leaned on me to write down some of these stories. Everybody else in the family has either heard them for years or lived them, but it was all new and fascinating to her. "There are a lot of memories there," she told me. "People like me don't really have any idea of what it was like back then." So, that's mostly what I've been doing down here on the back porch of our winter home in Florida the past couple years.
Those days are long gone, and some of the things I experienced are best forgotten. But, even though they're far away in time and distance, I can still close my eyes and hear a V8-60 roaring under the hood of the 66 car as it powers out of a turn on some track all those years ago, see the cars in front of me, and try to work my way to the front. Those memories will only die when I do.
-- 30 --
---
<< Back to Last Chapter
---
Thanks for reading!
---

This work is licensed under a
Creative Commons Attribution-Noncommercial-No Derivative Works 3.0 United States License.
---