Wes Boyd's
Spearfish Lake Tales
Contemporary Mainstream Books and Serials Online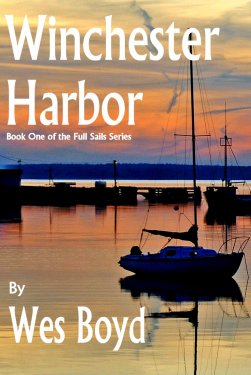 Winchester Harbor
Book One of the Full Sails Series
Wes Boyd
©2011, ©2013
Chapter 21
Not long after the first of March we got a warm spell and some pleasant days. As the days passed, a narrow thread of dark ice began to appear in the middle of the channel out in front of the Channel Stop. It was a welcome sight, because it meant that sooner or later spring would arrive. It seemed like winter had gone on forever. The days were getting longer, and the snow pack that had built up around the parking lot began to recede, leaving big streaks of melt water running down to the channel. It still wasn't what you would call comfortable outside, even on the warm days, but the lessened chill of the air was refreshing. Even though it was a little uncomfortable, sometimes I didn't bother with a jacket when I went from my room to the snack bar.
Nate and I continued to work on the Chris-Craft, although the end was in sight by now and there were other things we had to be doing. By now, the main chore to be done was to put coat after coat of varnish on the dark mahogany hull. I made a trip down to Bradford with Nate's pickup truck and got the engine, which shined like it was brand new; that guy at the track really knew how to work on those old engines. It looked like a showpiece when we got it into the boat.
We were starting to feel under the gun by now because fishing season wasn't far off, and there was work to do on the Chinook III. The big boat was too large for the boat shed, and she had spent the winter under tarps on a trailer-mounted cradle outside. There were a number of things that had to be done to get her ready for the season, mostly minor maintenance, and on the warmer days we often bundled up and went out to work on them. Along with everything else, the boat needed a thorough cleaning and polishing, but it was a welcome chore because we knew we'd be out with it before too long.
Although there were some cold spells, the warm days continued until the channel was mostly open, helped out by the slightly warmer waters of the spring runoff coming downstream from the fields and farms farther above, on the other side of the highway. Soon there were only thin crusts of ice in a couple places, and a day or two later the channel was open water from one end to the other. Although it would still probably be a while before we sold any fuel, Barb and I celebrated the oncoming spring by taking the tarps off the pumps and cleaning up some of the winter accumulation of junk on the fuel dock.
The harbor was a bit longer getting free of ice, although a broad tongue of open black water extended farther across it day by day, fed by the warmth of the river running into it. After several days there was only a broad, black swath of ugly-looking ice floating around the harbor, pushed this way and that by the wind, and soon it too was gone.
As the month was winding down there came a particularly nice day, and it promised to get almost up into the sixties. As I went down to Nate's that morning I decided out of curiosity to drive down to the jetties, where there was nothing much but open water near shore, although I could see evidence of some ice remaining in the far distance out on the big lake. I drove back down to Nate's and said, "You know, it might be about time to find out if the Pixie is really going to work."
"Been thinking that myself," Nate said. "And wouldn't you know it, this is one of those mystery days Rachel gets once in a while when she's off school in the afternoon."
"Right. She'd get a gun and kill the both of us if she wasn't here for its maiden voyage."
"Damn right," he agreed. "But that doesn't mean we can't get it set up ahead of time."
We rolled the Pixie out of the boat shed on her trailer for the first time since she had been completed. The mast had been designed to go up easily with only one person handling it, so with Nate and I working together it was a snap. There were some rigging issues we had to work out, and some odds and ends that took us up close to lunchtime. Still, we had the sails bent on and the boat ready to go in the water when I headed to the Channel Stop to work the lunch shift.
Rachel was home by the time I got back to Nate's, just jumping up and down with excitement. She was considerably more worked up than I was, but then I guess that was just the teenager showing through. I hooked my car up to the trailer and drove the rig the fifty yards or so over to the launch ramp. I backed it into the water, but not without a little hassle. I had next to no practice at backing up a trailer, and there's a knack to it I had yet to acquire.
By the time I got back from parking the car and trailer out of the way, Nate and Rachel had the Pixie pulled up at the end of the dock by the launch ramp, and were already on board. There was a light breeze from the south, just about a perfect day for that time of year. Rachel got on the foredeck and raised the sails, then used a canoe paddle to get us away from the dock.
The wind was blowing us toward the dock, but there was just enough of an angle that I was able to sail away after a few of her paddle strokes. The wind was light enough that the Pixie wasn't going very fast, but we ghosted up and down the harbor several times, just feeling the boat out. Even on the sheltered water of the harbor I could feel that the boat had been very well named. It was lively and I got the impression it was going to be a lot of fun in a stronger breeze. While we were out testing, Marge and Barb came out of the house to watch us for a few minutes, and they looked pleased as well. They didn't stay out long, and I knew that Marge had been feeling poorer than usual, so it was understandable.
There were a few adjustments to be made to the rigging, and we stopped at the dock a couple times to fiddle with them before Nate said he was satisfied, at least until we had a chance to try it out in stronger breezes. After the last adjustment, he got up on the dock, and said that he really needed to get back to work on the Chinook III.
"Oh, darn," Rachel said to her dad. "It's good to be back out on the water again. I don't want to stop now. Do you think maybe we could go down the channel and maybe out on the lake a little ways?"
"I don't see why not," he said with a grin. "But you'll have to ask Jake. It's his boat, after all."
"Jake, can we do it?" she pleaded, her own grin showing just how eager she was.
"Might as well," I told her. "The Pixie isn't going to be properly baptized until she's at least tasted open water, anyway."
"Have fun," Nate said, and gave us a push away from the dock.
The breeze was still light, but it was enough to push us along at a leisurely clip as we crossed the harbor again, then headed down the channel toward the big lake. It was a little breezier as we got out into the open near the jetties, and we went down between the two rock piles with something of a bone in Pixie's teeth. Soon we passed the automatic light, and the Pixie tasted open water for the first time.
It was still pretty close to flat out there. The breeze was coming from off the land, so there wasn't any fetch for the waves to build up. I gave the tiller to Rachel, who had clearly been itching to get her hands on it, and just sat back on the cockpit seat with my back up against the cabin, watching her enjoy herself. She really was a cute teenager and it was fun to watch her smile.
"It's too bad we don't have a little more time and a lunch," she said after a while. "It would be tempting to go up the coast to Gull Island and have a picnic."
"That would be fun," I said, knowing that Gull Island was a little patch of sand with a few trees a few miles up the coast, maybe a mile offshore. "We'll have to do it some time when we don't have anything better to do."
"It would be nice," she agreed. "Back when we had our little Lightning, Mom and Dad and I used to sail out there for a picnic lunch on a nice summer day. It's got a good place to go swimming and a little bit of shade to get out of the sun." She let out a sigh and continued, "The hell of it is that Mom is probably never going to feel good enough to do it, ever again."
"Yeah," I agreed glumly. I had gotten to know Marge a bit more over the winter. She seemed to be a warm and friendly person, with a good sense of humor despite the weakness and lassitude that she often showed from her heart condition. In fact, I could see quite a bit of her daughter's liveliness in her, muted though it necessarily was. I'd never known her when she was well, but often wished I had.
Marge's condition was rarely mentioned between Nate and me, or Rachel and me. I had more reports from Barb about it than I had from the two of them. All of us knew it was there, it was a constant, and it was pretty well agreed that it couldn't go on much longer, but it was just something that none of us wanted to talk about very much, so we didn't.
I didn't want to think about it myself just then, it would have put negative thoughts into a happy afternoon, so I changed the subject. "We probably ought to try sailing the Pixie on different points of the wind to see how she handles," I suggested. "Something tells me that we're going to want to know more about how this boat is going to act before we even try anything as ambitious as a trip out to Gull Island."
Rachel and I messed around outside the breakwater for an hour or more before we thought we were starting to get a handle on how the Pixie was going to act. The breeze was starting to die out now, and after only a minimum of discussion we agreed that we probably ought to be heading back in.
We made it back through the breakwater and into the channel without any problems, but from there on the hills to either side of the channel and the naked trees cut the breeze to a mere whisper, and we were only creeping along. Finally, about the time we got to the Channel Stop, I turned to the Evinrude and said, "I suppose I'd better break out the kicker so we can motor the rest of the way back in."
"Let's not," Rachel said. "We're still going and it would be a shame to ruin the Pixie's first voyage with a motor. The jenny is supposed to be real good in light air. Let's break it out and see."
Even though we had the genoa on board and Nate and I had set up the fittings for it, I wasn't real clear on how it was to be used. Neither was Rachel – it turned out she'd never had one up, either. But between us we managed to get it up and working; I won't say we were moving along faster than before, but we were still moving, and that counted for something.
The bend past the Channel Stop almost brought an end to that; it was pretty close to the wind, and all the sails were flapping, almost in irons from being almost into the wind. But somehow we managed to keep going for the couple hundred yards until we could put the helm down and get a little better air on the sails. That let us keep on going through the rest of the channel and out onto the wider waters of the harbor. We ghosted along until we were within fifty yards or so of the dock before Rachel got out on the foredeck again and dropped the jenny. Under the mainsail alone the Pixie was barely moving, but we finally crept up to the dock; Rachel hopped up on it, and tied us off.
"I'd say that was pretty fair for a maiden voyage, wouldn't you?" she said with a smile.
"Darn right," I replied, grinning back. "I couldn't ask for a better one, especially with a fair maiden like you along with me. We're going to have to do that again."
"You're darn right we are," she said. "I think the Pixie is going to be a great little boat."
I'd like to say that we were out with her again the next day, but we weren't. Rachel had a full day of school, and the weather started to deteriorate. We had hoped to get out on the weekend, but it was blowing a ton and cold to boot, with rain and occasional flakes of snow. The boat sat on the trailer next to Nate's shed all weekend, with the mast up and Pixie – Winchester Harbor lettered on its stern, but it didn't go anywhere, since Rachel, Nate, and I were in the shed, putting the finishing touches on the Chris-Craft. That didn't mean Rachel and I weren't going to be out with it again as soon as we could.
The weather turned a little better after that, and we finally finished the Chinook III. Getting it in the water was a much more involved production than the Pixie. The fishing boat sat in a cradle on a much larger trailer, which Nate told me had partly been built from old mobile home parts. It was all Nate's pickup truck could do to handle backing it into the water without the weight of the whole rig taking his pickup into the harbor with it. Nate told me that he'd tried a bubbler system to leave the boat in the water all winter, but it hadn't worked too well. Besides, he needed to occasionally work on the bottom of the boat while it was out of the water over the winter.
In any case, the Chinook III was back on the water, and with the coming of the first of the month and the opening of fishing season, it was soon going to be back in business. We took a quick test run out onto the big lake with it just to make sure everything was all right, then spent a couple days next to the dock making sure everything needed for fishing was aboard, cleaned and ready to start the season.
Business started with a bang right after the first of the month since the fishing is often good right after the ice is out, even with deep-water species like lake trout and salmon. This year we handled the crewing a little differently than we did the previous year. I crewed for Nate during the week when he had a party – that early in the season it wasn't every day – and Rachel crewed on the weekends or on the odd days she was out of school. Since the public school spring break came in April, rather than March like it was for college students, that meant she got several days on the water right at the beginning.
For me, the coming of April meant a number of things. First, it meant that I really needed to get some odds and ends of maintenance work done around the Channel Stop. On slow days during the winter I'd given the motel rooms their heavy cleaning, and the painting needed wasn't as bad as it had been the previous year, so I was able to fit everything in.
Somewhere along in here I sat down with Barb one morning to have a talk with her. "I almost hate to bring this up," I told her, "but the work load is going to get sticky this summer with me being out with Nate, at least while Rachel is still in school."
"Right," she agreed. "And I wouldn't be surprised if it's going to be you and Rachel out there by yourselves at least some of the time. Marge isn't doing good, and Nate is going to want to spend at least some of the time with her. After all, that's why he had you get that six-pack license."
"That's the point," I said. "I'm going to be gone a lot more than I was last year, and I may not be able to predict when very well. Don't get me wrong, I'm going to try to do everything I can do here, but if Marge isn't doing well that means you're going to be spending more time with her. Last year, we could work it around to fill in for me when I was gone, even if you had to do a lot of it yourself. To top it off, my understanding is that Susie isn't going to be back for the summer."
"That's still a little up in the air," she said. "Right at the moment the plan is for her to come home for a couple weeks after she graduates, but that'll be mostly to reorganize her stuff to go down to Chicago with her friend and look for work. I have no idea how that's going to come out, but I think we'd better not plan on her being around much."
"That was kind of what I figured," I told her. "That's going to leave Debby here pretty much by herself through April. I assume Annette and Wayne are coming back . . . "
"As far as I know, they are."
"Right. But even if Susie can help some, when Memorial Day rolls around it's going to be real bad, and if what you say is right, Susie could well be gone by then. We're going to be down one person from what we had last year, and maybe two if I'm out on the boat with Nate. What I'm saying, Barb, is that you need to get at least one more person on board, and pretty soon. It's about going to have to be someone who can be a waitress in here, and has to be able to set up the motel rooms and like that. Plus, it wouldn't be a bad idea if they knew how to fill in at the fuel dock in a pinch."
"Yeah, you're right. It's been obvious to me all winter, but I just haven't wanted to deal with it. I'll see what I can do. I probably ought to find someone pretty soon so we can get her trained before we get busy. I don't know of anyone here in Winchester, at least right off the bat, but I'll ask around some, and maybe we can get someone who can drive over here from town."
It was several days before Laura showed up at the Channel Stop to have a talk with Barb. I don't know where Barb turned her up, but I was not real impressed. She was maybe Barb's age, was even heavier than Annette, and rather dumpy and sloppy about it, not pretty in the face at all. She didn't seem real bright, and I was to learn that she wasn't. With one look I made up my mind that the resident stud privileges weren't going to be extended to her, even if she wasn't married, which she was, to a guy who worked for the road commission.
However unpromising she might have looked, I was to learn that she was a good and steady worker, and within days got the hang of the job. Having her around made it seem like we might at least get through the early part of the summer all right. What was more, I might even have chances to get out with the Pixie once in a while.
I was getting to do that a little once we got into April, mostly because Daylight Savings Time had started, which gave me an extra hour in the evening. To make things go a little simpler, I took to mooring her down at the end of the dock at the Channel Stop, though that would have to end when things got busier. If Nate and I happened to get off the lake early, which happened a couple times a week, there was still time to get out with the little boat for an hour or two.
While I single-handed the boat from time to time, if Rachel was home from school I'd often pick her up and we'd go out on the lake together. It made for a lot of time on the water, but I was starting to really get the feel of handling the boat in a wider range of conditions. It turned out that the Pixie was capable of handling rougher conditions than I had expected, and while I still wouldn't have wanted to try to do very much offshore with her, I was starting to have fewer reservations about it.
The other thing that early April brought was the anniversary of my break-up with Brittany. I think I'd more or less gotten over the hurt of it by then, but the date still brought some bad memories and a worse attitude. I went over to Dot's Bar that evening and had a few, three or four, and went back to my room and started knocking them back for real until the pain went away. Of course I had a head on me the next morning, and felt like shit. It didn't help that I had to go out with Nate on the Chinook III that morning, and it was rougher than a cob. I survived, but only barely. However, when it was over with I felt like I'd put the whole experience further behind me.
I wasn't any closer to having a regular girlfriend, one I could have a future with, than I had been the year before, but at least I'd been more or less able to let go of the experience. While I wouldn't have minded having a regular girlfriend, it wasn't something I absolutely had to have at that point, mostly because I had found a number of people who I could call friends. Debby and Barb's daughters helped a lot with that, too, but I could see that none of the girls would be a final solution. I could keep going without a girlfriend for a while, but it wasn't something I wanted to last forever.
---
<< Back to Last Chapter
Forward to Next Chapter >>
---

This work is licensed under a
Creative Commons Attribution-Noncommercial-No Derivative Works 3.0 United States License.
---