Wes Boyd's
Spearfish Lake Tales
Contemporary Mainstream Books and Serials Online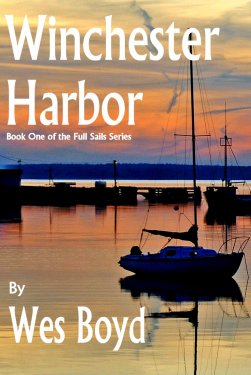 Winchester Harbor
Book One of the Full Sails Series
Wes Boyd
©2011, ©2013
Chapter 23
I got used to seeing John's truck parked outside Debby's room in the evenings and in the mornings when I had to get up before the snack bar opened. I don't think they missed a night, or if they did I didn't notice it. While he was still technically living with his parents, his nights were spent with Debby in the motel room next to mine.
In time I became pretty good friends with John Hufnagel. He was a tall, solid guy and even I thought he was good looking. He had a wry sense of humor and was pretty friendly. I didn't get much time off over the summer, and neither did he, but there were a couple times he took me out to the golf course and let me play a little. It proved that I was a lousy golfer, and that I probably wouldn't ever be much better unless I got a lot more practice than I had time for, but it was fun and we both enjoyed it when we could play.
A couple times later in the summer I took John and Debby out on the Pixie, just to mess around a little, sometimes with Rachel, sometimes not – it got a little tight in the cockpit with four of us aboard, since the Pixie wasn't a very big boat. Debby wasn't much of a sailor, and John would rather have been on the golf course, but it was something different to do, and we all had a good time at it.
Susie spent almost every night with me the next couple weeks, sometimes making love, sometimes just being together. "I'm going to have to get it while I can," she told me once, "because this isn't going to last much longer, and things could get pretty thin unless I can find a guy down in Chicago."
I reassured her that she was welcome to come home anytime, at least as long as I was still around, and there would be room in my bed for her. And really, there would have been. I was more than a little disappointed that our time together was coming to an end. In spite of everything, of the three girls I still thought that Susie and I had the best chance of making something work in the long run, though it was clear there would be some things we'd have to work out the hard way. It came down to the fact that she had a different vision of what she wanted her life to be than I had for myself. It would have been difficult to fit the two together. She had the yearning for the big city and the bright lights like a lot of country kids do, and there was going to be no talking her out of it.
Annette didn't come to my room in those last days with Susie. "I'm not worried about it," she said when we had a moment to talk alone. "My time will come. Just make sure Susie has some good memories to take with her."
I figured that Annette and I could look forward to some good times, but I also figured that there was less chance of them turning into something permanent than I'd had with Susie. The two of us were considerably more different than even her older sister and I.
I knew from the summer before that Annette was really more interested in her typewriter than she was anything else, and that hadn't changed at all, or if anything, it was worse than ever. I found out later that she'd had a book published over the winter, under the pen name of "Wye Knott," but that she didn't want to tell her mother about it.
When I finally got a chance to glance at her copy some time later I found out why she didn't want Barb to know about it. It was a really cheesy thing done on cheap newsprint by a publishing house I doubt anyone else ever heard of before. I can't call it a romance, or even erotica. It was downright porn, with lots of bondage, rutting, and groaning, done in a high-seas pirate setting. The heck of it was that I could place some of those scenes. I especially noticed the one where the "heroine" – and I use the word very loosely – was buried in the sand with only her head and feet showing, and then tickled mercilessly, God knows why for the "plot" other than for the sake of doing it.
Annette's mind was often out in the far somewhere doing something other than what she was actually doing at the time, and sometimes it could be a little disconcerting. More than once when we were in bed going at it, she'd be moaning something like, "Oh God, don't stop now Fred," or whatever character she happened to be writing about in her current project. Even though I more or less got used to it, it could be a little spooky. I often wondered how much of what we did would wind up in print.
I might as well get this out of the way now. I had known right from the beginning that Annette had a thing about being tied up and helpless, with maybe something happening to her to remind her of just how helpless she was. The reaction to the business of being buried in sand the previous summer had just sharpened it. However, there were limits, since she was primarily interested in the helplessness, rather than being tortured or anything.
Before she left for Chicago, Susie tipped me off on that. The girls had always talked freely about their tastes, and Susie told me that over the winter the two of them had refined Annette's technique more than a little. "Look," Susie told me one night, "if you really want to get Annette off, tie her up pretty tight so she can't move and can't get free, but not so tight that it cuts off her circulation. Then just let her lie on the bed and struggle against the ropes for a couple hours. After that long, when you untie her she'll be a firecracker in bed. She'll want to be, well, she uses the terms 'taken' and 'ravished' in her writing."
"You've done this with her?"
"Oh, yeah," she replied. "That was kind of how we worked it out. You know that she and I have gotten each other off lots in the past, and when I started doing that little trick to her things really came into focus. You don't want to do it too often, but once in a while is dynamite with her."
"I have to admit that it doesn't really turn me on," I said. "I mean, I can see how it would work for some people, but it just doesn't rattle my chain that much."
"It sure rattles hers. I realize you're not all that thrilled with it, but it'll keep her happy for a while, at least till the next time. I just hope she can find some guy who really is turned on by it, but who won't let it get too far. At least I know you won't."
The two weeks or so that Susie was home went quickly. She was getting ready for her big move to Chicago. That included getting a new car – well, new for her, it being several years old but a step up from the old Camaro she and Annette had taken to school. One morning she came to breakfast in the snack bar, there were some hugs and kisses all around, and then she was off to seek her new life.
By then the Channel Stop was getting busier with the advancing season; we were getting more boat traffic day by day, and the weekends were especially busy, just like the summer before. Wayne had returned from school at the same time as Susie and Annette.
I had learned the summer before that Wayne was a pretty nice guy, in spite of not being very impressive. He wore thick glasses and was somewhat overweight. To look at him you'd think he wasn't very bright, but that just proved that first impressions aren't always correct. He was planning on being a teacher, like Annette, and after I got to know the guy I thought he would probably make a good one.
To be honest, I figured that he and Annette should have been on each other like flies on shit because they seemed to have more common interests than she and I did. But it didn't happen. They'd known each other for a long time, having gone through grade school and high school nearly together, so that familiarity may have had something to do with it. They were friends, but that seemed to be about all.
In any case, having Wayne around took most of the stress off of keeping the fuel dock open, which was especially welcome considering that Rachel was still in school so I was out on the Chinook III every day. He didn't have the handyman skills that I used to keep things running, and was no help to Debby in the kitchen, but before long the fuel dock was pretty much his, and I was just the one who helped out when it got busy.
Nate and I hit a slack period fishing for no reason that I ever figured out. We were never skunked, but sometimes came back with only one or two mediocre fish. At least it hadn't been when Rachel and I were running the boat so the customers could complain that it was because he wasn't there.
We got considerably busier in the week before Memorial Day weekend, what with people using the holiday to stretch out their vacation time a little. As before, there were a lot of boats migrating north that stopped off for fuel or to stay the night. It always seemed like Wayne hit the point where he was just about to go crazy when Nate dropped me off on the way back in from fishing. Some days I didn't even get the chance to change clothes before I was helping Wayne fuel boats.
At least I didn't have to go out with Nate on Saturdays, because Rachel could help him out. That was good, since the fuel dock was busy on weekends from early in the morning and quickly grew to be more than Wayne could handle by himself, so I let Debby take care of the kitchen and went out to help him.
We were busy all day. Every now and then there would be a slack period but it never lasted long. Mostly it was one boat after another, from fishing boats the size of the Pixie up to yachts bigger than the Harvest Time. After a while they became pretty amorphous, just boats needing attention, the only real difference in them being how long it took to fill the tanks.
Late in the afternoon one day a big one came in, a power cruiser a little smaller than the Harvest Time but not much. It had a bunch of people my age or younger on board – a party boat, in other words. It wasn't the first one that had come by today. At first I didn't recognize it, but when I asked the guy running it if he wanted gas or diesel I happened to notice a couple of familiar people standing next to him. Lisa, to be precise, and to my big surprise, Brittany. Both of them were wearing tiny boat-girl bikinis that left little to the imagination.
"Hi, guys," I said, trying to avoid showing the shock I felt. This couldn't be good, and I realized it from the moment I saw the two. "What brings you up this way?"
"Oh, taking the boat up for the summer like last year," the guy said. After thinking about it, I remembered his name was Greg. "Lisa here asked if she could come along again this year, and if she could bring a friend."
"Hi, Jake," Brittany said shyly. "Fancy meeting you here. I wasn't expecting this either."
Well, one thing was perfectly clear – Lisa was still being manipulative, and at first glance Brittany seemed about as uncomfortable with it as I was. I hadn't talked to Lisa since that day back in the winter, but I remembered that I'd thought that she wasn't ready to give up on getting Brittany and me back together.
"Good to see you again," I said finally, realizing that I was going to have to think carefully about this. Fortunately I had an excuse: "I can't really talk at the moment," I told them. "We're pretty busy right now, but if you want I can come pick you up at the harbor after things slow down a little."
"I guess that'll work," Lisa said. "I know you have things to do, but we've all got things we need to talk about."
"You're staying up at the harbor tonight, aren't you?" I asked Greg.
"Might as well. We can't make it in this afternoon, so here is probably about as good as anywhere else."
I got busy fueling the boat, noticing that neither Lisa nor Brittany were trying to talk with me. In fact, they were having a pretty good discussion between themselves in voices so low I couldn't hear what they were saying. The boat had big tanks and needed a lot of fuel, so it took a while before I was done, and when the boat pulled away I noticed they were still talking – and that Lisa was the one doing most of it.
This still looked like trouble to me, and I had the gut feeling that, as usual, Lisa was the one causing it. Once again I felt like heading up to my room, tossing my stuff in the car and departing for places unknown. The only thing that kept me from it was that I realized that the Pixie was still sitting down at the end of the dock. There was no way I could get it on the trailer without passing by the slips in the harbor. It was pretty clear that I was going to have to face the music, no matter how uncomfortable it might be.
It was a couple of hours before things slowed down enough to where I thought I could leave Wayne to handle what was left. In that time I did a lot of thinking, a lot of remembering of how Brittany had hurt me, and the resentment I had felt over it. On the other hand, the two of us had had some good times back in the past, and I suppose I was feeling the absence of Debby and Susie from my bed a little bit, as well. In any case, while I wasn't looking forward to what was to come, I decided that I was going to try to not be an asshole about it.
I went up to my room, took a shower, and changed into clothes that were a little nicer than I usually wore for working on the fuel dock, then got in my car and drove down to the slips in the harbor. Greg's boat was not hard to find; Lisa and Brittany were sitting in the cockpit along with a couple other people, including Greg. "So," I asked in an effort to be polite, "did you have a good trip today?"
"Better than the one last year," Lisa admitted. "That was awful rough."
"It gets that way sometimes," I smiled, then got down to business. "So, what's this all about?"
"Jake, we need to talk," Lisa said. Especially you and Brittany need to talk. But not here, I think. Can we go someplace?"
"It's only a short way over to Dot's Bar," I said. "We could walk it. I haven't had supper yet, and I could stand a good bar burger."
"My stomach has settled down a little," Brittany said. "I couldn't eat earlier, but I think I could stand a burger now."
I was not exactly a regular at Dot's. I went in there once or twice a month at the most. Usually the place was pretty quiet off season, but this weekend wasn't off-season. The place was packed, the jukebox was roaring loudly, and people were all trying to talk over it. We finally managed to find a booth back in the corner that wasn't quite as obnoxious, and ordered drinks and burgers. "All right," I said when we had our orders in. "What did you want to talk about?"
"It's not me who needs to talk," Lisa said. "It's you and Brittany. Jake, you've been pretty damn bullheaded about not wanting to get back together with her."
"Maybe I have, but I had good reason," I told her. "We don't need to go back over that ground again. You and I talked it out a long time ago."
"Jake," Brittany said so softly I could barely hear her over the racket in the bar. "I didn't mean to hurt you. It was just . . . well, things got away from me. I know you have every reason in the world to hate me for what I did to you, but that's in the past. Lisa has convinced me that we need to give it another try."
"I figured Lisa had to have something to do with it. She's been all over my ass about it for more than a year now. Tell me, when she invited you on the trip you're on, did she even hint that you were going to be stopping here, or that you might be seeing me?"
"No," she said. "It was about as big a surprise to me as it was to you. At first I didn't even recognize you on the dock this afternoon. I, uh, if I'd known that was what she had in mind I don't think I'd have come on this trip."
"Well, if I'd known it was coming I wouldn't have been out on the fuel dock," I told her. "But what's done is done. It seems that Lisa is up to her usual thing of sticking her nose in where it doesn't belong."
"I was not," Lisa said sharply. "Jake, you've just been silly about this whole thing. I'm just trying to fix things so they can get back to what they used to be."
"I've told you not just once but several times that's not going to happen," I told her. "Things can never be what they were, and for more reasons than one. I've changed, and I know Brittany has changed. You, on the other hand, haven't changed, and not being willing to accept the fact that things have changed is one of the things that hasn't changed about you. Brittany, don't you think I'm right on that?"
"Things have changed with me, that's for sure," she said. "And mostly they haven't changed for the good. Maybe we can make it work again, Jake. Maybe not. I don't know. I'm not the same person I was when I left to go to college."
"And I'm not the same person I was when I left to go to the Navy, and I've changed a lot since I got out. I guess you know I saw you and that guy going into the motel room down in Kalamazoo. That changed me more than anything."
"Oh, shit," she said, the tears evident in her eyes. "I didn't want that to happen. I didn't want you to see that. I'm so ashamed of myself for letting it happen that it's not funny, but Darrin was, well, he was pretty insistent, and I guess I let things get away when they shouldn't have."
"Just to clear the air so we don't have to talk around things," I asked, "did you go to bed with him?"
She sat sadly and silently across the table from me for several seconds before she nodded and softly said, "Yes." I couldn't actually hear her, and only saw her mouth the word.
"And the time I saw you wasn't the first time?" I asked pointedly.
She took a deep breath to gather her courage and said, a little more loudly, "No it wasn't."
"Did he force you or anything like that?"
"No," she said. "I, well, like I said, things got away from me."
I turned to my sister. "And that makes my point," I told her. "I was right, you were wrong. You were especially wrong in all those accusations you made against me, especially the ones that drove me out of the house. But you couldn't be bothered to listen to me, you just knew I had to be in the wrong and you went out of your way to jam it down everyone's throats. And then, you had to try to make me feel guilty about it for months afterwards, because you just knew Brittany couldn't do anything wrong."
"I'm sorry, Jake," she said sadly. "Yes, I was wrong." She sighed, and continued, "I didn't even know that Brittany had been to bed with that Darrin guy till just now. You were right, and I have to admit it now. But that doesn't change a thing. You and Brittany ought to be together, and it's wrong that the two of you let some little something like that get between you."
"And that's the part that really pisses me off," I said. "I might as well drag this out on the table so you'll know just exactly where I'm coming from. Brittany, you wanted to be a virgin when you got married, didn't you? You told me that several times, and I accepted it. I can't say as I liked the idea, but I was willing to go along with you on it because that was what you wanted. I never pushed you about it either, did I?"
"No," she admitted. "I could see you weren't happy with it, but . . . well, you went along with it."
"Right," I said. "I didn't even go elsewhere when I could have, because I wanted you to have your wish. Then you threw it away with this Darrin joker behind my back, and left me out in the cold. I maybe, and I say maybe, could have handled your seeing him since I was gone for so long, but after I'd respected your wishes for so long and then have you go behind my back, well, shit, that hurt more than you can imagine. And then, to have my loving little sister try to insist that whatever happened was my fault was the icing on the cake."
"I was wrong, and I'll admit that," Brittany said. "I shouldn't have done it to you, and when you disappeared I figured that you'd found out somehow. I guess I was right. I hurt you a lot, and it was my fault. I don't know how I can make it up to you."
"You can both make it up by telling each other you're really sorry and forgiving each other, then try to go on from there," Lisa put in. "So it was a little mistake, so what? It was only sex, it wasn't that important. You two are such good matches for each other you really need to get past this one little thing and get back together."
That got me pissed off, and a lot. "Lisa," I said, trying to hold my temper, "you're right that Brittany and I need to talk. But I think we've reached the point where we need to talk without you in the picture. I'll have them bag up our burgers to go, and then I'll walk you two back to your boat. Brittany, if you want to talk after that, you can come up to my place with me. Or not, I don't care. It's your decision, not Lisa's."
---
<< Back to Last Chapter
Forward to Next Chapter >>
---

This work is licensed under a
Creative Commons Attribution-Noncommercial-No Derivative Works 3.0 United States License.
---