Wes Boyd's
Spearfish Lake Tales
Contemporary Mainstream Books and Serials Online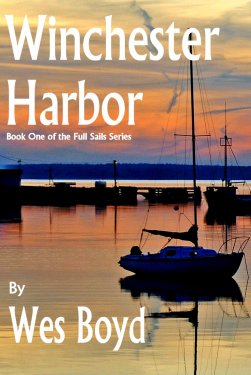 Winchester Harbor
Book One of the Full Sails Series
Wes Boyd
©2011, ©2013
Chapter 36
If ever there was a day when my life was picked up, turned around, and set down going a different way on a different track, that was the one. I started the day doubtful that I was going to find someone to make a life with anytime soon, and by the time it ended I'd already started making a life with my true love. I still don't know how I missed all the signs, but I did – every last single one of them until Rachel took off her bikini and figuratively hit me over the head with it. Not that I'm complaining – I'm just glad she did it. If she hadn't, I probably would never have thought of making the first move.
I am still a little amazed at the very limited amount of comment we got around the Channel Stop when it became known that Rachel and I were living together. At least I didn't hear much comment about it. I'm sure the women talked every move back and forth till they were blue in the face, but not much of it got back to me. As far as I could tell, it was just the expected step that finally got around to happening.
Absolutely nothing whatsoever was said when Rachel and I walked into the Channel Stop with the fishing party the next morning. I mean, not a word. It was just like a normal charter party. And very quickly it became the accepted order of things. Even when Lisa and Greg stopped by later in the summer we didn't make a point of telling them that Rachel and I were living together.
The rest of the story goes quickly. We continued on through the rest of the summer much like we had done up to that point – in other words, some days I worked at the Channel Stop, and on others I went out with Rachel, or sometimes but rarely Nate on the Chinook. Once we got past Labor Day, things slowed down at the Channel Stop like they usually did that time of year, but I actually found myself going out fishing with Rachel even more. There were a couple reasons for that. Nate was away looking for a boat, usually taking Barb with him. Eventually he found one he liked, a twenty-eight-foot cruiser that needed a lot of conversion to make it a fishing boat, but the price was right. He and Barb wound up bringing it back from wherever they bought it downstate, and it was one of the longest times I've ever heard of for completing a two-hundred-and-fifty-mile delivery trip.
Those weren't the only slow delivery trips. Rachel and I made three that fall, all with sailboats, and we were in no hurry, either.
Along in late September, Nate had a weekend day when he refused any schedules for the Chinook III. Instead, several of us took it out onto the lake that fine day, including Barb, Susie and Tony, Annette and Wayne, and John and Debby, along with a handful of other people we knew from around Winchester Harbor. Well out on the lake, while John kept the boat's bow into the wind, a local judge married Barb and Nate. It could have been done on land, but going out on the lake meant that Marge could in some way be present.
The fishing season came to an end at the first of November. Not long after that, Rachel and I headed south in the Pontiac, towing the Pixie behind us. We stopped off in Wychbold to introduce her to my folks, and that let the cat out of the bag, since Rachel was wearing an engagement ring.
We spent close to four months in Florida, much like I had the year before. We poked around in both the east and west coasts, and twice put the Pixie on the trailer to move to new cruising grounds. But we spent most of the winter in the keys and the southern part of the state, just enjoying the warmth, especially Rachel: she kept her bikini off whenever possible, which was an amazing percentage of the time. It went very well. We really learned more about how to get along with each other in the close quarters of the Pixie's cabin than we would have thought possible. Since we were together, it was a much better trip than the year before.
We got back to Winchester Harbor in the middle of March to help Nate put the finishing touches on his winter project: the new fishing boat, which he and Rachel decided to name the Coho. That summer, both boats were out a great deal. Often Nate took the Coho since it was small enough that he could run it by himself without a great deal of difficulty.
One day along in early May, before we got terribly busy, we had another day for a special party on the Chinook. This time my family was present, along with most of the people – including Marge's spirit – who had been at Barb and Nate's wedding. They all looked on as Rachel and I gave each other our vows.
Wayne and Annette both found jobs as their years in college ended. They were home for a short while, but it was only to pack up stuff to move back downstate. That left Barb's house empty, since she hadn't used it for months, and she suggested that Rachel and I move into it.
I still worked at the Channel Stop when I could, which was less than before because I was out on one or the other of the charter boats so much. I still had an interest in the Channel Stop, though, and before the summer was over with Barb and Nate and Rachel and I had worked out a deal to slowly buy a share in it. We'd also worked out a deal to buy into the charter business.
All that was many years ago, back in the brief golden age between widespread acceptance of the birth control pill and the realization of the facts about AIDS. I can't imagine the free-form way we carried on happening today, even if we were all much younger. But we did it back then and we didn't think about the downsides too much.
Some things changed around the Channel Stop over the years. The Gulf sign went when the company got merged, and a couple other signs have been out there since, even though we still had the same fuel distributor. The Coca-Cola sign went too, and now I'm sorry we let it go. Those things are pretty rare anymore.
Rachel and I kept the Pixie for many years, even taking Ron with us to Florida when he was less than a year old, but we agreed that it was a little bit too tight to have a baby along. After that it was hard to go to Florida with the kids anyway, so with great reluctance we sold her and got together with Greg and Lisa to buy a thirty-one-foot sailboat that was a little roomier for the kids. We still don't get out with it in the summer as much as we'd like to, but we usually manage to use it enough to make it worth our while.
After a while we started to miss our Florida trips in the winter, since we couldn't be gone that long. Finally John and Debby, Barb and Nate, and Rachel and I got our heads together and bought a boat we keep down there, using it for a month each in the winter, leaving it on a trailer in the summer. We trade off on the babysitting while one couple is gone, so we get to be away from the kids for a while to have some time to ourselves. It's a system that has worked well for several years now.
Barb and Nate still go out fishing, sometimes in the Chinook IV, sometimes in the Coho II. Rachel and I do the majority of the trips now, and we usually have a paid hand to help us with the work when we're on the bigger Chinook. Susan – she finally got a little stiff about us calling her "Susie" and asked us to stop – finally married Tony, and they had a couple kids. We don't see them often enough.
John and Debby also had kids, three of them, in about the same time frame that Rachel and I had our two. Taking care of that many small children was a pain in the neck, and we eventually worked out a deal to convert one motel room to an in-house day care center, and hired a local girl to run it. The kids are still pretty young, but Ron, my oldest, is starting to show signs of wanting to help out on the boat, though it's still a little early to tell about Amanda. The youngest of the five is getting ready to start school soon; that will change things around here a bit.
Wayne and Annette have kids, though they only started recently. Annette lost a lot of weight, and looks better than ever. After my sister Julie was out of college she got married and started a family, too. My oldest sister Carolyn still hasn't gotten married, and no one in the family thinks she ever will, now.
I heard nothing from or about Brittany for many years, until one day, out of the blue ten years after Rachel and I got married, she showed up at the Channel Stop without warning. We exchanged "How are you?" and "What have you been doing?" for a while before she got down to business. "Jake," she said, "I really hate to ask this, but I need a big favor from you. I mean, a big, big favor."
"I'll do what I can," I told her. "What do you need?"
"God, this is embarrassing. Our son Matthew has leukemia."
"Oh, God," I said. "Is he going to be all right?"
"It's pretty doubtful. Adam and I are praying and reduced to trying long shots. We love him, he's our only child, but God, like I said, this is embarrassing."
"What, Brittany?" I asked softly.
"His only hope now is a bone marrow transplant. I'm not a good match. Adam is even worse." Tears were running down her face now. "Adam and I got together for the first time the day I saw you last, and Matthew came late enough that I never even thought he might be yours. But now, you may be his only chance. Jake, will you get tested, please?"
"Of course. I'd do it for anyone. Does Adam know about this?"
"Yes, he does," she said. "He's known from the beginning that you and I were together that evening, but well . . . he loves Matthew so much that he's willing to accept the truth if it will save Matthew's life."
"Where do I go to get tested, and how soon can I get in?"
"Tomorrow, at University Hospital," she said. "Thank you Jake. Like I said, this is embarrassing as hell but you're just about his only hope."
I went down the next day, and let me tell you, Matt was one sick little kid, laying there in that hospital bed with tubes coming out of him every way you can imagine. Jesus, my heart went out to him! It's not fair for a kid to have to deal with that stuff.
It wasn't surprising that the DNA turned out to be a close match, and even better, the bone marrow tests were close enough to give him a chance. Extracting some of mine was a little painful, but I didn't mind – it was nothing compared to what that poor kid was going through.
It was weeks before it became clear he was slowly recovering, but recovering, he was. I'll give credit to Brittany and Adam for their honesty; as soon as Matt was enough better to understand, they told him what had really happened.
I spent as much time as I could down there the next few months. Matt liked to hear my stories about fishing and sailing, and it turned out he liked to read about sailing and the sea. Ann Arbor has a lot of used bookstores, and my visits to see him always included rummaging around in them to find something new for him. Sometimes I brought him a huge armload to help him pass the time. I also promised him that when he got better, he could have his parents bring him up to Winchester Harbor, and I'd take him out so he could see what being out on the water and catching trophy fish was really like.
It was almost a year before he was well enough, the season was right, and Brittany and Adam were able to bring him up. The chinook he landed wasn't exactly a trophy, but you never saw a happier kid! He really liked it up here, and asked to stay for a while.
He wasn't quite up to it just then, but he grew stronger as time passed. Last spring he complained that he didn't want to sit around the house all summer, bored to tears again. He wanted to get out and do something, and Brittany was wise enough to ask his "Uncle Jake" to help.
Matt spent most of the summer working on the fuel dock at the Channel Stop and getting out with Rachel or me on the Chinook IV, the Coho II, or the Pixie III. He lived in the motel room where I used to live, getting to know his younger half-brother and half-sister. He's planning on being up here doing it again next summer, and I'm looking forward to seeing him again.
-- 30 --
---
<< Back to Last Chapter
---
Thanks for reading!
---

This work is licensed under a
Creative Commons Attribution-Noncommercial-No Derivative Works 3.0 United States License.
---