Wes Boyd's
Spearfish Lake Tales
Contemporary Mainstream Books and Serials Online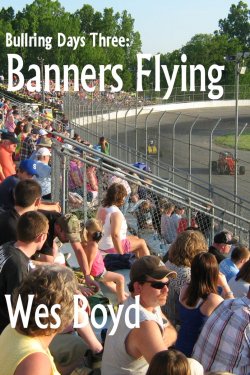 Bullring Days 3:
Banners Flying
Wes Boyd
©2009, ©2014
Chapter 23
Frank Blixter leaned back in his seat in the scoring booth. He'd been a racer once, long ago, longer ago than he liked to think about. "Nice night, nice crowd, some good racing," he said to Mel, who liked to wander around the grounds to make sure everything was going smoothly.
"I've seen a whole lot worse," Mel agreed. "We caught it lucky on the weather. It's supposed to be crappy again tomorrow, but maybe it'll blow out of here for Ted and Ray down at the Brickyard on Tuesday."
"I haven't talked with that Hilyard guy much," Frank said, "but he seems like a nice guy."
"Yeah, he is," Mel agreed. "He's a little antsy, he's staking a lot on one roll of the dice. He knows it's a long shot, but he's taking a real swing at it, anyway."
"I was thinking it's been a long time since I've been down there," Frank shook his head. "It's got to have changed a lot from the days when I was sponsoring Spud and Shrimp for pocket change."
"It's more than that, now," Mel said. "Ted is putting together an Indy campaign on maybe a tenth of what some people are spending. Of course, he's got maybe a tenth the chance of doing anything as some of them, too."
"It's not like the old days, that's for sure," Frank shook his head. "I mean, hell. Look at this facility. Could you have ever dreamed of something this nice back in the MMSA days?"
"We never raced anywhere that was anything like as nice," Mel agreed. "And to be honest, I don't ever remember seeing a crowd that was anything like this big, either."
"It sure has come out nice," Frank agreed. "I'll tell you what, Mel, I never thought I'd see this place so nice back when you first told me about wanting to build it."
"Well, you were a big part of it," Mel smiled. "You pretty much taught me how it ought to be done, if for no more reason than taking me around all those places back in the fifties and showing me how not to do it."
"Yeah, those were the bad old days, all right. Tell me, Mel. When you're driving those parade laps in the 66 car, don't you ever wish there was the full dozen of them again, getting set for a real race?"
"Every time, Frank," Mel laughed. "Every single time. Of course, every time I think that, I also think about how nice it would be to be thirty years younger, too. It's fun to look back at the old days, but most of the time I'm glad we don't have to live them over again."
The speaker on the radio next to Frank squawked. "Frank from Ray at the back pit gate," it said. "The B-Main Economy Stock field is ready whenever you are, but the pace car still isn't here."
"Ray from the pace car, I'm on my way," someone else's voice came over the radio. "Be there in a minute."
"Good enough, Ray," Frank said. "About time to get the show back on the road." He set down the radio microphone and said, "You know, Mel, you've got a good kid there."
"Yeah, he knows his stuff. In a way I'm a little sorry he's going to Indy again, because I could use him here. But we'll make do the next few weeks."
"You still want him managing this place, don't you?"
"Yeah, I do," Mel admitted. "It isn't a big rush; it could take a while, which is fine because he's got a few things to work out in his life yet. That's why I'm not arguing about him wrenching for Hilyard. That's going to last less than a month, he can have a little fun along the way, and then maybe we can get down to business. He still isn't sure he wants to do it, but I don't think he's thought it all the way out yet. There's a couple other things coming along too that might help him make up his mind."
"Hope you can work it out," Frank nodded. "Well, I guess we'd better get this show started again."
* * *
"All right, race fans, it's time to get on to the second half of our show tonight with the feature events," Blixter's voice came over the loudspeaker. "We'll start with the Economy Stock B-Main, which is made up of the lower finishing cars in the Economy Stock heats. The four fastest cars in the B-Main will transfer to the A-Main, which we'll run a little later in the program, right before we draw for the winner of our 50-50 drawing. There's still people circulating around selling tickets and the pot is getting to be pretty good, so even if you've already got some tickets you might want to get a few more, just to be on the safe side."
"Boy, he keeps pushing those tickets, doesn't he?" Kevin shook his head. "Oh, well, it's all in a good cause, I guess. Maybe I better get one, just to be in on it at all."
"There's Shae," Emily giggled, knowing it would be nice to have a friend see her with her date again, just to drive home the point.
"Boy, she's hard to miss, isn't she?" he replied, waving at the tall blonde.
Shae came over to join them as the announcer went through the names and car numbers of the entries. "Emily, you still having fun?" Shae grinned as she pulled a ticket off the now much smaller roll she carried and handed it to Kevin, in return for a dollar bill.
"Yeah, a great time," Emily beamed. "I mean, the only way it could get better is if I win this drawing."
Again, Shae didn't have the time to talk since another customer wanted a ticket. That was fine, Emily thought. She saw me with Kevin, and that'll make something nice to get around the school. She turned her attention back to the track. "Hey," she said. "How come Gary Apling isn't all the way in the back, as slow as he was running?"
"Oh, that," Kevin glanced down at the black Chevy and shrugged. "It's done by the order of finish in the heats and what heat they were in. He was in the first heat, so that puts him a few cars up."
"Oh," Emily said, understanding the process a little. "I'll bet he doesn't stay there long, though."
"Yeah, he ran pretty sour in the first heat," Kevin agreed. "Well, we're going to find out pretty soon, I guess."
By now the field had circled the track two or three times. "All right, Bradford Speedway fans," Blixter's voice boomed. "It's time for the wave lap here at the Bradford Speedway. It's time for you to show your appreciation to the drivers for the show they're putting on tonight. Stand up, stand up, stand up, put your hands in the air like you just don't care! Wave your hats, wave your coats, wave your kids! Show 'em that you care."
Even though Gary Apling was in the heat, Emily got to her feet along with Kevin. She wasn't wearing a hat, but she waved her hand at the drivers, just like the rest of the crowd. A lot of the drivers had their hands out the windows of their cars, waving back at the crowd, but Emily noticed that Apling wasn't one of them. Just like that dork, she thought as she sat back down and watched the long row of cars, twenty of them, snake around turns one and two.
As before, the pace car dove into the back stretch pit entrance, and the guy in front, whoever he was, brought the field around through turns three and four, gunning it all the way. The field of cars raced past the start-finish line, with some drivers getting out of line, looking for running room like they had in the heat races.
The difference this time was that there were a lot more cars on the track than there had been earlier, and the traffic jam in the corner was a lot worse than it had been during the heats. The lead cars made it through the corner just fine, but somewhere back in the pack someone bumped someone else, who bumped someone else, and all of a sudden there were half a dozen cars spinning all over the place and crashing into each other.
"And we've got a major pileup in turn one," the announcer said. "The red flag is out, to bring the field to a stop so the track workers can clean up this mess. There's at least six cars involved, sitting down on the track – no, five now, Roger Henderson has got his number 61 going and is pulling away from the mess." Another car got under way and drove down the track, but stopped near the pit entrance. A couple people went out to tug at a fender, which had obviously been bruised in the fracas. While that was happening, another car got under way, but two push trucks and a wrecker drove out of the pits and headed for the mess.
"All right," Blixter continued over the loudspeaker. "We've got one, two, drivers out of their cars . . . it looks like Gary Apling is getting out of his number 55, it looks like he's done for the night, too. It's going to take a few minutes to get this race ready for a total restart. I can see from here the lines at the concession stands aren't very long, so you might want to grab yourself a hot dog or perhaps a cup of hot coffee to ward off the chill of this beautiful evening."
"Looks like Gary finished last," Emily commented. "Now we'll see how much stuff he slings around school on Monday."
"Probably he'll blame it on the other guy," Kevin grinned, understanding that she didn't care for the driver. "But to be honest, from what I could see the other guy was to blame."
It was several minutes before the race got back under way. It was done two wide, a complete restart, and this time the field made it through the first corner all right. The field quickly strung out and there wasn't a lot of racing, except for a spirited battle for fourth place, the final transfer spot. "That was the slow cars, except maybe for the first couple guys," Kevin said. "I think we're going to have a pretty good race when they get to the A-Main."
This time, rather than just heading back to the pits, the winner pulled to a stop in front of the grandstand and waved at the crowd. Someone ran out carrying a sign that Emily couldn't read, and someone else had a camera. There was a flash of a strobe light. "What's that all about?" she asked.
"They do that for all the feature winners," Kevin said. "The photo makes a nice souvenir."
"Yeah, I'll bet it would," she said.
"All right, race fans," Blixter said as soon as the photo taking was over with. "Now coming onto the track, we have the feature race for our Sport Stock division." Again, he started to read off the names, none of which meant anything to Emily. Still, it was fun to watch the racing, and even more fun to sit there in the stands with Kevin's arm around her.
* * *
The feature for the Sport Stock proved to be a better race than she expected. It turned out that there was only a single twenty-lap feature race, since there weren't as many entries in the class, but the race turned out to be a really good show. There was a five-way duel for the lead of the race, with rarely the same car leading two laps in a row. The race wasn't over until the last hundred yards or so, with the winner being settled by inches in a finish that had much of the crowd on their feet and yelling. It wasn't exciting all the time, Emily thought, but when it was exciting it was pretty good. That had to be about the best one of the evening so far, she thought.
Next up was the Sportsman main – again only a single feature race of twenty laps. These cars were faster and louder yet. The leader was never in doubt – he got way ahead early and stayed there, but there was a hard-fought battle for second among three cars that was every bit as exciting as the Sport Stock race.
Then it was time for the Economy Stock A-Main. There were twenty cars in the field for the twenty-lap race, which included the four fastest from the B-Main. Emily had learned by now to keep her eyes on the first corner, since sometimes that was a real mess, like it had been in the last race. It almost was this time; there was quite a bit of banging and bumping heading into the first corner, but somehow everybody managed to keep it on the track pointed in the right direction. The race went on, with the third and fourth turns about as wild as the first and second. It took several laps for the field to stretch itself out, and it looked to Emily that it was pretty well settled.
But no; a couple cars came together and wound up spinning, and the yellow flag had to come out. The cars lined up single file behind the leader, and the announcer pointed out that the car now in sixth place had been the winner of the B-Main, so he was doing pretty well. Once things got going again, Emily made up her mind to keep her eyes on him, since the yellow flag had closed the field up, putting him within reach of most of the cars ahead of him. It was worth watching – he was a pretty good driver, and he passed enough cars to be in third and closing on second before the laps ran out. "Darn," she said. "Five more laps and I think he could have won that thing."
"OK, folks," Blixter said. "It's that time that we've all been waiting for. While the Modified feature is getting lined up, I'm going to head down to the track and we'll find out who gets to go home with some extra money in their pockets." Emily could see the announcer walking down the steps of the stands, talking into a wireless microphone as he went. "So get your tickets out. We're going to have our Indy car driver, Ted Hilyard drawing the winning ticket, and I'll tell you what, he's already the big winner of this drawing."
Emily watched as Blixter and Hilyard walked through the gate and down a few steps onto the highly banked track, with Shae and a woman who Emily didn't know following behind. Shae was carrying a five-gallon bucket, and Emily figured those must have been the tickets.
"All right, here we go," Blixter said. "First thing, I want to ask our track assistant office manager Ginger Marston to tell us how big the prize is going to be." He held the microphone out in front of the woman.
"The total ticket sales were $2,437," the woman said. "That means that both Mr. Hilyard and some fan are going to walk out of here with $1,218.50."
"Wow, that's a heck of a prize," Blixter said. "Now folks, I said I'd match what the fans donated out of my pocket, and I'm a man of my word. Ted, how does a nice, round twenty-five hundred sound?"
"It sounds just fine," Hilyard said into the microphone. "I want to thank all the fans here tonight for their generosity, and I promise I'll do my best to make you proud down at Indy with the Bradford Speedway Fans Special!"
"Good deal," Blixter said. "Ginger, if you dare to turn your back on me, I'd like to use it to fill in this check before we do our drawing."
It took a few seconds for Blixter to scribble something on the check, and hand it to Hilyard. "And now," he went on, "the moment you've all been waiting for. This lovely young lady holding the bucket is Shae Kirkendahl; she's our top salesperson here tonight, and I'm going to give her an extra twenty bucks for her efforts. Ted, would you like to draw the ticket?"
There was a silence over the grandstand as the driver dug deep into the bucket, came out with a ticket and handed it to the announcer. Emily had her ticket in her hand, so did Kevin.
"Our winner tonight of $1,218,50, is the holder of ticket number one four seven one eight one," Blixter read off slowly. "That's one, four, seven, one, eight, one. Would the person holding the ticket come down here so Ginger can give you your money?"
There was silence around the crowd. "Well, I got three numbers," she said to Kevin.
"You're lucky, I only got two," he said. "The one and the four."
"I see someone coming down here," Blixter said. Everybody watched as a man went down the stands, through the gate and onto the track. He walked up to the group standing on the track. "Hi, sir," the announcer said. "Can I ask you your name?"
"George Jensen," the man said. "Uh, Mr. Hilyard?"
"Yes?" the driver asked, not heard by the crowd since Blixter wasn't fast enough with the microphone.
"I understand that your car is probably the last Offenhauser to run down at the Brickyard."
This time, Blixter was quick enough to catch Hilyard's words. "As far as I know, it's the only one entered. It's most likely the last of the Mohicans."
Blixter took the microphone back to Jensen, who said, "Go ahead and keep my winnings, too. I grew up listening to that sound down there on Memorial Day, and I think folks deserve to hear it one more time. I saw you run out here last week, and I think you can do all us Offy fans proud."
"Thank you, Mr. Jensen," Hilyard said. "I'll do my best."
"Hey, folks," Blixter said, "let's have a big Bradford Speedway round of applause for George Jensen, Ted Hilyard, and the Bradford Speedway Fans Special."
* * *
As the next to last race went on, Emily was starting to get stiff from sitting on the bleacher seat, and a little cold, too. She hadn't really dressed warmly enough for the evening. The racing was fun, lots more fun that she'd imagined. The noise of the cars, the thrill of the speed, even the tension of watching the first couple turns as a lot of cars crowded together in the first corner all made for a great time. Being there with Kevin was a lot of fun, too. But still, the cold was settling on her.
She never even thought about what she was doing, but she found herself snuggling up against Kevin, at least for the warmth a little. Well, more than a little! He was nice to cuddle up next against; she could get real used to that, she thought. This was nice!
Kevin noticed Emily pressed up against him, of course. It was hard not to notice her body up next to his. He reached up to put his arm around her shoulder, and she pressed up even tighter to him. He could feel one of her breasts pressed up against his rib cage. It felt . . . very nice. Emily was a good kid and he'd always known that, but right at the moment she didn't exactly feel like a kid, at least not there. "You getting cold, Emily?" he asked
"Maybe a little," she said shyly.
"You want to go home?" he asked, hoping she wouldn't want to go but thinking he ought to ask.
"No! I want to stay here with you and watch the rest of the racing," she protested.
"Let's get the blanket wrapped around us," he suggested. "That'll be a little warmer."
Emily didn't want to get out of that comfortable position under Kevin's arm, blanket or no blanket, but it seemed like a good idea. It only took a moment for the two of them to arrange it. The bleacher seat was harder than it had been earlier, but she snuggled right back up under his arm, laid her head on his shoulder, and just enjoyed the warmth and the comfort. "Thanks, Kevin," she whispered. "This feels so nice, just being up close to you."
It did feel nice to Kevin. Somehow Emily seemed even closer. Somehow that tantalizing breast of hers was even closer to him, pressing up against his side, making him aware that this wasn't the kid he'd always known. This was something else – something he hadn't been expecting. Somewhere in there, an irresistible impulse took over. He lifted his head off of hers, and turned toward her. "Emily," he said softly.
She raised her head to look at him. "Yes?" she replied. God, it'd be so nice if he kissed me, she thought. Right at the moment she couldn't think of anything that could be nicer . . . but it was still a surprise when he did.
Surprise or no, the kiss sent warmth through her body right down to her chilled toes. Not only her first date, but her first real boyfriend kiss! And it felt so good! There was nothing quick about it, either – her lips were pressed up hard against his, and maybe she felt a little bit of his tongue, which surprised her even more but warmed her more than she could have believed. It felt so good that without thinking about it she put her arm around him to pull him closer, and could feel his hand at the back of her head to draw her closer, not that she wanted to get any farther away.
It went on for a long time – there was no telling how long, but not long enough before she felt him back off. As soon as their lips were free, she whispered. "Thank you, Kevin."
"Feel better now?" she heard him whisper.
"Yes," she said. "Kevin?"
"Yes?"
"Can we do that again?"
My God, I shouldn't have done that, Kevin thought, but he was glad he did. She felt very nice, kissed very nice as well. While Kevin didn't have a lot of girlfriend experience, it wasn't his first kiss, but it was far and away the nicest he'd ever had. There was more where that came from, so even though his head was telling him that Emily was an eighth grader and he really ought to not be doing this, his answer was automatic. He shifted around a little bit to be a touch more comfortable, put his hand on the back of her head again to draw her close and kissed her again.
This time she was even more enthusiastic about the kiss than the last time, if such a thing were possible. He could feel her twist around in his arms, trying to press even more of her body up against him. Almost instinctively, he took the hand that had been resting on her waist and slid it around to push her back, just a little. After all, there was a limit to how far he should be going with an eighth grader, and they already were probably well beyond it.
Even though she'd been cold, Emily hadn't gotten around to zipping her jacket up, so she was very aware of Kevin's warm hand as it slid up over her top. She could feel it come to rest on her breast, and it was as if she'd felt an electric shock. She let out a little moan from deep in her throat, trying to press up against the hand, to feel it better, to trap it between their bodies.
Kevin realized almost instantly that he'd made a mistake. That wasn't just random chest in his hand, it was her breast and it felt very nice. Granted, there was a heavy shirt there, and he could feel a bra underneath it, but even so he could feel the hard nubbin of a very erect nipple right on the tips of his fingers. It would be so nice to play with it a little . . . after all, he'd never done that before . . . but this was Emily, after all. Not wanting to in the slightest, he forced himself to pull back.
No! she thought. It feels so good! Don't let it get away! Though the kiss felt very good indeed, she managed to back off enough to murmur, "It's OK, Kevin. I love that." If there was any question, she quickly reached out, grabbed his arm, and moved it back to where it rested on her breast.
Well, if she was going to be that way about it, Kevin wasn't planning on arguing. It did feel awful good, after all. It was hard to believe, based on his past experience, that a girl would let him play with her breast, let alone want him to do it. No further, he promised himself. This is Emily, after all, but damn this feels good, and she sure seems to be enjoying it. This beats the living hell out of anything I could have imagined with Melanie . . .
Somewhere in the distant, low priority part of his mind Kevin heard Blixter's voice saying, "And we're racing . . . Houser leads the pack into the turn. Baker is coming up on the outside. Someone's loose, we have a spin . . . and, oh wow, we've got several cars loose, there's some cars wrecking . . ."
He could not have cared less, and doubted very much that Emily did, either. This was much more enjoyable.
* * *
Go for it, kids, Ginger thought from inside the scoring booth as she watched the two teens making out under the blanket. Enjoy yourselves. Just watch that you two don't melt down the bleachers. I sure could stand some of that . . .
* * *
An hour or more later, Kevin braked the Kawasaki to a stop in front of Emily's house to let her climb off. He'd taken it slow knowing it was chilly out there, but was sorry this evening was drawing to a close. "Hope you had a good time," he said as he felt her clamber off the back of the bike.
"I had a wonderful time," she smiled, almost floating. "Maybe the best time of my life. Thank you for everything, Kevin."
"Thank you, Emily," he said. "I had a great time myself. A lot better than I expected."
"Kevin," she said, suddenly shy. "Can we do that again? I mean, go to the races?"
"Sure thing," he smiled, suddenly looking forward to it. "How about next Saturday night?"
"That'd be fine," she grinned. "It's a date."
---
<< Back to Last Chapter
Forward to Next Chapter >>
---
To be continued . . .
---

This work is licensed under a
Creative Commons Attribution-Noncommercial-No Derivative Works 3.0 United States License.
---