Wes Boyd's
Spearfish Lake Tales
Contemporary Mainstream Books and Serials Online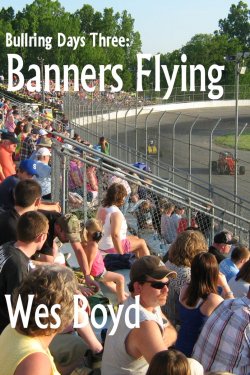 Bullring Days 3:
Banners Flying
Wes Boyd
©2009, ©2014
Chapter 32
The Indianapolis 500 bills itself as "The Greatest Spectacle In Racing", and in spite of everything it still manages to retain that title. Some might say that the grandstands give the best view, but as far as Ginger was concerned the best view of the race was from one of T.J. Wireman's pit stalls. His three cars shared three stalls partway down the pits, and the view from the pit wall was fantastic – the bands, the flyovers, the balloons going up, the excitement and noise of "Gentlemen, start your engines."
Ray and Ginger didn't really have any official reason to be in Wireman's pits, other than to be there as guests and get the feel of what was going on. Ted's presence was only peripheral and probably not to be needed at all, so the three of them just tried to stay out of the way.
The noise of the thirty-three cars as they flashed across the starting line was incredible and exciting, although there were several people in Wireman's pit who thought it lacked something with an Offenhauser roar being absent. But that was something that wasn't said out loud in the excitement of the moment.
Even with the good view from the pits, there wasn't any one good place to watch everything on the track. It was just too big, too spread out, unlike the short tracks Ginger was familiar with, where a halfway decent grandstand seat could give a good view of whatever was going on anywhere on the track. That point was brought home by the fact that there was a large color TV set in the back of each pit that told Wireman and the rest of the people hanging around more than they could see with their own eyes.
Ginger had been around oval track racing enough now to know that some of the hairiest times come in the first few laps, when the field is bunched up and drivers are trying to gain positions wholesale. Because of the much higher speeds here than places like Bradford, things are even hairier, and there's a big potential for disaster. Fortunately, there were no major incidents the first few laps, and soon the race cars strung themselves out around the track in ones and twos and threes. Two of Wireman's cars were up in the top ten with a good shot at getting in the lead, but the third, Keyser's 53, had been the slowest car to actually make the field and he was running at the tail end of the field. It was only a few laps before the leaders blew by him, putting him a lap down. "Shit," the chief mechanic said when that happened. "It's gonna be a damn long afternoon."
He hadn't much more than said that when the yellow flag came out. "What happened?" someone yelled, and within an instant the answer was obvious: Keyser had hit the wall with the 53 car in the second turn.
"What the hell did he do that for?" Wireman snorted as a telephoto lens zoomed in on the scene. They could see the driver was all right; he was unbuckling the straps and climbing out. The 53 car didn't look good; the right front wheel was folded over the suspension, which had obviously been bent, and there was damage to the nose.
There wasn't much time to think about it right then; caution laps are when cars come in for fuel and tires, and Wireman's other two cars needed servicing now, so attention turned to that. The pit crews had put in a lot of practice to be able to change four tires and put in a full load of fuel in the twelve-second range while mass confusion reigned as most of the other cars in the pits surrounding them did the same. In only a few seconds the hassle was over with, and Wireman's 31 car actually moved up from fifth to third in the process, with the crew giving some high fives.
Keyser's car was still up against the wall in turn two, but they couldn't see it from the pits and didn't see much of it on TV through an interminable raft of commercials. Finally, there was a two-second shot of it dangling from a wrecker heading back to Gasoline Alley. "Well, shit," the chief mechanic said. "I suppose we might as well get picked up here."
"No, let's go take a look at it," Wireman said. "It might be something we could fix. If we can get it running again, even at that pace, it could be worth some money."
"Yeah, no point in giving up just yet," the mechanic agreed.
"Let's go help," Ray whispered to Ginger.
"Fine with me," she replied, realizing that if he could throw an extra set of hands at the effort it would help to repay Wireman for all the work he'd put into the Eagle over the last few weeks, especially the last day of qualifying.
The mechanics for Keyser's car, Wireman, Ted, Ray, and Ginger just made it back to Wireman's garage area as the wrecker drove up, the car dangling from a hook on the roll bar. "Could be worse," Wireman said, examining it even before the wrecker set the car down. "Looks like he screwed up the A-arms pretty good but the anchor points look OK. The car itself doesn't look too bent."
"I think you're right," the chief mechanic agreed. "Let's get at it. Scavenge the spare car, right, T.J.?"
If Ginger had thought the work on the Eagle in the qualifying line on bump day had been frantic, she didn't know what frantic was. Again, there wasn't much she could do but look on and try to stay out of people's way, but Ray was right in there with the rest of the bunch, and a few people from other teams who had already dropped out came by to help. It wasn't an easy process; they had to take the right front suspension and the nose off of the spare car, strip the wrecked stuff off of the 53, and play mix and match. About all she physically did in the process was help hold the new nose as it was fastened into place.
By then, the suspension from the spare car was getting bolted into place. "Looking good," Wireman said. "It ought to be able to limp around, anyway. Keyser, get buckled in, we're gonna have you going in a few minutes."
There was no response. "Keyser?" He said again as he looked around. "Where the hell did he go?"
"No idea," someone said. "Haven't seen him since he hit the wall."
"Is he still at the infield care center?" Wireman asked.
"No," someone else said. "They checked him out, they had him on TV."
"Well, shit," Wireman said. "Somebody go look for Keyser. Ted, get your shit on. If that joker doesn't show up by the time we get this thing ready to go, you're taking it."
Ted took off at a dead run – his driving suit and helmet were in the pits – and was back within a few seconds, frantically pulling it out of his carry bag. Ginger and a couple others were doing their best to help him get into it. In the matter of only a couple minutes, he had the suit on, along with the helmet. "Did Keyser show up?" Ginger yelled.
"No sign of him," Wireman said. "Ted, get buckled in. Hope it fits more or less all right for you."
As the final bolts were going into the suspension and the wheel was going back onto the car, Wireman leaned over Ted. "Just get comfortable with it," he said. "You're something like 40 laps down, so you ain't gonna win anything, but it's a good way to get a feel for it." He raised his head and looked at the chief mechanic. "Ready?"
"Take it away," the mechanic said.
"OK," Wireman relied. "Let's push it up to the pits, gas it and get new rubber on it before we get it started. Now, people!" A dozen sets of hands, including Ray and Ginger's started to push the car toward the track gate. It was just a short trot down the pit lane to the pits; doing the tire change and the fueling took a little longer than normal since the pit crew were the ones who had been working on the car. The starter motor was hooked up as soon as the fuel hose came off, and Wireman gave the "crank it up" signal.
In truth, the Cosworth V-8 under the back cowling of the 53 car wasn't a lot easier to start than the Offy in the Eagle had been, but it still retained some warmth from earlier, so it started with only a little fiddling. In only seconds, Ted had the car accelerating down the pit lane. "OK, Ted, is it?" they could hear the chief mechanic say as he radioed the car as it went out of sight up the entry lane. "Just take it easy for a couple laps till you've got the temps up and the oil pressure at about 150."
They couldn't hear Ted's response, but they did watch what was happening on the TV – they could see him pull out of the warm-up lane and onto the track. "We've got the 53 car coming back onto the track after a long spell in the garage," they heard the announcer say. "We're told it's being driven by a relief driver, Ted Hilyard of Puyallup, Washington, who attempted to qualify an Offenhauser-powered Eagle here last week. There's no word on what happened to Ron Keyser who was driving the car earlier."
"God," Ginger whispered to Ray, "I sure hope his dad is watching this."
"Yeah," Ray agreed, "I do, too."
Ginger glanced up at the scoring pylon. The 53 car was forty-five laps down, in thirty-first place, and only there by the grace of a couple cars that had gone out earlier. However, several other cars had fallen out for one reason or another since the mad rush to repair the car had started, and as long as Ted could keep the car running he was going to be picking up positions – and finishing money.
There were still a lot of cars out there, but Ginger's eyes were only watching for one. In less than a minute the 53 car appeared in turn four, going good. He flashed across the yard of bricks marking the start-finish line while Ginger held her breath. "He says it's handling pretty good so far," the chief mechanic reported. "Nice to hear that for once."
"Yeah, no shit," Wireman agreed. "Especially after all the bitching we heard about the handling before."
Another minute went by; a number of cars went by, and then the 53 roared by again. "193.37," the guy keeping the lap chart said.
"You sure?" Wireman asked.
"Yeah, he was moving it pretty good."
"I told him to hold it down," Wireman shook his head. "Shit, Keyser hasn't run that fast all day."
Wireman turned to the chief mechanic, who was talking to Ted on the radio. "Yeah, go ahead," they heard him say. "Just stay comfortable, you don't have to kill yourself."
"What'd he say?" Wireman asked.
"He asked if he could open it up now," the mechanic smiled. "If that was dogging it, I'd like to see what he thinks opening it up will be like."
The next lap was a little faster – just a hair faster than Keyser had qualified the car, but over the next few laps the speed stabilized between 208 and 210 miles an hour, about the speed that Wireman's other two cars were running, sometimes a little faster than that. As Ted found his comfort zone in the car the speed continued to creep upward little by little until he was running faster than the leader! Except for the recorder calling off the speeds of each lap, the whole crew including Wireman was dead silent. "Shit," Wireman said finally. "Would you goddamn look at that."
* * *
Pit stops came and went; since Ted hadn't practiced his part of it much it took a little longer than Wireman's other two cars. By now, the race leader had a comfortable lead on second place and was just cruising, trying to stay out of trouble. He had spotters and he had his eye on the rear view mirror, and noticed a green and white car coming up behind him. "Position?" he radioed.
"You've got about thirteen seconds on second place," the chief mechanic replied.
"Then who's that coming up behind me?"
"Oh, that's the 53 car. Let him go, he's forty-five laps down."
"Forty-five laps?" the leader exclaimed. "If he's that far down, why is he catching up with me?"
"Probably because he wants to pass you," the chief mechanic said.
* * *
Wireman had two other cars to oversee, and he wasn't in the pit when Keyser showed up from whatever rock he'd been hiding under. "What the hell is that guy doing out there in my car?" he asked.
"Driving the living wheels off it, that's what," the chief mechanic smiled. "A hell of a lot faster than you ever managed."
"Well, bring him in! I'm the one that's supposed to be driving it."
"No way in hell, not the way he's going," the chief mechanic said. "Now, if you want to go ask Mr. Wireman about it and he says to do it, that's fine."
"You better goddamn believe I will," Keyser said as he stomped off in search of Wireman.
"You know," the chief mechanic drawled at Ray and Ginger. "I wouldn't be a damn bit surprised if he's about to find out why T.J. has a reputation for having a temper."
* * *
Ted was still driving the 53 car and Keyser was again nowhere to be found when the checkered flag flew for Tom Sneva, the winner of the 1984 Indianapolis 500. Ted was still forty-four laps down, but now in twenty-first place. Following the line of cars coming off the track, he turned into Gasoline Alley, turned the car to point it at the garage, and shut it down. He laid his head back against the headrest, and just sat there for a moment, letting himself unwind. In spite of the finish, he knew he'd done a good job – better than anything he could have dreamed when he'd set out from his home in Puyallup with the old Eagle. Maybe it would prove to be worth something.
There were a couple friendly faces in the group of people crowded around the car – well, a lot of friendly faces, but the most familiar were Ray and Ginger. He pulled off his helmet, shook his head, and said, "Man, that was fun."
"You missed some of the other fun," Ginger grinned, "including the world class bitching out that T.J. gave Keyser for disappearing while the car was being rebuilt."
"Wondered about that a little when I got the chance," Ted smiled.
"So how was it?" Ray asked.
"Pretty good," Ted smiled. "I don't know how to tell you more than to say it was like it's supposed to be. It can't get much better than that."
"You want us to help get you out of there?" Ginger asked.
"Yeah, give me a minute," Ted sighed. "Damn, it's hard to believe that this is all over with, and that it wound up like this."
They were still helping Ted out of the car when T.J. Wireman showed up. "Ted," he said, "that was the goddamnedest drive for being forty-four laps down I ever saw. I honestly didn't think that car could go like that."
"I figured I'd better get all I could out of it," Ted told him. "I mean, it could be the last time I get to do this, I figured I'd better make it worth my while."
"It's not the last time you get to do it if I have anything to say about it," Wireman told him. "Let's figure on taking a day off for some rest, then you and I can get our heads together about you driving at Milwaukee."
"I thought that was going to involve getting a sponsor," Ted replied, appearing to be mildly surprised.
"That's not a problem anymore," Wireman told him. "I've already got you a sponsor for the rest of the CART season, and for here next year. That drive you just made was some of the best salesmanship I ever saw."
* * *
Ray and Ginger saw no need to hurry to get out of the Speedway. There is always a huge crowd for the Indianapolis 500, and though much work has been done to speed up traffic for people exiting the Speedway it's always something of a snarl to get back on the road. Mostly, they just hung around the pits to be supportive of their friend, and talked with a few people.
Thus it was that several hours had passed before the two of them got into Ray's pickup and headed for the gate. The traffic was lighter now, although it still wasn't as smooth as it had been on the other weekends Ginger had been down to the track.
"Well," she said as soon as they were alone in the cab of the pickup, "That sure didn't go like I figured it would."
"Surprises happen," Ray smiled. "If they didn't, it wouldn't be Indy. I can't tell you how glad I am that it worked out that well for Ted."
"Yeah, me too," she agreed. "You know, he's a heck of a nice guy and he just proved that he's one hell of a driver, but he's so antsy and nervous most of the time that he sometimes made me nervous."
"Well, I can understand that a little," Ray commented. "After all, he had a lot riding on this one roll of the dice in bringing the Eagle here, and it proved to be even more than he figured. I don't think the Indy car scene has heard the last of him."
"Wouldn't surprise me either," she agreed. "I hope it works out for him."
"He has a shot," Ray shook his head. "You know, I was just a little worried about having him around. I've been half afraid you'd dump me so you could take up with him. I know he was having a serious case of the eyes for you."
"Never happen," she smiled. "Like I said, he's so antsy and nervous that he made me a little nervous. Yeah, he may turn into a big name who's going somewhere, but he's not you, Ray."
* * *
Twenty-four hours later Ginger already had about all she wanted of sitting in Ray's pickup for a while, and there were still a couple days to go.
It had been a busy day. They were back in Bradford not long after dark and didn't do much besides take showers and go to bed – together as had become usual for them – but as usual nothing had happened other than some cuddling before they fell asleep.
Monday was Memorial Day, a holiday, but they got up and going about like normal. After a family breakfast that was filled with tales of Ted's adventures at the 500, Ray set out to do some chores around the place, while Ginger headed up to the track office to close out the books for the weekend. She discovered that Arlene already had made a pretty good start at the project, and figured that she and Mel must have watched the 500 up at the track office while she did it. That meant that there wouldn't be any holdups in getting out of there.
Along about 11:30, Ray poked his nose into the office. "I'm not real anxious for lunch," he announced. "If you're ready, why don't we just hit the road? We can stop for something an hour or two out."
"Not the dumbest idea I ever heard," Ginger agreed, picking up what she was working on and putting it into a file folder. "I can finish up this stuff after we get back." In a few minutes they had the place locked up. Ginger drove the track pickup back to the barn, went up to her room to get her overnight bag, and soon she and Ray were on the road on the long journey to pick up the engine for the Old Soldier.
The two of them rode along with a steady conversation on racing and other topics. By now the road between Bradford and Indianapolis was pretty familiar to her, but once they were past the turnoff to the Speedway it was all new. Her family had never been ones to travel much, and before long she was as far away from Hawthorne County as she'd ever been, and she knew that considerably more distance was going to be put behind her with this trip.
A little to her surprise, the conversation never strayed to what they both expected to be doing in a motel somewhere on the far side of St. Louis. In fact, even with their spending the nights together in the past week since the decision to make this trip, there had been almost no discussion of what was going to happen beyond the obvious agreement to do it. Ginger was a little surprised at that, but thought she understood why: even though she had been spending the nights with Ray it still felt awkward and uncomfortable to be doing it right up the hall from his parents, no matter how much they knew of what was going on and seemed to accept it. It seemed like a sure thing to her that they would somehow manage to drag the trip out to three nights, but she still didn't have a clear picture in her mind of what was going to happen when the trip was over with.
She couldn't help but wonder about what the next few hours were going to be like. In the past she and Ray had done little but some light kissing, cuddling, and minor touching, but this was clearly going to be different. What's more, she was sure this was going to be a landmark for her in more ways than one. Her life had changed a lot in the few weeks since she'd taken the Gremlin out to the Austin's to get it worked on, and it looked like the change was going to continue. When she looked back at what her life had been like two months before, it didn't seem real – it almost seemed like it had to have been some other person.
So they rode along and talked of any number of things except for the thing that was at the forefront of Ginger's mind, and probably at the front of Ray's mind as well. It was almost as if they both were a little reluctant to admit to the fact that they were finally taking the next step that they'd looked forward to for so long.
---
<< Back to Last Chapter
Forward to Next Chapter >>
---
To be continued . . .
---

This work is licensed under a
Creative Commons Attribution-Noncommercial-No Derivative Works 3.0 United States License.
---