Wes Boyd's
Spearfish Lake Tales
Contemporary Mainstream Books and Serials Online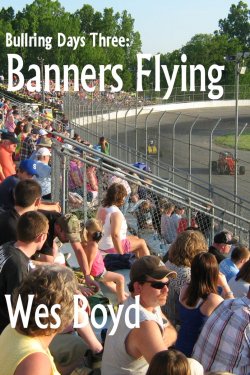 Bullring Days 3:
Banners Flying
Wes Boyd
©2009, ©2014
Chapter 34
It wasn't terribly late when they left the Pierces, but they didn't go far, just to a motel on the outskirts of Tulsa. This time they didn't bother with a pool or hot tub, just took a shower and went to bed though not to sleep.
It would have been perfectly possible to drive all the way back to Bradford the next day, especially if they didn't mind getting in late, but that would have taken a motel night away from them. They stayed in bed late, enjoying themselves in the process, then took their time on the road, fetching up for the evening in Terre Haute, Indiana fairly early on for a long pool and hot tub session before they finally got around to doing what they really wanted to do. This time Ginger finally got a chance to show off the baby doll for Ray, not that she got to wear it for very long.
It was late the next afternoon before Ray backed the pickup up to the open shop door, and the two of them got out. "So," Mel asked from inside the shop, "did you two have a good time?"
Ray and Ginger had agreed that they were going to try to act cool, and not look like they'd been spending the last three evenings trying to screw each other's brains out. "Not too bad, everything considered," Ray told him. "That's a lot of driving, though."
"Yeah, the two of you look like you had a good time," Mel gave them a knowing grin. "You got the mill, I take it?"
"Oh, yeah. It's better than I expected," Ray told him, trying to cover up a blush. "Don't know if it's going to run, but it doesn't look very bad."
In fairly short order they peeled the tarp and tie downs off of the engine. "Yeah, that doesn't look bad at all," Mel said.
"I think we need to get it up on an engine stand and take a pretty good look at it," Ray said. "Then, if it checks out, we might as well mount it in the Old Soldier and see if we can get it to run, just on general principles."
"Would be neat to run it," Mel agreed. "I mean, nothing more than a few parade laps at intermission some time, but it still would be neat to do. But I don't think we want to try it this weekend. We've got enough else we need to do to get ready for Saturday, and that includes any tweaking you want to do on the Last Mohican for Ted. He's back, by the way. He knew we were going to be tight for time so he's out on the gang mower."
"He sure is a nice guy," Ginger shook her head. "I'll bet there aren't very many Indy car drivers out mowing grass at some race track right now."
"You're probably right, but it's sort of a case of having something to do, rather than nothing to do," Mel told them. "I'll let him tell you the whole story, but he and Wireman got some details nailed down about running one of Wireman's cars in the CART series the rest of the season, and Indy next year. Wireman is supposed to come up here for the record run attempt Saturday night, so that ought to be fun."
After some more talking back and forth, they unloaded the pallet with the 255 Offy onto the shop floor and skidded it over to one side. It was clear that there wouldn't be any work done on it for the next few days, but once they were past the weekend it was most likely going to be a priority project.
At dinner that evening they found out quite a bit about Ted's dealings with T.J. Wireman while they'd been on the trip to Oklahoma. "I'm going to fly back to Seattle on Sunday," he announced. "I need to get a couple days in on the job to wrap things up there. I don't know how it's going to work, but I've already overstayed the leave of absence I'd set up. Then I'll fly back Wednesday so I can be at the track at Milwaukee on Thursday. If any of you are interested, I can arrange for pit and garage passes for up there, and that includes all four of you. Are you interested?"
"It's a longer haul to Milwaukee than it is to Indy," Mel pointed out, "and I didn't even make it down there this year. That would be a real killer with everything going on at the track."
"Oh, go ahead," Ray told him. "Take Mom, and the two of you go take a weekend off. I think Ginger and the rest of the crew and I can manage to get through things without you around for one weekend."
"I don't know," Mel said. "We've never taken a weekend off during racing season, unless we had a rainout."
"All the more reason to go," Ray said. "Take off and have a good time. Let's face it, you want Ginger and I to run the track in the future, so we all might as well give it a tryout."
"Well, yeah, I guess you've got a point," Mel agreed. "What do you think, honey?" he asked Arlene.
"I'm thinking it might be good for us to get out of here so we aren't looking over their shoulders," Arlene said. "Let's face it, there shouldn't be anything coming up that they can't handle over the weekend, and it would be good for the two of us to get out of here for a while."
"Just don't get into trouble," Mel warned as he warmed to the idea.
"Come on," Ginger grinned. "Would we do something like that?"
Arlene looked at them with a grin that said she was reading them like a book and said, "You really don't want me to answer that, do you Ginger?"
* * *
"Oh God, Ray," Ginger whispered in his ears while they lay snuggled together in his bed a few hours later. "I want to do it so bad even though I'm still a little sore from the last three nights. If you want to do it I'll try to keep quiet."
"You know, I'd really like to do it, honey," he replied, "but I still feel funny about doing it with the folks right up the hall. I guess it comes from growing up here."
"I suppose," she sighed. "I feel that way a little, myself. But that doesn't keep me from wanting to so bad it isn't funny."
"Me, too," he said. "Let's face it, we left the gate open and the horse got out. It doesn't want to get fenced back in."
"Yeah, no fooling," she sighed. "Ray, it comes down to this. We either have to learn how to do this, or we have to get our own place. Until then, well, your folks are going to be gone for a couple days next weekend, maybe we can have a little more fun."
"Except that we'll be killing ourselves getting the race weekend put on," he said. "By Saturday night we're going to be so damn tired all we're going to want to do is sleep."
"At least it gives us Friday for fun," she said. "And maybe we can make the time to do it some other time. I mean, what's to keep us from sneaking out to the back part of the farm during the day some time?"
"Yeah, that could be fun," he agreed. He let go a giggle, and said, "Ginger, there's something I've always wanted to do."
"What's that?"
"Some night, and I don't think tonight, we'll have to come up with an excuse to be out and around a little late. Let's go do it on the start-finish line of the big track."
"Ohhhh!" she giggled. "That sounds like fun! I mean, so long as you don't have the timing system on."
"Tell you what," he said. "We could kill ourselves if we got at it the way we've gone at it the last three nights. Why don't we just cuddle and relax tonight, and most nights, but make use of opportunities when we get them, in the house or out? I mean, there's a nice little swimming hole way out in back if you've got plenty of bug dope on. We can head out there during the day sometime. That'll at least get us through for a couple months, and then maybe we can think of something better."
They lay there cuddling and kissing for another few minutes before Ginger whispered, "Ray?"
"Yeah?"
"Why don't we just head out to the track right now?"
"You know, Ginger," he sighed softly. "Playing it cool around the house just isn't going to work. We might as well just go ahead and do it now."
"Fine with me," she giggled, and kissed him again.
* * *
Saturday was a madhouse, as Saturdays often were. There were kart races going on in the back part of the big track in the morning, ATV races at the little track in the afternoon, and the regular Saturday night show back at the big track. Then, just to make life more interesting, the road racers would be in Sunday.
And, if that weren't enough, on Saturday morning Ted and Ray got the Eagle out of the trailer where it had set since bump day and set to work on it up in the shop. They really weren't going to do much to it from its Indianapolis setup, other than crank the wing up significantly, put fresh brakes on it, and changed to slightly different gears that would allow Ted to use more of the straights without going over the engine's redline. And, since this was probably the last time the car would be run, except for perhaps a parade lap sometime, this time Ted planned to use full boost.
It was a crazy day, even with having extra hands in to cover all the things that had to be done, which included a lot of trash pickup. Ginger barely made it out of the office all morning, and wouldn't have done that if she hadn't heard the familiar turbo Offenhauser roar along about midmorning. She'd been aware that the guys were planning some kind of a test to try out their tweaks; it seemed strange to her to not be a part of starting the thing, but there were other things for her to do.
Still, she said the heck with the paperwork for a few minutes, closed up the office, and walked out to the grandstands and just watched for a while. The car seemed like it was going awful fast, but she couldn't tell if Ted had been able to get it into the twelve-second range.
After several laps, Ted pulled it back into the pits and shut it off. The backfire from the Offy's exhaust pipe was loud at even this range. Ginger could see that Ted was getting out of the car, so apparently they'd done what they'd set out to do, so there was nothing much she could do but go back to work.
With a sigh, Ginger got up to head back to the office where there was more work waiting. Having the Eagle run tonight was going to make for a fine show for the spectators, but she felt a little sad about it. It was a last hurrah for the car; it would be heading off to the still-to-be-built museum, and Ted would be heading on to other things. Ted and that car had been a part of her life for what seemed like a long time, almost the whole time that she'd been serious with Ray, and things were going to be different without it.
Lunch on race day was always on a catch-as-catch-can schedule. They opened the grandstand concession stand for an hour to get a little traffic from the karters as it had always more or less proved to be worth the effort. If they ever got the back pit concession stand open – probably not this year – then they might be able to do a little more business. For now, it was convenient to run over and get a hot dog, a bag of chips, and a Coke to take back to the office with her.
The day just got busier as it went along – it was routine busy, but there was a lot of it, and Ginger was glad to take a break half an hour before the ticket office and the grandstand gate opened, just before time trials got under way. As had become the usual practice, she, Ray, Mel, Arlene, and Frank got hamburgers, hot dogs, and fries from the concession stand and ate them at one of the covered picnic tables behind the grandstand for their final coordinating session before things got real busy.
"Doesn't look like a real big car count tonight," Ginger observed as she sat down at the table.
"Yeah, a little lighter than normal," Mel agreed. "Winged sprints instead of Late Models, that keeps it down a little, and they're having an Economy Stock special night over at Maple Shade so that draws from here too. That's why it's good that we're going to have Ted make his record attempt at intermission. It should help build up the crowd."
"I sure hope it does," Arlene sighed. "I've probably done more advertising for that than anything else I've done in a while. I've been getting some calls about it, and the weather is nice, so I hope that means we'll have a good turnout."
"Actually, I'm just as glad that the car count is a little light," Ray shook his head. "I've been trying to get people to cram in tight in the infield pits and put any extra vehicles in the backfield. It looks like we're going to be able to get everyone into the infield, so that should mean we won't have to clean up the backfield before the road racers show up in the morning."
"That'll help," Mel nodded. "I hate to have the high school kids stay out that late, but when we've got road racers on Sunday we have to turn to after the Saturday night show to get things cleaned up, there's no getting around it. You always miss stuff when you clean up after dark, so we'll have to go over the place in the morning anyway."
"Right," Arlene agreed. "The road racers don't bring in a lot of money, but I still don't want to have the place looking like a dump for them."
"How are we going to handle the intermission show?" Frank asked. "I presume you don't want to bring Ted out right away so people have got some time to get to the concession stands."
"Yeah, have to," Ray said. "I'm going to have the preheaters on the Eagle all the way through the heats, but it's still going to take some time to get that beast warmed up, then get the soft plugs out, the race plugs in, and then get it restarted."
"How about if you just go ahead and get the warm-up going as soon as the last sprint heat is done?" Frank suggested. "Mel and I can keep an eye on the lines at the concession stands, and I can do an interview with T.J. Wireman during the first part of the intermission to keep interest up. When the concession stand lineups start to thin out, we'll give you a call on the radio and tell the crowd they still have a few minutes to hit the concession stands before the record attempt gets under way. That'll give you time to get things pulled together and out on the track."
"That'll work," Ray said. "At least if someone can come over and help get the Economy Stock feature lined up while the record attempt is going on. Otherwise, it's going to slow things down."
"I can do that," Arlene offered. "At least we're only going to have a single Economy Stock feature tonight."
"If we do that we're not going to have time to do an interview with Ted once the record attempt is over with," Frank pointed out. "How about if we have him draw the 50-50 after we do the Miss Marston gag? That way I can interview him while the winner is making his way down."
"I thought we weren't going to do the Miss Marston gag again," Ginger shook her head.
"Oh, why not?" Ray smiled. "Neither Ted nor T.J. have seen it, and they've heard stories about it."
"Well, all right," Ginger said, a little reluctantly. Doing the Miss Marston gag was going to cost her twenty minutes of time to dress up and get ready for a gag that would only run two or three minutes. "If you can think of something to do it with."
"Oh, let's just do the normal drawing thing," Frank said. "You can do the normal nit-picky and anal retentive thing with me, telling me that since this is such an important occasion that I ought to be wearing a tie. It doesn't have to be a bookkeeping gag. People know where Miss Marston is coming from, by now."
"I can do that, I suppose," Ginger shook her head. "We usually do it better if we don't plan it out too much ahead of time, anyway."
"That's the spirit, it's all for the sake of the show," Frank grinned. "If we can get it out of bookkeeping, we can go a lot of places with the Miss Marston thing. Ray, when we do the drawing, why don't you come out with Ted, and I can interview you a little too, about what it's like to keep that thing going?"
"It's nothing special for me," Ray shrugged. "Let Ted have the spotlight. Besides, I'll be busy lining up the Street Stocks."
"Oh, go on out," Arlene said. "You deserve some credit, too. Besides, you should have the Street Stocks pretty well lined up anyway."
"Oh, all right," Ray shook his head, obviously not real enthusiastic about the idea. "Anything for the show, after all."
"That's the spirit," Ginger teased him. "If I can do it for the sake of the show, you can too."
They talked about a few other last minute things needed to make the show go smoothly. Then, Ginger excused herself a little early so she could take the golf cart and make a quick run down to the house for her "Miss Marston" clothes and makeup, which she hadn't figured on needing this evening. She put them in the track office, and made it over to the ticket office just before the gates opened.
There was already a long line of people waiting when she and Georgia opened the ticket windows, and it stayed steady all the way through the time trials. It only started to die out as the Economy Stock heats were getting under way, when Georgia told her to go on and head for the scoring booth.
As always, the races were pretty good, even if the number of heats was down a little from normal. When intermission rolled around, Ginger rushed down to the track office to get her hair up in Miss Marston's trademark bun, got her makeup, on and did a few other things to get as ready as she could. Soon she heard Frank calling for people to get on down to the concession stand now because the record attempt was going to be starting in a few minutes. She called a halt to the preparations, got herself presentable again, and rushed back up to the scoring booth to take advantage of the view for this landmark event.
She settled into the seat next to Frank as he began to talk to the crowd. "This is a special night at the Bradford Speedway," he said into the microphone. "Several weeks ago Indy driver Ted Hilyard was testing his Indy car here during a Saturday morning test and tune session, and set an all-time track record of 13.23 seconds in the process. There were only a handful of people here at the time, and I wasn't even one of them. Ted just barely failed to qualify the car for the 500, and it was a landmark in itself, since his Eagle has the last Offenhauser engine that ever attempted to make the race. So, in thanks for all the support he's gotten from the Bradford Speedway owners and fans, Ted suggested that he fire up the Last Mohican one last time, crank the boost up all the way and try to drive the all-time record down into the twelves.
"Ladies and gentlemen, and especially all of the Offenhauser fans among us, this is a landmark moment in more ways than one. Listen closely to the sound of that engine, because it's something that you won't be hearing again."
As Ginger looked out across the track to the infield concession stand where Ray was handling the starter on the turbo Offy, she was aware that thousands of people were watching with her. In the background she heard Mel say on the radio, "OK, whenever you're ready."
Within seconds she could hear the engine roar in to life. Ted gave it a couple of rev-up cycles, then dropped the clutch, pulled out of the parking spot, drove up the pit lane and turned onto the track. Even at relatively low speeds, the engine was noisy, its four-cylinder growl sounding the last gasp of an era that had passed. Ted made several laps at moderate speed as Frank talked a little bit about the history of the car, about the gallant but ultimately futile attempt that Ted and Ray had made to qualify the car one last time. He also talked about Ted's stalwart effort in T.J. Wireman's 53 car the previous weekend. He was just filling dead time in a way, and perhaps not a lot of people heard it over the throaty Offenhauser roar that filled the southern Michigan night, but it was something that needed to be said.
After several warm-up laps, Ted came out of Turn Four and got on it. Now the engine didn't merely roar, it howled, even screamed; Ginger knew there were no boost limits here, and do or die, this was the last time so Ted was planning on running the turbocharger up as far as it would go without a pop-off valve to limit its output.
It was hard to say how much horsepower made the noise that echoed through the night, but it could easily have been on the far side of a thousand. There was no trying to talk through the loudspeaker over that sound; the attempt would have been futile. Frank just handed the microphone over to Mel, who was sitting at the electronic timing machine. Over the noise, Ginger could hear him reading off the times as they came in: "13.44 . . . 13.17 . . . 12.95, there it is." There was a small cheer at that, but Ted wasn't done yet, and Mel kept on: "12.66 . . . 12.75 . . . 12.28 . . . Wow! 11.91! . . . 11.87!!"
---
<< Back to Last Chapter
Forward to Next Chapter >>
---
To be continued . . .
---

This work is licensed under a
Creative Commons Attribution-Noncommercial-No Derivative Works 3.0 United States License.
---