Wes Boyd's
Spearfish Lake Tales
Contemporary Mainstream Books and Serials Online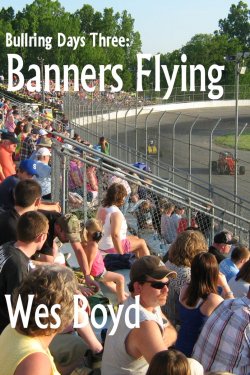 Bullring Days 3:
Banners Flying
Wes Boyd
©2009, ©2014
Chapter 36
The calendar says that summer and winter are the same length, but any racer can tell you that winters are long and slow and cold, but summers go by in a flash. It seemed like the racing season at Bradford Speedway had barely opened, and now here it was, the season championships and the last race of the season.
Emily Jones was in her favorite place, which was cuddled up next to Kevin with his arm around her. It had been a while since that had happened, and would be longer before it happened again, since Kevin was on leave following Air Force basic training, and would be heading south to Keesler Air Force Base in Mississippi for advanced training in the morning. It looked like he might be going to Germany after that, so it might be a couple years before she could enjoy cuddling up next to him again. There really wasn't anything she could do but enjoy all she could before all too soon the long, lonely winter would come upon her. Nothing had been said and no promises had been made, but Emily would be counting the days until he returned.
"I wonder what that special feature at intermission is all about," Kevin commented.
"Beats me," she said, snuggling up next to him even more tightly, if that was possible. "We'll know in a few minutes. Shae says that the announcer has been talking about it for a couple weeks but she hasn't heard anything about what it could be."
"Well, these folks like their surprises," Kevin grinned. "I'll bet it's some sort of special 'Miss Marston' routine. I sure enjoyed those before I headed down to Texas."
"Yeah, wasn't that something when she got engaged right in front of everybody," Emily giggled. It was the last time she'd been at the track – it wasn't near the fun if Kevin wasn't with her. "Shae said it's been all newlywed and engagement jokes since then and some of them have been really funny."
Halfway down the stands from Emily and Kevin three other people sat, not very happily. They had never seen a "Miss Marston" gag, because they'd never been to the track before, and they weren't sure why they were there tonight.
"This is a waste of time," Fred Marston snorted. "Why in hell would that little brat send us tickets to a car race and insist on our being here? If she wants to talk to us she knows where to find us."
"Well, Dad," Nick said, "it has been kind of fun for a change. I mean, I don't know what I would have been doing tonight if Mary Sue hadn't dumped me."
"I have no idea why she would want us here, either," Virginia Marston shook her head. "I've only seen her once since you ran her out of the house, at McDonald's that time. She is still our daughter, Fred, no matter how much you try to deny it."
"Yeah, but a stock car race? This is ridiculous!" he grumped. "What reason in the world would she have for us to go to a stock car race? I mean, just sending us a note with the tickets that says we'll be sorry if we miss it. I mean, where is she? We're here, so why isn't she? She's the one being an asshole about the whole thing. I mean, she could have just listened to me for once!"
"You could have tried listening to her," Virginia replied for about the five hundred and seventeenth time. "You were just so sure you were right about everything that you didn't even try to understand what she had to say."
"So I told her to get her car fixed, so what's wrong about that? That's no reason for her to go running out the door without a word to any of us for months."
Virginia shook her head. She knew that Fred was wrong and she knew that he knew it, too – but she knew that he wasn't about to admit that he was wrong, ever. She had no idea what this was about but at least hoped it would be something that would get her on speaking terms with her daughter again. But she couldn't figure out what being here might have to do with it. For a while she thought that Ginger might be racing, but that seemed like something almost beyond belief. There was nothing to do but wait and see, and watch the end of the race. Those winged sprint cars were awful loud, but they sure went fast!
"White flag, one lap to go!" the announcer's voice came over the loudspeaker. "Belcher is doing everything he can to find a way to get around Johnson as they head into the first corner, he tries him low, but no! Johnson shuts the door on him! Belcher takes it high, looking to get around the outside, but no! He fakes high, and dives under Johnson in three and four, he has a little bit of a lead coming out of the final turn, they're nose to nose coming down to the wire . . . and John Belcher wins the final sprint car heat of the season here at Bradford Speedway. We'll just have to see if Johnson can return the favor in the feature, coming along after the intermission."
"My God, there's more?" Frank snorted. "Is she just going to torture us with this crap all evening?"
"All right, folks," the announcer continued. "It's intermission time here at Bradford Speedway for the final racing night of 1984. Now, those of you regulars here know that usually about now I'd be suggesting that you head down to the concession stand for one of our famous hot dogs, one of our all-beef quarter-pound hamburgers, or perhaps a slice of pizza. Well, folks, the concession stands are open, but for once you might want to remain in your seats while we have our special intermission event that I've been teasing you about for the last several weeks. There'll be plenty of time for one of those, or a box of popcorn or some of our famous crinkle-cut French fries. But right now we're going to do something that's never been done at Bradford Speedway before, at least here at the new speedway up here on the hill. Now, while I make my way down to the track gate, I'm told that Fred and Virginia Marston are here in the stands somewhere. I'd like them to come down and meet me at the gate onto the track in front of the grandstands."
"What the hell?" Fred said, totally surprised at the announcement.
"I don't know either," Virginia said. "I guess this is where we find out why we're here."
"Oh yeah," the announcer continued. "Nick Marston is supposed to be with them. He should come along too. Come on down, folks. This isn't The Price is Right, but come on down!"
"What the hell?" Nick shook his head.
"Guess we're not going to find out if we don't go," Virginia said.
"If this is one of Ginger's tricks . . ." Fred grumped, but didn't finish the statement.
"You coming folks?" the announcer continued as he came down the steps of the grandstand. He saw Virginia Marston waving at him. "You're the folks?" he asked. "Well, come on down, you're in for a surprise. The rest of you involved in this, you know who you are, let's get down on the track."
Since he was on the steps, the announcer made it down to the track gate well ahead of the Marston family. To fill the time, he continued talking, "Those of you who are Bradford Speedway regulars will remember the historic antique 1948 Indy car that its 1956 driver Spud McElroy drove around the track here a couple weeks ago. That priceless old antique will be going into the Bradford Speedway Museum that will be opening here next spring. In fact, that new concrete pad behind the grandstands is the beginning of it, and the building is supposed to be going up in the next few weeks. It turns out that last week your track owner, Mel Austin, was going over some of the old paperwork on the car. He discovered that the engine they found for it down in Oklahoma earlier this summer was the same engine that was in the car from at least 1952 through 1962. There weren't that many unblown Offenhausers ever made, only a couple hundred or so I think, but from that distance it's a real stroke of luck. That car, which all the Austins call "The Old Soldier", will be joined by the two surviving MMSA Midgets you saw take parade laps here tonight, and the turbo Offenhauser-powered Eagle that many of you saw set a track record here a couple months ago. Mel tells me there's some other great cars coming for the museum, and I'm really looking forward to the grand opening next spring."
By the time the announcer got done with all of that the Marstons were standing beside him, looking confused. "Uh, sir," he heard Virginia Marston say. "Can you tell us what this is all about?"
The announcer clicked the microphone off. "Sure thing, all in good time. Let's get out on the track, we have to keep things moving along."
"Well, OK," Virginia replied, more confused than ever. Several people were stepping through the track gate and going down the steps to the track, and they followed along. None of this made a bit more sense than it had before, and the collection of people didn't help matters much. Along with the announcer, there was another couple about their age if dressed up a little more, a really good looking guy wearing a suit, and an older gentleman, also wearing a suit and carrying a Bible. They were accompanied by a teenage girl who was very tall, wearing short shorts and heels that made her legs look like they were about half a mile long.
As he continued to talk into the microphone, the announcer told people where to stand down along the white line at the bottom of the track. Fred and Virginia were at one end of the line, with the teenager next to them. The other older couple was at the far end of the line, with the three guys in suits in the middle. "All right," the announcer said over the loudspeaker system, "I guess we're ready. Over there at the pit gate, do your stuff."
Still wondering what this was all about, Fred and Virginia just stood there with really confused looks on their faces. The teenager, wearing a huge grin, tapped both of them on the arm and pointed across the track behind them, and they turned to see what was being pointed at as a chorus of "Oooohs" and a cheer went up from the stands. There, across the track, was a brand new white Ford Mustang convertible being driven out onto the track, and sitting up on the back deck was a woman in a wedding dress.
It came together for both Fred and Virginia at the same instant. It was too far away to tell for sure, but who else could it be? It had to be Ginger! "My God!" Virginia gasped. "Is this for real?"
"Oh yes, Mrs. Marston," the announcer said. "It's for real. You Bradford Speedway regulars will remember a couple months ago when Ray Austin surprised all of us, including himself, by asking our Miss Marston to marry him right in front of one of the best crowds of the season. Ginger told me earlier tonight that she'd always dreamed of having a big wedding, but she also told me that with the ticket count tonight she'd never expected it was going to be that big!"
There was a round of cheers and laughter from the stands; Fred and Virginia just stood there, jaws open, amazed at the size of the crowd. The Mustang continued around the track slowly, making a full lap and a half as Ginger waved to the crowd. The announcer turned to the crowd and said. "Just for some quick introductions, the family next to me with the really fast heartbeats are Miss Marston's parents, Fred and Virginia Marston, and her brother, Nick. Next to her is our season high 50-50 ticket salesman, Bradford High School's Shae Kirkendahl, who Ginger asked to serve as the Maid of Honor, and next to her we have Reverend Paul Blackburn of the Bradford United Methodist Church. At the far end of the line we have our track owners, Mel and Arlene Austin, and their son Ray, who happens to be the lucky guy marrying the Miss Marston we all know and love."
Neither Fred nor Virginia had really taken much notice of the guy, and they couldn't help but tear their eyes away from the white Mustang to get a glance at Ray. He was a good-looking guy, although it seemed clear to both of them that he wasn't used to wearing a suit. "Driving the Mustang that's bringing Miss Marston to the ceremony is the best man, Ted Hilyard. Now, here at Bradford Speedway we like to think of Ted as the all-time track speed record holder, and a lot of us were here on the night that he set that track record, the same night that Ray Austin asked Miss Marston to marry him. However, many of you also may know that he won his first CART series victory last weekend at Burke Lakefront Airport in Cleveland, so we're all a little surprised that he's keeping down to pace lap speed. Now, I'm going to take this opportunity to surprise Ray Austin and Miss Marston by telling them that the car she's riding in is a wedding gift from their friends around the track and Frank Blixter Ford of Livonia, Michigan. Yes, folks, I had to get that plug in sometime!"
There was more laughter around the track, just as the car pulled in behind the line. Ted shut the engine off, got out, and assisted Ginger to the ground. It was all Virginia could do to keep from rushing over and giving her daughter a big hug – whatever she thought might be happening this evening, this was the last possibility – but it was true.
Ted accompanied Ginger over to where Ray was waiting for her. In true Miss Marston fashion, she reached out, brushed a couple non-existent flakes of dust from his suit, and straightened his tie. "Ah, Miss Marston to the end," the announcer said. "That's why we here at Bradford Speedway all love her. Now, I'm just going to shut up and turn into a microphone stand for Reverend Blackburn while he gets on with the ceremony."
"Thank you, Mr. Blixter," the minister said. "I'll have to say I've performed big weddings from time to time, but never with a crowd the size of this one. At the request of the bride and groom, we'll keep this brief." He opened the Bible and began, "Dearly Beloved, we are gathered here in front of God and this company . . ."
He really did keep it brief, under ten minutes; there was a long kiss, and then the happy couple got in the Mustang and drove it around the track in a victory lap, waving at the cheering, yelling crowd, and disappeared out of the pit gate.
"Well, that wraps that up," Blixter said. "The bride and groom will be receiving congratulations at a sort of a reception behind the grandstand following tonight's feature races, and I'm told there'll be wedding cake and other refreshments while they last. If you don't want to depend on that, you might like to head for one of our track concession stands, where you'll find our famous hot dogs, our all-beef quarter-pound hamburgers . . . aw, you know, you've heard me say it before. Racing will be getting under way again in about fifteen minutes with our final Economy Stock feature of the season, so grab some refreshments and stick around for the fun. Oh, and I'm sure our lovely Maid of Honor or one of her friends will be around to sell you a 50-50 ticket, that's a buck each or six for five. The proceeds from tonight's drawing are going to go to our newlyweds for their honeymoon, so dig deep folks, and give them a wedding gift to remember from the Bradford Speedway fans."
The wedding party slowly started to make its way back across the track. "Mr. Blixter," Virginia managed to ask as people lined up to go single file through the gate. "What was all that 'Miss Marston' stuff? You never used her name once!"
"It's a little hard to explain if you haven't been here before tonight," Frank told them. "Ginger and I have been teasing each other all season at the 50-50 drawings and at flat spots in the action. She's got this really prissy outfit and attitude she puts on, and we get a lot of laughs about it. She's Miss Marston to all the fans here, even though everyone knows she's putting on an act. You've got a daughter and a son in law who I think the world of. They're both great kids with a great future ahead of them." He let out a sigh. "I guess that means we're not going to be doing the "Miss Marston" sketches again, but that's fine. Next year is next year, we'll think of something else."
"Well," Nick said later as they climbed back up the stands to their seats, "that's sure not what I expected."
* * *
Frank was talking about the Economy Stocks getting going again when Fred, Virginia, and Nick saw Ginger coming up the steps of the grandstand. The wedding dress was gone, now; she was wearing jeans and a Bradford Speedway T-shirt. She headed over to them. "You don't look like you just got married," Virginia said. "Was that just another one of those Miss Marston sketches I've heard about?"
"No, that was the real thing," Ginger smiled, "but this is still a race night. I'm still the business manager here and Ray still has features to run. I've got to settle the 50-50 drawing and some other stuff, and there was no point in wearing the dress while I was doing it. I'll put it back on for the reception. So how did you like my wedding?"
"That was . . . well, different," Virginia replied. "It sure wasn't what I was expecting."
"To tell you the truth, it wasn't whatever I thought my wedding was going to be like," Ginger smiled. "But after Ray asked me to marry me in front of five thousand people it seemed to be a logical thing do to. We're putting on a show here, after all, and it seemed like a good addition to the program."
"But . . . but . . . the business manager? I didn't know that! How did that happen?"
"Just being in the right place at the right time," Ginger smiled. "Dad, if you hadn't insisted that I take my car to that crook out at Fryes, it never would have happened, but I never expected what came out of it to happen, either."
"This is very sudden, and I suppose I shouldn't say this," Virginia asked, "but Ginger, are you pregnant?"
"Not yet," she smiled. "Maybe not for a year. Ray and Mel and Arlene and I have a number of things we need to deal with in the next few months, and being pregnant would just make it more of a hassle. This time next year, though, I wouldn't be surprised. Ray and I want to have kids, and have them pretty soon. We've got a business to set up first, and we're buying a house here in Bradford, so that's going to keep us pretty busy. We've got a short track Sunday race tomorrow down at the little track; that's the one you passed on the way in. Then Monday Ray and I are going to take off to North Carolina for a quick honeymoon, which at least partly will be looking for old race cars for the new museum. Then, we hope to move into our house after we get back. I'm afraid our furniture is going to be modern American yard sale for a while, but we can't do everything at once, either."
"Well, Ginger," Virginia said slowly, "I never expected any of this."
"To tell you the truth, I never dreamed of it a few months ago, either," Ginger said, willing now to let bygones be bygones, at least if her parents were willing. "It came out a whole lot better than I expected it to. Hey, I'll talk to you later, I've got work to do."
"Hey, sis," Nick piped up, "that racing looks pretty cool, and those Economy Stocks don't look all that expensive. Do you think I could do that?"
"Why not?" Ginger grinned. "If I can drive an Economy Stock, there's no reason you shouldn't be able to."
"You race those things?" her mother replied, more surprise evident on a face that didn't think it could be surprised any more this evening.
"Not here," Ginger said. "There's too much to do on race nights here. But if Ray and I aren't busy, we've been known to head off to some other tracks to have a little bit of fun. I'm not real good at it, but I have a ball doing it."
"Ginger . . ." Virginia sighed. "You're not exactly turning out like I expected."
"Well, me either," Ginger laughed, "but that's what makes life fun, isn't it?"
-- 30 --
---
<< Back to Last Chapter
---
Thanks for Reading!
---

This work is licensed under a
Creative Commons Attribution-Noncommercial-No Derivative Works 3.0 United States License.
---