Wes Boyd's
Spearfish Lake Tales
Contemporary Mainstream Books and Serials Online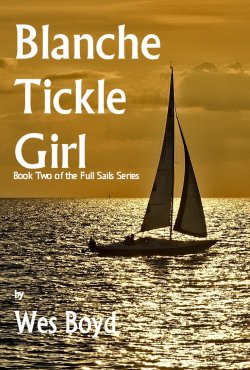 Blanche Tickle Girl
Book Two of the Full Sails series
Wes Boyd
©2012, ©2014
Interlude I: North Sea Winds

Chapter 12
Matt and Mary wound up spending three days in Galway, mostly rearranging the boat for coastal cruising rather than an ocean crossing.
There was a lot to do and they stayed busy at it. The big item was wrestling the dinghy out of the forward stowage area to the cabin top and tying it down there, which cleared away a lot of space in the V-berth. There was still more to move, but there were now places to move it to, mostly in the storage places under the settee berths. Even then there wasn't quite enough space and they had to move some of the stuff into the cockpit lockers. Most of the excess was food; even though there had been two of them eating out of the food stocks rather than the one Matt had planned, it appeared that he'd brought plenty. They resolved that they were just going to have to eat their food stocks down until they had enough room for more.
Their water tanks had to be replenished– again, they'd used more than Matt had planned, although hardly all of it– and they did get a few fresh items of food to take the edge off of having to live out of cans. They went over the boat thoroughly, fixing a few minor things that would have been difficult to deal with at sea. It proved that the dockyard supervisor was able to help them out with cushions for the V-berth by pointing them to a canvas shop that made such things, and soon they were in place, although they decided to stay at the hotel for the rest of their stay.
The dockyard supervisor and several other people told them that going around the west and north side of Ireland could be risky if they didn't keep an eye on the weather, but that it was probably a better sail in terms of places to see. Since they'd made an ocean crossing there was no reason they couldn't handle it, they were told, so long as they paid attention to the charts and sailing directions, so it didn't take long for them to make up their minds to go that way.
They found a place to do their laundry, and it was nice to have clean clothes to work in. They got some jeans and work shirts at the little clothing store where they'd shopped earlier, and Mary stocked up on underwear, which had been in short supply on the crossing. The store had a small rack of women's swimsuits, which were mostly tie-on bikinis; Mary picked out a nice plaid print one, and said it ought to do.
But, while she was trying on a pair of jeans, Matt picked the swimsuit rack over and discovered a really tiny black thong bikini that hardly had enough material to make an honest handkerchief, and decided it would be fun to tease her with. He had it bought, paid for, and hidden in his pocket by the time she came back out into the room, and he planned on keeping it a secret until the time was right to spring it on her.
By the end of their second full day in Galway they'd more or less completed their list of things that had to be done there. They took the opportunity to use the full-sized bed in the room one last night, but in the morning they packed up the few items they had, put them in a seabag and walked back to the Mary Sue. The wind was coming up nicely as they used the diesel to get away from the pier, so they were barely out in the harbor before they shut it off. They sailed out of the harbor and down Galway Bay hard on the wind, with the sails full and the Mary Sue throwing up a lot of spray as it plunged into the waves coming from offshore.
Late in the day they pulled into a tiny harbor on Bertraghboy Bay. There was no particular reason to go on shore, and they didn't feel like messing with the dinghy, so they just anchored out for the night and gave their new bunk in the V-berth a workout. It was snug in there, almost cramped, and the deck above was so low there was no sitting up in bed. It was in no way as comfortable as the big, soft hotel bed they'd enjoyed for the previous three nights, but it was more enjoyable in some way to sleep together on the Mary Sue; it seemed to them as if it was where they belonged. The next morning they pulled up the anchor and were on their way again, around Slyne Head, heading north.
As it was, they spent over two weeks on the wild northwestern coast of Ireland. While parts of it may have filled their seamen's eyes with foreboding, both Matt and Mary found the countryside beautiful. There was a lot of rock and a lot of green grass, but rarely did they see a tree near the coast, where the salty winds off the ocean helped to keep them from growing.
One time, when Mary asked him about it, Matt told her, "I enjoy wild country like this, where the hand of man rests lightly, if at all. This is what nature intended, especially when there aren't many people around to screw it up. That's the big reason I wanted to come to Ireland, Scotland, and Norway, to enjoy the natural wildness."
"Ye know," she replied. "It puts me in mind of Newfoundland in some ways. I think ye might like it there."
"I'm pretty sure I would," he said. "What I saw of it looked like the kind of country I'd enjoy. It's just too bad I had to rush through it so quickly, but I wanted to get started on the crossing before anything could screw it up."
"Maybe we'll have ta go there some time," she smiled. "I think ye'd find some fine sailin' and fine country for ye."
"Maybe we will," he said. "It's not out of the question by any means."
They didn't even think about sailing at night in these waters, at least partly because of the fact that they were in no particular hurry. Sometimes they stopped for the night in some nameless bay or other, just anchored out by themselves; other times they stopped at some coastal village, either anchoring out or at a pier. If it was the latter, with no need to use the dinghy, they often went ashore to the local pub for a meal and a pint or two before going back to the Mary Sue for the night.
The weather was mixed, as they had more or less expected. Twice they spent the day at anchor while the weather outside seemed a little too rough for their tastes. They managed to find ways to pass the time those days, sometimes in the V-berth, but Matt spent at least part of the time composing letters to both his family and Uncle Jake telling of their ocean crossing and some of the adventures they'd had. One of the things they'd had done in Galway was to get the photos Matt had taken on the crossing printed. He included a few pictures in each envelope, making sure that there was one of Mary with the iceberg in the background in the letter he sent to his parents. It wasn't until they reached Sligo several days later that he was able to mail the letters; he wondered what his mother's reaction to the photo of Mary might be. Probably not good, he thought without caring about it very much; after all, Mary wasn't much like Stephanie or some other plastic Barbie Doll his mother would have tried to ram down his throat.
One fine and warm afternoon they sailed into Malin Bay, near the northernmost tip of Ireland. It was early in the day for them to stop, but they wanted to have a full day to sail to Londonderry, in Northern Ireland, where they could pass through British customs and Matt could take the advantage of a large city hospital for his quarterly blood test. Since they were planning on going into town the next day, they thought it was a good time to clean up a bit. Since there were people around, although not many, it wasn't a good place to go nude in the cockpit while they were washing.
They went below to get on their swimsuits, and Matt figured this was a good time to surprise Mary. "Here," he said, handing her the thong bikini he'd bought in Galway without her being aware of it. "Wear this."
"Oh, my," she shook her head. "There ain't hardly nothin' there, is there b'y? That's got to be a Scotch bikini, 'cause they were so tight with usin' the material. Christ Jesus, I'd feel more naked with it on than if I was naked."
"That's the point," he grinned. "Go ahead and wear it. I want to see you in it. I think you'd look sexy as hell with it on."
"Oh, all right, b'y," she conceded. "It's probably better for washin' up anyway, although I know the minute I have it on ye will be wantin' ta have it off me, an' then I'll just have to put it on again so's I can wash up after."
"You're right," he laughed. "But can you think of a better way to spend the afternoon?"
"Well," she snickered, "Now that ye mention it, no, I can't."
Matt was right; she did look sexy as hell with it on. But she was right too; it was on and off several times, with visits to the V-berth accounting for the times it was off. She wore what they both called the "Scotch bikini" from time to time after that, never with anyone but Matt close by, but they both usually managed to enjoy it when she did.
The next day they made the run around Malin Head in deteriorating conditions, and were happy to turn into the more protected waters of Lough Foyle for the run into Londonderry. They got there late in the afternoon, had a perfunctory customs check, and settled in at a slip for the night after a seafood dinner at a dockside pub. The next day Matt caught a cab for a ride into the largest hospital in town, where he had blood drawn for his blood test; it was a little early, but it appeared that it would be the best chance he'd have for a while.
He was back to the Mary Sue early; as he had explained the blood test itself wouldn't take long, but he wouldn't know the results till the next day. They spent the day seeing the sights and doing a little shopping, mostly to top up their supplies with a little fresh food; they were still mostly eating on the collection of cans Matt had brought with him on the boat, but the pile was starting to dwindle, now. They'd resolved to eat the stack down to where they only had a couple weeks or so of food remaining, then try to not load up too much after that.
The next morning Matt caught another cab back to the hospital to learn the results of the test. "About like normal, normal for me, that is," he reported when he made it back to the boat.
"No sign of the leukemia comin' back, I take it?"
"It's not gone," he told her. "It's never gone. But it's no worse than it was the last time, so I guess I'm good for a while yet. Now we can figure out what the next move is."
"Just lookin' at the map, it'd about have ta be Scotland, wouldn't it?"
"Right," he agreed. "There are several things I'd like to do in Scotland, but the head of the list is to go up the Caledonian Canal and sail Loch Ness."
"Hopin' ta see the monster, are ye?"
"Well, yeah," he smiled. "At least to say that we've looked for it. But I don't think there's any big rush to get over there. Just throwing out an idea, what would you think about leaving out of here in the morning, spending the night at sea, and going up to the Outer Hebrides, maybe as far as Stornoway, then working our way back south to do the canal?"
"Sounds like it might have some potential," she said. "There's a couple things I don't think we'd want ta be runnin' into at night, but so long as the batteries in at least one of the GPS's are good there's no reason we can't stay way off them."
"I guess it comes down to weather," he said. "If it looks good, we can give it a try. If not, we can either sit it out here for a day or two, or maybe run east or northeast to get into Scottish waters."
They spent some time giving the weather a careful check, but early the next morning they pulled out of their dockyard slip in Londonderry, sailed in light airs across Lough Foyle, and once they were around Inishowen Head they turned the boat a little to the west of north. In a few hours they were out of the sight of land for the first time in weeks.
And for the first time in weeks they kept watch that night, with each of them checking the GPS from time to time. When morning came the next day they were still south of the southernmost of the Outer Hebrides, but along in the afternoon they pulled into Lochboisdale on the island of South Uist. The shores were treeless, as they'd come to expect, and there was more bare rock in evidence than they'd seen elsewhere. The town proved to be nothing more than a ferry terminal with nothing much else there, but it was a good place to spend the night at anchor.
Over the next few days they made it all the way up to Stornoway on the Isle of Lewis. They spent an extra day there, after meeting a man in a pub who offered to show them around a bit in his car, and they learned a lot about the place. After that, they headed back south, spending evenings at two different places on the northeast side of the Island of Skye, one of them a stormy night where they were glad to be at anchor. After the storm blew through things were still rough, so they decided to continue on around the east side of the island, under the Skye bridge and into the Strait of Steat. They ran as far south as Kilchoan on the Strait of Mull where they spent the next night. The next day they went on up the strait into Loch Lunnhe, stopping short of the town of Fort William and the Caledonian Canal.
The canal proved to be a bigger deal than they had expected, with more and larger traffic than they thought they'd see, right up to small ships. They had to motor through the artificial parts of it, but were able to get the sails up on Loch Lochy for a while, then motor some more to get into Loch Ness proper. By then the day was pretty well shot, so they found a quiet cove in the southwestern end of the lake to anchor for the night.
They were slow getting around the next morning, but not long after they got under way a spanking breeze came up from the southwest, and they were able to leisurely sail downwind for the length of the long, narrow loch. Both of them kept their eyes open, but they didn't see anything that looked like a monster to them. "I know it's been tried before," Matt commented. "But I'd sure like to have one of Uncle Jake's fish finders from one of his charter boats on board right about now."
Late that afternoon they went through the last artificial part of the canal, and in the waning hours of the day found a slip at Inverness to spend the night. What with one thing and another it had taken them three weeks from Londonderry, and by now it was the middle of August.
That evening, at a pub located near the Mary Sue, it was time for another 'what do we do next' discussion. "The season is getting along," Matt announced with his fingers wrapped around a glass of the dark local beer. "We've got about six more weeks before we're going to have to start doing something about the Mary Sue for the winter, or maybe a little more than that. I'm thinking we have two choices: head down the east coast of England and try to find someplace in the south to winter the boat over, or head across to Norway from here and find someplace there."
"I suppose it doesn't matter," Mary replied; she was wearing the green summer dress again, only about the fourth time she'd worn it. To Matt, it looked good on her as always. "Though given a choice, if we want ta winter over near the boat, I'd just as soon it was someplace where they speak English, or maybe French. I can speak a little of that."
"I didn't know that," Matt shook his head.
"Never had reason ta talk of it," she smiled. "I learned a little of it in school, an' there's a lot of French speakin' on the South Coast what with St. Pierre not bein' far away. I'm not what ye'd call real good at it but I can get along a little."
"The weather is going to be turning snotty in a month or six weeks," he commented. "But it's not that far to Norway, and I suppose we could always sail direct to someplace in the south of England before it gets too bad. But then, we don't have to winter right around where the boat is. We could leave it someplace and go somewhere else through the worst of the winter months."
"How long will it take us to get to Norway, b'y?"
"Well, it's about 450 miles if we go direct," he replied. "But we don't have to go direct. We could head out of here tomorrow and go to Wick, that's up the coast, to spend the night. Then we could head on to the Orkneys, which would be neat since that's where Scapa Flow is."
"Scapa Flow?"
"Big naval base in the first and second world wars," he explained. "Mostly a big tanker port now, I'm told. It's probably not worth the trouble of exploring but I'd like to take a look at it. Then we could head on to Lerwick in the Shetlands, that's probably about a day if we get decent winds. From there it's about 225 miles on to Bergen in Norway, which is far enough up the coast to get into the fjord country. The whole coast of Norway is pretty wild, it could take a couple of summers to see it all."
"So if we go to Bergen we could find out if we wanted to spend a whole summer there."
"Right, or we could do something else if we want to next summer. That's something we can think about over the winter."
"Could we winter the boat in Norway?"
"Don't see any reason why not," he shrugged. "Folkboats are popular in Scandinavia, and they're going to be familiar in almost any dockyard that handles pleasure boats."
"I can see you've done a little thinkin' about this," she smiled. "I take it ye'd rather see Norway than the east coast of England."
"Well, yeah," he said. "It seems like it would be more scenic and exotic."
"Then let's go to Norway, b'y."
The next morning they loaded a few groceries and some fresh water onto the Mary Sue, and were on their way. The run to Wick, on the Scottish coast northeast of Inverness was easy, especially with the strong southwest breeze that had favored them the previous two days still with them. The next day was shorter but harder, since Pentland Firth, the strait between Scotland and the Orkneys, gave them a rough ride, which, Matt knew from the sailing directions, was often the case. Scapa Flow proved to be mildly interesting but barely worth the stop, and then mostly because of the welcome break it gave from the rough waters and strong currents of the short crossing.
They tied up in St. Mary's for the night, at least partly because of the name, and in the morning headed for Lerwick. This wasn't as bad a ride; in fact, it was a nice sail all the way under a clear blue sky. It was a long day, and despite getting a very early start in the morning the light was fading when they made it in. They were able to tie up next to a float for the night, and found a nearby pub for dinner and a pint.
The next morning they were off early again. It took them two and a half days to make the crossing, which included two nights of keeping watch at sea. The North Sea isn't known for warm, calm weather but it seemed unseasonably warm; Mary even wore the Scotch bikini for a while on one of the warm afternoons, just to tease Matt, who couldn't do much about it but take a few snapshots. Just for fun, and to be sure she knew how to do it, Matt let Mary do the navigation with the GPS for this run.
On the middle of the third day, the mountains of Norway began to loom out of the horizon ahead of them. New adventures awaited them, and they could hardly wait to see what happened next.
---
<< Back to Last Chapter
Forward to Next Chapter >>
---
To be continued . . .
---

This work is licensed under a
Creative Commons Attribution-Noncommercial-No Derivative Works 3.0 United States License.
---