Wes Boyd's
Spearfish Lake Tales
Contemporary Mainstream Books and Serials Online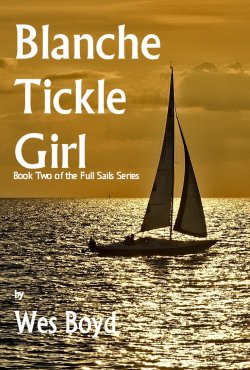 Blanche Tickle Girl
Book Two of the Full Sails series
Wes Boyd
©2012, ©2014
Chapter 21
A couple weeks later Matt and Mary packed up a couple seabags, threw them in the trunk of the Cavalier well before dawn, and started out for Florida.
At one point they'd talked about driving the trip, even though it would be a long, hard haul that would take them several days. Mary at least had her learner's permit now, and as Matt had suspected would make a capable driver with a little more experience, but if they drove to Florida the driving load would still have to fall on him.
Fortunately, the little laptop that Matt had thrown in on a whim back at home in the fall saved them from the toil. With a little research, they found that there was a discount British airline that stopped at Gander for refueling on the way to Florida, and even in the winter there were usually a few seats available. They were quick to book a couple, at a price Matt figured would be less than the cost of driving, motel rooms, and the like.
It was a long haul to Gander, well over two hundred miles, and it took them over five hours to get there on the winter roads. After waiting around the terminal for a while they were aboard an airliner crowded with British tourists looking to have a warm couple weeks in exotic places like Miami Beach and Disney World.
About three hours later they were in Miami. After having spent the winter in the cold and damp of Blanche Tickle, when they walked out of the terminal to catch a bus over to the rental car they'd reserved, the heat and the humidity just about knocked them back into the air-conditioned terminal. "It's really not that hot," Matt said as he stripped off the sweater he'd been wearing. "But it sure as hell seems like it."
"Aye, we're not used ta it, an' that's for sure," Mary agreed as she peeled off the flannel shirt she'd been wearing. "But I'm lookin' forward ta gettin' used ta it for the next month or so."
"Right, but how cold is it going to seem when we get back to Newfoundland?" Matt shook his head.
"Now, that might be a problem," she replied. "But I think it's a problem I can stand ta have, 'specially since we ain't gonna be there that long."
The plan that had been worked out through several letters and phone calls from the post office in Blanche Tickle was that Matt and Mary would rent a car at the airport and drive to Marathon, located halfway down the Keys. There they would meet John and Debby Hufnagel, who were just finishing up their period on the Winter Haven. After a day of getting acquainted with the boat, John and Debby would drive the rental car back to the airport and fly off to Michigan.
The day was getting late before they found John and Debby in Marathon. The boat was about as Jake had described it– about the biggest and fattest 25-footer Matt could imagine. There was at least twice the room inside the cabin than there was on the Mary Sue, and thanks to a clever design of the hull, there was a place in the center of the boat where it was actually possible to stand upright!
"The boat is supposed to sleep six," Debby explained. "But back when the kids were small we crammed as many as nine into it several times. Boy, you really don't have room to turn around with that many aboard, and five kids from about ages five to ten just about drove us nuts."
The boat was actually pretty simple for as big as it was; after only a brief look around Matt and Mary realized that after their experience on the Mary Sue they wouldn't have many problems sailing it, although, as Jake had warned, it wasn't a particularly good sailing boat. "The outboard starts easy," John told them. "And there will be times when you'll want to start it fast."
The four of them spent the evening just sitting around on deck, sipping at beers and telling stories, and talking about plans for the summer. John and Debby told them that it was expensive to just tie up in a marina for the trip, and that the thing to do was to get into one of the uninhabited islands of the wilderness area not far from Marathon. They could anchor out there and enjoy the warmth and relative loneliness, and when that began to pall they could explore up and down the Keys. "Key West is a crazy town," John told them. "It's fun to visit for a day or two, but I don't think I'd like living there very much."
In the morning of the next day, Matt and Mary took the rental car to a nearby grocery store and stocked up on all the food they'd need for their three weeks on the boat, along with soft drinks and beer and ice for the cooler. The four of them packed everything aboard, and there was plenty of space for everything.
The next morning, after another night of sitting around on deck, telling stories and drinking beer, John and Debby got into the rental car and started back for Miami International. They were hardly out of sight before Matt had the outboard going on the Winter Haven, taking it out of the slip where it had been, and dragging a little hard-boat dinghy behind them on a tow line. Soon the sails were up, the outboard stilled, and Matt and Mary were under sail for the first time since they'd taken the Mary Sue into Knud's boatyard back in Copenhagen. It felt good; it had been too long.
About as soon as they were out of sight of the marina, Mary went below, and came back on deck a few minutes later wearing the Scotch bikini. "Getting into the spirit of the trip already, are you?" Matt grinned when he saw it.
"Aye," she grinned. "An' I guess I'm goin' ta' have ta' wear it a lot. I was gonna get somethin' a little more modest somewhere down here where it'd be more likely ta find a swimsuit than the store in Blanche Tickle, but ta tell the truth, I forgot."
"Well, I sure like seeing you wearing it," Matt laughed. "And that sounds like about as good a reason as any for it."
"It is a mite embarrassing, especially the bare-ass part," she laughed. "But I suppose there ain't gonna be anyone from Blanche Tickle around ta see me wearin' it."
"Probably not. But then, if John and Debby were right, there's not going to be all that many people around where we're going anyway. And if there are, I'll bet that's not the only bare-ass bikini we'll see. On top of that, we'll probably find some places where you won't have to wear anything at all."
"I think I'm lookin' forward ta that," she grinned. "'Specially if we can go below together now an' again, b'y."
As Jake had warned them, the Winter Haven wasn't a very good sailing boat. It wasn't very fast, and wouldn't point very close toward the wind. Unfortunately, there was a northwest breeze blowing that morning, right out of the direction where they wanted to go, so that meant they had to make several long tacks back and forth, only gaining a couple miles on each tack. It took them most of the day to get to a quiet anchorage that John and Debby had told them about. But the long day gave both of them a chance to sail the boat, frustrating though it was; it felt wonderful after the months they'd spent in Mary's tiny house.
They finally made it into the anchorage with the help of the outboard and dropped anchor onto a clear sand bottom. Not far off there was a small island covered with exotic green trees, smaller plants, and with an appealing beach on one corner. They ate dinner in the Winter Haven's cockpit; not long afterwards Matt took the Scotch bikini off of Mary, and they made good use of the big, comfortable V-berth in the bow.
After a good night's sleep, they made coffee and breakfast in the morning, and ate it in the cockpit again. It was still a little cool for the Scotch bikini, but Mary was comfortable in a T-shirt and jeans. "Well, I hate to admit it now that we're here," Matt told her as he sipped at a mug of coffee, "But we really don't have any plans. I suppose we could take the dinghy over to that little island and lay on the beach for a while, but I'm afraid that could wear a little thin to be doing it for three weeks."
"Aye, I'm sure you're right on that, b'y," she agreed. "It might be all right for a day or two, but we've done enough sittin' around ta hold us for a while. If it's all the same ta ye, let's do some explorin'."
"My thinking exactly," Matt said. "Let's work our way down to Key West, taking our time about it, and see what's to be seen."
It took them most of a week to work their way slowly to Key West. They spent a day doing tourist things there, and that was enough to hold them. From there were two alternatives: work their way back up through the Keys to Marathon where their trip was to end, or sail out to Ft. Jefferson in the Dry Tortugas National Park, about fifty miles to the west.
"I know this isn't the greatest sailing boat in the world," Matt said as they talked about their options, "But if we can sail the Mary Sue across the Atlantic, we ought to be able to make the short distance to the park in this thing. Plus, the weather reports are calling for a good south wind tomorrow, so we wouldn't have to be hard on the wind all the way."
"I think ye talked me inta it, b'y," she smiled. "It'll be good ta do some honest sailin' again."
They got under way early the next morning, sailing out of Key West, heading west. They had to pick their way through some low islands along the way, but by midmorning were out in open ocean. In spite of the favorable breeze, it still took them most of the day before the brick walls of the abandoned fortress came within view. There were a number of other boats around, and they had to anchor well offshore in a partially protected spot, but it seemed good enough for them.
The next day they took the dinghy ashore and toured the fort, which was mildly interesting to them, then spent the night at anchor again. The next morning promised a nice west breeze, so they turned the Winter Haven back toward Key West. With the wind behind her the sailboat plodded along steadily, and as the day came to an end they were back in the tourist town again.
They didn't stay long and it took no discussion before they were slowly working their way back up the Keys, finding quiet places to anchor out most nights. There was some snorkeling gear aboard the boat, and several times they just did some diving for the sake of something to do; other times they found a nice beach to lie out on for a few hours. It was proving to be a nice break from the winter in Blanche Tickle, but each of them admitted to the other that they'd really rather be back on the Mary Sue and going somewhere.
Finally, three weeks out, one morning they sailed on a fresh breeze back to the marina in Marathon and got a slip there. That afternoon Nate and Barb Kunkle, Rachel's father and stepmother, arrived in a rental car from Miami International and for practical purposes the sailing part of the trip was over with. The four spent the evening in the cockpit of the Winter Haven, and two days later Matt and Mary were headed back to the airport, and then on to Blanche Tickle.
It was starting to get dark by the time they made it back to Mary's little house on the shore. Even in the thin light they could see that the bay was now iced over with loose pack ice; the handful of boats remaining in the harbor were now huddled up to the pier near the post office, rather than being at their moorings. It made the little village seem even colder, and it was definitely cold enough after three weeks of balmy temperatures in Florida.
"Well, it's not going to be much longer now," Matt sighed as they waited for the propane heater to warm the comfortable little house. "Another few weeks at the most."
"Aye," Mary agreed. "There's goin' ta be some gettin' used ta Blanche Tickle weather again, but we're gettin' ta the point where the end of the winter is gettin' in ta sight."
"Right," Matt agreed. "If I thought the weather was going to be much better in Copenhagen I'd be all for packing up our stuff and getting out of here, but I guess it's pointless to be pushing the season too much. I guess we'll just have to wait it out."
Of course, they had to talk about their Florida adventure down at the post office and around the warm stove at the Blanche Tickle store, but there was only so much of that they could do. The weather remained bitterly cold for a few days, then a north wind blew in making things even colder, but taking the pack ice out of the harbor. At least once again there was open water out their front door; that only got them more anxious to be on the move again.
Toward the end of February they decided that they might as well get started making arrangements for the spring. They called Knud in Copenhagen, who told them that the weather was still pretty cold but that he expected it to start warming soon, and that while mid-April might be pushing the season a little to get out sailing, with luck it might not be pushing it much. That afternoon, Matt got online with the little computer. By the time he was done, arrangements had been made to take the same airline they'd used for the Florida and back flights to go to Gatwick, in London, and then another flight from there to Copenhagen.
Now they had a date against which they could count the days, and the end of their winter stay in Blanche Tickle seemed just that much closer.
It would be hard to say that their next month flew by, because it didn't, but it didn't drag either. There were plenty of things to do, not just to get ready to go back to the Mary Sue, but to get the house ready to rent out again for the summer. Sinead had reported that the "Yank artist fella" had called to make arrangements to rent it again that year.
Matt called his father at his office a couple times. He learned that while his mother was no less satisfied than ever, she at least seemed to have come to the conclusion that she wasn't going to get Matt to come to his senses anytime soon. That was actually an improvement, Matt thought, but he still wasn't planning on going home again for a while, as that could change quickly.
Matt and Mary also called Jake a couple times, the first right after their return from Florida. They reported on their adventures with the Winter Haven, and Jake told them that he never tried to do anything too risky with it either, except for the sail from the Everglades to Marathon and back each winter. It had worked out all right for several years, so long as they waited for favorable weather.
But on that call, Jake also had a proposition for them. "Amanda has been something of a pain in the fanny all winter," he reported. "For some damn reason, she doesn't want to spend all summer around here doing the same old thing. Now, I haven't talked to her about this yet, but I know she'd be thrilled to death if she could join you in Europe for a couple weeks while you're cruising those canals or something. I'd pick up the air fare to get her to wherever she'd have to go in Europe and back, of course."
"Sure, we'd love to have her," Matt replied immediately, realizing that this was the return of the favor of being loaned the Winter Haven, and it wasn't going to be a hard favor to return. After all, he'd known Amanda since she'd been a little kid, and she was a bright, happy teenager who knew her way around boats, so would probably enjoy the trip even if they weren't sailing. "We'll have to work out the details of where and when to meet her, and we won't be able to do that till we get a little closer to the time. But I'm sure we can work something out. Just tell her that she's been aboard the Mary Sue so she knows how small it is, and it'll be even smaller with the three of us aboard."
"All right, I'll drop it on her tonight," Jake chuckled. "Don't be surprised to hear her scream of delight even as far away as you are. It ought to make a good trip for her, and I know the two of you will show her a good time. Hell, I'd be half tempted to join you myself, but that's the busy season here. You know how it goes."
"We'd love to have you," Matt replied. "But if it can't be done, I guess it can't be done."
"It'll be worth it to have Amanda off my neck for a while," Jake laughed. "She's got some of that teenage wanderlust, you know how that works, and this ought to put a fix on it for now. I'm not holding out any hope for the future, though."
Over the next couple weeks there were more phone calls and e-mails working out the details, although nothing could be firmed up until Matt and Mary were on the canal system and had some idea of how that was going to work. Jake reported that Amanda was just about ready to pack her bag already. "I told her she had to keep it to one seabag," he reported. "She managed to wheedle me into making it one barrel bag, but she's already going nuts about it."
"I've been looking at the schedule," Matt grinned. "And while we have to see how it goes, there's a good chance that her time with us could include Paris. Now, I'm going to have to leave it up to you whether you tell her that or not."
"I better not, at least not yet," Jake laughed. "She's going to shit her panties when I tell her that."
As March wound down to a close Matt and Mary were getting more than a little excited themselves. The days were ticking down now; most of Mary's stuff and some of Matt's had been packed back into the little closet in her room, and the house had been cleaned up for the summer except for a few things. They packed a couple small boxes with things they wanted to have on the Mary Sue with them. These were mostly some slightly heavier clothes than they knew were aboard for the chilly spring days. They also packed up some guide books and charts for the canal system and the Mediterranean, especially the Greek islands, where they thought they might find themselves spending the winter if they didn't come back to Blanche Tickle for the coldest months of the following winter.
As the final days wound down, Sinead, Evan, and a few of their other friends in Blanche Tickle held a small party for them in the room that passed as the community center. It was a potluck dinner, with several Newfoundland outport specialties, along with a reasonable amount of Jamaican rum. Matt was touched about the whole thing; he'd arrived in Blanche Tickle months ago as a total stranger, as Mary's boyfriend and nothing more, but it was nice to know that he'd made a few friends while he'd been there.
Then the waiting came to an end. On the morning of April sixth, Evan came walking up to the house; Matt and Mary's seabags and boxes were already in the trunk of the Cavalier. Evan was driving to Gander with them, so he could bring the car back to Blanche Tickle and they'd have it available if and when they returned. It didn't take them as long to get to Gander this time, since the roads were better as winter was starting to fade away with the approach of spring. Outside the airport terminal they shook hands goodbye with him; he wished them well, then got in the car to head back to Blanche Tickle.
A couple hours later they were on the airliner, heading for London, and eventually Copenhagen. The Mary Sue and new adventures were waiting for them.
---
<< Back to Last Chapter
Forward to Next Chapter >>
---
To be continued . . .
---

This work is licensed under a
Creative Commons Attribution-Noncommercial-No Derivative Works 3.0 United States License.
---