Wes Boyd's
Spearfish Lake Tales
Contemporary Mainstream Books and Serials Online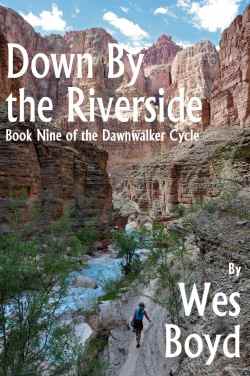 Down By the Riverside
Book Nine of the Dawnwalker Cycle
Wes Boyd
©2015, ©2016
Chapter 39
Saturday, February 12 – Monday, February 14, 2005
The weather was a little unseasonably coolish toward the middle of the next morning, but the sky was clear and bright as Nanci took one more look around Hualapai Hilltop before she locked the door of the Camry. She had the key on a chain, and put it around her neck like a necklace before she slung the pack onto her back and started down the trail.
The pack was not light. It weighed at least four times as much as the little loads she'd carried up and down the Kaibab and Bright Angel Trails on crew exchanges. Crystal had an ultralight pack and gear she'd used on part of the Appalachian Trail and it had been the first thing she'd thought of, although on examination it wouldn't fit the season or the possibility of getting wet on the stream crossings.
Crystal had spent a good deal of time pawing through her gear on Friday evening, and there were a couple trips over to the Canyon Tours office to raid the company supplies, considering the rush. The possibility of the gear getting soaked was near the top of everyone's mind, so in the end they settled on the idea of Nanci taking a pack frame that Michelle had once used to carry about a half a mule's load of supplies down the Bright Angel. Tied to the pack frame were two medium-sized drybags containing most of the very small amount of gear and supplies Nanci was taking with her; tied on top was the lightweight wetsuit Nanci borrowed from her mother.
Nanci took one more look around, and then mouthed a quick prayer before she started down the trail. She wasn't concerned about this part of the trail, since she knew the hike the rest of the day would be easy on a route that was frequently used by pack trains. It would be eight miles down to Supai village, and another couple of miles on to the campground, and she didn't expect today's hike to be much more difficult than the trails down to the crew exchange at the Boatman's Beach at Phantom Ranch. Nanci had done quite a few hikes on river trips, including up Havasu Canyon to Mooney Falls, where she would be tomorrow.
In spite of all the time Nanci had spent in the Grand Canyon, this was going to be a very different experience, and she knew it. She had only rarely been alone in all the time she'd spent in the Canyon – it was difficult to be truly alone on a river trip. In four years, the only times she'd been alone in the Canyon away from camps for more than a few minutes had been on the crew exchange trips. Those were on heavily traveled trails, and had only lasted for a few hours at most. She had never backpacked in the Canyon; for that matter, she'd never backpacked at all, anywhere.
Crystal had spent plenty of time Friday night and Saturday morning giving her advice, hints, tips, and warnings. She could draw on her great store of experience of hiking the Appalachian Trail and other places, including several hikes in the Canyon itself, although not this one except for partway up from the bottom. She had said she'd have to do it someday, although when that someday might be wasn't clear.
It was ten miles down to the campground from the trailhead at Hualapai Hilltop, and Nanci expected no trouble in making the distance in the time she had left before dark.
The trail started off steep and wound down switchbacks for the first mile or so. It was more rugged and rocky than she had expected, but the river boots that she used for hiking were adequate for the job, and would protect her feet on the wet creek crossings she knew were to come.
As she got farther down the trail it followed a narrow canyon. After several miles the canyon opened out a ways, then the trail plunged down an even narrower canyon with more vegetation than she had seen above. After eight miles, the trail crossed a solid bridge and entered the tiny Indian town of Supai, which had no road connection with the outside world. Only a couple of hundred people lived in the isolated town, and Nanci remembered someone telling her it was the last place in the country where mail was delivered by mule. It was the capital of the Havasupai Indian Reservation, and most of the trail was located on the reservation. There was a fee to use it, so Nanci stopped there briefly to pay her fee, buy a soft drink, and then get moving on down to the campground a couple of miles farther on.
This was a rather more interesting part of the hike, as it passed the spectacular Navajo Falls, and later Havasu Falls, before reaching the campground located ten miles from Hualapai Hilltop. The afternoon was getting late now, but she'd made it down there in plenty of time.
The campground struck her as being on the dampish side, since it was located down in the bottom of the canyon. She found a place away from the creek that seemed to be a little dryer, and she decided there would be her home for the night.
As the sky was beginning to darken, Nanci pulled out a small alcohol stove that Crystal usually kept in the drybox of her raft for making the odd cup of coffee or tea when she didn't want to deal with the noise of the regular camp stoves. It was only the work of a few minutes to heat a freeze-dried package of chili mac and beans. She followed that with some dried fruit, and a cup of hot chocolate.
By now Nanci had spent hundreds of nights camping in the Grand Canyon, so making a camp just for herself was not a big deal for her. In that time, she figured she'd only used a tent for a number of times she could count on her fingers and toes, and sometimes it had been more for wind protection than it had been for rain. She was used to sleeping under the stars, and had no real choice since she hadn't bothered with the weight of a tent. She did have a small tent fly that had gone the length of the Appalachian Trail on Crystal's back, and she was prepared to rig it if it was necessary.
By now it was getting dark enough to be hard to see, so she unrolled her sleeping bag onto a thin foam pad and lay down to get some shut-eye. Tomorrow, she knew, could be one of the most important days of her life, and she wanted to get up at first light and get moving. The moon was in the first quarter, and it gave her some light as she fell asleep.
It was considerably darker when she got up in the morning, with only a hint of morning light peeking over the rim of the canyon. It was chilly, not far above freezing, and the wet suit was very cold when she put it on in the half darkness. With that done, she packed up her gear and got moving, not bothering with breakfast. At one point she hadn't planned on carrying any food with her at all, but Crystal and Preach had tried to talk her out of it. They'd compromised on her fasting from here on down to the mouth of Havasu Creek, and while she was there. She didn't plan on eating anything at least until she was on her way back. So far, this had been an approach march; now she was starting her vision quest.
Although she was familiar with this trail, she took it easy; she knew it was considerably rougher and more difficult than the day before. Now she did have unbridged stream crossings where she had to wade, sometimes up to her chest in depth, but it wasn't impassable, which was a relief in several ways. She hadn't told Crystal and Preach, but if it proved impossible for her to make it down to her special spot, she'd made up her mind that God was telling her that the ministry was not her path.
A familiar trail often goes more quickly to the hiker than a strange one, and this was at least familiar, although it was very rugged in spots, but never enough to stop her. Sometimes on easier sections, she broke out into her favorite song, Down By the Riverside, but not with her special verses; she only used the one that went, "Gonna talk with the Prince of Peace, down by the riverside." Sometimes on slower sections she'd sing Down to the River to Pray, but that didn't strike her as the best song for walking. As the morning went on, she began to believe she was going to make it all the way down to the river.
Since she had long gotten out of the habit of wearing a watch, inside or outside the Canyon, she only knew it was around the middle of the day when she saw the Canyon open up in front of her, with the Colorado River coming into view. That was good enough for her.
She stopped at a little alcove a hundred yards or so from the ledge that overlooked the big river, took off her pack and then her wetsuit – it was damp from sweat and stream crossings, and could stand to dry out a little. Not concerned in the slightest about being in the nude since there was no one to see, she pulled on jeans, a sweat shirt and jacket, took the foam pad from her pack and a couple of other items she would need. With everything done, she got up and walked the last few yards to her special spot with a great feeling of peace surrounding her.
For a while she just stood there, drinking in the peace of the place. She glanced up and down the river she'd floated on rafts many times, but there was no one in view. She was just about as alone as it was possible for her to get in the Grand Canyon, a place that is sometimes of great loneliness. Now, it was just her and her God, just as she had hoped it would be.
She unrolled the foam pad to kneel on; perhaps it wasn't very ascetic of her, but she knew she might be on her knees for a long time, and the rocks were hard. Whatever happened, her knees would be needed to carry her back to Hualapai Hilltop so she knew to treat them nicely.
She knelt there for a few moments, willing herself to be open to His word, then opened the two things she'd brought with her from her pack – a piece of unleavened pita bread and a small vial of wine. She opened both, set them before her, and now prayed aloud in an individual version of the Communion service: "Pour out Your Holy Spirit on me, and on these gifts of bread and wine. Make them be for me the body and blood of Christ, that I may be for the world the body of Christ, redeemed by His blood." After sitting silently for a moment, she ate the bread, and slowly drank the wine.
Then she set the items of her Communion down in front of her, assumed the position she was used to using to pray, knees wide, open hands resting on her knees to signify openness and honesty toward Him, and began to pray out loud. Her verbal prayer didn't take long: "Master, I come before You again seeking Your guidance. You know what You need me to do. All I'm asking is to know Your will that I might serve You better. Guide me, Lord. This in Jesus' name, I pray, Amen."
* * *
Day was fading in the western sky and the moon was doing a better job of lighting the mouth of Havasu Creek than the sun when Nanci finally said, "Thy will be done," and got up from her knees. It was the first time she'd spoken in a very long time.
She realized that she had been kneeling there wordlessly for a long time, but she didn't know how long it had been and didn't care. She was tired, but her body didn't seem to feel any ache or pain from being on her knees in prayer however long it had been. She slowly walked back up to where she had left her pack; it was dark enough that she thought she might as well try to get some sleep. Tomorrow would be another long day.
When she awoke in the morning, she had a feeling of great peace, especially peace within herself. Her decision had been made; now all she had to do was to live up to it.
She pulled on the wet suit, packed up her gear and walked briefly back down to her special spot, where she felt confirmed in what had been revealed to her. The most important events of her life had taken place here and she wanted to take a few minutes to impress on her memory what it was like without other rafters or hikers around.
After a few minutes she started back up Havasu Creek. She thought that if she got a good start, kept moving and stopped up around the campground to change her clothes and to get a bite of lunch, she might be able to make it back up to Hualapai Hilltop by sunset.
Epilogue
Monday, September 5, 2005
Although Nanci had seen pictures of the place, Hickory Run Seminary turned out to be a little different than she had imagined. There were only a few classrooms, and they were in an older building of great dignity just across the street from a surprisingly modest church. There were less than a hundred students in a program that normally ran two years, there were no dormitories and there had never been any.
Classes were to start the next day, and Nanci knew she was cutting her schedule close, but she had little choice. She'd had to ride the new bus back from Diamond Creek Wash, and before she got on the road she had just enough time to say goodbye to the people who had come to wish her well, or who were already there. These included her mother, Al, Jon, and Tanisha, who had come up from Phoenix just for the occasion, Preach, who had been on the river with her, and Crystal, who was, as they said in the Bible, "great with child."
She was tired from so many hours behind the wheel of her faithful little Camry. It had been the lifeboat that carried her out of Chicago years before, and now was the space ship that had carried her on the next step of her journey.
When she'd been looking for a place to stay, the seminary staff had directed her to a place just up the street, something Nanci had believed no longer existed: an old-fashioned boardinghouse. It was run by the fifth generation of the same family, who provided three family-style meals of good, solid food each day. The rooms were small and old, but surprisingly well kept. Mrs. Keller's Place – the name referred to a woman dead over eighty years – looked like it would be a good place to live.
Her room proved to be adequate, big enough, but not too big. She made a trip up to her room carrying a couple of suitcases, and went back for more things, including a box of books she knew she was going to have to study. As she carried the books up to the second-story room, a young woman with short black hair in bangs met her. The woman had had a well-scrubbed look that seemed to indicate that makeup had never sullied her face – not that Nanci had bothered with it very much in years herself. She was wearing a calf-length dress with long sleeves that seemed to be rather frumpy, and Nanci was strongly reminded of the wife of the missionary who had presided at Will and Jennlynn's wedding. "Hi," the young woman said. "Are you Nanci Sladik?"
"Yes I am, but it's pronounced 'Schla-dek,'" she replied. "Don't worry, you aren't the first person to get it wrong and you won't be the last."
"Well, I'm pleased to meet you. I'm Sarah Lackamp. I'm going to be your suitemate. Can I help you with your stuff?"
"Sure, but I don't have much more, probably only around another trip."
"Wow, you sure travel light. My room is pretty full."
"I learned a long time ago that possessions are tools of the devil," Nanci smiled. "Too much stuff just means more you have to cart around."
"Yeah, I suppose," Sarah said as they went back downstairs. "I'd sort of expected you to show up yesterday. My parents were here and they wanted to meet you."
"Couldn't be helped. I went a day's drive out of my way to stop off and see my father. It's been a while."
"You don't live with your folks?" Sarah replied, seemingly a little shocked.
"I haven't for years," Nanci shrugged. "I stay with my mother and stepfather on my off weekends in the summer, but in the winter I've lived with my brother and sister-in-law for the last three years."
"Where's your home?"
"I guess you'd have to say Flagstaff, Arizona, although I went to Black Mesa College in Phoenix."
"Wow, you're a long way from home. I'm from Huntington, West Virginia. I went to college at Philemon Bible College, that's in Huntington, too."
"You lived at home with your parents, I take it?"
"Oh, yeah," she replied. "I wanted to go farther away, but they didn't think it was a good idea. I think I learned a lot, though."
By now they'd gotten back out to the Camry. "Oh, wow!" Sarah gushed. "You even have a car! My folks have never allowed me to learn to drive."
"I've had it since I graduated from high school," Nanci smiled as a likely suspicion began to descend on her. Sarah was making her think of what Jennlynn must have been like when she graduated from high school, or what Allie had been like when she escaped from her family before she descended into a considerably worse life. "That was nine years ago."
"Wow, you must be older than I am. I just turned twenty-two."
"I'm twenty-six. I was out of school for a while," Nanci replied, making a mental note to be very gentle in revealing what she had done while she'd been out of school years before. This Sarah might have a hard time accepting that her suitemate had been a drunken slut, a crack whore, a drug addict, and a sex slave, even though it was far in the past by now.
Nanci gave Sarah an armload of stuff to take upstairs, and took a heavier load herself; most of what she would need would be upstairs when this load was completed, and anything left behind wouldn't be needed right away.
With so little in the way of belongings, it didn't take long to get them put away. Nanci and Sarah continued talking, learning about each other. Her suitemate seemed to be a bright enough young woman, but very, very straight – she'd led an extremely sheltered life guided by parents who hovered over her and directed her every move. How sad, Nanci thought, remembering Bethany and her parents on the river three years before. She'd had a couple of letters from Bethany; things were better than they had been but she was still pretty restricted. She seemed to be looking forward to going to college where she might be able to breathe a little more freely. Bethany, Nanci thought, I hope you have better luck than Sarah.
It seemed that Sarah had her eyes on the ministry – she had to have or she wouldn't be here, after all. Nanci couldn't help but wonder how Sarah would react to having to deal with the real world when she left this place. It might come as a shock to her.
Partway through the process, Nanci pulled a rolled-up poster out of a cardboard tube and taped it to the wall with double-sided tape. It was one of the Canyon Tours posters Al and Karin had used for promotions at shows the winter before, the one with the picture of Nanci and her raft rearing exultingly high in the backroller at Hance. It was something to remind her of her home and family and the life she'd led with them, after all.
"Wow!" Sarah said. "The Grand Canyon! I've always wanted to see that, but my family never traveled much. Have you ever been there?"
"Oh, yeah," Nanci grinned and pointed at the boatman at the oars of the bucking raft on the poster. "That's me."
"Wow!" Sarah said again. "You got to do that? My family would never have dreamed of letting me do something like that."
Nanci glanced skyward, but keeping her mouth shut she directed a comment to the Lord: You did this to me on purpose, didn't You?
"Judge not lest ye may be judged" filled her mind. "You have things to teach her, but she has things to teach you, too."
"Thank you, Jesus," Nanci mouthed in a barely audible whisper. "Thy will be done."
The End
---
<< Back to Last Chapter
Thank You for reading!
---

This work is licensed under a
Creative Commons Attribution-Noncommercial-No Derivative Works 3.0 United States License.
---