Wes Boyd's
Spearfish Lake Tales
Contemporary Mainstream Books and Serials Online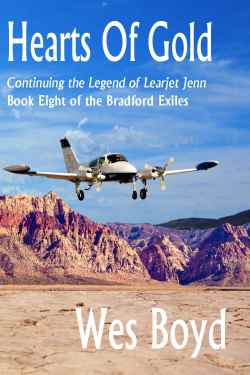 Hearts of Gold
Continuing the Legend of Learjet Jenn

Book Eight of the Bradford Exiles
by Wes Boyd
©2015, ©2017




Continuing the Legend of Learjet Jenn: after landing a hijacked airliner, Jennlynn Swift, also known as "Learjet Jenn, The Fastest Woman in the State of Nevada," has become the nation's most famous prostitute despite never working more than very part-time at it. It's a reputation she does not like and isn't sure how to bury after she marries her long-time lover, Air Force Sergeant Will Hoffman. She would rather live as she sees herself: a pilot, engineer, and wife. Getting rid of her past isn't going to be easy to do and is complicated by the fact that Will is half a world away. What's more, she has come to realize that her experience is not how most prostitutes end up in the life and her perceived glory might lead young, impressionable women down paths they really shouldn't take. Is there some way she can repair some of the damage while she tries to make her own life a little more like normal?"



---
Hearts of Gold
All Rights Reserved
Copyright ©2015, ©2017
by Wes Boyd

This work is licensed under a
Creative Commons Attribution
Noncommercial - No Derivative Works 3.0
United States License
http://creativecommons.org/licenses/by-nc-nd/3.0/us/
Published by Spearfish Lake Tales



This is a work of fiction. Names, characters, places and incidents are either the product of the author's imagination or are used fictitiously, and any resemblance to actual persons, living or dead, business establishments, events, or locales is entirely coincidental.

Product names, brands, and other trademarks referred to within this book are the property of their respective trademark holders. Unless otherwise specified, no association between the author and any trademark holder is expressed or implied. Use of a term in this book should not be regarded as affecting the validity of any trademark, registered trademark, or service mark.

I want to thank my usual crew of editors, Bob Haeffner, Warren Stewart, Derek Wright and someone who wishes to remain anonymous for their help in chasing down fluffs, typos, and downright errors. There would be many more of them than the few that slip through thanks to their careful oversight. Also, thanks to Doug Gehon, who does the e-book conversions. This book is better than it would have been without their help. -- WB