Main Page
Store
New Forum
Old Forum
SLT Wiki
FAQ
Contact
Online Book Links
Shorts & Rants
Maps of story areas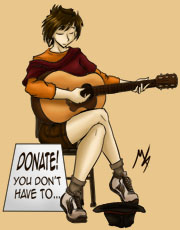 Donations are appreciated!
Donations are sort of the writer's version of a dude playing a guitar on the street corner. They're what keeps this site going and new stuff coming --
and after all, it's not like you've spent money on a book only to be disappointed in it.
Click here
to add to the tip jar!

"Shorts, Outtakes and Rants"
---
Most weeks I write a column for my paper; occasionally my daughter writes one. Usually they're focused at local issues, but every now and then I come up with one that I think Spearfish Lake Tales readers would find interesting, so I post them on the Spearfish Lake Tales Message Board. Since I've been neglecting "Shorts, Outtakes and Rants" recently, I decided to repost a few of them here, like this one. I hope you enjoy it! -- Wes
---
A Blast From the Past
August 14, 2015
Although we don't go as much as we could, or perhaps should, my wife and I enjoy going to concerts. Usually, they aren't big ones, but small, intimate things like folksy evenings listening to well-performed and thoughtful music.
But once in a while we break the mold. Monday night, we did it big time: we went to a county fair and a Beach Boys concert. Yes, the Beach Boys have been around seemingly forever. Some say they ought to be known as the "Beach Geezers" as the remaining original members are in their seventies. Yes, they're best remembered for their sixties hits, and not much attention has been paid to some of the interesting and innovative stuff that followed the surfing music days.
The fact remains that if you are of a certain generation, the Beach Boys represent something of a common denominator, a universal touchstone that everyone can identify with. Those early songs represent something of an impossible vision that I think most of us would like to have shared, one that only a relative few lucky Southern California kids could have shared, but that many of us would like to have shared in spirit.
Come on now, admit it. Given a choice, at least once in your life wouldn't you like to have been -- or would like to be -- oh, eighteen, slender and good-looking and fit, innocent of things like Vietnam and race issues and all the other negatives that have come down since those seemingly halcyon days, riding with your fun-loving boyfriend/girlfriend down to the beach in a woodie with surfboards strapped to the top? Of course you would! That vision is perfection of a sort, the way it could never have been but would have been nice to experience. From a viewpoint fifty years later, it seems to be an unattainable nirvana.
But it's nice to look back and dream.
If you do -- and if you don't share at least a little bit of that dream I fear there's something wrong with you -- you can be confident that you are not alone. That was something I learned last night -- there were plenty of people at the concert that were more or less my age, but who were sharing the same shared vision, one of youth lost and not recapturable. Ah, well, at a concert like that it's at least possible to taste something that never was for most of us, even though we dreamed of it.
While there are a couple of the original members of the band still touring, most of the group was younger - membership has changed over the years, and there has hardly been unity most of the time. But at least for the crowd at the Fairgrounds, we could overlook that.
The opening act was Rare Earth, the Motown band known for such things as Celebrate and Get Ready. These guys were a big deal in the same era as the Beach Boys, perhaps a little bit later, and like the better-known group, have gone through any number of personnel changes. The current members, well, they're not young, either. I don't know the actual ages, but from looking at them I would have to speculate that the average age is over seventy. They can still belt out a big sound, and you can hear the input of each instrument. Still, they only set the stage for the Beach Boys.
So, all in all, it was a fun evening, and I think especially fun in that the crowd was enjoying the shared heritage of days gone by. As I said above, the Beach Boys are a universal touchstone, a common denominator for a generation. I can't help but wonder when the Boomers have left the scene and the Millennials have their day, what their shared musical heritage will be?
Back to Shorts page
Back to main page