Main Page
Store
New Forum
Old Forum
SLT Wiki
FAQ
Contact
Online Book Links
Shorts & Rants
Maps of story areas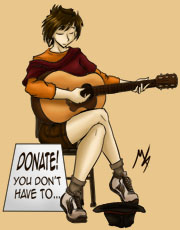 Donations are appreciated!
Donations are sort of the writer's version of a dude playing a guitar on the street corner. They're what keeps this site going and new stuff coming --
and after all, it's not like you've spent money on a book only to be disappointed in it.
Click here
to add to the tip jar!

"Shorts, Outtakes and Rants"
---
Most weeks I write a column for my paper; occasionally my daughter writes one. Usually they're focused at local issues, but every now and then I come up with one that I think Spearfish Lake Tales readers would find interesting, so I post them on the Spearfish Lake Tales Message Board. Since I've been neglecting "Shorts, Outtakes and Rants" recently, I decided to repost a few of them here, like this one. I hope you enjoy it! -- Wes
---
A Blast From The Past
May 6, 2014
A friend is looking for a new home that meets several specific criteria, one of which includes space for a large horse. It so happens that one of the houses she was interested in happened to be the one I was more or less brought up in -- my grandparents' house, in fact. I lived there until I was nine, and was in and out of the place until I was seventeen, so I have a lot of memories of it.
I hadn't been in the house since I was seventeen -- fifty years ago -- so when I was asked if I would like to go along on the showing, I didn't turn down the opportunity, just to see how much had changed, and how much I remembered.
Now, this is an old farmhouse. Part of it was built in the 1840s, and the newer section is, at my guess, still over a hundred years old. If I recall correctly, my great-grandparents bought the place in 1912.
Much had changed, of course, but much was the same as I remembered it, and I was surprised at how much I remembered.
For instance, being that the house was built in sections separated by more than half a century, the basement was also in two sections. The realtor leading the way led the group of us into the lower section, and couldn't find a light switch. He was feeling all over in the dark, when all of a sudden a memory from half a century before came to me -- for some reason, who knows why, the light switch to that section was at the top of the stairs. I quickly went up and found the switch, amazed that I'd remembered such a mundane thing at all after all the years that had passed. Why had that memory lingered unused for so long?
Some of the house had been modernized -- and some hadn't. I was not very surprised to discover that the linoleum on the floor of one bedroom was the same as I remembered from my youth -- and it wasn't new then, either. The pattern was archaic, and I wouldn't be surprised if it had been laying there for a century. Needless to say, while I wasn't up to date on the changes that had taken place in the half century since I'd been there, there was much that hadn't changed.
The kitchen, for instance, was much the same as I remembered -- the same cabinets, and pretty much the same layout of appliances. It didn't take much to think back to many of the family dinners I remembered there as a kid, with many relatives around. Most of them are gone now, but they remain fond in my memory. The kitchen was really the center of the house, the meeting place, the common room, and the place I remember most fondly.
Hanging from a rail at the peak of the barn was the old pulley arrangement that my great-grandfather had once used to get hay up to the hay mow, still in the same place I remembered. I never saw it in use; it had been abandoned before I came on the scene. It most likely had been hanging there like that since before World War II, and has likely never been touched in all that time. I always thought it would have been fun to see it in action, with a horse or two providing the motive power to life the hay, but I never did.
I don't know if our friend is going to wind up buying the house, or what. It would be nice if she did, but there are other things she has to be concerned about. In any case, I really enjoyed going through the house, touching the past, and discovering some of the things I remembered from my youth. I guess what I can draw out of that is that many things can change in half a century -- but many things don't.
In a way it's sad to think that those days are gone, for those days represent a time when my life lay before me, instead of largely behind me. But still, it was a blast from the past that touched me more than I would have believed.
Back to Shorts page
Back to main page