Main Page
Store
New Forum
Old Forum
SLT Wiki
FAQ
Contact
Online Book Links
Shorts & Rants
Maps of story areas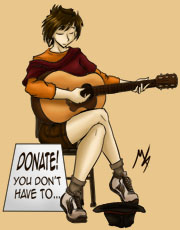 Donations are appreciated!
Donations are sort of the writer's version of a dude playing a guitar on the street corner. They're what keeps this site going and new stuff coming --
and after all, it's not like you've spent money on a book only to be disappointed in it.
Click here
to add to the tip jar!

"Shorts, Outtakes and Rants"
---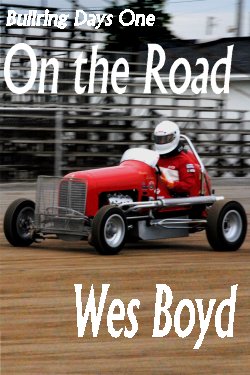 Bullring Days
Spearfish Lake Tales Cover Photo Expedition
Antique Auto Racing Association meet
Lima, Ohio
9/16/2011



On September 16, 2011 Kathy and I took off for the fairgrounds at Lima, OH, to catch the last Antique Auto Racing Association meet of the year. It was the last chance I would have before the publication of Bullring Days to get cover photos of the kind of cars featured in the first book of the series. I shot a potload of photos, and am only going to put a handful of them up here. I learned a lot, and one of the things I learned is just how much I got right in writing the series. These are extremely cool old cars, and owned and not too seriously raced by some extremely cool guys.


---
You can click on the photos below for larger images.
---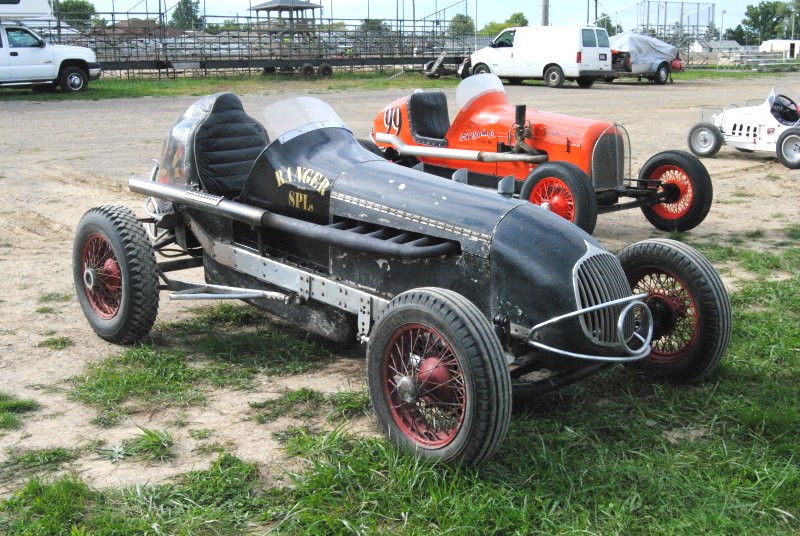 These are a couple of rather interesting old cars -- what we would today call "sprint cars", but in the era -- and among the people on hand at this meet, were referred to as what they were called in the 1930s and 1940s, "big cars."
The one in front, the black one, is especially interesting -- in fact, possibly the most interesting car present. It was built shortly after WWII, but powered with a 6-cylinder Ranger aircraft engine, mounted upside down and backwards to the way it was mounted in an airplane. One of the interesting things about this car is that it was not restored -- just fixed as necessary since it last raced in the 1960s. Gene Cunningham, the guy that owns it now, is in his 70s and still races it in vintage meets like this. He was given the car many years ago with the stipulation that it not be restored, but be kept in the condition it was in when it was last raced seriously, in the 1960s, when the IMCA banned wire wheels on sprint cars. It still has dings and dents and rust spots and the like; to look at it is is like stepping back in a time machine. All of a sudden you're in the 1950s! Let me tell you, those knobby tires on the rear will really throw the dirt. He won at least one heat with the thing, which is kind of fussy to drive, but spectacular to watch and hear.
The orange car in back was built in the 1930s, and runs a Ford Model A engine, and is on a Model A chassis. You don't normally think of a Model A as fast, but the engine has been worked on a bit, and the car is quite a bit lighter than the other big cars, which makes it pretty competitive in this not too serious racing league. This could easily be the car that Bullring Days' Spud McElroy built in the mid thirties, just about like I pictured it in my mind!
---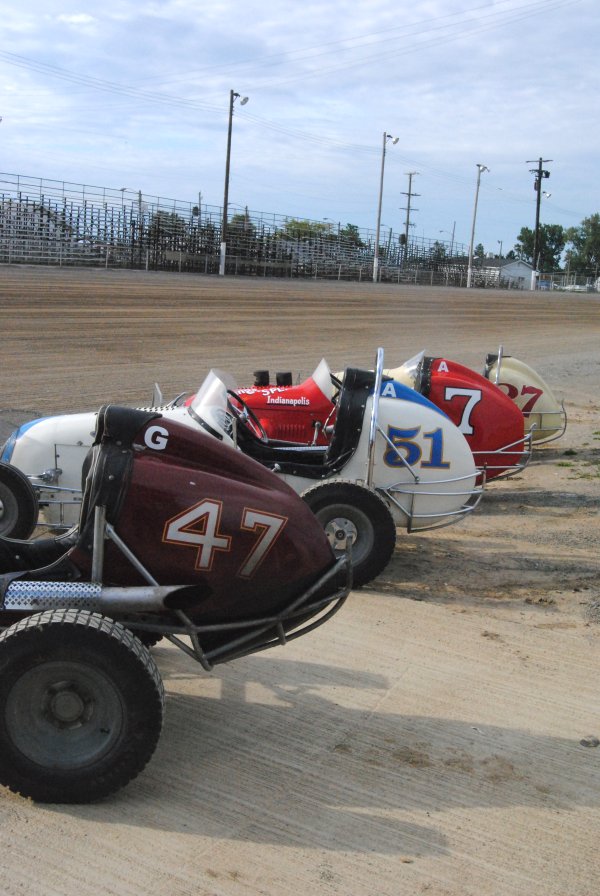 When I got this photo I knew I had an acceptable cover photo for Bullring Days: On the Road, although it wasn't the one I ended up using. None of these cars really are very close to the concept of the MMSA midgets; the one in front has a Studebaker engine; the two in the middle are Kurtis Krafts with Offenhauser engines, and the one in back is a Three-Quarter midget with a Crosley engine.
In those days, before the advent of the small block Chevy V-8, people went a lot of different ways in finding engines for race cars. In the thirties, there were midgets powered by Elto outboard motor engines, and even some powered by an engine taken from a gas-powered washing machine. Big cars had the same range of engines, which is why a war surplus Ranger engine once in a PT-19 wound up in a race car.
---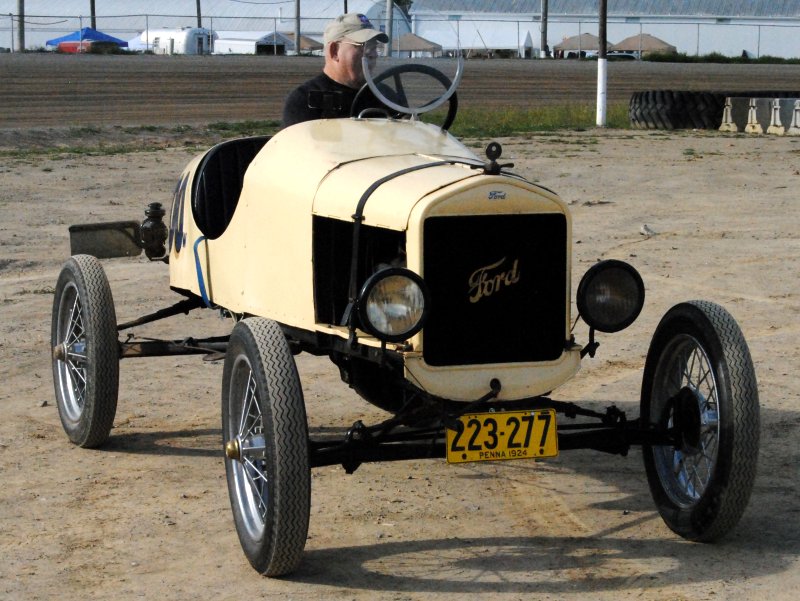 Another interesting race car, and the oldest one present, built in 1924 from Ford Model T parts -- and it still has the three-pedal Model T transmission. They didn't race this one, but it sure would be fun to take to a parade, if you could figure out how to handle that transmission! Cars like this might still have been racing when Frank and Spud started racing in the early 1930s, although they probably would have been back markers by then. This is very much like the cars they used to run on the very high banked (up to 60 degrees!!!) board tracks in California in the 1920s. Scary!
---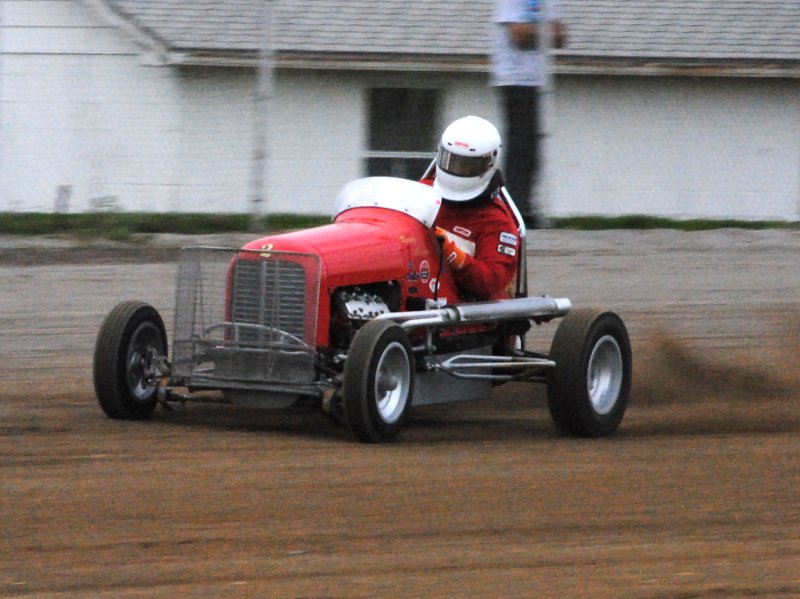 This is the car I drove down to Lima to get a picture of. I saw it earlier in the summer at Spartan Speedway in Lansing, but didn't have a camera with me -- but it worked out for the best since Spartan is a pavement track and Lima is a dirt fairgrounds track, where the MMSA midgets would be at home, throwing dirt in the corners like this. This car, owned by Randy Luttmer, is just exactly what I visualized as a MMSA midget! It has a Ford V8-60, a rail frame, and a starter and transmission, something rather rare among midgets. It was built in 1937, but easily matches the somewhat archaic design Spud came up with for the MMSA cars in 1948. If Randy didn't have a full face shield helmet on this could have been a lot of MMSA drivers back in the early 50s. You better believe I got a lot of pictures of this car!
I really wanted to use this photo for the cover of Bullring Days One: On the Road, but it wasn't framed quite right.
---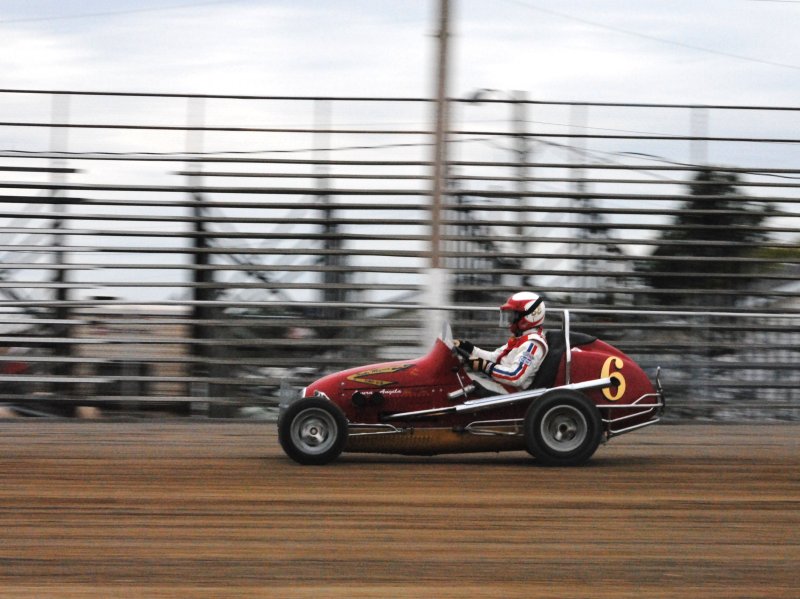 This is a postwar V8-60 midget, driven by vintage race car restorer Butch Evans, who asked me to get some photos of him while he was driving it. (Unfortunately, I didn't get the owner's name.) It looks like it has a tubular space frame, rather than the rail frame of the MMSA midgets, but something of this series could be used for a cover photo, too. And boy, do I love my Nikon! I could never have gotten a panned crossing shot like this in crappy, overcast and backlighted conditions without it! Now, if I can just figure out how to use some of the more esoteric functions . . .
By the way, Butch was nice enough to be a fact checker for Bullring Days One and Two. He really knows his stuff about the old time racing. Thanks, Butch!
---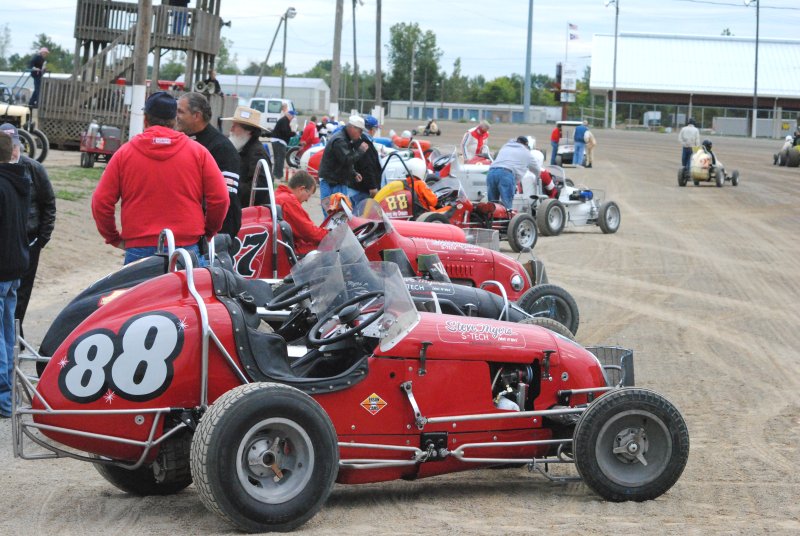 In Bullring Days there's quite a bit of discussion from Frank and Spud about how the Kurtis Kraft Offys were taking over midget racing, so midgets like this one were, in their eyes, the enemy.
Another carryover from the old days -- at the old fairgrounds (and most other) tracks the MMSA ran they didn't have real pits! The cars, crews, officials, and wandering photographer-writers just hung around on the edge of the track. No pit walls, no catch fences . . . yes, they did make me sign a release of liability!
---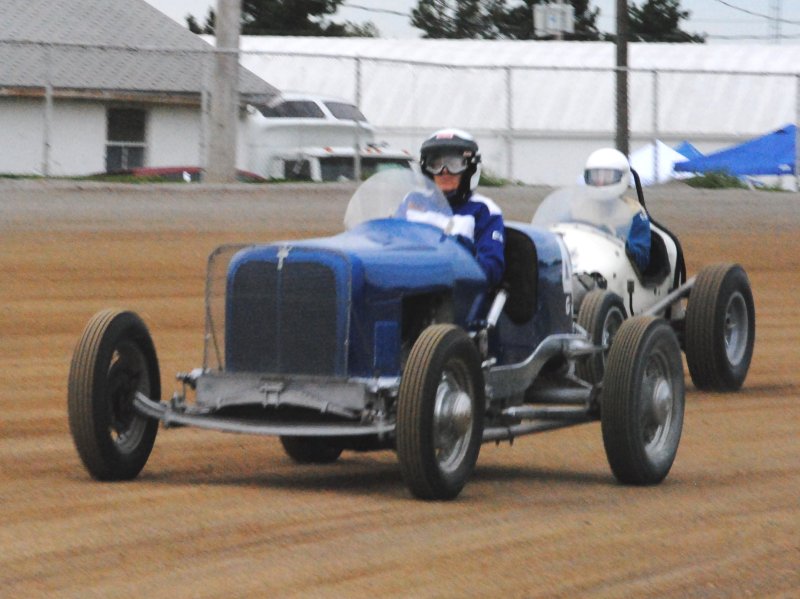 Another interesting oldie -- a rail frame big car, built in the 1930s, using a full-sized Ford flathead engine. This could almost be the car that Frank Blixter tells about building in the early part of Bullring Days: On the Road. Somehow I missed getting the owner's name on this one.
As an aside, I don't think I saw a single car with a five-point harness for the driver, and there weren't very many seat belts! That's how they did it in the old days. And, there weren't any roll cages to be seen, and any roll bars seen were an anachronism added later than their heyday.
---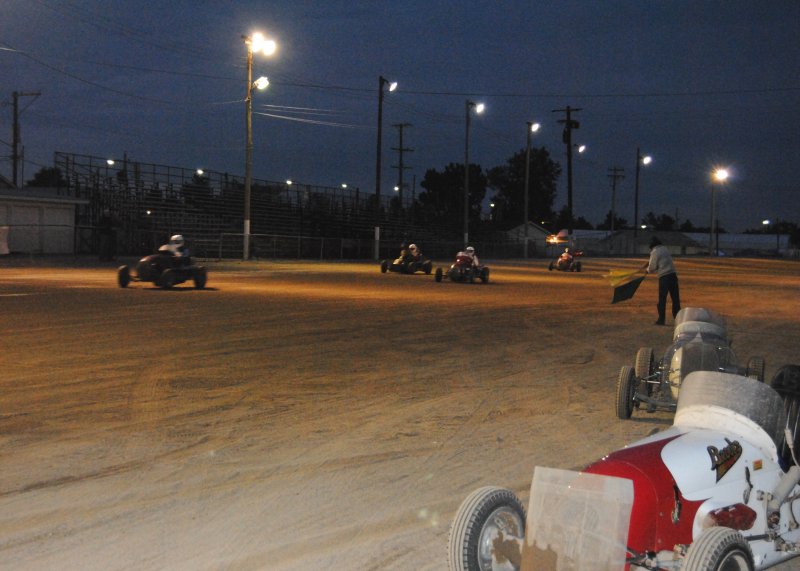 I didn't get many after dark shots, since I had been using the flash for fill flash much of the evening, and they went dead as it got dark. ("What did you expect?" my daughter asked. "They've already got two football games on them!") But then, I guess back in the MMSA they didn't race after dark that much, anyway. I still took over 250 photos, and will probably only get to use a handful of them -- but one or another could still wind up on another Bullring Days cover.
Thanks much to the AARA and their president, Lance Brookshire, for letting me get some good shots, and for letting me have an interesting, fun, educational and rewarding evening, and thanks too to Butch Evans and Randy Luttmer. Maybe I'll have to do it again sometime -- and you might see the results on a cover!
---
Back to Shorts page
Back to main page