Main Page
Store
New Forum
Old Forum
SLT Wiki
FAQ
Contact
Online Book Links
Shorts & Rants
Maps of story areas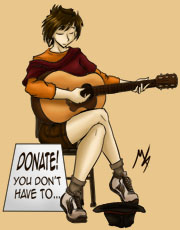 Donations are appreciated!
Donations are sort of the writer's version of a dude playing a guitar on the street corner. They're what keeps this site going and new stuff coming --
and after all, it's not like you've spent money on a book only to be disappointed in it.
Click here
to add to the tip jar!

"Shorts, Outtakes and Rants"
---
California Dreaming
For various reasons my wife and I don't take very many vacations, but in the summer of 2014 we decided we had to get out and go somewhere. Having relatives and friends in northern California and Oregon made for good reasons to consider a visit there. There's a lot of things to see around there, and knowing that we might not make it out there again, we decided to cover a lot of ground and at least be able to say we'd seen places we'd often wanted to see. No doubt that a location or two from this trip may make it into a Spearfish Lake Tales story sometime.
I also took a lot of photos to use on the Spearfish Lake Tales Photopost series, and in fact we took something like 1500 of them. Sorting through them to figure out what to use for Photopost was not easy. I posted these photos in the fall of 2014, and promised at the time to put these up in the shorts section as a more detailed trip report than the single sentences I used for captions in the Photopost postings.
You can click on each photo for a somewhat larger view.
---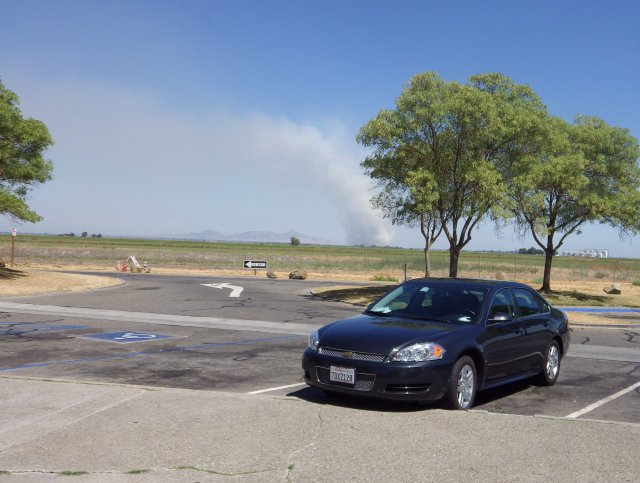 Fire at Willow
For those of us from the east, it's sometimes hard to realize just how dry California can be in the summer -- but we saw several grass, brush and forest fires over the course of our two week trip. This one was on our first day out, near Willow -- we never did learn the name of it. Another fire, not far to the north, was burning at the same time, and eventually burned over 10,000 acres and cost one life. It was started when a marijuana grower parked his truck near his patch, and the catalytic converter set the grass on fire. We got even closer to another fire in Oregon, one which closed the road we traveled on a few hours later. In fact, there were many fires in places we'd visited over the rest of the summer, and then to top it off, there was a major earthquake in the Napa Valley three weeks after we visited there.
In the foreground is the Chevy Impala we rented for the two weeks and over three thousand miles of our trip -- a good car, almost new, and never gave us a lick of trouble. When I rent a car by the day I like to get my use out of it!
But a warning to Spearfish Lake Tales readers -- don't even think about renting a car at the San Francisco airport. Their rental car operation is overwhelmed at almost any time, and you can be hours just waiting in line so you can do your paperwork. It isn't just any one company, but all the companies. Also be warned that you can get lost easily on the complex of roads leading out of the airport -- it's not well marked.
---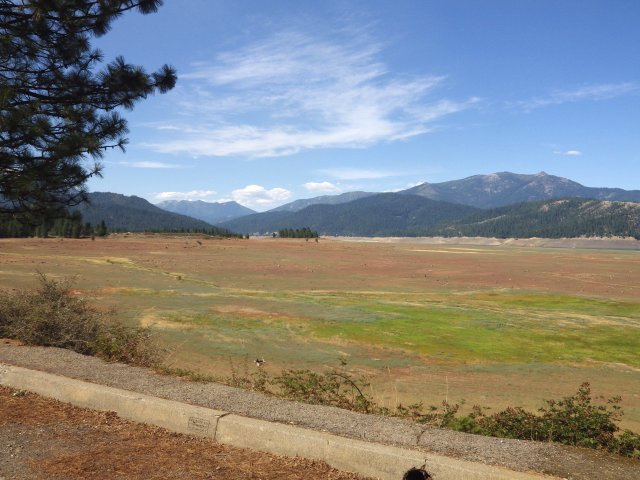 Trinity Lake
One of our goals of our trip was to visit several different relatives, some of whom we hadn't seen for years, located in northern California. One of them, my only true living full first cousin, has a summer place north of Trinity Lake, north of Weaverville. To get to her place, we had to pass Trinity Lake, and it wasn't much of a lake when we passed it -- it had been drawn down many feet from its normal level, and there was a lot of lakebed showing. Some of it had grass growing on it, showing that it had been low for a long time. If you look carefully at this photo, you can see there is still actually a little water in it.
It was a couple hours drive up to my cousin's place, and it was a narrow, twisty, up and down mountain road -- we were going to get used to that since we would see many miles of them on this trip. On this particular road, I was a little disappointed that there were few long-distance mountain views, since most of the road was forested. We couldn't see the forest -- or the mountains -- for the trees!
Thanks to the widespread fires, my cousin and her husband had to be evacuated from their summer home a few weeks after we were there. It turned out that their home wasn't damaged, but they had a scary time!
---
Sundial Bridge
We based out of Redding, California for several days, staying with relatives, who took us around to see some of the local sights. One of the big ones in the town is the Sundial Bridge, an unusual cantilever spar cable-stayed bridge for bicycles and pedestrians that spans the Sacramento River and forms a large sundial, with the bridge spar as the gnomon. It's actually pretty striking, and offers a nice view of the river. The bridge is 700 feet in length and crosses the river without touching the water, a design that helps protect the salmon spawning grounds beneath the bridge. The cable stays are not centered on the walkway but instead divide the bridge into a major and minor path. The city originally budgeted $3 million for the project, and went a little over budget -- $20 million and change worth.
It was hot when I took this photo, and it was still fairly early in the morning. In the days we were in Redding, the temperatures got into the 100s (F) every day, and sometimes well over it. That also has something to do with how dry it was, and why there were so many fires. Let's just say the air conditioner in the Chevy was very welcome!
---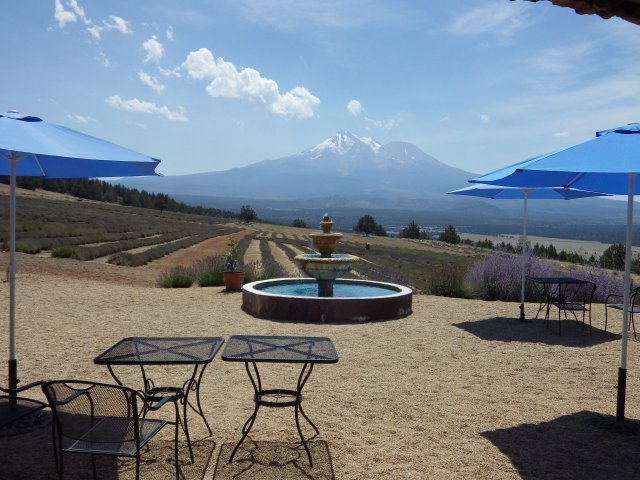 Mt. Shasta from Lavender Fields
One of the places we were taken by our relatives when we were based in Redding was Lavender Fields, a tourist destination lavender farm near Montague, CA, to the north of Mt. Shasta. We weren't in the Chevy that day, and I was glad since the road into the place is dirt, rock, and rough, going steeply up the side of a desert hill -- I didn't want to risk a damage charge on a rental car!
But, it turned out to be worth the trip. The view of the valley from the farm was spectacular, and so was the view of Mt. Shasta to the south. The farm is owned by a rather idealistic couple carving out an interesting life for themselves with the place, and the place had a number of other visitors who had braved the difficult road. It would have been nice to sit out in the shade of the tables outside sipping on their lavender lemonade, but once again it was hotter than somewhat, especially out in the sunlight. The view was worth the trip, though.
Later, we took a road up the side of Mt. Shasta and had a picnic lunch up near the 7,000 foot level, where it was notably cooler and more comfortable, even though the sun was still fierce. It was pretty up there, another one of those "well worth the trip" things. Northern Californians make a big deal out of Mt. Shasta, and you seen the name on a lot of businesses, products and other things. In my considered and independent opinion, while it's a nice mountain, I think Mt. Hood in Oregon is prettier.
We passed through the town of Weed, CA, near Mt. Shasta on this excursion. The town was about half burned out by a forest fire a month or so after we were there -- if it seems like the news reports make out that the whole state is on fire in the summer, it's because there's a lot of truth to that.
---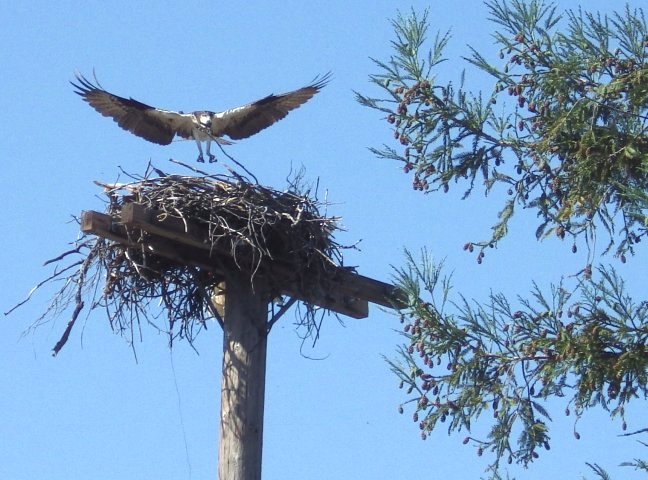 Osprey at Shasta Dam
I'm not much of a wildlife photographer -- I don't have the patience it takes to get a really spectacular shot, but sometimes I get lucky. I noticed this osprey nest at the top of a pole near the visitor center for Shasta Dam outside of Redding, and thought it would be nice if an osprey came along. Just about that time one did, and I was ready for it.
Shasta Dam is a pretty big dam, although I've seen bigger and more spectacular ones. But, Shasta Lake behind it was, like Trinity Lake, pretty low with the drought conditions in the area.
The whole area is pretty dry, with the exception of the land west of the coastal mountains. One of the things I had difficulty getting used to was the tall and dead brown grass all over the place -- the only green you see in many areas is on brush and scrubby trees, and they look pretty dry, too. No wonder they have so many fires! There would still be a lot of fires if man were not around at all, since lightning causes many of them.
---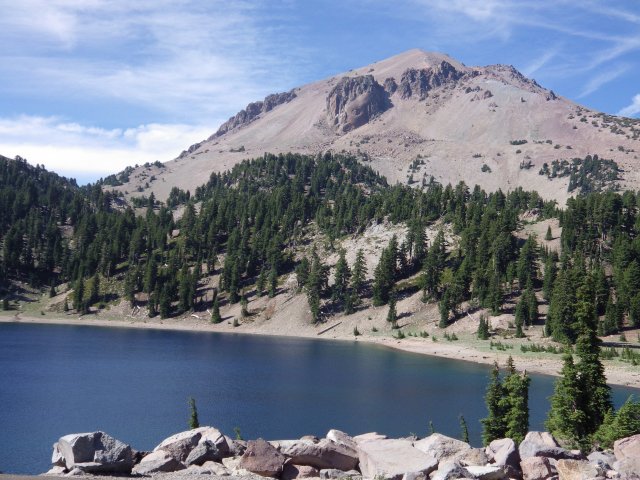 Lake Helen at Mt. Lassen
On this trip we visited a number of well-known National Parks, and some not so well known. There are some I would avoid in the future, like Crater Lake National Park -- not because the lake isn't pretty, because it is, but they ought to call it "Lake of the Crowds." It was very crowded when we went there and what seemed to be a permanent traffic jam. I heard any number of languages, since people come there from all over the world. "You think this is bad," I told my wife, "Just wait till we get to Yosemite next week."
Lassen Volcanic National Park, which we visited while based out of Redding, is definitely lesser known and lesser visited -- but it's maybe even more interesting, and just about as pretty as Crater Lake. What's more, the place was almost empty when we were there, and that on a weekend.
Mt. Lassen last erupted a hundred years ago, and there are a number of very good photos of the series of the eruptions. It still rumbles a little, and there are some mud pots that show there still is some volcanic activity there. The visitor center and available information are very good. Best of all, there is a very pretty road that winds through the high country, getting up to about 8,500 feet, with plenty of open scenic views, such as this one, of Lake Helen, a cirque lake with the mountain in the background.
It was one of those places where I wished I had a lot more time to explore the place more thoroughly.
---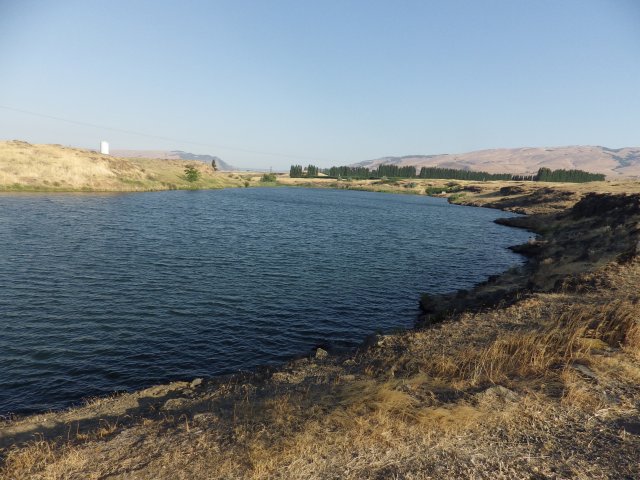 Spearfish Lake
I think it was back around 1980 that I came up with the name "Spearfish Lake." I can't tell you why I came up with that name, just that it sounded good, and I've stuck with it. It wasn't until we had the Internet for a while that I happened to think of Google-searching the name (actually, at that time it may have been an Alta Vista search, but it doesn't matter now.) I discovered that there really was a Spearfish Lake, located in Washington State just across the Columbia River from The Dalles, Oregon. So, for probably fifteen years making it to the only real Spearfish Lake in the country was on my "to-do" list.
The real Spearfish Lake isn't much of a lake. At only 17 acres (according to the state DNR website) in Michigan we'd refer to it as Spearfish Pond. It's a patch of blue located in an otherwise brown countryside, and is actually a backwater of the Columbia River. Just over the hill is a terminal where logs are loaded on barges, and there is a parking area with tables and a single rest room. However, from one of the hills overlooking the lake Mt. Hood is visible in the distance, which adds to the luster a little.
I hope Washingtonians won't hold it against me, but I think I like the Spearfish Lake in my mind better. Still, I'm glad I visited this one.
---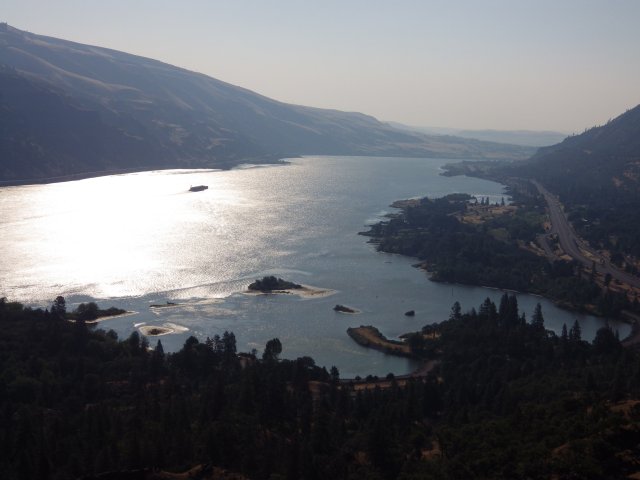 Columbia Gorge
The Columbia River Gorge upstream of Portland is spectacular at any time, but is haunting in early morning light. Old US-30 winds down the Oregon side of the gorge, sometimes down near river level, sometimes up on the bluffs, but nearly always climbing or descending. I couldn't help but wonder what that road must have been like for truck driver back in, say, the fifties, before there was no Interstate along the valley.
Fire struck again after we passed -- a few weeks later much of the slope on the right of this picture burned.
There's also commercial barge traffic along the Columbia, although we didn't see any of the huge rafts of barges common along the Mississippi. There are also railroad tracks on both sides of the river, so it's a happy hunting ground for those interested in watching transportation.
One thing I happened to notice is that there are still a lot of steel truss cantilever bridges in Washington and Oregon, some of them quite old but all well-maintained. One of the prettiest is "The Bridge of The Gods" at Cascade Locks, perhaps thirty miles downstream from where this picture was taken, dating from the twenties. In Michigan, there was a big push in years past to take out the picturesque old steel truss bridges and replace them with ugly concrete monstrosities. It hasn't happened here -- we were to see several steel truss bridges in both states, all showing evidence of being carefully maintained.
---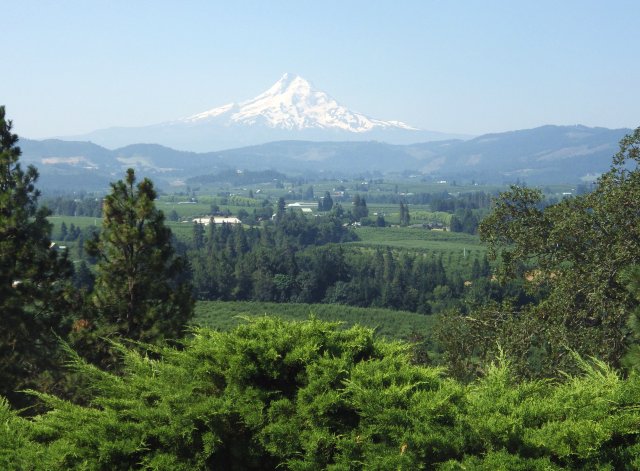 Hood Valley
It's hard to believe that the lush green of the Hood River Valley is located only about twenty miles from the nearly-barren desert around Spearfish Lake. That goes to show just how much effect location has on climate. Hood River averages around thirty inches of precipitation a year, while Cascade Locks, twenty miles west receives over seventy-five inches, and the Dalles and Spearfish Lake, twenty miles east, less than fifteen inches.
This view of Mt. Hood was taken from Panorama Point, a viewpoint just south of the town of Hood River.
Of all the places we visited, I think the Hood River Valley appealed to me the most as a place I would like to live, if things were such that I could pick up and move -- which will probably never happen.
There is a downside, though -- the Columbia Gorge has a reputation of being a pretty windy place, and we caught a bit of that. The combination of the wind and the river make Hood River call itself "the windsurfing capital of the world." I expect the strong winds could get to you after a while. But then again, maybe that's not all bad -- for years I've had a hankering to play with wind generators, but I've never gotten around to it.
---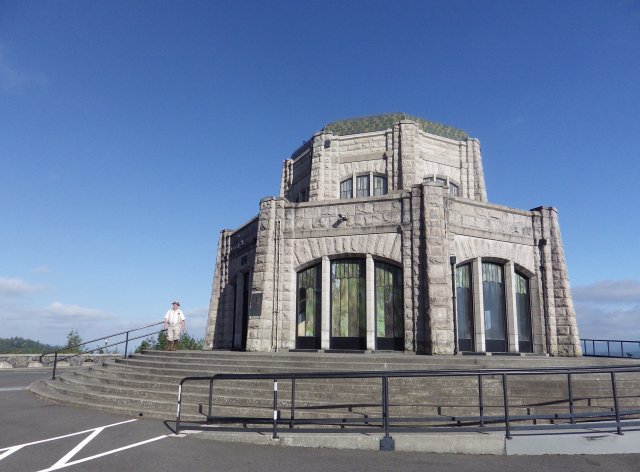 Vista House
We had to break off our exploration of the lower Columbia Gorge due to an appointment with a friend and the crowds in the famous waterfall section of Old US-30, so we got on the interstate and headed toward Portland. On the way we noticed an interesting house perched high atop the bluff on the Oregon side, near Corbett. "I'll bet that's a view and a half," I commented. After some discussion, we decided to skip part of our plans for the next day and double back to check out more of this fascinating section. We were a little surprised when Old US-30 took us to the place we'd seen from the valley, Vista House. It turns out to have an interesting history -- it was actually built as a rest stop in 1918, a place where people could drive out in the Model Ts and enjoy the view from atop Crown Point.
Of course, we had to stop and check out the view, and spent a good time talking with a volunteer interpreter dressed in nineteen-teens garb -- that's him to the left of the building. Among other things, he told us the place had been designed as an octagon to help the building withstand the fierce winds in the area.
The interior of the building is very ornate, with lots of marble. It's considerably more elaborate than anything you see in rest stops today. All in all, it was a very interesting stop for a totally unplanned one.
---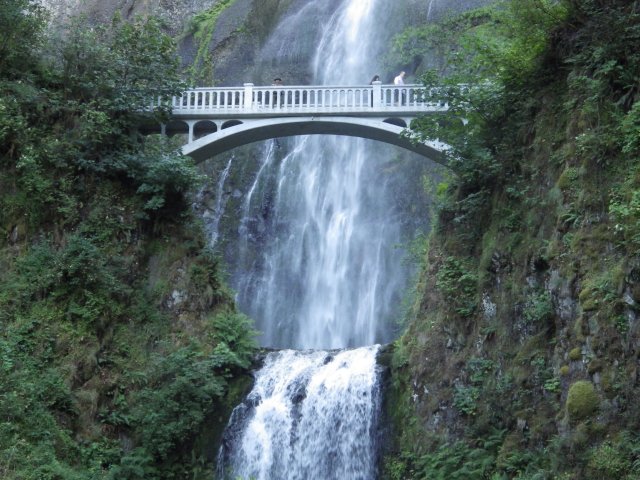 Multnomah Falls
Multnomah Falls, near Corbett, Oregon is the second-highest year-round waterfall in the United States, but the intimacy of the view makes it something special -- it's only a short walk from a parking area along Old US-30. The bridge over the lower falls allows the viewer to get right up close and personal with the upper falls, and for once man's improvements add to the scene instead of detract from it.
We had been past the falls the afternoon before, but it was so incredibly crowded -- even on a weekday -- that there was no place to park, which led to our decision to wash out part of the next days plans and double back. It was well that we did; it wasn't crowded at all in the early part of the morning.
Part of the problem with photographing tall waterfalls and tall trees is that it's hard to get a horizontal picture of them, and that's especially true here. As a result, the attached picture only shows a small part of this awesome waterfall.
---
Dismal Niche
In November of 1805, Lewis and Clark were weathered in at this spot on the Washington side of the Columbia River for five days, and then for another six days just around the point at the right of the picture. As a result, Clark called this spot a "dismal niche."
On a warm summer afternoon, the place didn't seem quite as dismal, but in fact, rather pleasant. It's now a rest stop with a great view of the Megler Bridge to Astoria, Oregon, seen in the background. But, the line of clouds offshore reminds us that the weather around here can often -- especially in the winter -- be foggy, overcast, rainy, and perhaps even what could be considered dismal, a far cry from the warm deserts not all that far to the east. Later that day we visited Ft. Clatsop, a reconstruction of the fort where the Lewis and Clark expedition spent four months in the winter of 1805-06. Hardly a day went by that they didn't gripe about the weather.
Despite the rain -- Astoria is the third most humid town in the country -- the temperatures in this area are among the most consistent in the continental US, with only about a twenty degree range between summer and winter averages. But, taking advice from Lewis and Clark, I think I would want to spend some time there in the winter before I committed to moving there.
---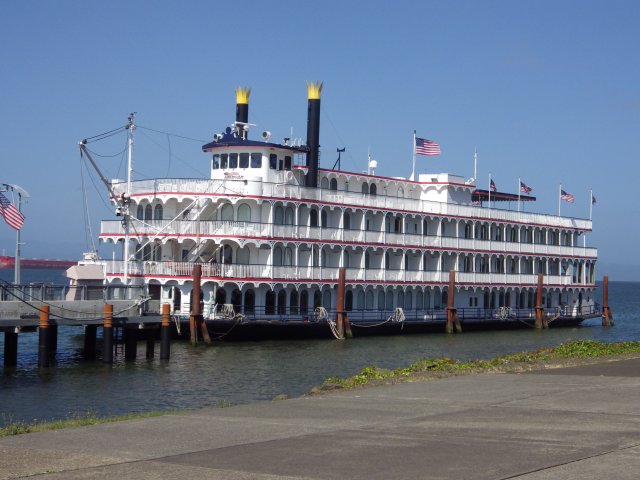 Riverboat at Astoria
Somehow I didn't think of baroque old paddlewheel riverboats associated with the Columbia River, but the American Empress cruises the Columbia and Snake Rivers. It was moored at the Columbia River Maritime Museum in Astoria, OR when we were there. In spite of its classic appearance, it was built in 2005 and is diesel powered, rather than having a steam engine.
The Columbia River Maritime Museum has several interesting boats on display. Other include an old Columbia River lightship, and the retired pilot boat Peacock, which had to serve in the daunting seas of the Columbia River bar -- a place so rugged the Coast Guard uses it for its rough water training school. One unusual display is a 20-foot fishing boat that was swept away by the 2011 tsunami that devastated Fukushima, Japan and drifted across the Pacific and onto the beach a few miles away. One particularly dramatic display is a full-size diorama of a retired Coast Guard boat making a rescue at sea. It's so good it's actually a little chilling.
Like a lot of places we visited, the Maritime Museum deserved a lot more time than we could afford to give it. It's definitely one of the more interesting museums I've ever been in, and provides a lot of background to the interesting nautical history of Astoria.
---
Oregon Shore
On a clear day, the Oregon coast is spectacular, but even on a cloudy day, it can still be pretty great scenery. There are plenty of photos of the sights to be seen along the coast, frequently with sea stacks offshore, but the place is also known for rain and fog. To be fair I thought I ought to include a foggy morning shot, this one taken somewhere south of Seaside.
Once again, the Oregon coast demanded more time than we had available to give it, but still we tried to take in all we could. US-101 along the coast is a very popular place for touring bicyclists, and we frequently saw them. In fact, a bike would be a great way to explore this spectacular landscape.
There are many beaches and state parks up and down the coast, and many places that have easy access to them. Camping is permitted in many of the places, and we frequently saw tents pitched on the beach. Interestingly enough, we rarely saw motor homes or other mobile cottages parked there, even though parking would have been adequate -- the tenters still seem to reign supreme here, and I'm not sure why, although I'm very much in favor of it. This is significantly different from the Midwest, where it's often difficult to find a tent site in popular state parks since the best sites are often taken by mobile cottages parked there for the maximum permitted stay.
---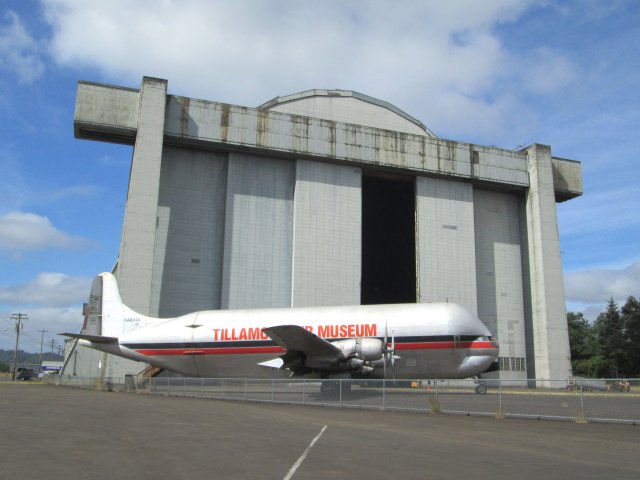 Tillamook Air Museum
One of the more unusual sights along the Oregon coast was this WWII-era blimp hanger at Tillamook, Oregon -- one of two built; the other one burned down several years ago. The survivor is now the home of an air museum that features several interesting aircraft. One of the odder ones is this "Pregnant Guppy," modified from a Boeing 377/KC-97. This one, called the "Mini Guppy" is somewhat smaller than the others. The Guppies were built for hauling outsize rocket components from southern California to Cape Kennedy, and later, various pieces of large and heavy equipment.
One of the interesting photos on display is of a young man flying a T-6 through the huge hanger back in the 1950s. There actually was quite a bit of room -- that place is huge!
---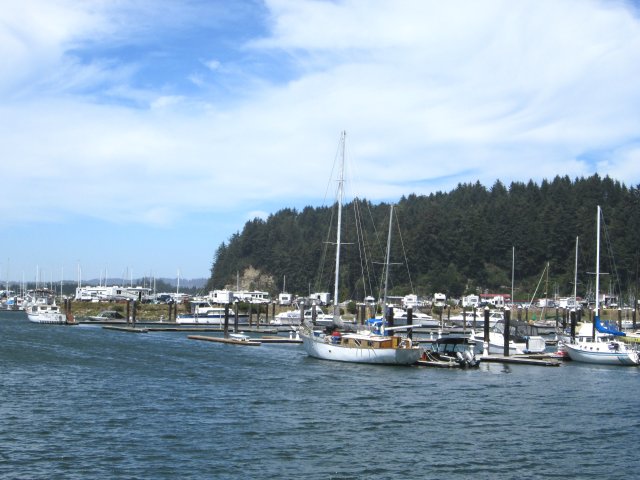 Winchester Harbor
Just before leaving on our trip, there was a post on the Spearfish Lake Tales Forum about a place on the Oregon coast named Winchester Bay, near Reedsport, and pointing out the fact that there really was a "Winchester Harbor," the name of one of my books. The writer commented that he didn't think I'd ever been there. I replied that I hadn't, but expected to be in the vicinity in a few days and promised to stop and check it out. So, I did.
Reedsport, and "Winchester Harbor" is actually a scenic little town, with a nice harbor that Jake and the gang at the Channel Stop would probably appreciate.
But then, there are a number of nice, scenic little towns all along the coast. Some of them are actually pretty remote, since the only land access is by US-101, which is crooked, scenic, and often steep -- which is to say, slow going if you want to drive to them. Granted, I-5 is typically only 30 to 40 miles to the east, but it's on the other side of the coastal mountains. Getting over the damp coast range, especially in winter when there's lots of snow in the higher elevations, might be worse than going up and down the coast.
---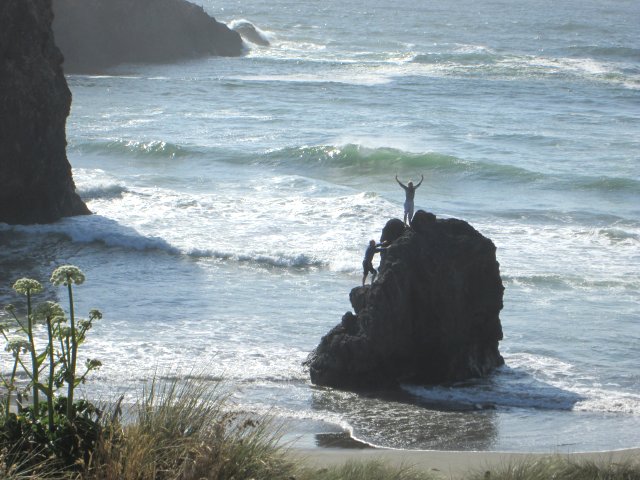 Exultant Girl on Oregon Coast
One of the reasons why it would be neat to take a bicycle down the Oregon Coast is that it would be much easier to stop and take photos; there were many opportunities that we had to pass up. On top of that, there are plenty of places where it would be fun to just stop and poke around a little, and pass some relaxing time in this beautiful landscape.
One of the places where we stopped was at this group of sea stacks near Brookings, Oregon. Someone had taken the time to enjoy themselves there; a kite was flying, and a guy and a girl were climbing one of the smaller ones. The girl at the top seems to be exultant that she'd completed the climb.
---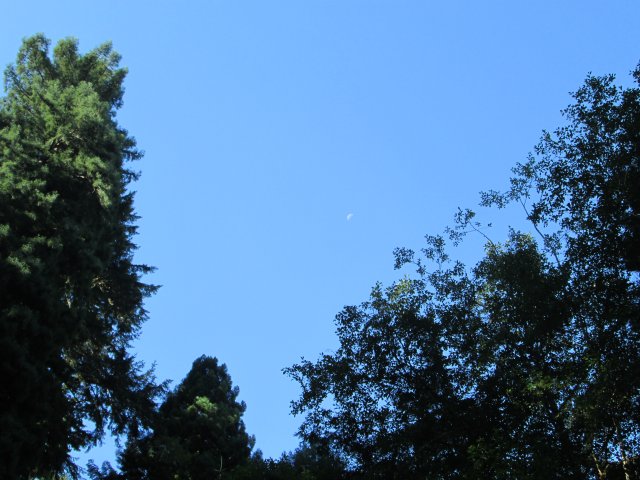 Moon Over Redwoods
The three hundred-plus foot redwoods in Redwood National Park still have a long way to reach to make it to the moon hanging in the sky above them.
It's hard to get a picture of one of these huge redwoods that really gives an impression of just how big they are -- and it's even harder to get one that's a horizontal. This photo was taken at the Lady Bird Johnson Grove north of Orick, California. It has some huge redwoods, but not the absolute tallest ones, which are in a different grove that's harder to access.
Part of the reason that coastal redwoods get so tall is that at least some of the moisture they need comes from the frequent fogs to be found in this area -- it's hard for a tree to lift water that high by capillary action.
Later, we visited Sequoia National Park, which has bigger trees of a different type. Sequoias, while pretty tall, fall short of the height of coastal redwoods but are much bigger around and thus more massive. Somehow, to me the biggest Sequoias like the General Grant and General Sherman trees seem grotesque and misshapen compared to the majesty of the coastal redwoods.
---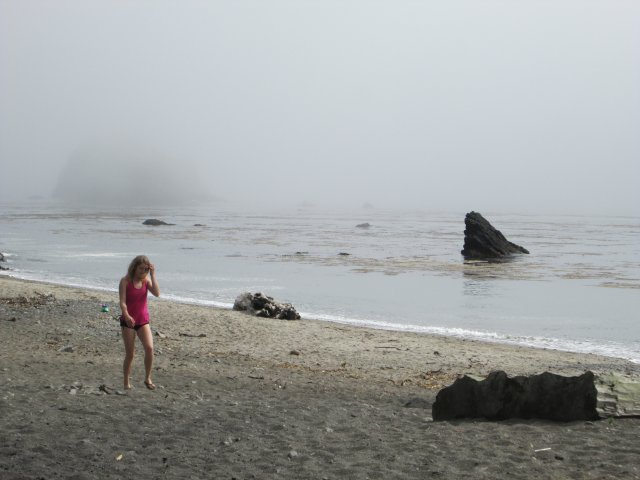 Girl on foggy California beach
The weather in Oregon and California is extremely variable, depending to some degree on how far you are from the ocean. One day we had lunch in a small inland town in Northern California, Garberville. When we got back in the car the temperature was 97 degrees. We traveled on down US-101 and turned off on California Route 1, which is exceptionally steep and twisty in this area. When we arrived at the shoreline, it was 59 degrees. Considering that the town is only about ten miles from the ocean as the crow flies, that's a pretty substantial difference. Still, after the heat of the interior, the cool of the ocean felt good.
Even in hot weather it can be quite cool along the coastline, and the cold ocean water frequently brings fog. This is late in the afternoon somewhere south of Mendocino, where we stopped for a brief break, and I happened to snap a photo of this girl walking along the beach in heavy fog.
---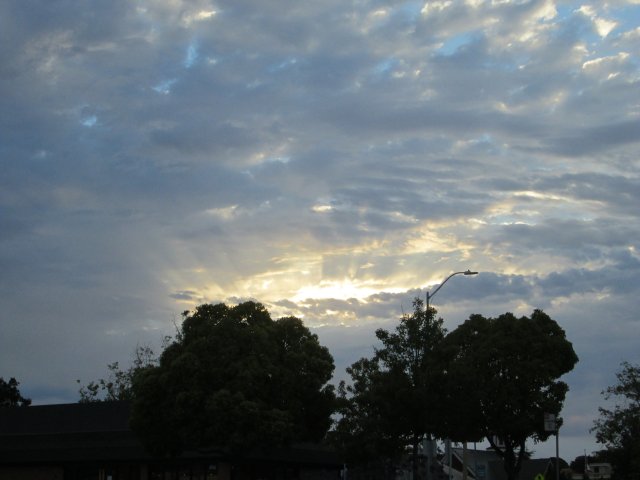 San Francisco Sunrise
The proximity of San Francisco to the ocean is the reason for it often being cloudy and foggy, even when it's warm and clear a few miles inland. On the morning we went into San Francisco, I happened to notice the sun peeking through a hole in the clouds as we came out of the restaurant where we had breakfast, and on a whim snapped a photo.
It was very early on a Sunday morning, the only time I ever found traffic in San Francisco to be light. Most of the rest of the time -- we were there on three separate occasions -- it was thick enough to get my blood pressure up. Later that day we took a tour bus around town, since we didn't know where we were going, and even for an experienced driver doing some things with a bus I wouldn't consider with a car, it took three and a half hours to do a two hour tour.
After we got home, I commented to someone, "Every time I found a place in California where I thought might possibly be a cool place to live, I ran into a traffic jam. That changed my mind."
---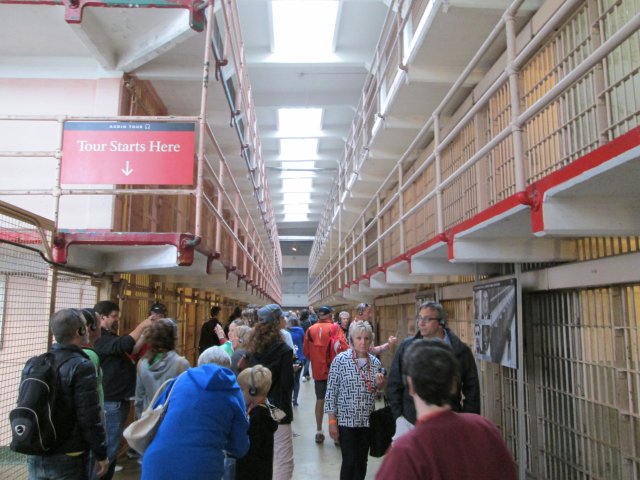 Alcatraz
Alcatraz, the famous former prison, has in recent years become a major tourist attraction, and it was absolutely the number one thing on the list of things my wife wanted to see. You usually have to make reservations for boat tickets months in advance, and it's not like they only let a handful of people in at a time. I will admit that it proved to be more interesting than I expected.
The big thing that struck me about Alcatraz is how few cells they had in the cell blocks. Considering the reputation of the place and the size of the cell building, I had expected much more. There are only four cell blocks, each with somewhere around a hundred cells or a few more, yet one of the four blocks was almost never used during its period as a federal prison. Prisoner count was usually only around 250, and never exceeded much over three hundred; only a total of around 1500 prisoners spent time there in the thirty years it was a federal prison. It housed such legendary bad guys as Al Capone, Alvin "Creepy" Karpis and Machine Gun Kelly.
There is an audio tour of the cell block building. They issue you individual players, and the tour is well done, taking you around a lot of the points of interest, such as the still-damaged cells involved in the possibly successful 1962 escape attempt. The prison had deteriorated badly, and closed shortly after that.
---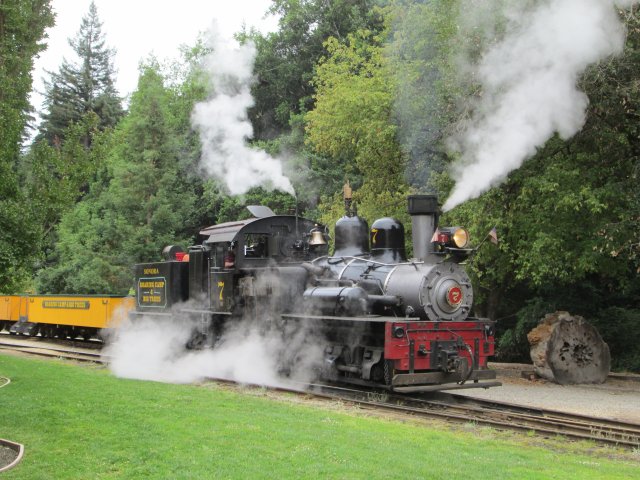 Roaring Camp Railroad
It's no secret that I'm a fan of old steam engines. There were several possibilities for steam tourist train rides along our route, but the one that drew me the most was the Roaring Camp and Big Trees Railroad at Felton, California. The narrow-gauge line up through the tall redwoods is one of two separate trains operated by this outfit; the other is a standard gauge, diesel-powered line that runs down to Santa Cruz.
However, it was the narrow-gauge Pacific Coast Shay that drew most of my attention. This classic gear-driven engine is around a hundred years old, and really can fill the tall redwood groves with smoke! It's an interesting experience. I'm especially a fan of Shays, of which this is one of the best surviving examples. Being gear-driven, they are not fast, but they have tremendous pulling power for their size.
Even as recently as fifty years ago much west coast logging was done with narrow-gauge engines such as these, on little rail lines that ran hither and yon through the forests.
---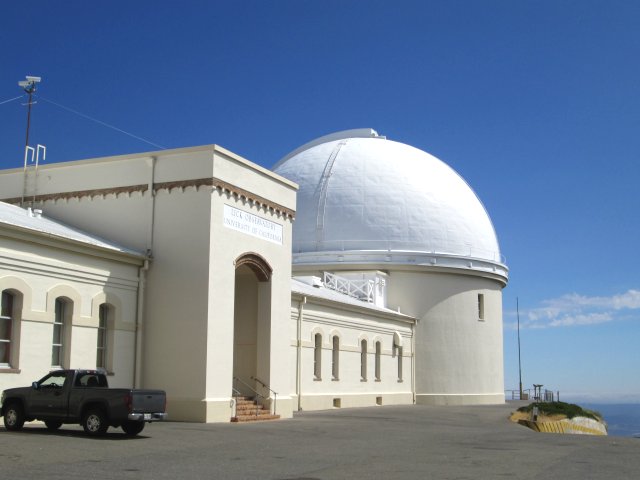 Lick Observatory
Over a hundred years ago, a big telescope meant a refractor, a telescope with a lens at the front, rather than a mirror. This dome atop Mt. Hamilton, near San Jose, houses the second-largest one ever built, the 36-inch James Lick telescope, first used in 1888. Several other telescopes of historical interest are nearby. Though San Jose now causes the place considerable light pollution, there is still a great amount of scientific work being done there.
Since I used to be involved with amateur astronomy, the 36-inch was one of the sights I really wanted to see; unfortunately the visitor center was closed when we got there. I'm told that in recent years the staff permanently living atop the mountain has been considerably reduced, but still, it must have been an interesting place to live in its heyday.
---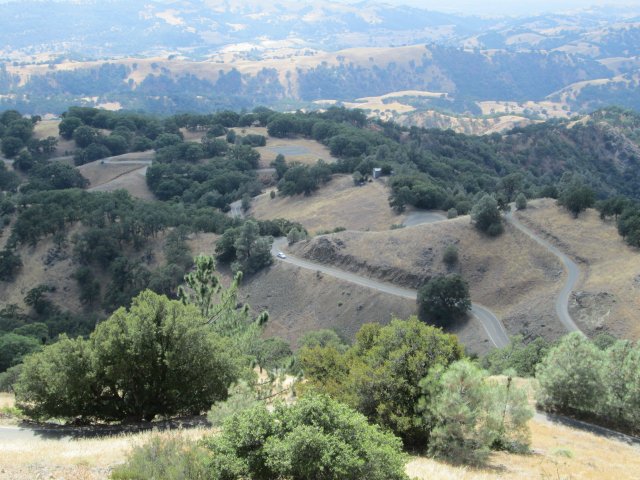 View from Lick Observatory
Access to Lick Observatory is not simple or easy. The road up to the top of Mt. Hamilton, California 130, is extremely steep and crooked, with few guard rails, but spectacular views. That's the road bending back and forth in this picture, taken from Lick Observatory; one source says that there are 365 turns coming up from San Jose, and I believe them. It's quite a drive and I was amazed at the number of bicyclists that pedaled up this steep and challenging grade.
Twisty, narrow and steep roads were not uncommon for much of our trip, but this one was probably the most challenging of all those we drove. It's even worse than California 1 from US 101 down to Rockport, which at least had the advantage of being mostly located in the forest so the exposure wasn't quite as intimidating.
In general, my opinion is that California roads are mostly inadequate for the traffic expected of them. Obviously, in mountain country there are limits to what can be done, but many major roads, especially the multi-lane roads, just aren't up to handling the use expected of them. Later in the trip we drove the essentially straight California 29 in the Napa Valley past any number of pretentious wineries; even on a weekday the traffic was bumper-to-bumper stop-and-go. For such a leading tourist attraction, we would have expected the road to be better than what we would consider a better than average but not great county road in Michigan.
---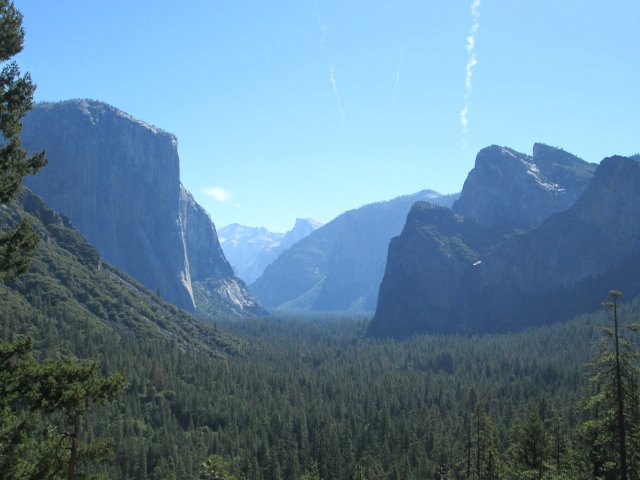 Yosemite
In a way I feel a little ashamed to offer such a postcard view of Yosemite Valley. After all, there must have been millions of photos of the place taken from this spot at the mouth of the tunnel on the entrance road. At least one of those photos was taken by Ansel Adams, which makes me feel like I was following in honorable footsteps.
I read somewhere just recently that Adams only took about 3,300 photos in his life, and many of those in Yosemite Valley. Of course, he was working with plates and a big view camera, which slowed things down considerably. Of course, this is the digital age, which changes things more than we sometimes want to admit; I sometimes wonder what Adams would think to see how much things have changed.
It would be very nice to spend the amount of time there that Adams did, to take the time to wait out the perfect light for the perfect photo. He spent years at it, while we only had a couple of hours.
---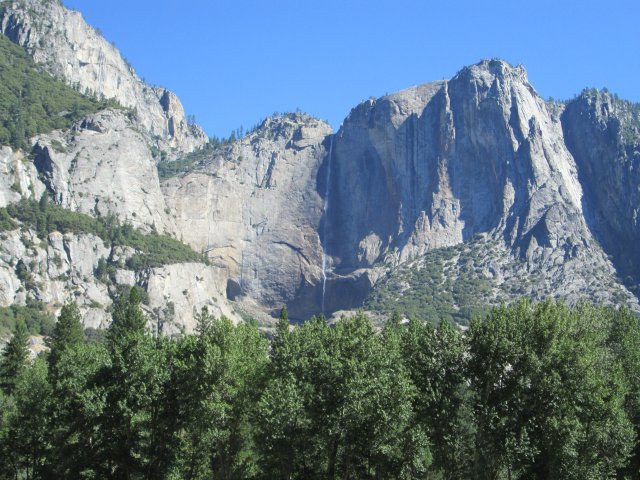 Yosemite Falls
In the middle of a dry summer, Yosemite Falls still manages a trickle of water plunging down into the valley. This is the tallest waterfall in the US, and the seventh highest in the world. In the spring it's a tall cascade of water to rival Multnomah Falls, which we saw earlier in the trip.
What this photo doesn't show is the line of cars pulled to the side of the road to take similar photos. Yosemite National Park has the reputation for being extremely crowded -- and it's a well-earned reputation. Several people warned us off of the place for just that reason, but there's a reason it's crowded, and that is because it is indeed spectacular. However, we were able to take the edge off the hassle by visiting fairly early on a weekday morning, getting our photos, and getting out. Spending time there, especially on a weekend, has to be a very different proposition.
If I had the chance, it would be nice to visit this spot in May, before school gets out and the crowds increase. There's a good chance that Yosemite Falls would be more than just a trickle of water.
---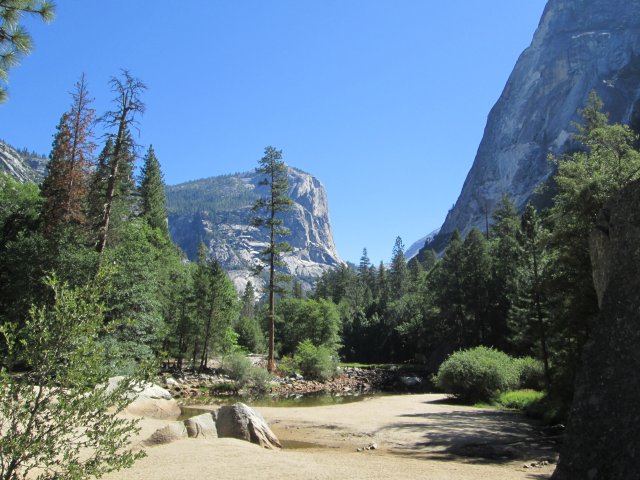 Yosemite's Mirror Lake
Mirror Lake lies under the face of Half Dome, probably the most well known feature of Yosemite National Park. There are postcard views to be seen everywhere in Yosemite National Park. This one was from the trailhead on the short path to Mirror Lake.
One of the tricks to getting away from the crowds in Yosemite -- at least to a degree -- is to get off the roads and onto the hiking trails. There's plenty of wild back country, and a couple of times we were to meet backpackers that were taking advantage of it. But even the backcountry is reportedly crowded.
I will be honest -- in spite of the fame and the grandeur, we only gave a lick and a promise to Yosemite. There are plenty of other spectacular views, grand places along the route we took, and many of them are much less visited, even if you're pretty much restricted to doing your vacation out of a car. But there's no doubt -- Yosemite is special.
---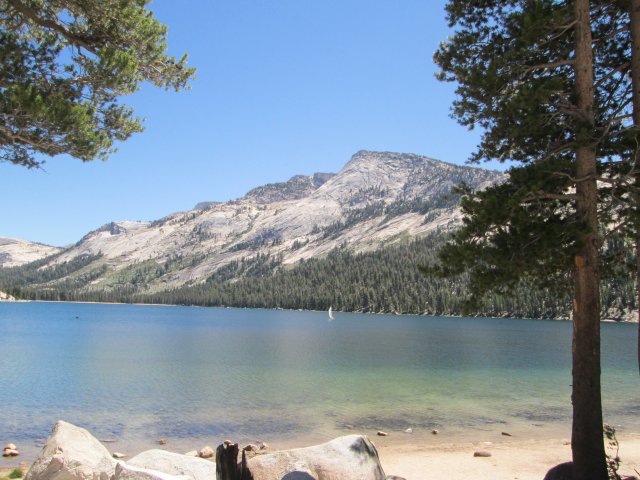 Tioga Pass Road
Less commented on than Yosemite Valley, Tioga Pass Road up over the Sierras in Yosemite National Park is great scenery on its own. It's still busy, although nothing like the mob scene in Yosemite Valley. At one point I got a glimpse -- but no photograph -- of Half Dome from the east, which I was a little surprised to notice.
There are some grand and spectacular views on Tioga Pass Road, especially toward the eastern end where the forest thins out and there are some grand, long views. There are some nice lakes there, too -- in this photo, someone is having a nice sail on Tenaya Lake, toward the east end of the road.
Even in the hot summer weather, it's cool up on Tioga Pass, the highest we were to get on the trip at just under ten thousand feet.
---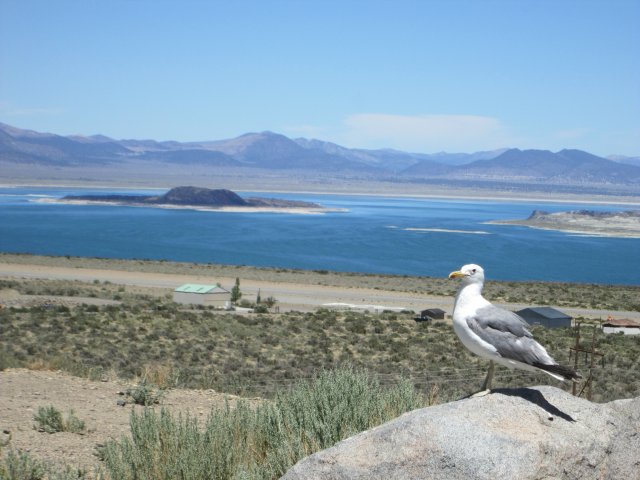 Gull at Mono Lake
Mono Lake is a large saline soda lake to the east of Yosemite National Park. Located in a desert environment, it provides a well-known resting stop for migratory birds that feed on the trillions of brine shrimp that inhabit the lake. This seagull has found a home there, far from the ocean.
This photo was taken from a viewpoint to the west of the lake. The road descends steeply down from Tioga Pass, with a number of long views. On the day we went through there, the temperature went up quickly as we went downward.
Mono Lake is less than it once was. Water from its feeding streams was diverted to Los Angeles starting in 1941. So much water was taken that the level of the lake dropped 45 feet, and its salinity doubled. A famous court case restored some of the inflow in the early seventies and the lake has partially recovered.
Mono Lake is a strange and haunting landscape, almost unearthly.
---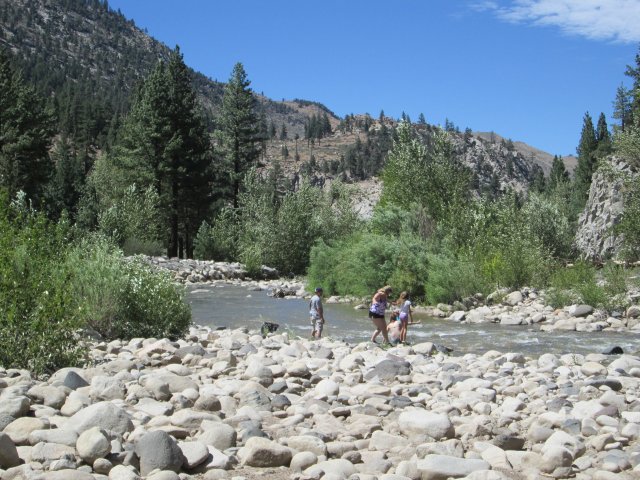 Carson River
It's a long dry drive north from Mono Lake to Reno. Along the way I needed to take a break and grab something cold from the cooler we kept in the car. So, I kept my eyes open for a place I could pull off the road into a place that had a bit of shade to keep the blistering sun from heating the black car up too much. When I spotted the Shingle Mill Day Use Area south of Minden, NV, it seemed to be a logical place to stop.
There were others that seemed a little road-weary too, and the nicely flowing rock-bound stream appealed to another family as a place to take a cooling dip in the stream. Like a lot of the rivers in this area, the Carson River here shows that it is wild in the spring from the rocky bed, but on this summer day it's but a shadow of what it must have been like in the spring runoff.
We went through a lot of desert in four different states. Where there is adequate water for irrigation there's often agriculture of some form or another, especially in the valleys, but the sagebrush-covered hills must look today pretty much the way they looked to the earliest settlers. At least we had air conditioning in the Chevy.
---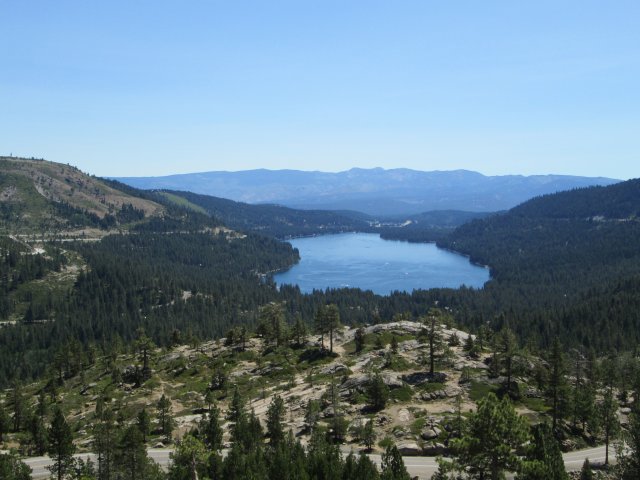 Donner Lake
I've always been a little curious about the story of the Donner Party, a wagon train on the way to California in 1846. They got way behind the season in couldn't make it over the mountains before the snow set in. They wound up stranded near what is now Truckee, California; many died, and there was cannibalism. The survivors barely made it through the winter. So, knowing we were going to be close, I had to stop and explore a little bit.
I've read a lot about the Donner Party over the years and here, on the far end of Donner Lake in this picture, is where most of the party wintered over. The visitor center is being rebuilt, but we saw a good film and some interesting artifacts at the old one. There is a statue memorializing the occasion, with a man pointing up Donner Pass with a woman hanging on to him, and you can just hear her thinking, "We've got to get over that?" The ones that survived did, and did it the hard way, mostly in the depths of the worst winter on record there -- snow to 22 feet.
---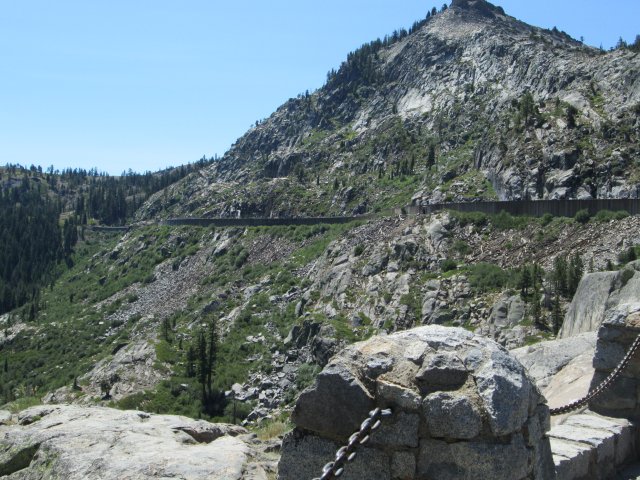 Snowsheds at Donner Pass
Although there are other routes to California, Donner Pass is one of those choke points in transportation where there's a lot in a small area, and much of it is historically and economically important. These days it's mainly Interstate 80 and the Union Pacific Railroad, but the California Trail ran over it a century and a half ago, along with the transcontinental telegraph and the Pony Express. In more years, it was the site of Old US-40, which we followed over the pass.
You can see the snowsheds on the old Central Pacific line from the summit of Donner Pass, which is not all that high (7,239 feet) compared to some we went over, but must have been tough in the winter. There were even little patches of snow remaining -- we had seen several on the trip, on Mt. Shasta, Mt. Lassen, Mt. Hood, Mt. St. Helens, a couple places in Sequoia, and several places on the Tioga Pass Road. It's pretty steep going up the east side from Donner Lake, but not so bad going down the west side. Still, those people in the Donner Party must have had a hell of a time getting to what's now Sacremento, because even at lower elevations the snow had to be hugely deep.
---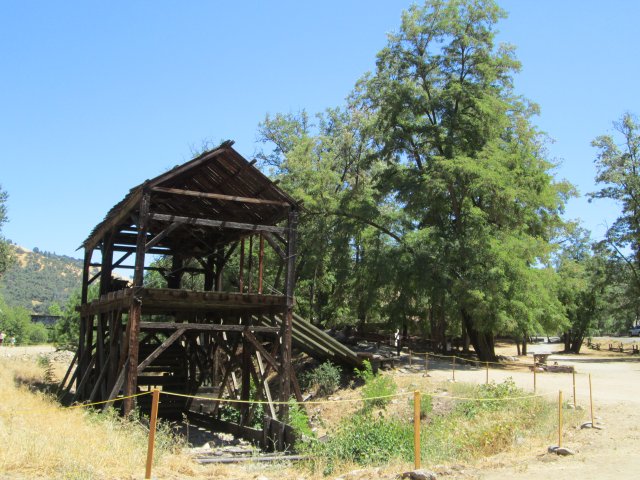 Sutter's Mill Replica
Before the discovery of gold in the late 1840s, California was no big deal -- but gold changed things forever. Those were rough and rugged days. Sutter's Mill, actually the John Marshall Memorial Park -- Marshall was the guy who made the discovery -- is where it all started. This is a replica of the original sawmill, within feet of where the original stood.
Once again, getting there involved a narrow, steep, twisting road. California does a good job on their freeways, but the state roads are often challenging, to say the least. We hit the visitor center (always a good idea since it gives you a much better perspective on what you're looking at) and had a discussion with an interpreter, who was a geologist. It made things a lot more interesting! I would have liked to poke around the site some more, but it was hot and the Chevy's air conditioner beckoned.
---
All in all it was a good trip. We went to some other places, saw some other things, and now have a better idea of what that part of the country is like. There were places where it would have been fun to have spent more time and investigated more thoroughly, but the idea was to make a low pass through the area to get at least a glimpse of the place, and that was pretty much what we did. Would we go back some day? I'm not ruling it out -- but there are other places to go, too. We'll see.
Back to Shorts page
Back to main page