Main Page
Store
New Forum
Old Forum
SLT Wiki
FAQ
Contact
Online Book Links
Shorts & Rants
Maps of story areas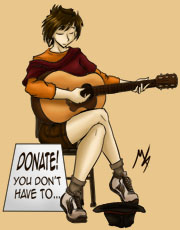 Donations are appreciated!
Donations are sort of the writer's version of a dude playing a guitar on the street corner. They're what keeps this site going and new stuff coming --
and after all, it's not like you've spent money on a book only to be disappointed in it.
Click here
to add to the tip jar!

"Shorts, Outtakes and Rants"
---
Most weeks I write a column for my paper; occasionally my daughter writes one. Usually they're focused at local issues, but every now and then I come up with one that I think Spearfish Lake Tales readers would find interesting, so I post them on the Spearfish Lake Tales Message Board. Since I've been neglecting "Shorts, Outtakes and Rants" recently, I decided to repost a few of them here, like this one. I hope you enjoy it! -- Wes
---
The Drew Crew
April 27, 2016
My hobby of writing novels leads me to some strange places sometimes, and last weekend it took me somewhere I never expected it to go.
I'll let the reasons go by, but they involved research for a character for one of my stories -- but a little bit of websurfing and trying to design this character led me to Nancy Drew.
Now, I'll have to admit that I never read a Nancy Drew story back when I was a kid. It was a girl's story, after all, so for a boy it was sort of beyond the pale. In fact, I don't recall reading many Hardy Boys stories, the older companion series to Nancy Drew. Now, these are all kid's books and I read others, but not these, for whatever reason.
But I have to admit that I got interested in Nancy Drew this weekend, and there proved to be more there than I thought.
It turns out that there have been over six hundred Nancy Drew stories written in various series over eighty-five years, and they're still going strong. Although "Carolyn Keene" appears on the cover as the author, the books have always been written by a series of ghostwriters. The original series ran to 175 books from 1930 up into the seventies. If you have a copy of one of the first thirty books of the series published before 1959, you have something valuable; first editions have gone for prices over over a thousand dollars, a real increase in value for a book that first sold for fifty cents.
The thing I find interesting and admirable about Nancy Drew is how much of a role model she's been for young girls for most of a century. Especially in her early period she was beautiful, brave, classy, sharp-tongued, independent teenager, who drove her blue roadster fast, flew planes, solved confusing mysteries but maintained her femininity. In reflection, Nancy was a very liberated woman for the 1930s and she must have had a subtle impact on how women of today view themselves.
A cultural icon, Nancy Drew is cited as a formative influence by a number of women, from Supreme Court Justices Sandra Day O'Connor and Sonia Sotomayor and former First Lady Laura Bush. Feminist literary critics have analyzed the character's enduring appeal, arguing variously that Nancy Drew is a mythic hero, an expression of wish fulfillment,or an embodiment of contradictory ideas about femininity.
Carole Kismaric in The Mysterious Case of Nancy Drew and the Hardy Boys says "Convention has it that girls are passive, respectful, and emotional, but with the energy of a girl shot out of a cannon, Nancy bends conventions and acts out every girl's fantasies of power." Other commentators see Nancy as "a paradox -- which may be why feminists can laud her as a formative 'girl power' icon and conservatives can love her well-scrubbed middle-class values."
The character was conceived by Edward Stratemeyer, founder of the Stratemeyer publishing syndicate. Stratemeyer had created the Hardy Boys series in 1926, which had been such a success that he decided on a similar series for girls, featuring an amateur girl detective as the heroine. He was aware that the Hardy Boys books were popular with girl readers and wished to capitalize on girls' interest in mysteries by offering a strong female heroine.The thing I find ironic is that Stratemeyer believed that a woman's place was in the home, his vision created a character that broke through his own limitations.
The earliest Nancy Drew books were revised in 1959 and later, and one of the things that was lost was the feel of the era of the 1930s. Nancy's blue roadster became a blue convertible, and a lot of the other magic of the originals fell by the wayside. Even so, Nancy Drew remains a good read and a good role model for kids -- and I had fun discovering there was more story there than I thought. Not bad for an 86 year old teenager.
Back to Shorts page
Back to main page