Main Page
Store
New Forum
Old Forum
SLT Wiki
FAQ
Contact
Online Book Links
Shorts & Rants
Maps of story areas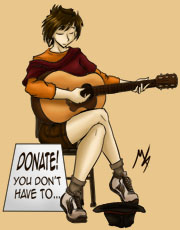 Donations are appreciated!
Donations are sort of the writer's version of a dude playing a guitar on the street corner. They're what keeps this site going and new stuff coming --
and after all, it's not like you've spent money on a book only to be disappointed in it.
Click here
to add to the tip jar!

"Shorts, Outtakes and Rants"
---
Most weeks I write a column for my paper; occasionally my daughter writes one. Usually they're focused at local issues, but every now and then I come up with one that I think Spearfish Lake Tales readers would find interesting, so I post them on the Spearfish Lake Tales Message Board. Since I've been neglecting "Shorts, Outtakes and Rants" recently, I decided to repost a few of them here, like this one. I hope you enjoy it! -- Wes
---
One Christmas back in grandfather's time
December 2016
When I was quite small my grandparents had a booklet that was a holiday giveaway from a local lumber company. It was dated 1953, and was titled something like "One Christmas Back in Grandfather's Time." It had many colored line drawings that really gave me a feel of the old days. I remember reading it and re-reading it many times over several years, because it was full of the warm impressions of the holidays back on an old-fashioned farm in, oh, perhaps the 1880s or 1890s.
After all these years I can't remember it word for word, but I'm sitting here trying to summon up memories of it. I can remember that it noted that celebrating the holidays started months before the event, things like hammering cabbage in a barrel to make sauerkraut, making sure the old tom turkey was well-fed. There was house-cleaning and tidying; I remember the line, "The vase of gilded cattails was put out of sight," and I still wonder why. The story included things like a telegram from the kids announcing that they'd be home for Christmas, a sleigh ride through the snow to pick them up, and a stop at the general store to pick up such necessities as candy for the grandkids.
The booklet featured the grandkids warming their backsides before a wood stove before crowding into a feather bed, and granddad sharpening up the axe to help the old tom turkey meet his destiny. It also featured homemade music and charades in the evenings, ribbon candy and oranges in the toe of the Christmas stockings. It must have been a modern farmhouse, for there was no fireplace, but Grandpa and Grandma assured the grandkids that Santa would find their stocking hung on the back of a chair near the living room wood stove.
In the last couple of days before the holiday, there would be a major horse and sleigh expedition with most of the kids to somewhere on the back forty of the farm; it was a major search to find exactly the right Christmas tree. There were traditional decorations, and kids helped to string popcorn to help decorate it. On Christmas Eve, they lit the tree with candles; it only stayed lit for a few minutes, since everyone realized it was a major fire hazard, and buckets of water were kept close at hand just in case.
I remember one line in particular about Christmas making Christmas dinner in an era where women's styles were considerably different than today: "In the kitchen it was all hustle and bustle (no pun intended.)" (As an aside, I can't imagine a woman of that era asking, "Honey, do you think this bustle makes my butt look too big?")
Christmas dinner was expansive, including many things we would recognize today, but some that would be a little on the odd side. No microwaves or crock pots, of course; for that matter, no electric lights, either. But the booklet noted that with the exception of a few minor things, the vast majority of the dinner came from things grown right there on the farm.
There was plenty else, like kids cleaning snow off the frozen creek so they could go skating so they could play hockey with brooms, or play "crack the whip." Or the men gathering in the barn to smoke cigars, talk politics, and try out Granddad's latest batch of hard cider.
Most of all, it was a memory of a scattered family getting together to enjoy being together again to build those memories to pass on down through the years.
I don't know what happened to that booklet; it disappeared somewhere in moves over the years, although every year around this time I remember it and would like to be able to leaf through it again. There's a possibility it's packed away in some box somewhere, and I have all too many such boxes of things that need to be sorted through. Perhaps I'll find it again, although it appears to be a long shot. But I remember it warmly enough to cause me to wish you all a Merry Christmas.
Back to Shorts page
Back to main page