Main Page
Store
New Forum
Old Forum
SLT Wiki
FAQ
Contact
Online Book Links
Shorts & Rants
Maps of story areas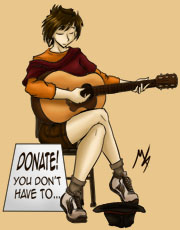 Donations are appreciated!
Donations are sort of the writer's version of a dude playing a guitar on the street corner. They're what keeps this site going and new stuff coming --
and after all, it's not like you've spent money on a book only to be disappointed in it.
Click here
to add to the tip jar!

"Shorts, Outtakes and Rants"
---
Most weeks I write a column for my paper; occasionally my daughter writes one. Usually they're focused at local issues, but every now and then I come up with one that I think Spearfish Lake Tales readers would find interesting, so I post them on the Spearfish Lake Tales Message Board. Since I've been neglecting "Shorts, Outtakes and Rants" recently, I decided to repost a few of them here, like this one. I hope you enjoy it! -- Wes
---
What Goes Around . . .
September 12, 2015
Back when I first started getting interested in short track auto racing, I happened to meet a young man by the name of Todd Metz, Jr. Todd was a nice kid, very friendly, and I learned a great deal about the sport at the time. He even let me hot-lap his current race car, which if I recall correctly was an older Dodge Spirit, running in the four-cylinder class popular at many tracks in the area.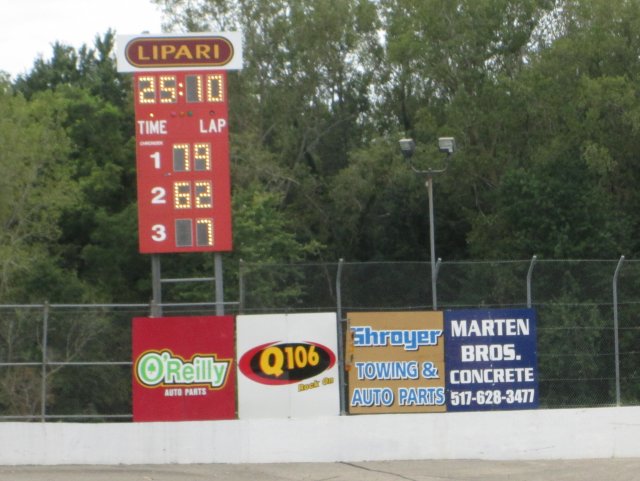 Scoreboard after qualifying. Todd is 79, Yogi is 62. The time is from a later qualifier.
Now, Todd is the kind of guy who isn't satisfied with "good enough." Todd isn't rich; in fact, he's a welder who works in a factory, and the funds for his racing come mostly from out of his pocket. He wanted a faster car, so that winter he built one, a Dodge Neon, which is the fast car in the class in this neck of the woods. He kept working on it, improving it, going faster with it, until it ultimately became the fastest and most-tricked up Neon in the area.
Along the way, Todd got his father interested in racing, then his mother. He and his father, Todd Metz Sr., (also known as Yogi, for what reason I know not) built a second race car for his dad to use, and it's just about as fast. The best short track race I ever saw featured the two Todd Metzs at a 3/8 mile track. They went 25 laps just absolutely door to door, nip and tuck all the way, and lapped the whole field in the process. Junior won by a nose, but that was just how it happened to work out. Todd's mother Glenda was later a season champion at the same track.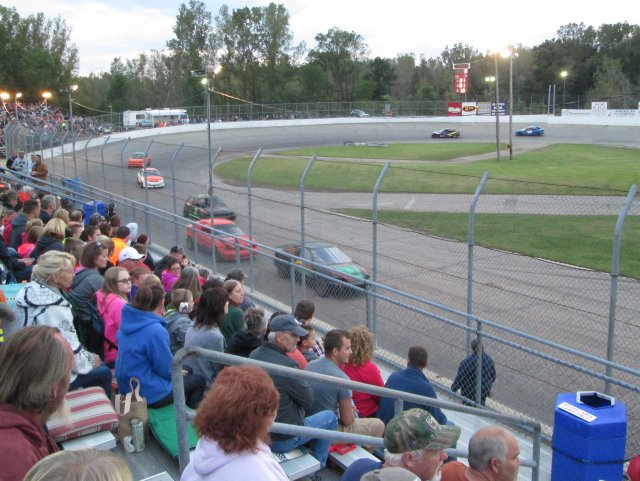 Crowd watching heat racing.
Todd, (and from here on I will use that name to talk about Junior, and Yogi to describe his dad,) was more than just a racer. He is the kind of guy who is a friend to everyone. If someone needed help with something, he helped. If someone needed a part to make a race, he would provide it. If someone needed advice on how to get their car to go faster, Todd was always willing to help. He made a lot of friends along the way by doing that kind of thing, and just by being himself.
We haven't seen Todd run much recently; he's been running in a different series that doesn't often come to the tracks we go to frequently. But three weeks ago we drove out of our normal area to watch Todd and Yogi run. There was a big accident the two of them got caught up in; Yogi's car was battered but could race. Todd's best car got smashed up beyond easy repair.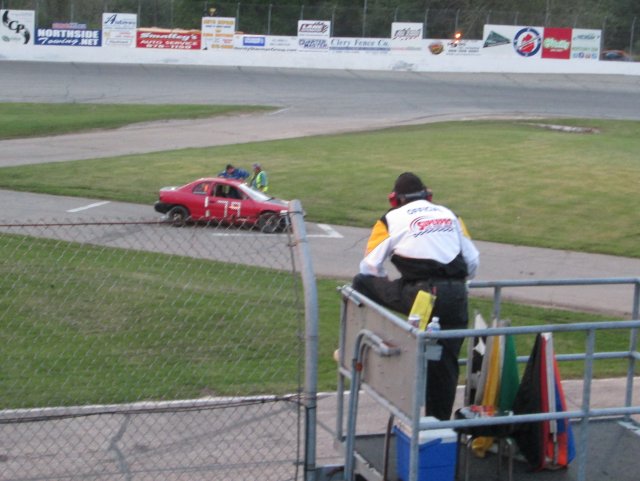 Todd in winner's circle following the heat race.
The car that got smashed was a little too hot for some local tracks, so a couple years ago Todd built a second race car that was not quite as energetic -- still very fast, but legal at some places where the first was not. A week ago last Friday night, Todd was in a race with it at Spartan Speedway in Mason, MI, and got shoved into the wall; the car was also smashed up well beyond easy repair.
The next morning Todd was sitting around the house wondering how he was going to get either car to run in the biggest race of the season a week away. About that time, a couple of friends dropped by to see how bad the car was smashed up, and the talk started. Within an hour they were out in the garage, building a whole new race car from scratch. What goes around comes around -- all that friendship, all that help he'd given to others came back to him.
Word got around, and racer friends that Todd had made over the years started to show up, a total of fourteen of them. They worked until 3:30 the next morning, got a few hours sleep, and started in again. It was going to be a rush job, but at least he could scrounge an engine and parts off of the older cars. Fortunately, it was Labor Day weekend so they had an extra day to work on it. Finally, with the car well along, Todd had to knock it off Monday night as he had to get up to go to work at 4:30 Tuesday morning, but after work he and his friends were right back at it.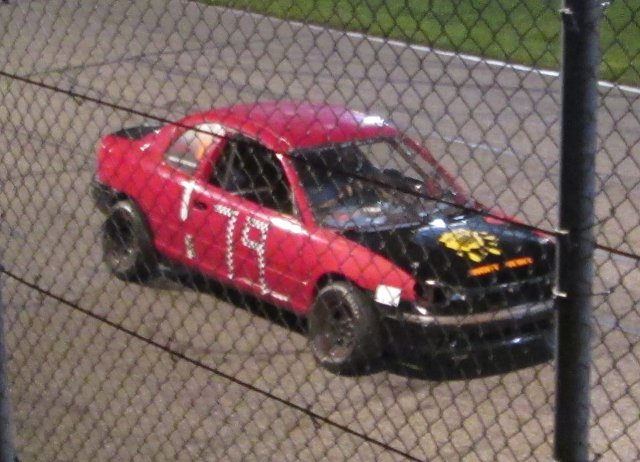 Todd and his hot rod on the track following the feature win.
The one chance Todd had to give the car a test before the big Saturday show was Friday night at Spartan Speedway again, where they were having an "open" four-cylinder class in which none of the normal rules apply. The car wasn't even done yet, but it was as close to it as he could get in the time available when he loaded it on the trailer at 4:50 Friday night. An hour later he unloaded it, ran it through tech, and had enough time for a few hot laps before qualifying was under way. I was in the stands when he rolled it out on the track for the first time, and I could tell he had a pretty fast car although they didn't have the timer on so I couldn't tell how fast.
It was fast all right. When qualifying got under way a few minutes later, he threw the new car around the quarter mile track in 15:21, which is darn fast for that track if not a class record, which I think he holds in one of his earlier cars. There are V-8 modifieds that don't go that fast on that track. The only other car within a second of his qualifying time was, guess who? Yogi, of course.
Todd won his heat easily. Between qualifying and the heat someone found a roll of tape and put a temporary number on the car -- that's how new it was. He went on to win the feature, with Yogi second. They had a pretty good battle toward the end of the feature, but Todd stayed in the lead. There was only one other car left on the lead lap, and if the race had gone on another lap or two they would have passed him as well.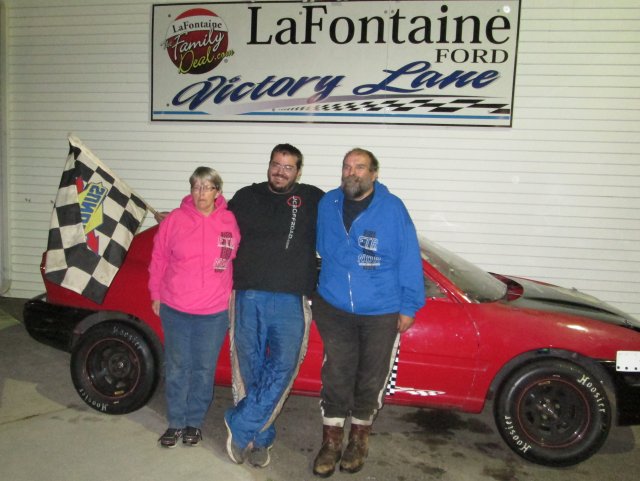 Glenda, Todd and Yogi Metz: a racing family!
Needless to say, Todd was pretty happy in the winner's circle. It wasn't just his work, but the work of his friends and family that had taken him from two badly crashed cars and an aging, worn-out grocery getter to victory lane in a frantic week. "You know," I told him. "I think you're going to have a pretty good hot rod there when you get the bugs out." The car needed more work to get it ready for the Saturday night affair, but he had a whole day to get ready for that.
I haven't heard the details, but Todd was at the big race on Saturday; I wasn't able to go. He didn't win, but he was there and gave it a good try, which under the circumstances is a victory in itself. Good going!
One final thought: Todd and some of his friends have a loosely affiliated racing team the name of which I think says it all: Never Dead Racing. I think they got that one right.
Back to Shorts page
Back to main page