Reader Comments
about
Snowplow Extra
"Now that was a fantastic story. I have to agree with the point you were making with this story, You don't need sex and/or violence to tell a good story. Just like a comedian doesn't need to be rude, vulgar, insulting and obnoxious to be funny."
"This story shows the same reliance that country people had in each other, and their will to put aside any personal conflict and work together in times of adversity."
"That was a fantastic story! I have to tell you that it was so good I couldn't stop reading and as a result was up till 4.30 AM reading it! It was only when my eyes refused to stay open I had to bookmark it and return to it earlier today! You truly are a gifted storyteller."
"Well defined and likeable people, positive thoughtful plot, and killer research make this a fine job."
"A busy story. You did well to be able to keep all of the various entities separate so the reader could understand what was going on."
"Man! I was so into this that when I looked out the window I expected to see snow piled everywhere!"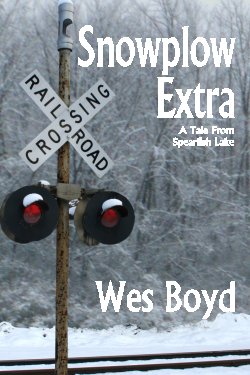 Snowplow Extra
Book 2 of the Spearfish Lake Series
by Wes Boyd ©1981; Rev. ©1995, ©2007

In the middle of the worst snowstorm of the decade, the whole town was burning down. The only hope lay on two rusty steel rails . . . Nonstop action and adventure -- no sex or violence as railroad workers and firemen struggle against fire, storm, and failing equipment to relieve an isolated northwoods town.

If you're a railroad buff, you'll love this one!



Approximately 147,000 words (about 347 print pages)




Many Ordering Options!


From the Spearfish Lake Tales Store, through Paypal
---
Spearfish Lake Tales Store downloads are sent by hand, and you do not get an immediate response. I will fill the order as soon as I can. RTF and MOBI/PRC files are sent in a .zip file; I can send unzipped if requested.

Don't have Paypal? Don't like Paypal? Contact me and we'll work out something.