Reader Comments
about Dawnwalker

"The story was powerful, well written and immensely enjoyable. The characters really did come alive on the pages. I really hated to put it away from time to time to do mundane things such as eat, drink and sleep."

"I would like to thank you for the immense pleasure I derived from reading 'Dawnwalker'. I liked your characterization and the way those characters developed during the course of the tale. I enjoyed the descriptions of places the characters visited and what they did there; through them experiencing some of what they did."

"Truly a wonderful story. At times I could almost see and feel the excitement and beauty that only nature can provide. I liked the way you bonded the college friends."

"Great story, realistic and well paced. The descriptions of the outdoor activities almost made me want to get back out there again."

"A wonderful story with a really suitable and romantic ending. Thanks for the writing, and I'll look for more of the same type from you."

"Good job, very enjoyable read, and the best praise I can offer you is that I have hardbacks from the library sitting on the coffee table unread, and a crick in my neck from my lousy office chair!"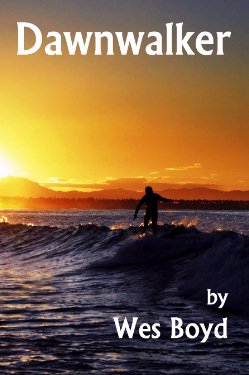 Dawnwalker
Book One of the Dawnwalker Cycle

by Wes Boyd ©2002, ©2008.

College and the years just afterward are pivotal for many people. They have to establish their future, and sometimes have many adventures along the way. Sophomore Randy Clark wants to avoid the family business and learn how to white water kayak and raft and ride a surfboard. Physical education major Crystal Chladek wants to become a professional outdoor bum, and her super-geek roommate and best friend Myleigh Harris wants to be a college English Lit professor. Randy's old high school girlfriend Nicole doesn't know what she wants to do other than run a summer camp for kids. All three girls end up as Randy's sometime girlfriends, and life starts to get interesting. Four very different people facing very different futures. Can their special friendship survive the problems and distances of the real world? Readers interested in outdoor sports will love this story.


Approximately 336,000 words (about 673 print pages)




Many Ordering Options!
---
From the Spearfish Lake Tales Store, through Paypal
---
Spearfish Lake Tales Store downloads are sent by hand, and you do not get an immediate response. I will fill the order as soon as I can. RTF and MOBI/PRC files are sent in a .zip file; I can send unzipped if requested.
Don't have Paypal? Don't like Paypal? Contact me and we'll work out something.