Reader Comments
about
Facing the Storm
"Again you have a great mix of old and new characters and as with the last few stories, other stories are foreshadowed. The plot line in this story was not amazing per se but it was as strong as an iron beam and you did a great job basing a story off it."
"I'd call this one a 'transitional story' in that it doesn't really seem to have a momentous conclusion, instead, a bunch of characters we've come to know and care about who go through important transitions in their lives. It's good to see so many from your other books who've matured gracefully and successfully. I loved the scene in the storm on the island. I can't help but feel bad seeing that Mark and Jackie never had children and I'm amazed at the energy Josh and Tiffany put into their lives."
"I thought that this was one of your best stories. I certainly was a feast for those of us who've got to know Spearfish Lake in your earlier work."
"As usual, you've put together a fine cast of characters in intriguing situations and added just enough suspense to make the story a 'page-turner.'"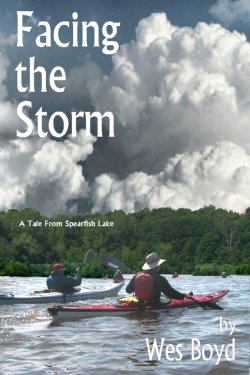 Facing the Storm
Book 8 of the Spearfish Lake Series
by Wes Boyd ©2001, ©2009

Change Happens! When John and Candice Archer's jobs go bad and their kids are sent to lousy schools, they decide it's time to get out of the city and head back to John's home in Spearfish Lake. It takes a little getting used to, because their lives are different there, and they can't help but change to face new circumstances and new opportunities as well as finding new friends and new interests. But then, their new friends are undergoing changes, too. None of it is easy, but they're all in it together.

Approximately 193,000 words (about 355 print pages)




Many Ordering Options!


From the Spearfish Lake Tales Store, through Paypal
---
Spearfish Lake Tales Store downloads are sent by hand, and you do not get an immediate response. I will fill the order as soon as I can. RTF and MOBI/PRC files are sent in a .zip file; I can send unzipped if requested.
Don't have Paypal? Don't like Paypal? Contact me and we'll work out something.