Reader Comments
about
Canyon Fires
"You weave such a fine tale and interlace the characters so beautifully. As usual I will miss this book as a long lost friend that I can at least revisit at some future date."
"This is a great story and I loved it. I kind of sorry that things like this have to come to an end but I guess that is life. I'm looking forward to your next story."
"I find difficulty in finding the words that can adequately express the pleasure I received while doing so. Thank you so much for your time and effort the story lines, the detail in defining both the characters and, the various settings at times left me spellbound."
"Thanks again for another very enjoyable story. It's a pleasure to read the intertwining story lines, the focus on recurring characters, and the introduction of new ones."
"What a great story, I felt like I was on the river. You just make the stories come alive!"
"Once again, well plotted, well crafted, well written prose that captures a fine understanding of human nature. I felt that I knew some of these folks."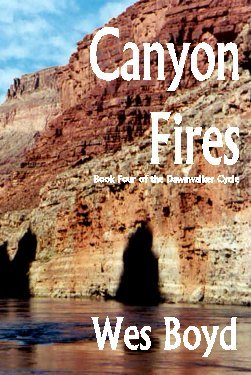 Canyon Fires
Book 4 of the Dawnwalker Series
by Wes Boyd ©2003, ©2009.

Desperate Journey! Nanci spent every cent she had and burned all the gas in her tank to escape Chicago and find her mother and her sister. She finds them, only to discover that both of them are now Colorado River raft guides, and that her mother is about to get remarried -- in the depths of the Grand Canyon. With no other choices, Nanci goes along on the trip -- two weeks in the middle of the most awesome scenery on the planet, a place that can and does change lives.

Approximately 136,000 words (about 259 print pages)




Many Ordering Options!





From the Spearfish Lake Tales Store, through Paypal
---
Spearfish Lake Tales Store downloads are sent by hand, and you do not get an immediate response. I will fill the order as soon as I can. RTF and MOBI/PRC files are sent in a .zip file; I can send unzipped if requested.
Don't have Paypal? Don't like Paypal? Contact me and we'll work out something.