Reader Comments
about
Square One
"You took it in several directions and it could have had several endings. The one you chose is excellent."
"It was well written and the central characters were very interesting and likeable. You really do like those outside the box characters and you draw them so well."
"This is a wonderful series full of powerful and genuine emotion, and with I think an excellent portrayal of country attitude and spirit of country people no matter where they come from."
"Once again you've presented a well written story with interesting characters and an interesting plot."
"I have read every full length story you have written, and as this story comes to an end, my reaction is the same as always -- "Damn, I didn't want it to end." By the time I have read every word, the story is 'a good, good friend that I do not want to lose.'"
"Really excellent story-telling, with some deep wisdom in there. Incredibly satisfying!"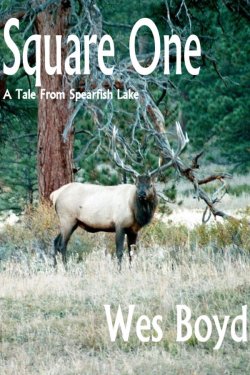 Square One
Book 9 of the Spearfish Lake Series
by Wes Boyd ©2004, ©2010.
After Danny Evachevski found his wife cheating on him, he had no choice but to get a divorce, go repair ties with his family and friends and start over. It wouldn't break his heart to leave a life and a job he detested, either. It isn't easy to go back home -- things have changed, and changed a lot in the twelve years he's been gone. In spite of family and friends, he's lonely and often seems at loose ends while he watches people that have made something of their lives. Then, quite unexpectedly, things change. Maybe there's hope for him after all!


Approximately 219,000 words (about 407 print pages)




Only available with old cover, shown here.




Many Ordering Options!


From the Spearfish Lake Tales Store, through Paypal
---
Spearfish Lake Tales Store downloads are sent by hand, and you do not get an immediate response. I will fill the order as soon as I can. RTF and MOBI/PRC files are sent in a .zip file; I can send unzipped if requested.
Don't have Paypal? Don't like Paypal? Contact me and we'll work out something.