Reader Comments
about
River Rat
"I enjoy your stories and I enjoy the endings, but I'm almost sad to see them go. Here's hoping you have more inspiration and stories in the works."
"Once again you have managed to relate the events of multiple personalities lives. To do this while keeping them in character and make an interesting read cannot be an easy task. I thoroughly enjoyed "River Rat." Thank you."
"Once again you grabbed the ring! I really like the way you weave the various characters and plot lines together into a vibrant tapestry of exposed human nature and interaction."
"Sad to see this one end but what an ending! I got choked up more than once but wow. Most of my favorite characters all in one place. Nice! Only problem was it could have been longer. Again a wonderful tale very well done."
"As usual, a great story. I have read all of your works three, four or more times each and have enjoyed them just as much as the first time. Thank you so much for your efforts."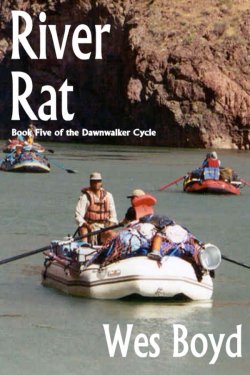 River Rat
Book 5 of the Dawnwalker Cycle
by Wes Boyd ©2005, ©2010.

One phone call changed her life! Outdoor girl Scooter Whitsell has been reduced to watching a counter, instead of being out on the trails and rivers she loves so well. Then she gets a phone call from an old hiking buddy -- and she's on her way to her absolute dream job: a raft guide in the Grand Canyon! It isn't an easy job, but Scooter was never a girl that asked for things to be easy. She has to put aside normal things to make a life in the Grand Canyon -- but she wouldn't have it any other way!


Approximately 243,000 words (about 459 print pages)




Many Ordering Options!


From the Spearfish Lake Tales Store, through Paypal
---
Spearfish Lake Tales Store downloads are sent by hand, and you do not get an immediate response. I will fill the order as soon as I can. RTF and MOBI/PRC files are sent in a .zip file; I can send unzipped if requested.
Don't have Paypal? Don't like Paypal? Contact me and we'll work out something.