Reader Comments
about
The Girl In The Mirror
"Kudos Wes, in being a very adroit navigator in a sensitive subject and keeping it very entertaining. I'm sure it will open some minds if they are willing to be objective. Thank you."
"I continue to enjoy your writing and you keep getting better at it. Thanks so much for your time and genius."
"This has to be the best story you have ever written! I am an avid fan of all your work but this absolutely blows me away! It's classy, funny, well written and sensitive to others needs and wants. Kudos to you for tackling such a contentious subject with tact, class and style! Superb job!"
"Once again another interesting story, that handled an issue that many may find confronting, in a way that was well considered and informative, while maintaining excellent character and story-lined that you have maintained throughout this series."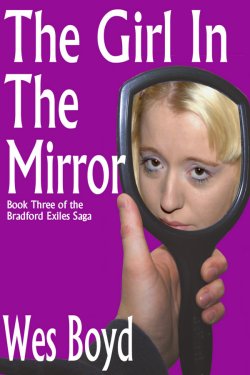 The Girl in the Mirror
Book 3 of the Bradford Exiles Series
by Wes Boyd ©2004, ©2011.
People have changed by the time of the Bradford High School Class of 1988 tenth reunion, some more than others. The star athlete has become a sportscaster; the class president is now manager of a convenience store; her best friend, a peppy cheerleader, has been through a messy divorce. The happy-go-lucky party girl has a card that reads "Wandering Medieval Minstrel." The valedictorian is a multimillionaire who flies her own Learjet -- and works part-time as a prostitute. And, the kid who was universally picked on has changed more than anyone could possibly dream . . .


Approximately 101,000 words (about 212 print pages)




Many Ordering Options!


From the Spearfish Lake Tales Store, through Paypal
---
Spearfish Lake Tales Store downloads are sent by hand, and you do not get an immediate response. I will fill the order as soon as I can. RTF and MOBI/PRC files are sent in a .zip file; I can send unzipped if requested.
Don't have Paypal? Don't like Paypal? Contact me and we'll work out something.