Reader Comments
about Cattail
"Another great story, with good characters and an insight into different cultures, and their ability to co-exist, especially when assisting after a disaster, usually at this time the best and worst of human nature are exposed."
"Thanks for the excellent tale about Roger and Cattail. I am sure that someday we wouldn't mind reading more of their adventures. Good luck and thanks again."
"That was a nice one. I've liked most all your stories and this is no exception. A bit shorter than some, but that can be nice; and the theme is excellent. I enjoyed meeting the Amish folk too. Once again thank you for your time and effort."
"Quite a nice story. You built some wonderful characters and devised a solid plot line that just seemed to unfold chapter and chapter."
"It's amazing, to me how it is possible for you to write as many stories as you do. Not only that, but with the amazing quality as well. I enjoy every one of them."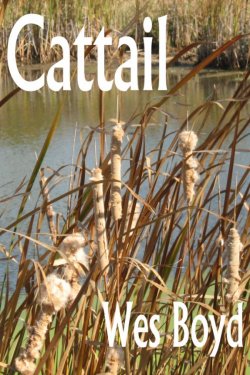 Cattail
by Wes Boyd ©2010, ©2011.

Roger Bishop found early retirement from a factory to be lonely and boring, especially since he's a widower. With nothing better to do, he gets the idea of going south to help with the cleanup after Hurricane Katrina. Down amid the rubble, he meets a lifelong free spirit, Catalina Smith, who's there on the same mission, so being lonely is no longer a problem. What's more, it seems that Catalina has some problems of her own, and all of a sudden he really doesn't have to worry about being bored!



Approximately 85,000 words (about 192 print pages)




Many Ordering Options!


From the Spearfish Lake Tales Store, through Paypal
---
Spearfish Lake Tales Store downloads are sent by hand, and you do not get an immediate response. I will fill the order as soon as I can. RTF and MOBI/PRC files are sent in a .zip file; I can send unzipped if requested.
Don't have Paypal? Don't like Paypal? Contact me and we'll work out something.
More ordering alternatives available soon
If you have any troubles, don't be afraid to contact me!
Back to Store