Reader Comments
about
Wes Boyd's writing
"I find your style of writing very refreshing! Please keep it going - the personal interest implicit in each story is what makes them so great!"
"I admire your way of fleshing out the characters - giving them life instead of merely portraying masks."
"Your stories never disappoint me, or let me down. I enjoy them all -- they are 'Feel Good' Stories!"
"I continue to enjoy your writing and you keep getting better at it. Thanks so much for your time and genius."
"Your characters, settings and story lines seem so real that I feel you are letting me peek in on a part of life that I'd have otherwise never known anything about."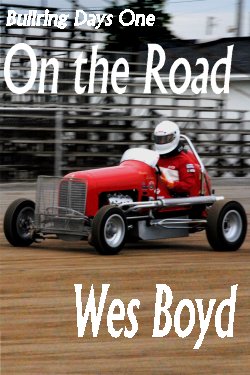 Bullring Days One: On the Road
by Wes Boyd ©2009, ©2012

Mel Austin didn't want to be just a farmhand for his brother, so after the Army and World War II, he attended college on the GI Bill. But after graduating, he couldn't stand the thought of teaching in a big-city slum high school, either. A wartime friend asks him to join his ragtag midget auto racing show, Mel figures it's a better than pumping gas until school starts. In love with the thrills, action, and a chance to see the country, he spends several years vagabonding with the show through the turbulent and now half-forgotten world of the early 1950s. Adventure and new friends abound, and his life winds up going to places he could never have dreamed.


Approximately 158,000 words (about 340 print pages)




Many Ordering Options!


From the Spearfish Lake Tales Store, through Paypal
---
Spearfish Lake Tales Store downloads are sent by hand, and you do not get an immediate response. I will fill the order as soon as I can. RTF and MOBI/PRC files are sent in a .zip file; I can send unzipped if requested.

Don't have Paypal? Don't like Paypal? Contact me and we'll work out something.