Reader Comments
about
Wes Boyd's writing
"I find your style of writing very refreshing! Please keep it going - the personal interest implicit in each story is what makes them so great!"
"I admire your way of fleshing out the characters - giving them life instead of merely portraying masks."
"Your stories never disappoint me, or let me down. I enjoy them all -- they are 'Feel Good' Stories!"
"I continue to enjoy your writing and you keep getting better at it. Thanks so much for your time and genius."
"Your characters, settings and story lines seem so real that I feel you are letting me peek in on a part of life that I'd have otherwise never known anything about."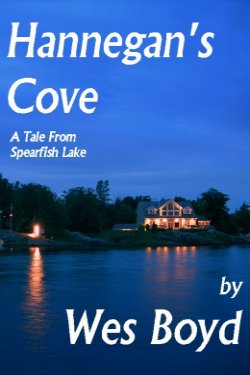 Hannegan's Cove
by Wes Boyd ©2010, ©2012

As he approaches thirty, Randy faces new challenges and responsibilities. He's matured since college and has come to accept that many of his desires aren't possible. His first child is on the way, his grandfather's health is fading fast, and his sister is having family problems. It's clear that he will soon own Clark Construction as well as run it. Will the years of preparation for the new challenges be enough? How well will he meet those challenges when they arise?


Approximately 120,000 words (about 275 print pages)




Many Ordering Options!





From the Spearfish Lake Tales Store, through Paypal
---
Spearfish Lake Tales Store downloads are sent by hand, and you do not get an immediate response. I will fill the order as soon as I can. RTF and MOBI/PRC files are sent in a .zip file; I can send unzipped if requested.

Don't have Paypal? Don't like Paypal? Contact me and we'll work out something.