Reader Comments
about
Wes Boyd's writing
"I find your style of writing very refreshing! Please keep it going - the personal interest implicit in each story is what makes them so great!"
"I admire your way of fleshing out the characters - giving them life instead of merely portraying masks."
"Your entire Dawnwalker series has been delightful. Reading initially for pleasure, your series quickly became a lesson from a fine craftsman. I've learned much but the reading pleasure never waned."
"Your stories never disappoint me, or let me down. I enjoy them all -- they are 'Feel Good' Stories!"
"I continue to enjoy your writing and you keep getting better at it. Thanks so much for your time and genius."
"Your characters, settings and story lines seem so real that I feel you are letting me peek in on a part of life that I'd have otherwise never known anything about."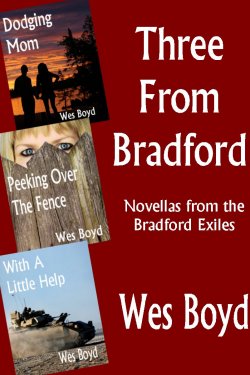 Three From Bradford
by Wes Boyd ©2011, ©2013


This collection contains the novellas Dodging Mom, Peeking Over the Fence and With a Little Help all for one low price.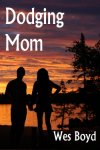 Dodging Mom: Racially exotic Sonja Lambert holds dual citizenship, American and Israeli. Her mother Zivah, an Israeli Army officer, expects Sonja to do her duty in the Israeli army. When Sonja's mother shows up with the intention of browbeating her daughter into doing her duty as an Israeli, Sonja, an American at heart, has no choice but to run and hide with her boyfriend Scott Tyler's family in Bradford. It's not be best circumstances for a romance, but when things get moving quickly and Scott's friends from the Bradford High School Class of 1988 get involved, things can take some unexpected turns!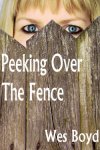 Peeking over the Fence: At Scott Tyler's tenth class reunion, he and his wife Sonja didn't expect the class of the small rural high school to be very surprising. Anticipating that they would be one of the more exotic couples there, they found the Bradford Class of 1988 had produced a millionaire prostitute with a PhD piloting her own Learjet, and another, a musician with a business card that read, "Wandering Medieval Minstrel." Most surprising was a beautiful, personable blonde woman, Dr. Eve McClellan -- previously named Denis, one of the most disliked boys in the class. Scott and some of his classmates started thinking about the differences between men and women, and the upcoming Halloween party is a perfectly good excuse to explore a little of what it's like on the other side of the gender fence.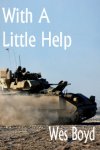 With A Little Help: Pat McDonald didn't have the happiest time as a student in the Bradford High School Class of 1988, but he's found a home in the army. He's headed for the Gulf War in late 1990 when he meets a classmate, Cindy Yeager, who has broken up with her former boyfriend, Russ Bradstreet. Cindy thinks Pat ought to have someone to tell him goodbye and worry about him while he's gone. It turns into a one-night stand with long and profound results lasting for many years, even though Cindy winds up going back to Russ. Many years later Cindy and Russ ask Pat to help them out at time of intense personal sorrow, and he agrees. They all turn into each other's best friends -- and eventually, more than that.


Approximately 104,000 words (about 211 print pages)




Many Ordering Options!

All pre-orders for Starting Late will be shipped Sunday evening EST, August 25.




From the Spearfish Lake Tales Store, through Paypal
---
Spearfish Lake Tales Store downloads are sent by hand, and you do not get an immediate response. I will fill the order as soon as I can. RTF and MOBI/PRC files are sent in a .zip file; I can send unzipped if requested.

Don't have Paypal? Don't like Paypal? Contact me and we'll work out something.
Many ordering options for the three stories in one volume!
Or, buy each novella separately!