Reader Comments
about
Wes Boyd's writing
"The characters are so well written that they feel real . . . I look forward to yet another good read when I notice that you've completed another story."
"You have published a series of tales that have grasped my heart and wound back the clock on my memories and my life. They have been extremely valuable to me as nuggets of a life long gone, and of lives which I wish I had."
"I find your style of writing very refreshing! Please keep it going - the personal interest implicit in each story is what makes them so great!"
"I admire your way of fleshing out the characters - giving them life instead of merely portraying masks."
"Your entire Dawnwalker series has been delightful. Reading initially for pleasure, your series quickly became a lesson from a fine craftsman. I've learned much but the reading pleasure never waned."
"Your stories never disappoint me, or let me down. I enjoy them all -- they are 'Feel Good' Stories!"
"I continue to enjoy your writing and you keep getting better at it. Thanks so much for your time and genius."
"Your characters, settings and story lines seem so real that I feel you are letting me peek in on a part of life that I'd have otherwise never known anything about."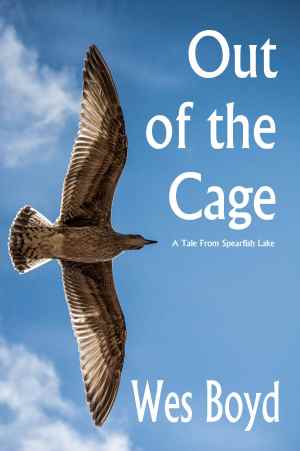 Out of the Cage
Book Eleven of the New Spearfish Lake Tales
Book Four of the Bird Subseries
by Wes Boyd ©2010, ©2016

Things look pretty bleak for Frenchy LeDroit when he gets out after seven months in the Spearfish County Jail. His car is gone. He only has eight bucks and change. His business of selling bootleg beer to underage drinkers, gone. He has no job; heís up to his neck in trouble with his parents and could get thrown out at any time. There are a lot of asses that need kicking, and thereís no one to help him. One of his best buddies has stabbed him in the back, and the other one isnít going to be much help. His girlfriend has turned into a carpet muncher. No beer. How is he supposed to get along without any beer? Before jail he and his buddies had been riding on top of the world, and thatís gone now too. What else could go wrong?

Frenchy has yet to learn that when you're at the bottom of a hole, the only way out is up.



Approximately 100,800 words (about 209 print pages)




Preorders to be shipped July 3, 2016

Many Ordering Options!




From the Spearfish Lake Tales Store, through Paypal
---
Spearfish Lake Tales Store downloads are sent by hand, and you do not get an immediate response.
I will fill the order as soon as I can.
RTF and MOBI/PRC files are sent in a .zip file; I can send unzipped if requested.
Don't have Paypal? Don't like Paypal? Contact me and we'll work out something.