Reader Comments
about
Wes Boyd's writing
"The characters are so well written that they feel real . . . I look forward to yet another good read when I notice that you've completed another story."
"You have published a series of tales that have grasped my heart and wound back the clock on my memories and my life. They have been extremely valuable to me as nuggets of a life long gone, and of lives which I wish I had."
"I find your style of writing very refreshing! Please keep it going - the personal interest implicit in each story is what makes them so great!"
"I admire your way of fleshing out the characters - giving them life instead of merely portraying masks."
"Your entire Dawnwalker series has been delightful. Reading initially for pleasure, your series quickly became a lesson from a fine craftsman. I've learned much but the reading pleasure never waned."
"Your stories never disappoint me, or let me down. I enjoy them all -- they are 'Feel Good' Stories!"
"I continue to enjoy your writing and you keep getting better at it. Thanks so much for your time and genius."
"Your characters, settings and story lines seem so real that I feel you are letting me peek in on a part of life that I'd have otherwise never known anything about."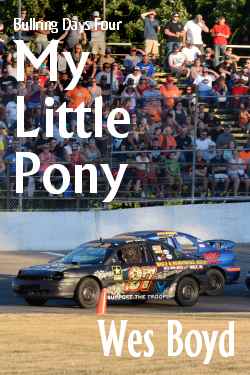 Bullring Days Four:
My Little Pony
by Wes Boyd ©2007, ©2016

This is a sweet, heartwarming story of a young teenage girl and her little pony – pony stock that is, an old four-cylinder economy car converted into a short-track racing car. Telzey's parents are both in the Army and have been sent to the Persian Gulf as the 2003 war is brewing, so she is staying with her grandparents. Telzey, a racing fan, is sick with worry about her parents, but her new nextdoor neighbors have things that divert her attention, since they're the family who operates the Bradford Speedway. What's more, their racer son Will is Telzey's age, and they become friends almost immediately. It doesn't take long before Telzey becomes more than just a racing fan!


Approximately 145,400 words (about 284 print pages)




Many Ordering Options!




From the Spearfish Lake Tales Store, through Paypal
---
Spearfish Lake Tales Store downloads are sent by hand, and you do not get an immediate response.
I will fill the order as soon as I can.
RTF and MOBI/PRC files are sent in a .zip file; I can send unzipped if requested.
Don't have Paypal? Don't like Paypal? Contact me and we'll work out something.