Reader Comments
about
Wes Boyd's writing
"The characters are so well written that they feel real . . . I look forward to yet another good read when I notice that you've completed another story."
"You have published a series of tales that have grasped my heart and wound back the clock on my memories and my life. They have been extremely valuable to me as nuggets of a life long gone, and of lives which I wish I had."
"I find your style of writing very refreshing! Please keep it going - the personal interest implicit in each story is what makes them so great!"
"I admire your way of fleshing out the characters - giving them life instead of merely portraying masks."
"Your entire Dawnwalker series has been delightful. Reading initially for pleasure, your series quickly became a lesson from a fine craftsman. I've learned much but the reading pleasure never waned."
"Your stories never disappoint me, or let me down. I enjoy them all -- they are 'Feel Good' Stories!"
"I continue to enjoy your writing and you keep getting better at it. Thanks so much for your time and genius."
"Your characters, settings and story lines seem so real that I feel you are letting me peek in on a part of life that I'd have otherwise never known anything about."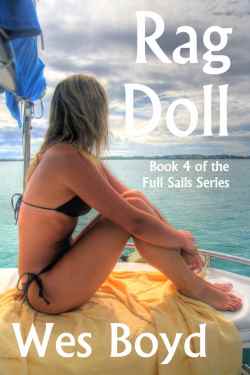 Rag Doll
by Wes Boyd
©2013, ©2018



Amanda Lewis spends her summers working in the often exciting family business of fishing charters on Lake Huron, but her winters are cold, dull, and boring. In Florida, where it's warm, she's looking for a cheap boat she can live on, and her Coast Guardsman brother has found a possibility in the Rag Doll. But at first sight the boat is grubby, dirty, and needs lots of restoration, so it is a very sad Rag Doll. In better days it must have been a doll of a boat, flying the glad rags of her sails, a bone in her teeth as she sailed across bright ocean waves toward some distant, exotic destination. She could tell that this boat didn't deserve to be sitting sad and forlorn at the edge of a swamp in a muddy backwater. There was a soul of a boat waiting to be freed from its misery. It would be a lot of work, but deep down inside she knew there could be a lot of satisfaction for doing it, too. "Yes, Rag Doll," she said softly, "you and I are going to have some great times together.""



Approximately 134,000 words (about 263 print pages)




Many Ordering Options!




From the Spearfish Lake Tales Store, through Paypal
---
Spearfish Lake Tales Store downloads are sent by hand, and you do not get an immediate response.
I will fill the order as soon as I can.
RTF and MOBI/PRC files are sent in a .zip file; I can send unzipped if requested.
Don't have Paypal? Don't like Paypal? Contact me and we'll work out something.